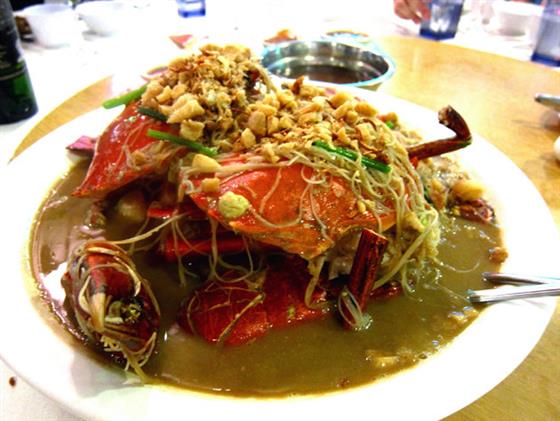 De Classic Golden Spoon Restaurant
By TianTianChi - Wednesday, Nov 14, 2012
There are only two restaurants at each end of this huge open car park, the rare few custom made public restaurant space sited in such places, which makes them extremely convenient and a hard to get real estate space. This particular spot, despite it convenience, seems to have very transient tenants since day one. In fact every time a new restaurant opens of business, punters will be betting on how long it will survive. Maybe it is fengshui or comparisons to the other wildly popular Por Kee Restaurant at the other end of the carpark, but, De Class Golden Spoon Restaurant has been at it for an impressive five years and still holding their own.
It was an hour's wait for a table on a weekday (we made no reservations). A very young waiter, slick, smooth and friendly, took our orders – his service attitude belie his tender age. He recommended a few dishes, among them some off-menu items which he took pains to describe, not just hard sell.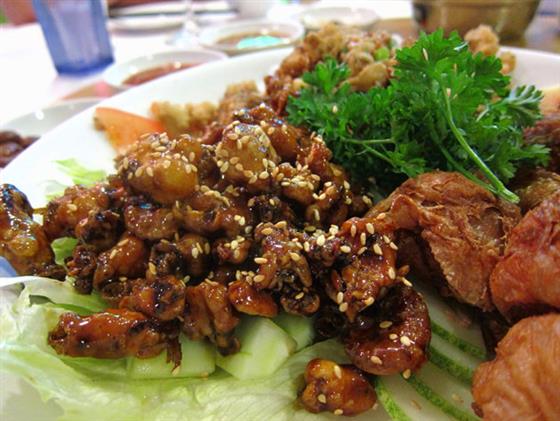 The meal started wonderfully with their crispy deep fried baby squids which has always been my favourite. Each of the squid is well coated with a sweet, spicy, savoury and almost overbearing sauce, like a robust rojak sauce – just how we liked it.
We love fishes, but here, it's quite expensive but uber fresh – live even, at times. We ordered a fried grouper head braised with bitter gourd in black bean sauce. The fish head was fresh, sweet, meaty and the bitter gourd (juicy and less bitter ones are chosen) was moreish. With rice, it was a perfect duet.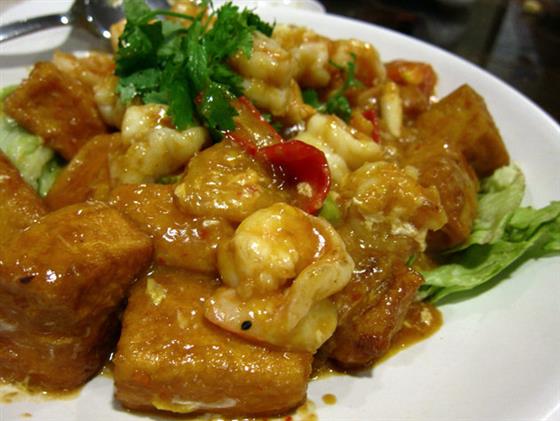 We had an order of sambal prawns and tofu. This dish shows how adept the chef is with the wok, and it also gave us an idea what their chilli crabs and sambal seafood would be like. A spicy, sour yet delectably sweet and savoury chilli sauce sat over huge succulent prawns with crisp on the outside and soft inside tofu. It was appetising and had a tinkling appeal. We only wished they used more eggs to enliven the equation.
The young waiter also recommended Golden Dragon Chicken, an off-menu item that day. I never really liked this dish – basically a whole chicken, deboned, flattened, smeared with a layer of seafood paste and then stretched and deep fried. In order for the paste to stick, a lot of chicken meat has to be removed. I felt cheated every time I have this, but at least over here, I get some chicken – shredded, sautéed with crunchy beansprouts and served at the side in a deep fried noodle nest. The crispy skin goes perfectly with the spongy seafood paste that tasted of seafood and not starch. I now like.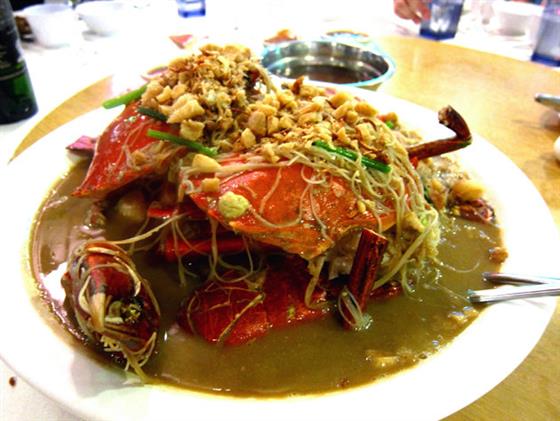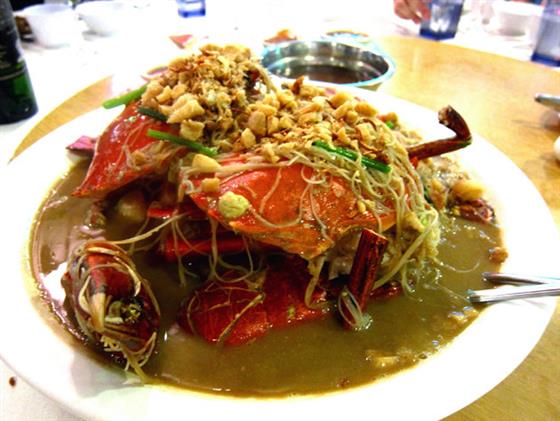 Almost every self-respecting seafood restaurant serving crab would have their own version of crab bee hoon but most are served dry with sauce or in a soup. Their verison is in between. The bee hoon is first fried and then braised together with the huge meaty Sri Lankan crab. It comes sitting on a pool of murky brown looking stock and topped with a generous sprinkling of deep fried pork lard. Sinfully effective.
The stock is rich and robust, tasted sweetly with a robust umami crab flavor. The bee hoon came intensely with wok hei, so it is best to let it breathe in the stock for a while before you devour, it intensifies the flavor and tempers the smokiness. The decadent crispy pork lard was a necessary bonus. Decline the suggestion to have more bee hoon in the dish, as it dilutes and changes the balance.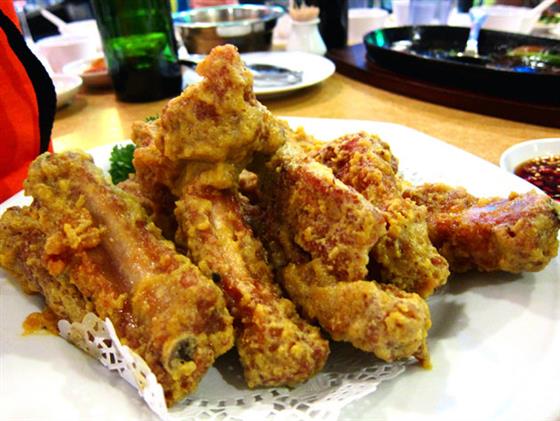 The greed in us was tempted by what we saw around us- a strange golden-coloured pork rib dish. It was salted-egg pork rib we were told. Folks first did this with crabs and seafood, now pork. We tried and I felt this was a bit indulgent, it did not float my boat. The meat is tender, the salted egg crusty and rich but somehow these two just don't gel. They should just stick to seafood.
Our previous visits was disappointing, but we're glad things are looking up for them now. They have tweaked their menu and have their own identity and stay focused in doing what they do well. We hope the other service staff is just as competent. Total damage – $250 (inclusive of some soft drinks, service charge and GST). The damage to the punters could be higher.
De Classic Golden Spoon Restaurant
62 Seng Poh Lane
Tel: 65362218
11am-2.30pm, 6pm-11pm