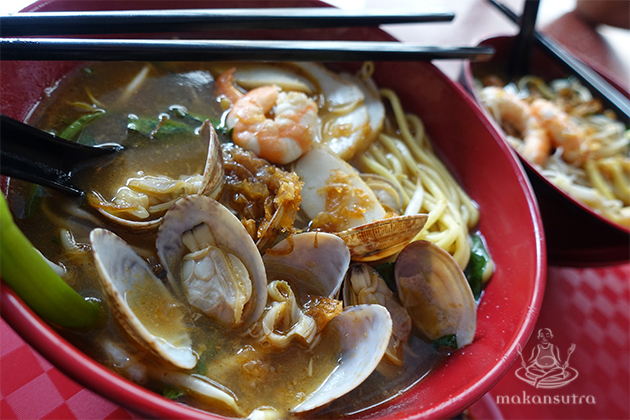 Deanna's Kitchen: Hae Mee with a Malay Twist
By KF Seetoh - Friday, Jul 14, 2017
In our multi-cultural and deliciously colourful world of food, I can't help but notice the meld- how cross pollination of our ethnic flavours occur, why and what. For instance, ask many about curry rice, and not a lot will mention the Indians, but rather, the Hainanese curry rice that you find in almost every hawker centre. It has a British-India influence brought here during the colonial era, and tastes nothing much like how it is in India. Then, there's the Punggol Mee Goreng, created back in the Punggol Road end seafood days which was inspired by the Indian Mee Goreng (adapted with Chinese and Muslim touches yet not originally from India) but with a seafood twist. Just what do the "others" factor in when they sell "your" food.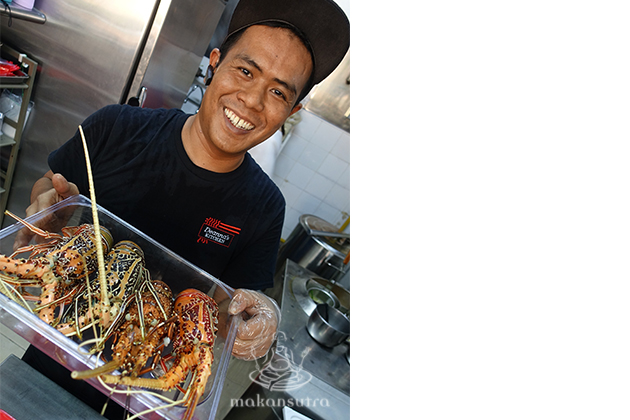 If I am already losing you in this confusion, then hang in there for one clearer and newer example. Muhamad Asri Bin Ramli had been diligently offering his mother-in-law's Chinese style recipe of prawn noodle soup since early June. I saw their social media feeds and it fed my curiosity. How does one tweak this Hokkien dish for our Malay friends, besides losing the porky accent. When my upsized Prawn Noodles with Clams ($6.50) came, the first twist was obvious- the clams. It lent an appealing sweetness to the prawn-heads broth and they were freshly blanched upon order. Our Malay friends in our midst love clams and seafood in general (just note our geographical nature and fishing village history). I loved it, and they were generous with the clams. The noodles were blanched a little softer than al dente, like how it should be done. When asked, Mohamad revealed he never cooked this dish before but he was preparing it like how other hawkers would do it, except his stall was a lot cleaner than many I've seen.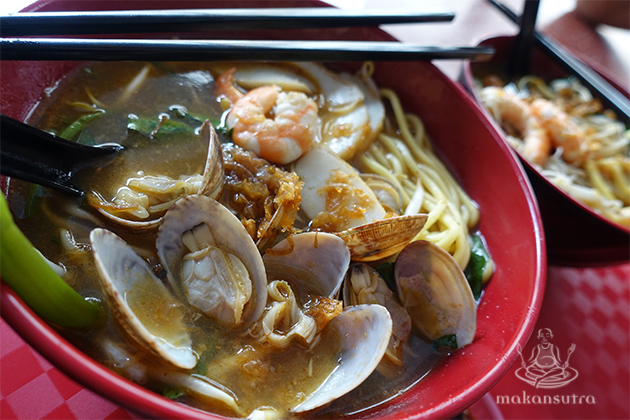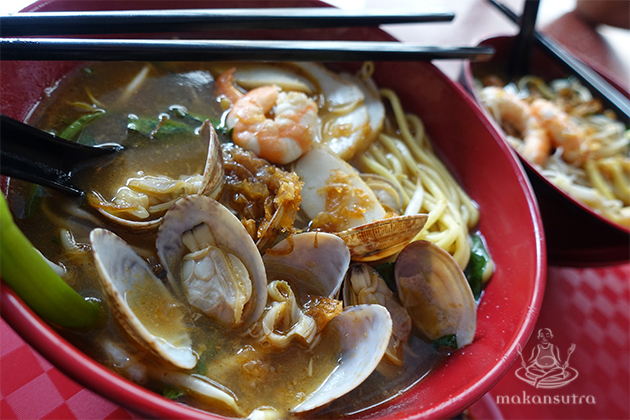 So far, the dish looked usual and the soup had a rich and nice balance of prawn shells stock and soy sauce with fried shallots. The prawns were freshly peeled or came un-shelled (your choice), clams were sweetly fresh and the fish cakes- the usual store bought variety. Then I noticed one little innocuous question Mohamad and his wife Deanna ask upon each order, "Do you want taugay and kangkong?." And I realised a lot of my Malay friends don't often have their noodle soup dishes (and there isn't much choice out there for them either), like mee soto, with plenty of greens. I noticed a few of the Malay customers there opted out of the greens. It's just a little culinary nuance I noticed that had no bearing on the quality. And like any decent and wired new-gen hawker, they also offered decadent lobster ($26) and crayfish ($12.50) versions as they make photogenic social media posts too.
The verdict- there is nothing very much Malay (other than chef Muhamad) about this and the fresh fried shallots, unlike many that relies on pre-packed stuff, lists high on my scorecard and the use of soy sauce and cut chilies dip, is as authentic as it come. Perhaps, if they offered sambal on the side, as a dip or blended into the soup, then this would be engagingly refreshing, after all, others are already putting chili powder into the mix.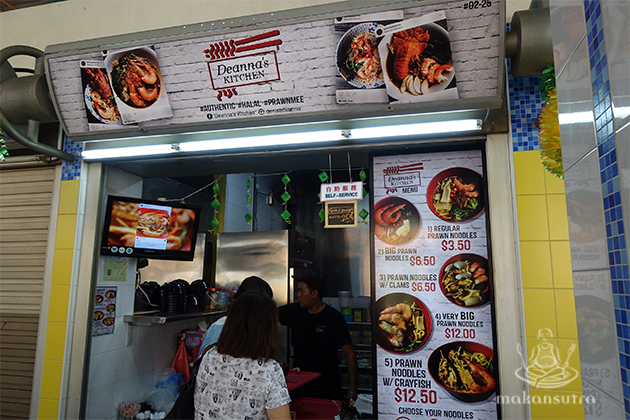 Deanna's Kitchen
Blk 127, Toa Payoh Lor 1
02-25
10am-8pm (Wednesday to Friday)
9am-8pm (Saurday)
9am-3pm (Sunday)
Closed Monday and Tuesday