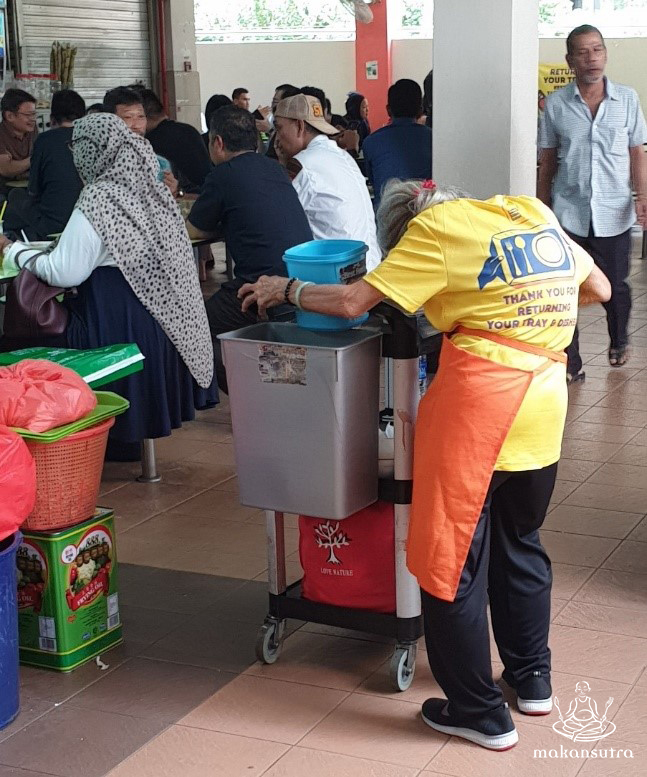 Dear Next Manpower Minister.. Please do not deprive us of manpower oxygen
By KF Seetoh - Friday, Jun 26, 2020
I know it's a long read, but it's also a long standing problem and each one here is a long time sufferer of the archaic rule. We seriously need a big rethink on manpower strategies, especially with jobs Singaporeans clearly shun. I had been poking on this issues for a while now, raised this on many occasions at focus group and even mentioned it to senior government circles, since 2018. I even noted the Sons restaurant closure in Jan this year, but this time, is as good as any to raise the problems again, for the sake of the SME industry. But it is an issue dear and near to Singaporeans.
In the midst of the Covid pandemic, hawker Melvin Chew could only think of helping his fellow hawkers by creating the Hawkers United facebook page. It now has almost 280k members and shouts of praise was levied on such an idea from the media and even mentioned at the high level office of the nation. This June, his 63 year old mother and chief cook, suddenly came down with heart complications and the Singapore General Hospital's prognosis is not so rosy. He put out feelers for helpers for his stall at up to $2.5k a month salary (family still need revenue and extra medical care may be needed). No takers (not even the 150k unemployed and displaced currently) as the rules here says- no foreign workers in our hawker centres, not even assistants (who will gladly work for that remuneration). If the good doctor says- "no more stressful work for you mother as the problem can recur and complicate matters", Melvin may have to close shop permanently.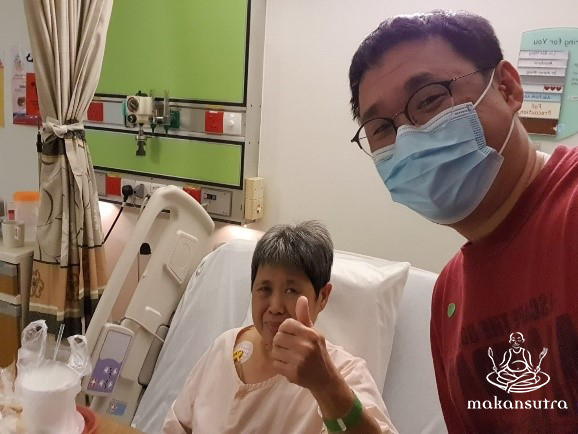 Melvin at SGH with his mother this June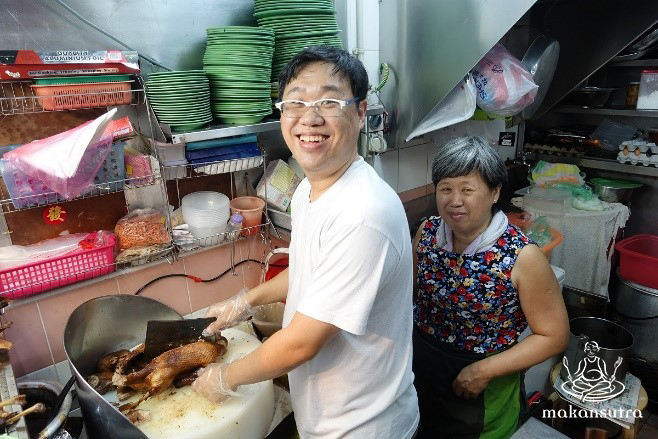 At his Jin Ji Braised Duck stall with his mother
Melvin's FB page garnered almost 280k members
Remember, humble hawkers are offering an essential service of affordable and comfort feed to majority of Singaporeans. Covid has proven that. They collectively serve a few million meals, a day. We need to preserve and continue the tradition.
The government is rightly looking ahead "to create better jobs for Singaporeans", said DPM Heng Swee Kiat. And I have even hired senior managers in the midst of Covid. But nothing was introduced to assist the manpower needs of Melvin and his cohorts defending this great food culture, a potential Unesco Intangible Culture to boot. This situation is depriving not just the food industry of oxygen, but many essential service businesses that need such blue collared workers doing jobs not cherished by Singaporeans. Many of my cohorts, and myself included would love to hire more qualified mid or even senior level Singaporeans (the jobs they deserve) to handle management and strategy work, bu we need to have front end soldiers to power the imagination and ideas of these high office strategists.
Clarence, in his late 60s, runs a roast meat stall in Chinatown with his sister and in that little 10x10sft space. It's a little food shrine used to churn some of the best roast duck, cha siew roast pork (using his good ol' Apollo oven) chicken noodles and rice plus dumplings. All, artisanal elbow grease work. Recently , he was hospitalised for a major liver surgery and I saw him back at work a day after he was discharged, against doctor's order. I asked and he turned, clutching the fresh stitches on his body, "What's the point of the MC, no one is here to help my sister run the shop and we need the money to get by." He needs assistants too in his hawker stall too.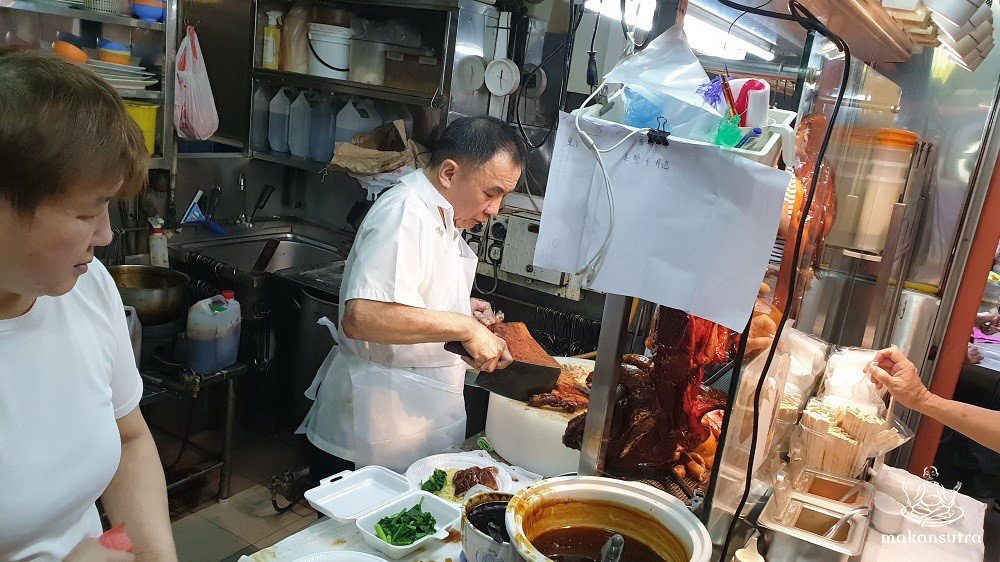 Clarence was back to work a day after his liver operation
We need a massive rethink on protecting jobs that Singaporeans shun. Or it would discourage a new breed of F&B professionals, even "hawkerpreneurs" (how can you be one if no one here wants to share and power your vision). Ditto for a big chunk of the SMEs in the service retail industry seeking to survive and succeed. They collectively make up the biggest slice of the pie of Singapore's economy.
AI and automation is nowhere near ready to replace any part of our complex, rich and artisanal hawker food culture. Those auto tray return robots and shelves at our Social Enterprise Hawker Centres are wasting space (they still hire humans to collect and wash). And those other tens of thousands (public monies ) spent funding drone servers at a local pub some years back..well, have all flown the coop and with not much to show and deliver.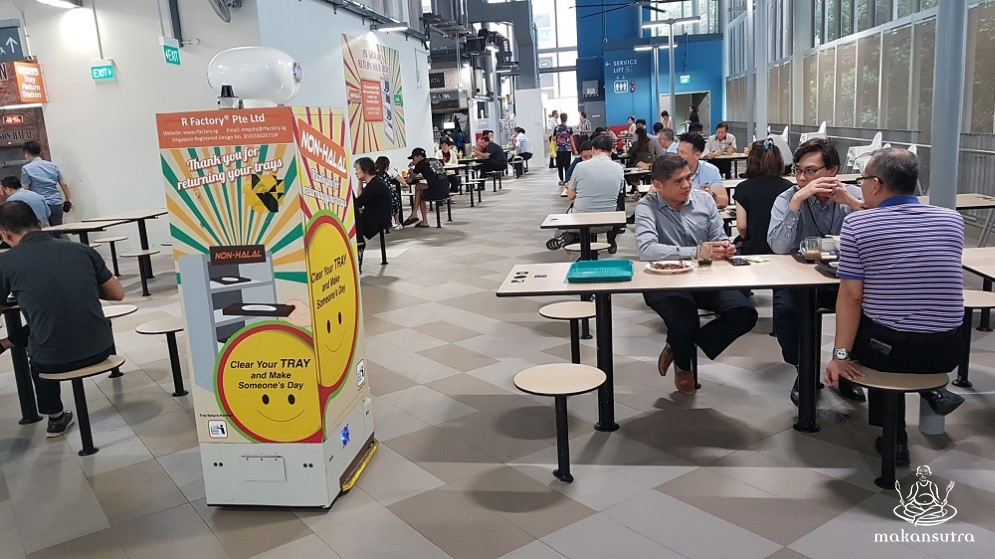 The redundant tray collection robots at Jurong West Hawker Centre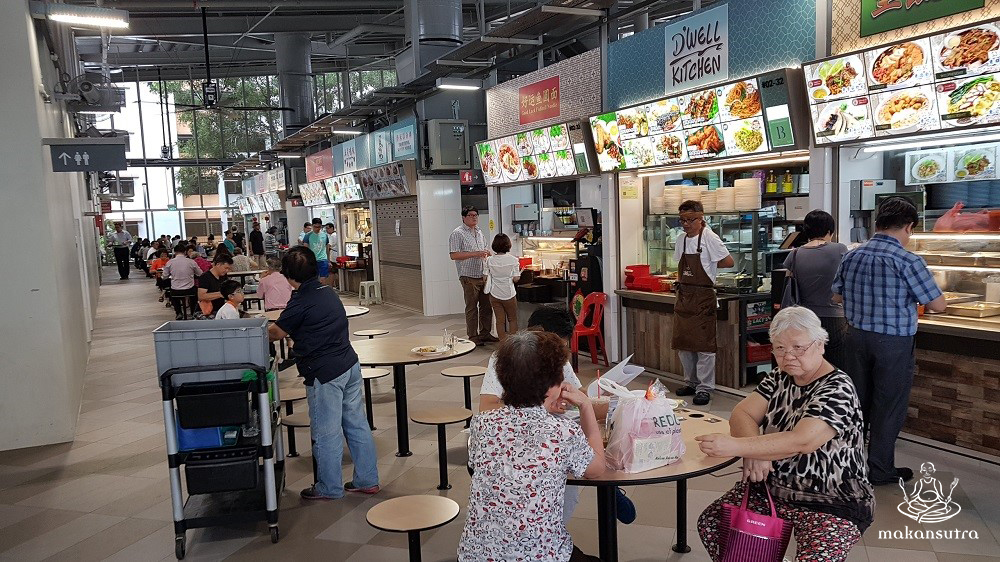 Alongside robots, humans cleaners were also hired at Jurong West Hawker Centre. Purpose defeated.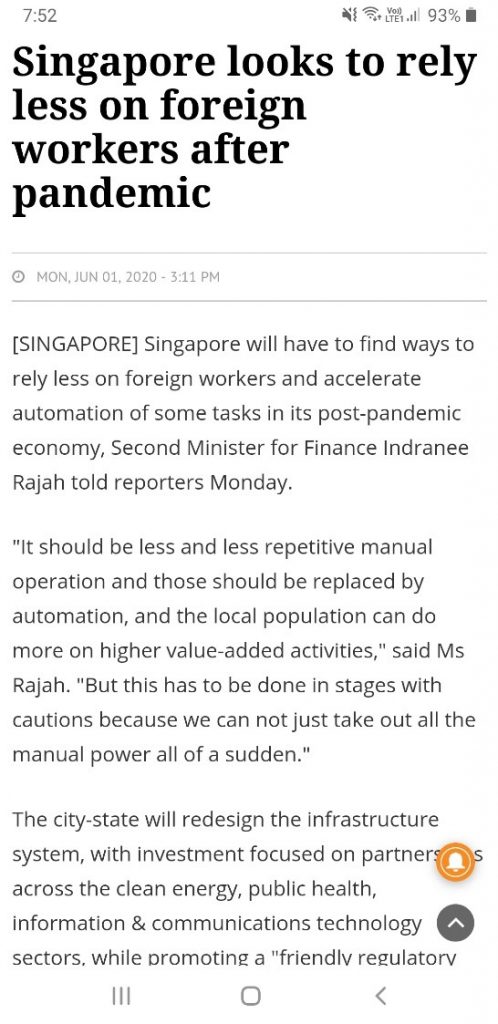 How did they conclude this?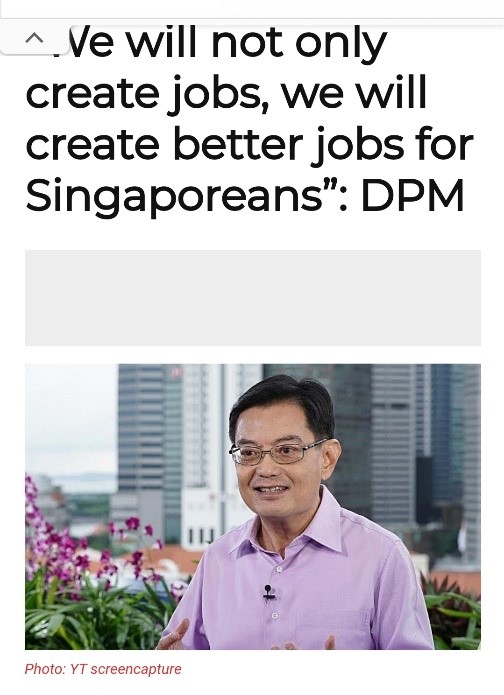 Thank You, DPM. But we need good people in jobs that support Singaporeans as the aspire to higher goals.
I cannot fathom this one and I hope to find some clarity. At 76, she is up at her Hong Lim hawker centre stall every business day morning at 3am- cutting, carrying, boiling, frying, washing, often bending over to lift pots and pails and making sure her 42 year old son (the main and only bread winner cook) does not slip in the wet stall as she mops and lines the floor with old newspapers to dry it up. Seven hours of prep work later, they are ready to serve this world class hand-made chicken curry noodle, by 10am, give and take 15 mins or so. Her work may be basic and menial but it is a strain on her hunched and fragile body and she has to do this till further notice because, and again- public hawker centres stall-owners are Not Allowed to hire foreign helpers. They, too, need assistants.
Then there's Rui Fang, who ditched her university degree and carried the mantle of continuing the family's prawn noodle legacy because "it brought me up and I want to pay it back to my parents and take care of them." The late Anthony Bourdain slurped her prawn noodles dry on his show and loved it. She too, is up at the stall by 3am each work day to prepare- from hand shelling the fresh prawns (customers expect nothing less), frying the shells and carefully simmering them and to make a consistent stock, blanching the prawns, slicing the fish cakes, roasting the bones and measuring the spices, herbs and special ingredients for the stock and laying out the stall and readying for the lines that form by 8am. And this millennial is trying to balance her life by proudly (check her social media) raising two young toddlers at home, adding "I don't know how but I force and squeeze time with them every day,". Her husband quit his IT engineer job to look after the kids (they are truly warm, hands-on parents). Some came to work for the $2.5k salary she offered, but they left within a month, citing physical work stress. She has to persuade her 70 year old parents to help her during her maternity leave last year, and she pays them handsomely of course. Now, she still gets no applicants for the $2.5-$3k qualified hawker assistant job. Meanwhile her Merdeka Generation parents continue to bend over and toil with her each day. If she could only hire trained and skilled foreign culinary help. She needs help.
Rui Fang's 70 yo parents still pitch in to help their daughter every day.
No serious takers for Rui Fang's $2.5k salary offer.
Remember, although the noise and ra-ra of the hawker culture Unesco campaign had simmered down, these folks are still toiling away as part of our rich hawker food culture, one that our Prime Minister proudly sought for an inscription in the Unesco List of Intangible Cultural Heritage in 2018. As it is, our hawker food culture is not sustainable. And that is one of Unesco's key criteria in consideration for this award. I think we should ring fence this sector of our industry to keep it buzzing and humming with ideas plus provide them with front end manpower and please, spare them the levies, or the cost will go back to Singaporeans, one way or another.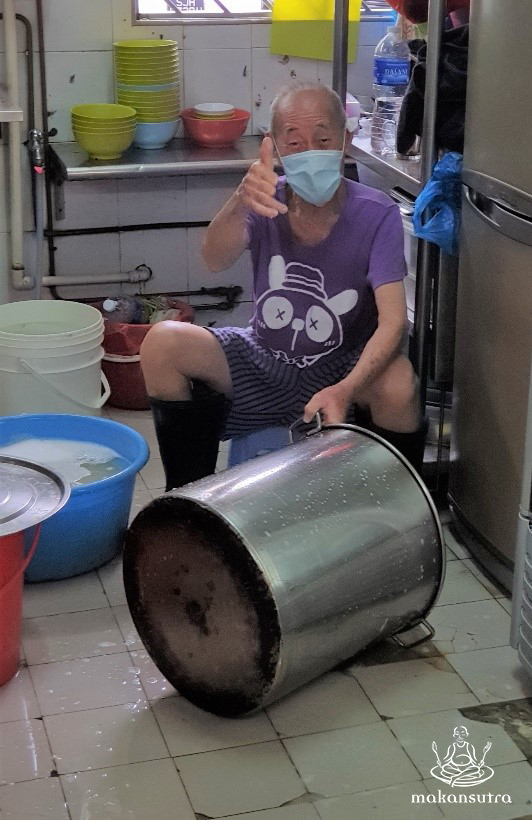 Why do we want 80 year olds to do this work
She seemed so dejected and fatalistic, so I asked this old aunty cleaner at a hawker centre "is it really a tough job?" She looked at me with that i-forgive-you-for-that-silly-question look and said "every time I turn back, there's another 30 dirty tables waiting for me to clean", in English, "but I need this half day job, the $600 monthly pay is important to me, I also need the overtime money.". I have never seen her smile. Another 68 year old year old cleaner in the same hawker centre has to bring his 90 year old dementia stricken mother along to work each day because he does not feel safe leaving her alone at home. She just sits at the hawker centre with a cup of kopi and as her son clears and clean. We should be able to hire younger and abler workers, even foreigners (yes, they have to be paid market rate) and arrange for these older workers to perhaps work from home.
He brings his dementia stricken mother to work because it's not safe for her alone at home.
I was quite sad and disappointed that two millennials, who run Leggy Bowl, a modern take on Asian and Singapore style donburis in a food court in the Starhub building, had decided to close and ship out. They once worked for Chef Duangpon, who runs a Michelin Star rated restaurant in Bangkok and brought the spirit, authentic and earnest Asian food culture for a new generation to love. After we wrote about them, they garnered up a pool of local fans but, as workload piled up, they could not find assistants to ease the enlarged workload. They decided to move to Bangkok and back into Duangpon's kitchen. It is a pity we are losing such talents.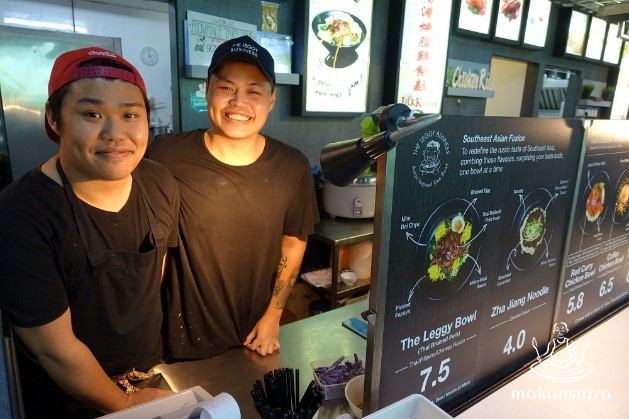 Talented chefs, like these Leggy Bowls hawkers, will find it hard to grow a great concept in Singapore.
And on the other scale, here's a Uniquely Singapore situation. The Sons Italian restaurant folks-helmed by Michelin starred chef Beppe De Vito, closed despite being profitable (you read that right, as quoted in local mainstream media.). They cited anticipating the manpower clampdown this year and decided to cut losses and shutter down for good. This is very daunting for the industry. There are enough folks out there with monies and ideas to start fresh, even world class concepts, but it's all now manifesting into fear because of the unknown manpower situation. It is really making their Passion Made Impossible for them. Success breeds failure.. a Uniquely Singapore problem.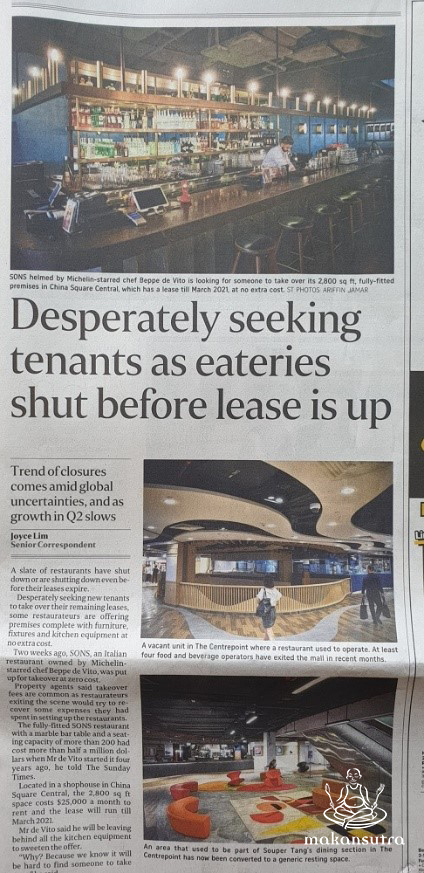 A Uniquely Singapore problem, where success breeds failure.
I urge a big rethink from the new leaders ahead. Consider ring fencing these industries and waiving their quota rules and levies. Introduce contract or term limit conditions if needed, of say 3 years per worker contract. For fair remuneration, alot of folks in the region can help us power our economy. I say, open the doors not just to the top end "$15,000 per month PMET foreign executives, but even to essential service blue collared professionals at this side of the scale.
Over to you, Next Manpower Minister, please do consider these issues, and good luck at the hustings.
KF Seetoh
CEO, Makansutra,
Creator, The World Street Food Congress