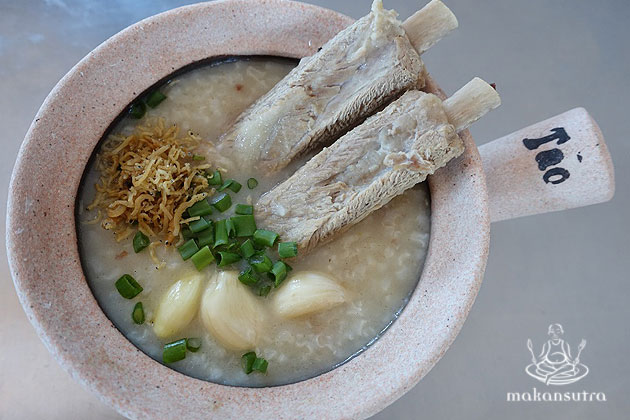 Deliciously Singaporean: Bak Kut Teh Porridge
By KF Seetoh - Wednesday, May 06, 2015
I had observed for a while now, that many Bak Kut Teh feeders don't often finish their bowl of rice. They ask for more soup and you cha kway and half the bowl of rice is left all lonely and wasted by meal's end. Wastage, you say, especially in a world rife with strife and hunger, but that's one known problem that philosophers note as the "ills of affluence". So, while researching on our SG50 Deliciously Singaporean campaign- where we celebrate 50 of our born, bred , new, old and evolved in Singapore dishes, I thought, why not Bak Kut Teh porridge. You use a third less rice at least, and still enjoy those prime ribs slowly simmered in garlicky, meaty and peppery stock, plus you can dunk a nice crispy stick of yu cha kway in, and- you eat whole lot less rice. It's easy on the tummy.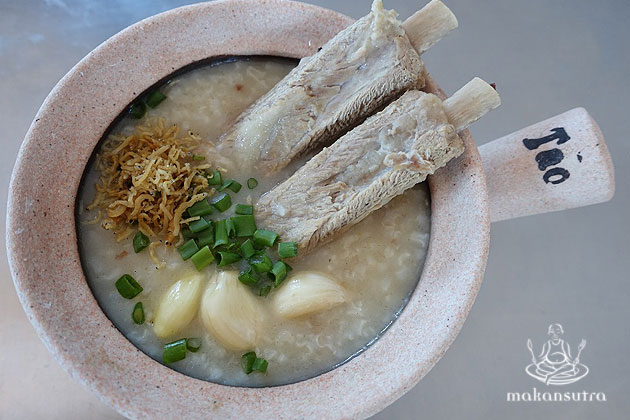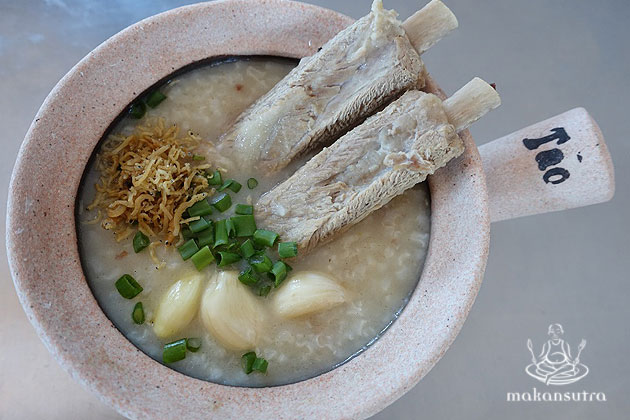 Why not. As luck would have it, a restaurant specialising in porridge offered to take up this idea. So I created this recipe, fine tuned it and suggested they place it in their menu to cement that taste of "Singaporia" in their kitchens. It took us about three kitchen test sessions before I felt "Bak Kut Teh" about it. The sting of the white pepper was intact, as was the gently smooth fragrance of the garlic. All we had to do was up the umami intensity of the stock used. The A-One Claypot (porridge) House folks experimented with a few flavours and introduced dried scallops and white bait to the stock (very effective trick many restaurants use in their soup bases). It worked like a treat. We had differing views on just how much of the peppery sting we should introduce to the equation (you can kind of guess what I wanted), but it was a happy disagreement, no losers involved.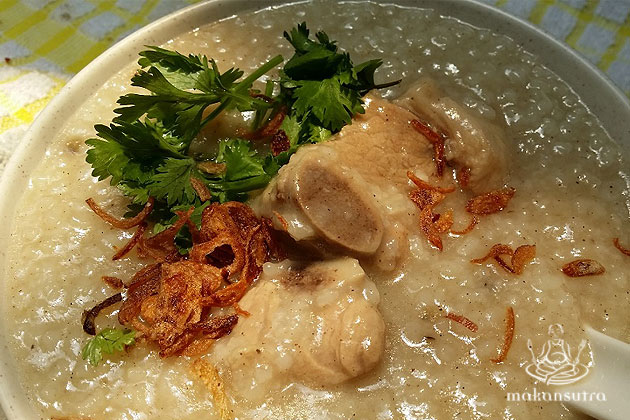 The owner of A-One Claypot House, Richard Ter, is no chef, but he had a good palate and did not initially know why, despite simmering grains in a bak kut teh soup, the porridge came out bland, as did his head chef, Steven Cheong. So I suggested we "overdo" the bak kut teh stock with more garlic, white pepper and an intense meat stock- to counter and balance what the sweet starchy grains would absorb.
A claypot version emerged from their kitchens and it made its debut at the recent World Street Food Congress "Dai Pai Dong" demo station last month along with a basic recipe. Among the first to try it was Culture, Community and Youth Minister Lawrence Wong- he asked for seconds. His MCCY and the National Heritage Board are the folks behind the Deliciously Singaporean campaign, which is curated and developed by Makansutra. And it was seconds too, for the whole MCCY SG50 committee behind the campaign at the event.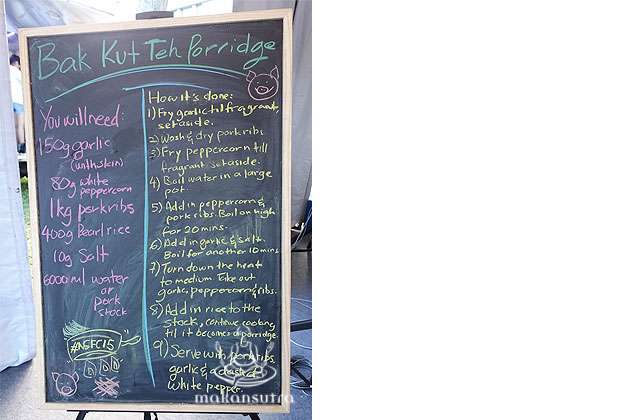 The recipe is was hand written in a chalkboard(see picture) but I like to up the tempo and suggest you replace the water with a rich chicken or pork broth simmered with ikan bilis. This rounds off the spicy intensity of the white pepper. The A-One Claypot House folks will offer this on their menu in the middle of this month (May) for an initial limited period of 3 months. It will be available at some of their outlets : Kallang Wave, NEX, Seletar Mall, Causeway Point, Jurong Point .