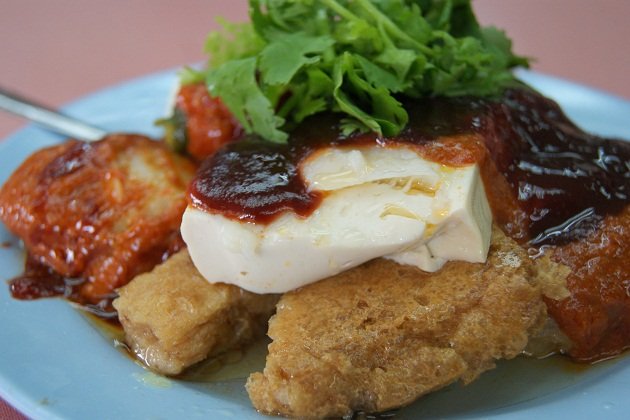 Discover and Devour: Changi Road
By Lorraine Koh - Wednesday, Mar 06, 2013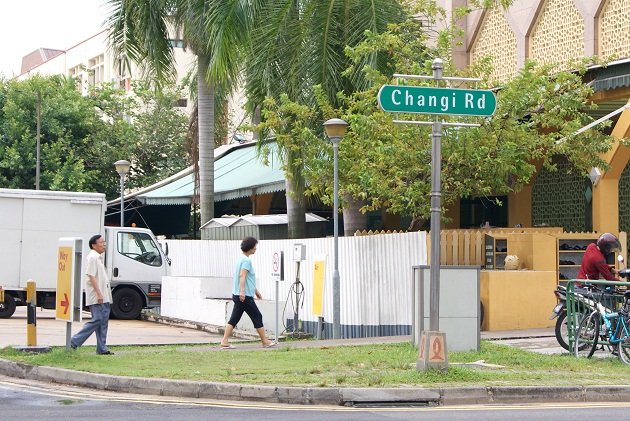 Paying homage to those great streets that seem to have all the great food, we launch our new series, Discover and Devour. You don't need much to enjoy this tasty food trail, just a pair of good walking shoes, some cash and a ravenous appetite.
Just a stone's throw away from Kembangan MRT station, Changi Road is home to many terraced houses and private apartments. There are also various shophouses and motoring shops. But of course, food lovers will not be disappointed with this street. With many quaint little coffeshops and independent restaurants, it's a great road to discover and devour.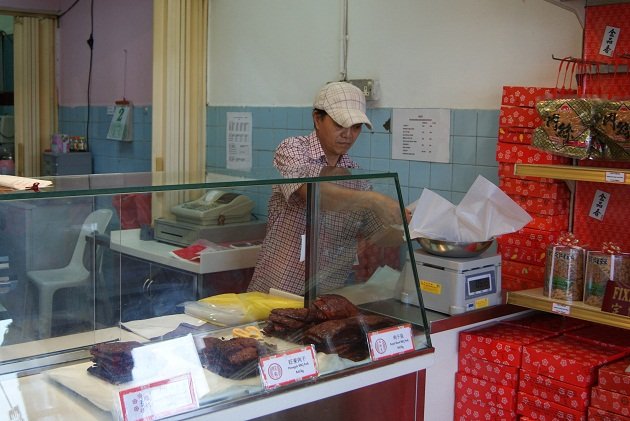 Kim Peng Hiang Bak Kwa
Located just next to Seng Kee Black Chicken Herbal Soup, this place is famous for its Pineapple Bak Kwa. The pineapple (made into candied shreds similar to pineapple tart fillings) is fused together with bak kwa and lends a strong but not cloying sweetness to the meat. Although we notice more of the pineapple bits being located in the middle of the bak kwa square, it lends a juicy bite to the bak kwa. This is for those who like their bak kwa sweet and fruity instead of savoury.
Kim Peng Hiang Food Industry, 465 Changi Road, Tel: 67426853. Opening hours: 8.30am – 6.30am Close: Sunday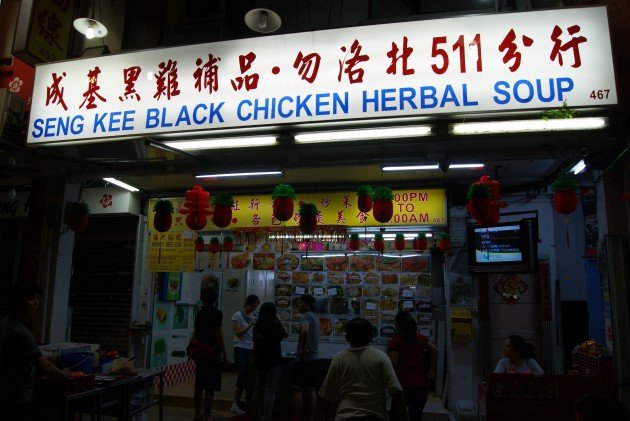 Seng Kee Black Chicken Herbal Soup
A cze cha spot popular with night owls, we highly recommend the mee suah here. Served with spare parts like kidney and liver, they are very fresh cleaned. Cooked in a beefy and herbal broth, the soup is robust and has a mild sweetness. The noodles are soft and smooth yet have a bit of bite to them. They also have a range of comforting cze cha dishes and especially popular, is the crab beehoon which is served wrapped in opei leaf (a kind of palm bark). They also do a mean sambal petai with crispy ikan bilis, plus the steamed otah never failed to disappoint. Almost everyone orders their steamed fish head and tails, which they pick from the chiller in the stall front.
Seng Kee Black Chicken Herbal Soup, 467 Changi Road, Opening Hours: 5pm to 4am.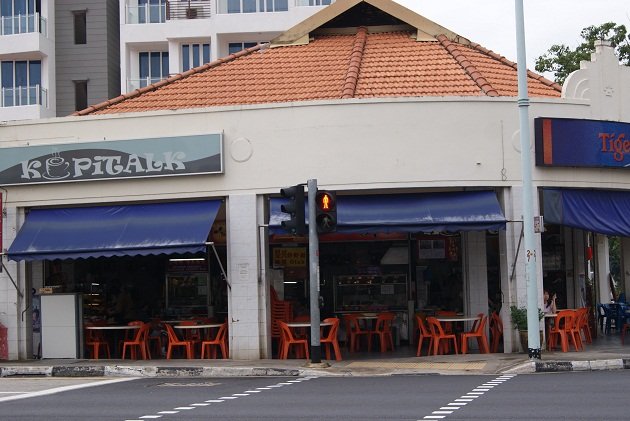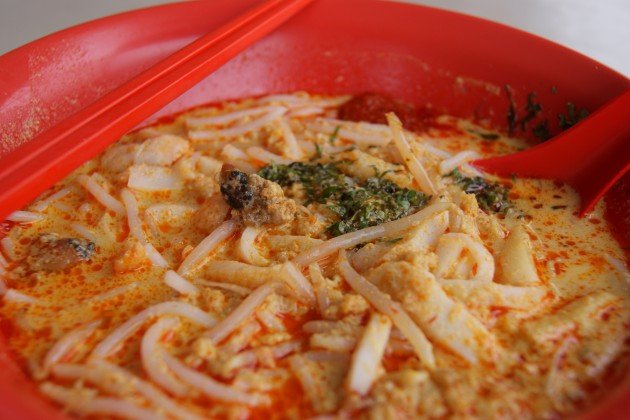 Katong Laksa
As you walk along Changi Road, at the junction of Telok Kurau lies this unassuming coffeeshop, called Kopitalk. And here is where Katong Laksa resides. Stall owner George's father learnt the laksa recipe from the revered Janggut who was the first hawker to have invented Katong Laksa. Coconut milk is used for that lemak-ness in the gravy, and the rempah comes with enough hae bi flavour and unstrained spice bits to give it a good bite. The chilli is not spicy and suitable for those who can't take the heat.
Sadly, the auntie who fries a mean plate of carrot cake with ikan billis is no longer there. According to George, she has retired, and is no longer selling her famous carrot cake. They still do serve carrot cake in the mornings at this coffeeshop sans ikan billis.
Katong Laksa, 1 Telok Kurau, Kopitalk Coffeeshop, Opening hours: 8am – 3pm.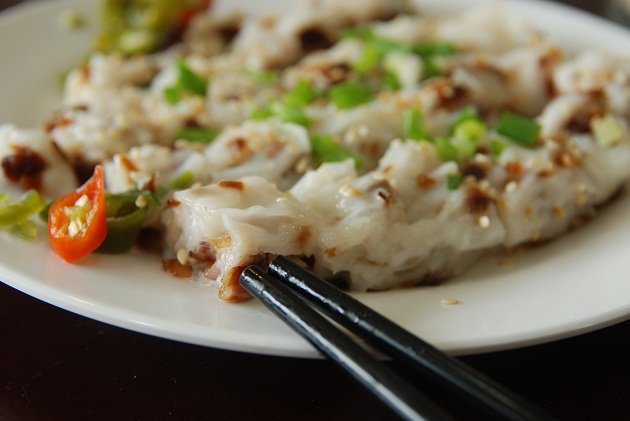 Anson Chee Cheong Fun
Touting an Ipoh style Chee Cheong Fun, the owners grind their own rice flour from broken grains. The result is chee cheong fun that is smooth and soft, almost similar to you what you can find in Ipoh. Try the original "Anson" chee cheong fun – done dry with bits of hae bi (dried shrimps) and turnips with crispy shallots embedded in. It's sauceless, very smooth and soft due to the thin layer of shallot oil smeared upon. Best part is, you eat it with a refreshingly different spicy condiment – pickled red and green chilli, to foil the savoury and heaviness (if you over-eat). It also comes plain, with sesame seeds and si yau (soy sauce) sok yau (cooked oil), with a button mushroom sauce and a spicy curry version which can come with chicken or pig skin with long beans.
324P Changi Road (Near Telok Kurau Junction), Tel: 6345 9689, Opening Hours 7am – 8 pm.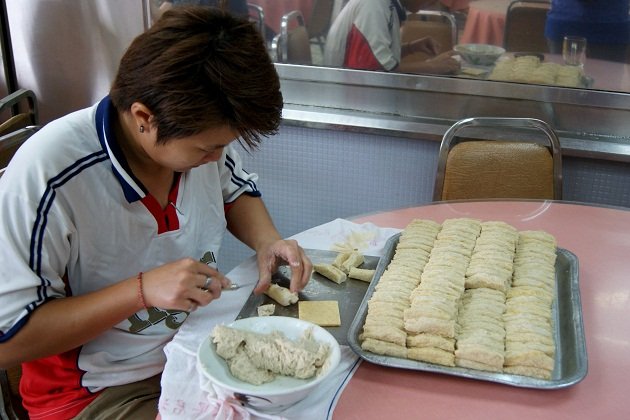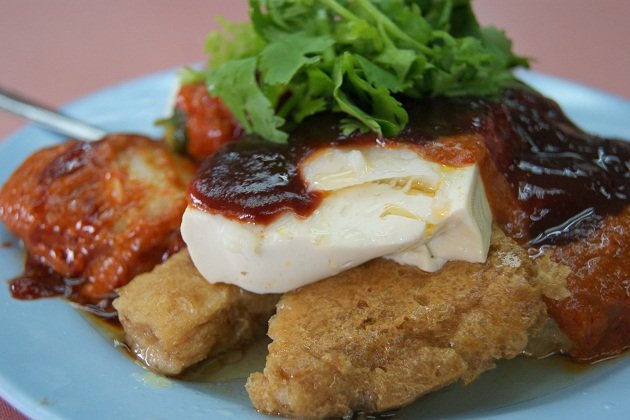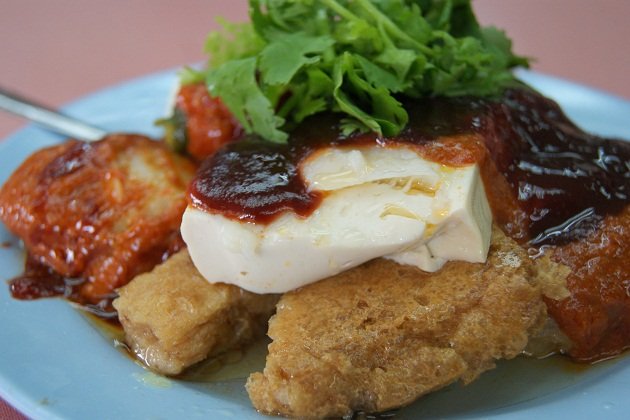 Goldhill Hakka Restaurant 1997
They start their preparations at 4am and make all their yong tau foo items by hand. 15 years in the business, this independently-run, air-conditioned restaurant is a treasure. Items like fish ball, tofu, bean skin are stuffed with a fish and meat paste – very smooth yet firm. They serve up only about 7 yong tau foo items and they hand make each of them and they come in a set- dry or soup You can't really choose your items although you can specify which ones you do not want. The dish comes with a nam yu (fermented red bean curd) laced sweet sauce and chill. The chilli sauce does not start off as spicy but the more you eat it, the more the spiciness comes at you.
Goldhill Hakka Restaurant 1997, 299A Changi Road, Tel: 6842 4283, Opening hours: 11.30am – 4pm, Closed: Monday