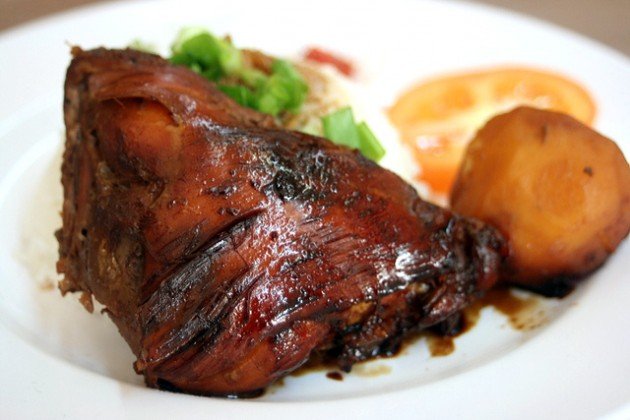 Discover and Devour : Joo Chiat Road
By Lorraine Koh - Wednesday, May 02, 2012
In the day, Joo Chiat Road is a laidback area in the East which is made up of low-rise apartments, shophouses and where the upper class is seen in casual bermudas and tees. At night, however, its nightlife once was able to rival Geylang (in terms of sleazy karaoke bars, dubious massage parlours and scantily dressed prostitutes out in the street), until the government authorities stepped in. Residents appealed to their MPs and Grassroots leaders which resulted in a number of Anti-Vice raids taking place and many bars were shut down.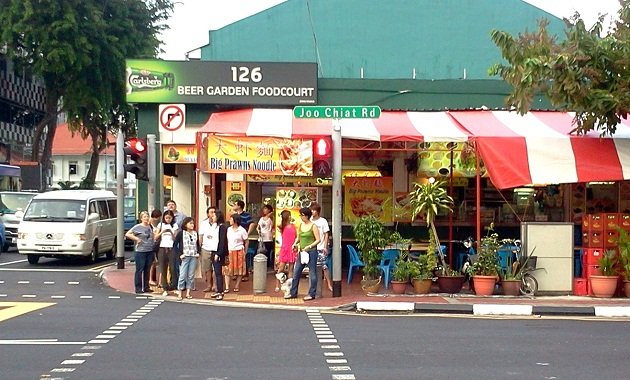 With the seedy situation more or less contained, Joo Chiat Road is now known once again as a haven of makan places some of which have been reviewed and re-reviewed by every food critic, food television show and food blogger. Everyone is familiar with beloved favourites like Kim Choo Kueh Chang and Tian Tian Hainanese Chicken Rice, so we decided for this edition of Discover and Devour, we pick places which are refreshingly good and not as evident on your makan radar.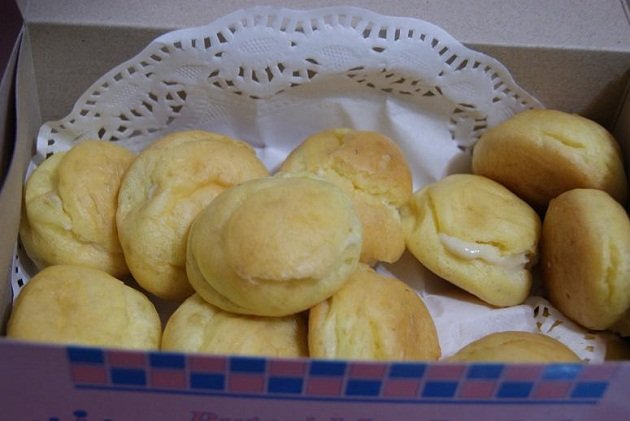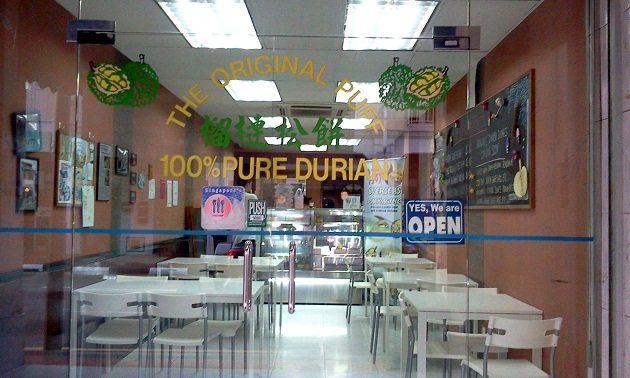 Puteri Mas
Located in a restored colonial building, this unassuming shop serves one of the most famous durian puffs in the city. The filling boasts of more durian than cream and best to devour it slightly chilled. With a soft and slightly crusty pastry, it is bite-sized and you can pop a couple in your mouth – that is, if you are a fan of the delectably pungent fruit.
Puteri Mas Durian Puff. 475 Joo Chiat Road. Opens 12pm-5pm (Mon), 9.30pm-7pm (Tue-Sun)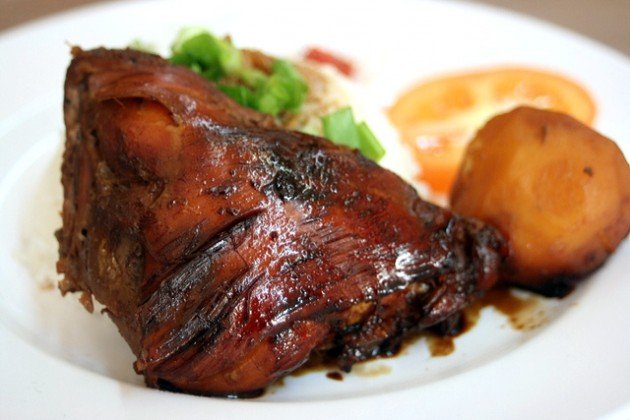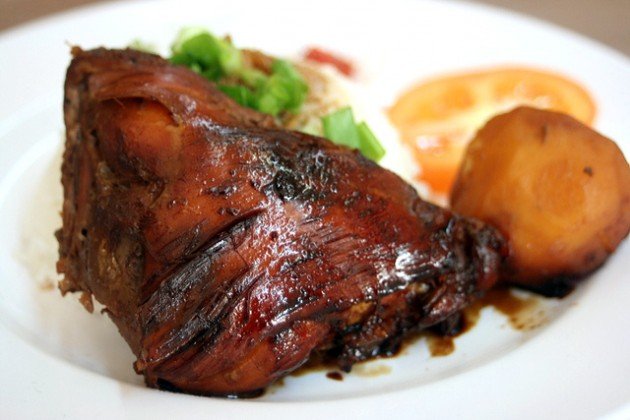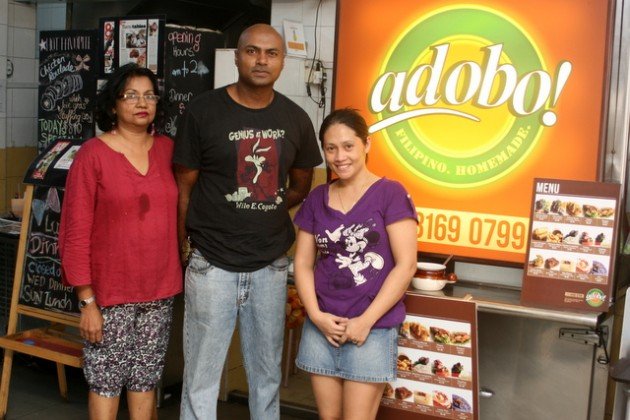 ADOBO!
Situated at the junction of Joo Chiat Road and East Coast Road, this place serves Pinoy food in a coffee shop. Opened last year, it has since gained popularity among the Filipinos and locals here. The Chicken Adobo (stewed chicken), the quintessential stew of the Philippines, can be a little on the dry side, yet it is full of flavours. Marinated in vinegar, soy sauce, garlic, black pepper, it's browned in oil and then simmered in the marinade. Our signature Pinoy dishes include Tapsilog (beef tapa) and Lechon Kawali (crispy roasted pork).
ADOBO!. 125 East Coast Road. #01-01 Stall no.2 Ali Baba Eating House, Singapore. Opens 11.30am to 10.30pm, Close Tue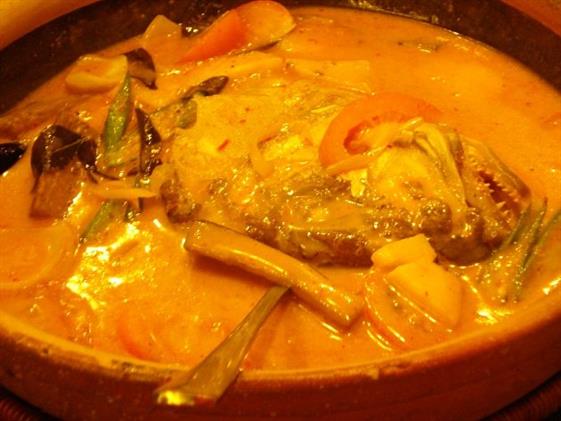 Lau Hock Guan Kee Bak Kut Teh & Curry Fish Head
Helmed by two brothers, this place serves Bak Kut Teh, however their Peranakan style fish head curry has been gaining favour among their customers and is now a mainstay on the menu. The curry is piquant and appetisingly sour (due to tamarind) and comes topped with fresh brinjals, tomatoes and ochre. It served not in a giant bowl, but in a soup plate.
Lau Hock Guan Kee Bak Kut Teh & Curry Fish Head. 328 Joo Chiat Road, #01-02 Singapore. Opens 8.30am–4pm, 5pm–1am, Closes on Thu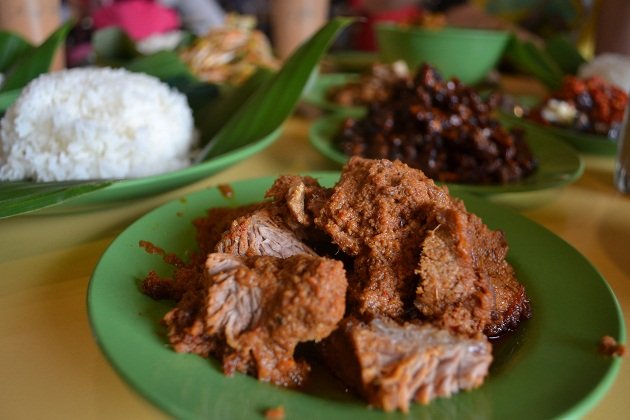 Hajjah Mona Nasi Padang
One end of Joo Chiat Road meets Geylang Road, where we arrive at Geylang Setai Market and Food Centre, home to Hajjah Mona Masi Padang. During lunch time, the selection here is mind boggling. Dishes include the signature rendang (dry, soft and richly stewed), kampong style fish otah (wrapped in a triangular leaf banana pouch), siput lemak (spicy coconut curry snails), sambal goreng and sayur lodeh. The place seats aplenty over two floors and the brightly lit food counter eggs you to over order..beware!
Hajjah Mona Nasi Padang. Blk 1 Geylang Serai #02-166, Geylang Serai Market. Opens 7.30am-7.30pm, Closes on Wed
Long Phuang Vietnamese Restaurant
Joo Chiat has been (although unwillingly) known as Little Vietnam, due to the influx of young Vietnamese ladies moonlighting at the bars peppered around the area. This has led to quite a number of rather authentic Vietnamese stalls popping up. Over at Long Phuang, there is a good range of Vietnamese dishes that most Singaporean may not heard of. The Bun Thit Nuong (grilled pork chop) can be a little dry due to having less fats but the meat is juicy and well marinated with herbs and spices (like satay marinade), it also goes well with the vermicelli. For a change from Pho Bo (beef kway teow) try the spicy beef vermicelli instead. It is redolent with cinnamon and star anise but not offensively so and goes well with the rich and spicy broth.
Long Phuang Vietnamese Restaurant. 159 Joo Chiat Road. Opens 1pm-2am