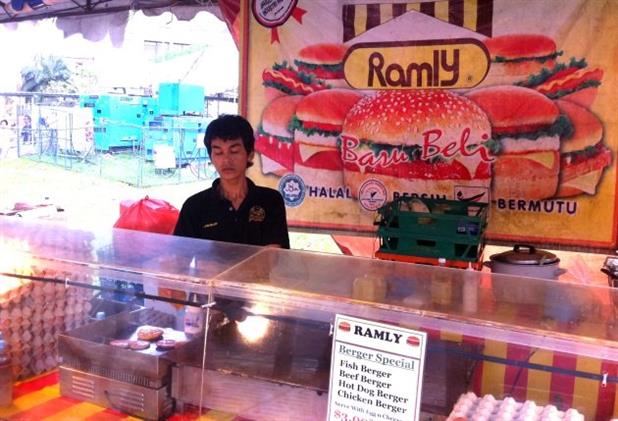 Do You Know That Ramly Burgers Are Banned In Singapore?
By Sheere Ng - Thursday, Jul 12, 2012
Did you know that the beloved and hugely popular Ramly burger – a Malaysian makan icon which we love to eat at local Hari Raya pasar malams or food fairs – is not the real deal at all?
In fact, the only authentic thing about the Ramly Burgers in Singapore is the wrapper.
That's because the Ramly beef and chicken patties, the essence of what a Ramly burger is all about, has been banned in Singapore for some time.
According to Mr. Vivek, Director of Hassenah Singapore, a local distributor of Ramly products, the Agri-Food & Veterinary Authority of Singapore's (AVA) main point of contention with Ramly burgers is that one of the factory's sources of beef for its beef burgers is from India, which is not one of the approved sources of beef by the AVA.
Instead, what you get are burger patties with brand names such as Tasty, Sultan Burger and Armiya, all made locally.
So who is Ramly and how come his burgers became so popular?
Founder Ramly Bin Mokni is a Malaysian who together with his wife, Shala Siah Binti Abdul Manap, created the burger recipe in 1979.
They were selling burgers over a mobile kiosk at Kuala Lumpur and it became so popular that they subsequently sold their unique patties, along with their egg-wrapping way of cooking the burger, to the other street vendors.
The street vendors later named this burger Ramly Burger, after their supplier.
Ramly and his wife, who till then had been making the patties at home, opened their first factory five years later. Today, the Ramly Burger brand can be found everywhere in Southeast Asia from Singapore and Thailand to Philippines and Indonesia.
"They have created a product with a very Asian taste suitable for Asian palates," says Mr Vivek, Director of Hassenah Singapore, a local distributor of Ramly products. Besides patties, Ramly also manufacturers other products such as fish fillet, frankfurter, nuggets, fried chicken, buns, and sauces like chilli and mayonnaise.
Out of all of those items, only the wrapping paper, mayonnaise, and frozen seafood like octopus balls are distributed in Singapore.
To understand why such a burger is popular in Singapore and why it has people clamouring for more is partly due to the way it is cooked:
The patty cooks on a hot plate, alongside a thin omelette, some onions and cabbages. When ready, the patty is wrapped in that omelette "skin" and topped with the vegetables, followed by mayonnaise, Worcestershire sauce and Chilli. The whole concoction sits between two soft toasted sesame buns.
It is this technique and method which makes a Ramly burger, but that is not the whole story. The other real secret is the addictive special spice mix sauce which you do not get here in Singapore, but only altered and "evolved" versions.
If you want the real Ramly experience, the nearest place a Singaporean can taste a Ramly burger is across the causeway.
However, this is not to say that you can't get a good Ramly-style burger using locally produced patties.
After all, authentic or not, what matters is how it tastes.
For those who are interested, the Ramly Burger recipes, in Malay, are available on the company's website: http://www.ramly.com.my/