Does meaning matter more than taste?
By Nadia Tan - Friday, Aug 16, 2013
They call it paronomasia; and many such terms and puns inevitably sculpt the Chinese culture and language through the course of time. And at every Chinese New Year, these terms and puns inevitably creep up in our festival menus. The use of these homophones, especially in food this Chinese New Year or the Spring Festival, is totally related to auspicious meanings and superstitious beliefs.
For starters, as every good deed and meaningful dollar counts, the Da Suan (大蒜) dish (Stir Fried Leeks, usually with Meat) is one of the must-eat dishes during the Chinese New Year. Pronounced "Suan" which is similar to the Mandarin word ("算"), it means to calculate or count (your good fortune or money).
In Singapore, the Pen Cai (Basin Dish) is also served as part of the traditional practice passed down from the Chinese Hakka dialect group. Pen Cai was a means for survival in the ancient times. Packed with eight different ingredients, the Pen Cai was seen as a poor man's family festival dish. Ingredients include humble dried items and those found on their farms like mushrooms, beancurd skin (from soy beans), radishes, and simple comfort flavours like pig's skin, pork belly, prawns, chicken and trotters- all cooked separately with eight different seasonings and stacked in a pot. The Pen Cai (盆菜), is regarded as "Basin of Treasures" and is prescriptively eaten by starting from the top, devouring each layer down, designed to tease and please the palate, before ending on a satisfying high. Many Chinese folks believed that by stacking the ingredients high, it breeds prosperity.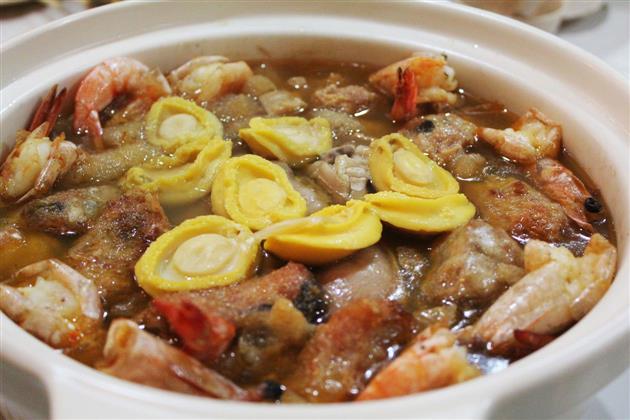 But to Valerie Goh, the Pen Cai doesn't necessarily mean a great tasting dish. "It's sometimes like a bad bowl of Bibimbap without the seasoning, plain and tasteless." The 31-year-old likes to help her grandmother prepare early before each reunion dinner every year.
"To me, the preparation is what solely defines the" taste" of the dish. Its significance is mainly the dish being served and shared together as a family," says 84-year-old retiree, Madam Teo.
We often look upon our local Chinese cuisine every New Year and remind ourselves on how each and every dish holds tight to its name in the culinary world. However, with more than 5,000 Chinese restaurants and little eateries in Singapore today, each one competes for their house speciality; promoting their dishes by the use of clever poetry in their menu. Often, we find ourselves drifting away from fully savouring these dishes and get distracted by superstitions and auspiciousness. We consume the power and might of a "dragon" (which can be prawns or lobsters) in 金 龙 獻 歲 (乳 油 焗 酥 虾) Baked King Prawn with Garlic Butter and indulge the fearsome grace of the Phoenix (chicken) in龙 凤 呈 祥 (香 辣 川 式 鸡) Sautéed Chicken with Si Chuan Spice and have them all balanced with a platter of sorrow and joy (tung ku ho si or braised mushroom with dried oysters).
"We would go for both quality and quantity. I think the older generation believe in "rewarding" themselves after a year of hard work. I just eat whatever that's in front of me. Like reachable distance", says interior designer Zel Lee, very practically.
While an affluent younger generation seem to have a penchant for better food and ingredients, it is obvious they are inclined to be more concerned about taste and quality , than traditions these days. As 25-year-old designer, Clarence Aw shares his thoughts. "I would prefer quality over poetry. The nice name may probably make you feel good only before you eat, but food better be good or else the disappointment level is high", he says.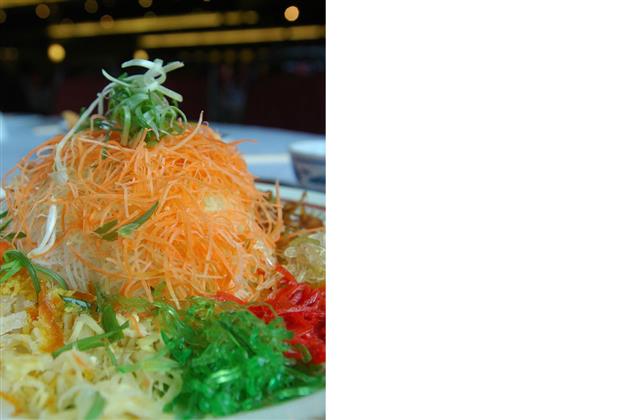 "We have our Chinese New Year dinner at least a week before to avoid the crowd; during CNY, but still, the food quality is compromised because the chefs have to rush out dishes", said Dan Yeo, a 31-year-old photographer and food enthusiast. "…but most of us go for the meaning. As you know, everything is about being prosperous and stuff."
Old habits die hard and Chinese influences remain through traditions and cultures, let those flavours whisk you away this Chinese New Year and embrace the meaningful richness of each bite!