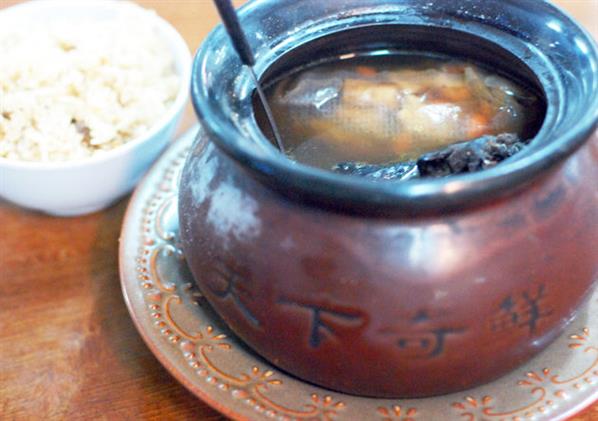 Double Boiled Pleasures For The Soul
By Elaine Ng - Wednesday, Jan 16, 2013
Healthy and hearty, herbal soups are great- whether to assuage post-Christmas feasting guilt or simply as a comforting tummy filler on rainy days. Chinese moms in particular seem to believe in the restorative powers of herbal soups, often prescribing the chicken soup for stomach-related illnesses and certain others to make up for specific deficiencies in one's body.
Alas, it takes much time and effort to create a bowl of nourishing herbal soup, especially if it's double-boiled. So, here are five places you could go for a convenient but nutritious bowl of goodness.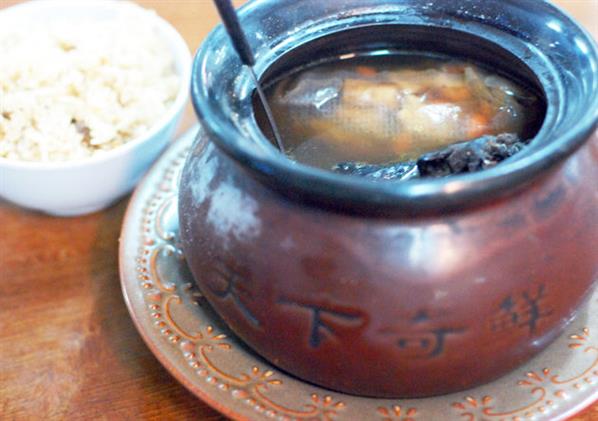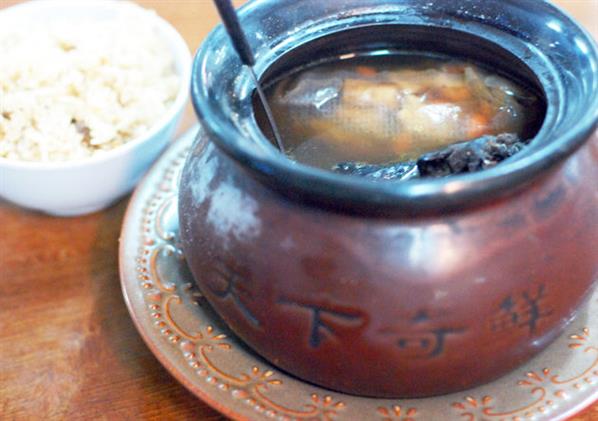 1. Earthen Jar Treasure Herbal Soup 77 Eating House, 22 Sin Ming road, #01-244 Opens Monday to Saturday 10am to 9.30pm, Sunday 10am to 3pm, closed on alternate Mondays
The stall, situated in a kopitiam among many others in a rather long block 22, is easily found and identified by the giant earthen urns sitting by its side. There are many options from the basic watercress soup to the comprehensive ten tonics broth, but the lady boss recommended their popular double-boiled chicken ginseng soup ($6.80) as well as the black chicken soup ($6.50). Each of your order comes well-presented in individual mini claypots with a fragrant brown yam rice fried with hae bi. The sachets in the soup prevent murkiness of the broth while retaining that balanced herbal taste. Chicken in both soups were tender and moist though we would have preferred a stronger ginseng flavour. A tip for fans of duck with salted vegetable soup, check out Hup Seng Duck Rice's rendition rather than that at Earthen Jar, which generally fares better with herbal soups.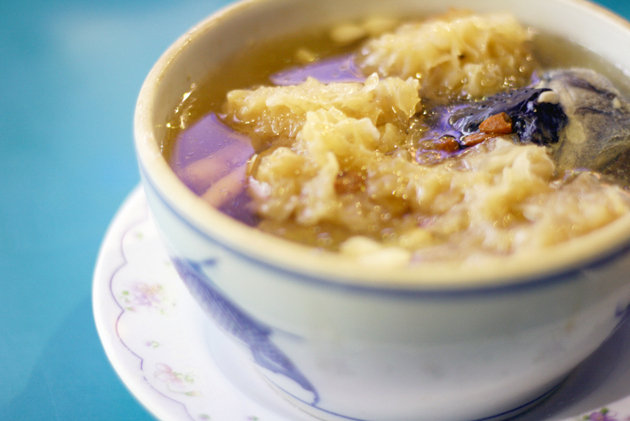 2. Seng Kee Black Chicken Herbal Soup 467 Changi road / Kaki Bukit 511 Market and Food Centre, Blk 511 Bedok North Street 3, #01-31/32 Opens 5pm to 4am daily
We were taken aback by the price of the namesake dish at Seng Kee Black Chicken Herbal Soup. For $13, one gets a palm-sized claypot enough for only one. But digging in, we quickly found out why. The intense broth comes with copious amounts of herbs and boasts of an intense ginseng taste that beats all the other herbal soup stalls we visited. Lovers of Chinese herbs will be mightily pleased but for the uninitiated, beware of the thick essence of the herbs. This cze char stall also serves a mean Teochew steamed fish, sambal tapioca leaves, and a rich mee sua with mixed pig organs.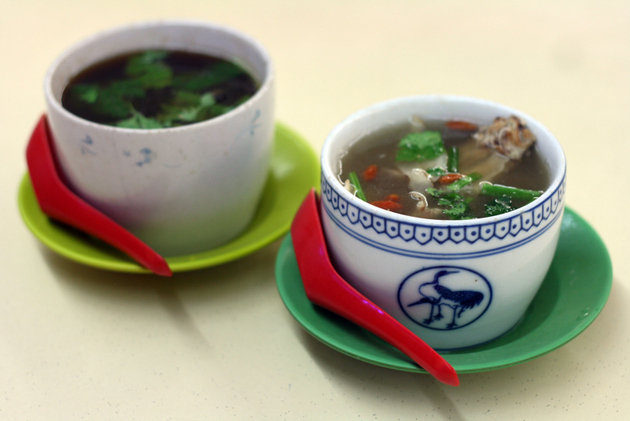 3. Si Yang Steam Soup Coffee City, Blk 728 Ang Mo Kio Ave 6, #01-4200 Opens Monday to Saturday 11am to 9.30pm, closed on Sundays
We went straight for the popular Tian Qi Black Chicken soup ($6) and the Ginseng Frog Soup ($8) despite the many other choices at this nondescript stall — simply labelled 'Stewed Soup' stall in a crowded kopitiam. We thoroughly enjoyed the black chicken soup, tender chicken immersed in a deep herbal broth sweetened with wolfberries aplenty. The Ginseng Frog Soup, however, was disappointing. Teeming portions of bland and tough frog meat, huaishan, red dates and wolfberries in a broth overwhelmed by the bitterness of the ginseng roots hair used was unexpected following the exceedingly delicious black chicken soup.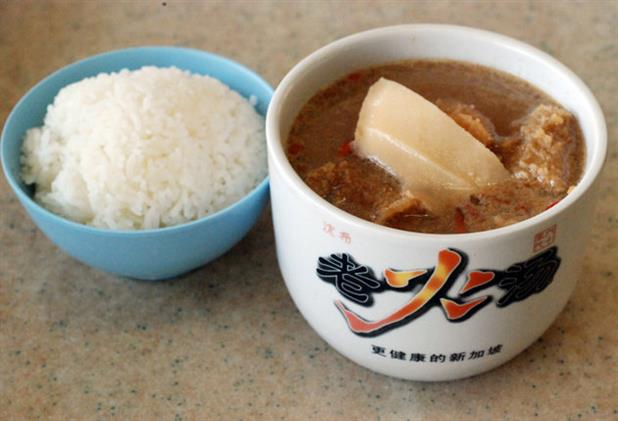 4. Soup Master Chinatown Complex Food Centre, Blk 335 Smith Street #02-05/07 Opens 12pm to 2.30pm and 5pm to 8.30pm daily
Despite raves from some reliable friends, we were a tad wary when visiting the flagship stall of Shenxi Soup due to bad experiences at three of its 46 franchises. There are many choices but we went for the Buddha Jumps Over the Wall ($7), an intensely rich murky concoction of fish maw, mock shark's fin, Chinese shiitake mushrooms and ginseng, topped with a slice of mock abalone and a smattering of wolfberries, which was surprisingly filling.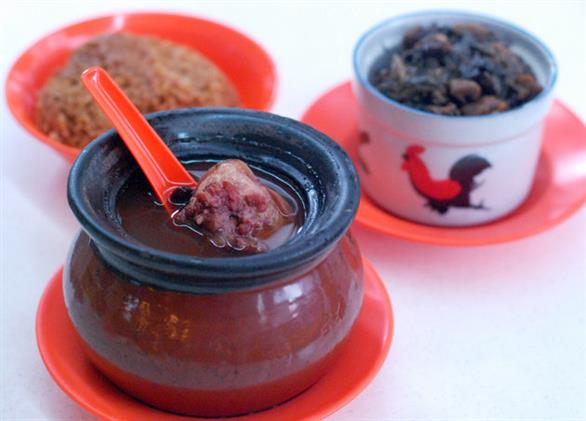 5. Ye Ji Wa Gung (Nutrition) Brew Soup Blk 10 North Bridge Road, #01-5132 Opens 9am to 10pm daily, closed on alternate Sundays
At 4pm on a weekday afternoon, we were heartened by a crowd, mostly tucking into bowls of soup from Ye Ji Wa Gung. Expectations were further raised as our Black Bean Pig's Tail Soup ($4) was hoisted out of the larger of two giant urns placed just at the entrance of the kopitiam stall. Generous amounts of fatty gelatinous meat slips off the soft bones of the pig's tail. The broth boasts a deep robust smoky flavour that was slightly salty but nonetheless delicious. We regretted ordering the yam rice, which was average except that it was rather sticky, for white rice would have been perfect with the herbal soup. The mei cai kou rou, on the other hand, was surprisingly less salty than the norm. But for $3.50, the three big pieces of pork belly — instead of the usual which is chopped into smithereens — sitting at the bottom would easily be considered value for money.