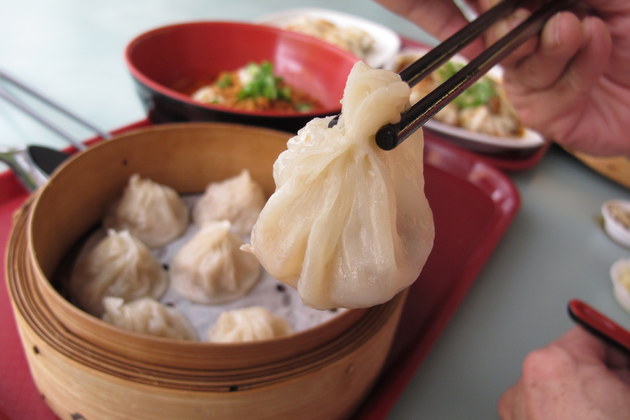 Dumplings to Die for
By KF Seetoh - Monday, Oct 07, 2013
A food show host from Taiwan once made a comment about how the famed Peking Duck did not originate from Peking (former name of Beijing) but actually from Nanjing, the capital of Jiangsu in Eastern China. When the Imperial Palace was built over 600 years ago, many street food vendors came and set up shop at Wang Fujing (translated as "near the Emperor") – the now little touristy street food street sited beside the palace. He said he could tell if these creatures are from Nanjing, or anywhere else for that matter, as it has a certain built, just by looking at its derriere.
The waiter beside was so amused and impressed, so he asked for a favour – he dropped his pants and exposed his cheeks to the show host and asked if can tell where he is from as he is an orphan! Roast ducks are not just the only thing famous in Nanjing. There was the infamous Rape of Nanking (its erstwhile name) and… xiao long bao, or little dragon buns. It's a steamed pork dumpling done with a lightly translucent skin that holds soup or stock that was released from the minced pork fillings while being steamed. A well-made xiao long bao does not leak, and with one bite, you get starch, soup and meat. It is a little meal on its own.
Up until about 12 years ago, xiao long bao was a rarity in our midst. You largely get this Nanjing street food in fancy establishments and hotels. They did not come cheap and readily available for the average makan Joe. Then in early 2000, a flood of new Chinese mainland migrants headed this way and they came from as far as Nanjing, thus, like all new migrants, they brought along their makan culture. Today, their little la mian (ramen) pulled noodles stalls and xiao long bao stall and shops proliferate.
The mark of how Singapore accepts any new makan culture is when they begin to show up at hawker centres, where the nerve centre of the local palate resides. When the local crowd begin to crowd around their stall, it means acceptance. These days, you can find Thai, Japanese, French, Italian, Vietnamese, Philippines, Bangladeshi, western steak and chop joints and even Cambodian stalls in our hawker centres and coffeeshops. Our makan scene is so exciting.
Is this the real Nanjing Xiao Long Bao?
Very often it's hawkers and even taxi drivers (but that's rare as these days they only go for areas with free parking or where the "summon auntie is slack") who tell me what makan gems there are in their midst. I wouldn't otherwise have tracked down that nasi biryani stall at Beach Road or that cze cha spot in Commonwealth in an old HDB block (where you can't find seats on most evenings these days). Then while having my favourite chicken rice one sweaty and balmy afternoon, the hawker plonked a plate of someone else's food on my table and decreed "this one better than those big name chain stalls from Taiwan anytime." It was steamer of xiao long bao and poached dumplings in chilli oil.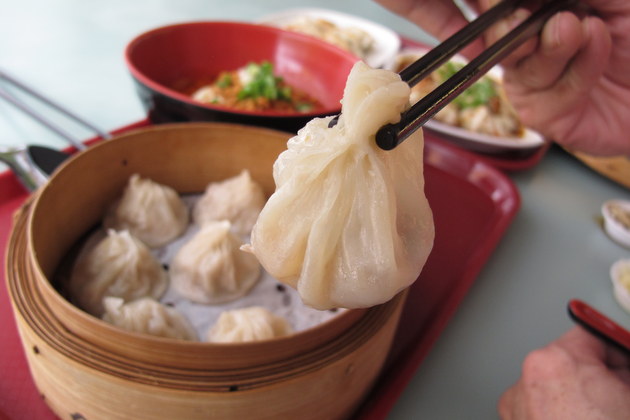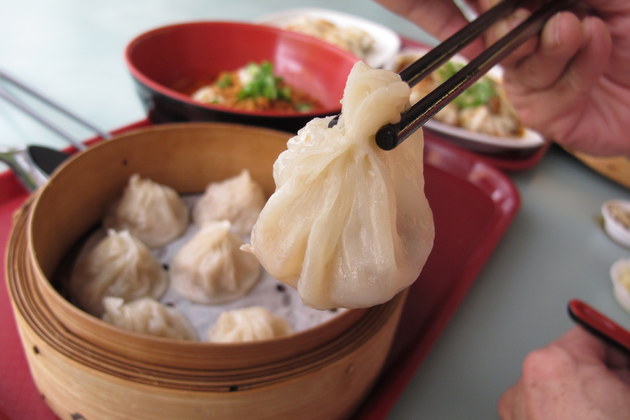 It was outstanding and, so… arranged. So back I went impromptu a few times later and finally I realised the husband and wife team behind the makan was originally from Nanjing. "We've been here almost 12 years and Singapore is now our new home," said boss lady and Singaporean Ms Zhao Guilian, 40,who still speaks hardly any English. "Opportunities were bad back then and coming here was a logical choice," her husband Mr Zhang you Zhu admitted. But that's not news. He was a chef back in Nanjing and had a ten year gig here as a xiao long bao and Nanjing food chef before he decided to set up this hawker stall about two years ago.
Their xiao long bao has all the trappings of a fine restaurant version – lift one up and no soup seeps out and the skin holds well, and yet is thin. "It's not the skin, it's the fillings that the most difficult to perfect," Zhang tells me, " the texture and juiciness must be right or no soup will be released when steamed and the bite won't he right." It had a nice sweet and meaty aroma and flavour. "It's nothing like this back in Nanjing," where the couple just returned from a holiday, "It's salty, oily, fatty and the skin is thick and floury," he adds. Here, it's tampered for the local palate and Singaporeans have it good, adding that it took him a few years to decipher that it is the thin skin, meaty aroma and soupy insides, that Singaporeans fall for. They account for the overwhelming majority of his customers. So Mr Zhang reminds me not to always ask for "authentic" versions if you don't know what you are in for.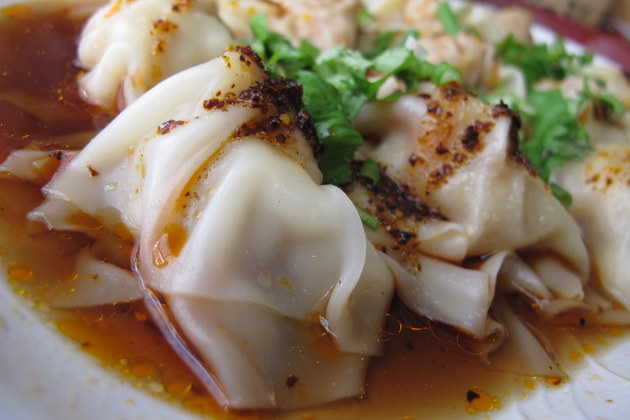 Their guo tie (pan fried dumplings) is fried expertly, only on one side, on a pan. It crisps the bottom (and it's not oily, almost thin biscuit like) and the heat just steams the fillings and softens the top skin. So easy to like. Another hit was their all-time best seller – hong you chao shou – the poached wanton dumplings in chilli oil – which has a fragrant umami sweetness and spiciness to it. The skin was slippery, moist and soft. Slurp slurp.
The most popular starch they offered is the dan dan mian, minced meat noodles in spicy or sans spicy sauce. Don't expect those hair and scalp-sweating spiciness experience. Of course it's spiked with chillis, but judiciously so, and good enough even for spice loving kids.
Honestly, I am just thrilled that these are now part of our comfort food regime. It's one good part of having new migrants in our midst.
Shanghai La Mian Xiao Long Bao
01-56, Alexandra Village Food Centre
Blk 120, Bukit Merah Lane
11.30AM- 3PM, 5-8.30PM
Close on Mondays