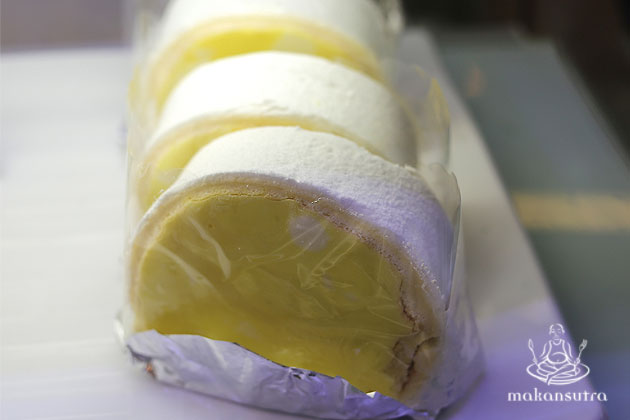 DURIAN DESSERTS: 5 Delectable Ways to Experience Durian
By Cecilia Joven Ong - Tuesday, Jun 23, 2015
It's the season of the King of Fruits and good news- prices of Durians are down by up to 50% this month as there is an abundant supply for Malaysia currently. The popular Mao Shan Wang is seen offered as low as $10 a kilo, down from the usual $20-30. If you like the thorny fruits but devouring the raw potent pong and of these Kings are not your thing, then fret not. We have five durian dessert you can tear into this month.
DESSERT BOWL
80A Serangoon Garden Way Singapore 555976
Operating Hours: 1.00 pm to 10.30 pm (Tue to Thu) / 1.00 pm to 12.00 am (Fri to Sun)
Closed on Mondays
They have been around since June 2008. Their Durian Mousse at $5 is highly recommended and it is listed as their number 1 dessert on the menu. A chunk of creamy durian flesh is topped onto the smooth and light durian mousse. The flavor was strong but not overwhelming and it hits the right note in all aspects. Their Durian Mousse is of a comparable standard to some of more popular durian desserts in the market but at a lower price. Their Durian Crepe at $5.50 is another must try. It consists of a thin layer of crepe with real durian wrapped in it.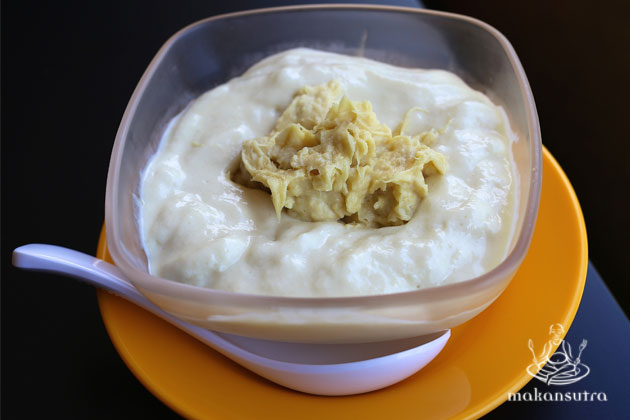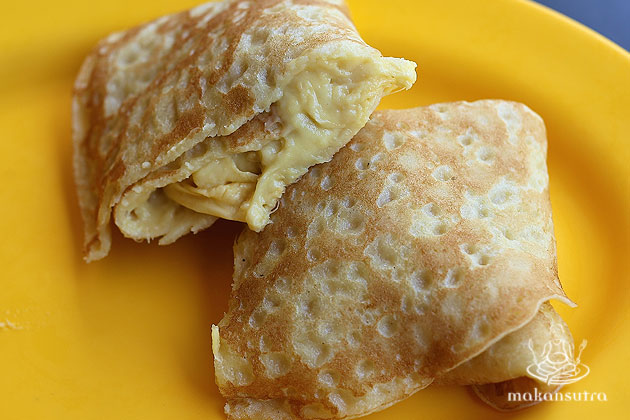 ONCE UPON A MILKSHAKE
13 Stamford Road #02-31 Capitol Piazza Singapore 178905
Operating Hours: 12.00 pm to 8.00 pm
Their signature Mao San Wang Durian Milkshake is a must-try for durian lovers and this is a perfect way to appreciate the creamy texture of the fruit. You could choose the Durian Milkshake at normal flavor for a mini ($7) size or a regular ($10) size. If you like it more intense, you could choose to have the strong flavor for a mini ($10) size or a regular ($14) size. It was superbly robust with intense but well-balanced flavor and smooth texture- though it was quite milky but not overly sweet.
UDDERS ICE CREAM (www.udders.com.sg)
1 Maju Avenue #01-11 MyVillage Singapore 556679
Operating Hours: 12.00 pm to 11.00 pm (Sun to Thu) / 12.00 pm to 12.00 am (Fri to Sat)
(Refer to their website for other outlets)
This popular ice cream joint serves several Connoisseur Class flavors, one of which is their best selling Mao San Wang flavor. The choice of Mao San Wang variety instead of the D24 variety provides their durian ice cream with a creamier and less bitter taste. The texture was thick and dense with bits of pulps in it. It was full of richness with a distinctive fragrance and pleasantly sweet. The Mao San Wang ice cream, 1 scoop for $6.20 or 2 scoops for $10.30 is priced north of most others but worth a try for durian lovers.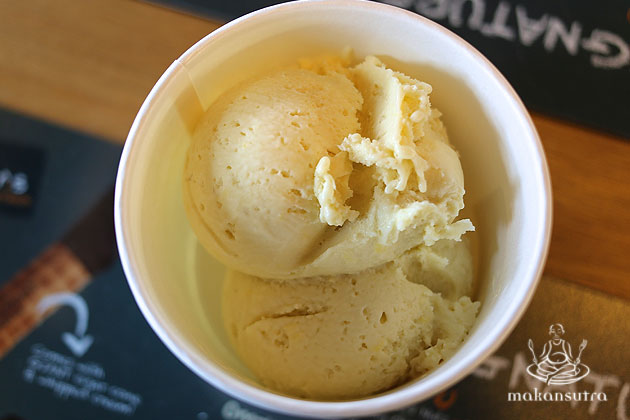 DESSERT FIRST
8 Liang Seah Street Singapore 189029
Operating Hours: 4.00 pm to 1.00 am (Mon – Thu) / 4.00 pm to 2.00 am (Fri) /
1.00 pm to 2.00 am (Sat) / 1.00 pm to 1.00 am (Sun)
Amongst their impressive range of cold and hot desserts, the most popular has to be their Durian Shaved Ice at $6.50. The shaved ice is topped with a scoop of durian ice cream together with a chunk of rich and creamy D24 durian. It has an tinge of bitterness that counter level of sweetness and intensifying the flavor to yield that satisfaction. There are other durian desserts like Durian Snow Ice ($6.50), Durian Sago with Pomelo ($5.80) and the Signature Durian Waffle ($8.90) on their menu.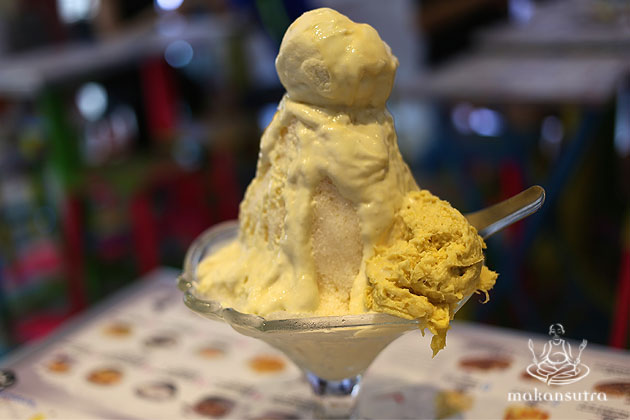 FOUR SEASONS DURIAN (www.fourseasonsdurians.com)
53 Ang Mo Kio Avenue 3 #B2-28 AMK Hub Singapore 569933
Operating Hours: 10.00 am to 10.00 pm
(Refer to their website for other outlets)
They have an extensive range of durian products like cake, pancake, ice cream, mochi, pudding, crepe, candy and even chocolate. It indicated on their website that they are using 100% top-grade durians with no artificial flavoring added. Their Swiss Roll consisting of a thin sheet of vanilla sponge cake rolled around Mao Shan Wang Durian filling with a layer of cream for $4.50 is a must-try. Their D24 Durian Cake at $5.20 per slice is another popular item, it has rich durian filling sandwiched in between the cake layers that's gloriously sweet.