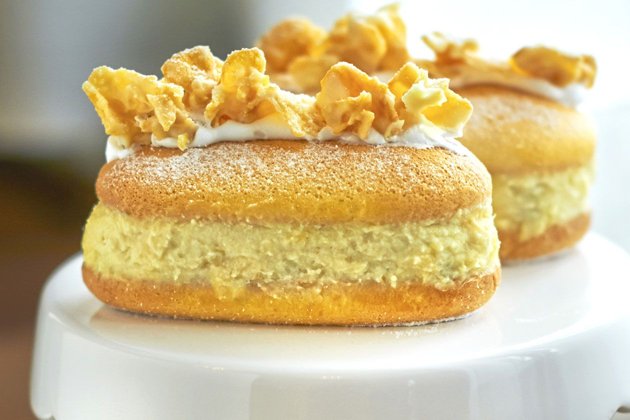 Durian the Dessert Darling
By Jade Hu (Images by Goodwood Park Hotel & Joanna Goh @ Makansutra) - Tuesday, Feb 25, 2014
Durian puff, durian curry puff, durian pancake, durian chendol, durian crepe, durian ice cream… Over the years, we have seen the king of fruits go through more transformations than the Monkey King himself. Durian is not exactly an acquired taste with its strong, pungent aroma – you have to take a stand, and most either love it or hate it. But even for the most hardcore of durian lovers, a little variety definitely rekindles their love for the thorny fruit.

For this year's Durian Fiesta (24 February to 13 July), Goodwood Park Hotel has once again rolled out more new flavours. This annual event is held between late February/early March to July to coincide with the durian harvest period. They have had a three-decade run on this and are back yet again, with even more updated renditions to excite the durian lovers and attract new fans. They know what works and so continue to satisfy with traditional favourites such as the durian puff.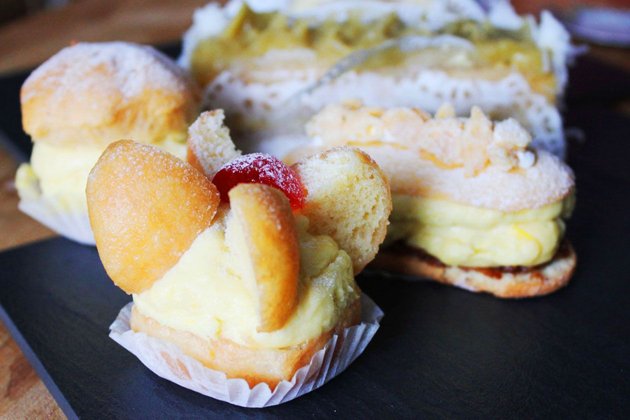 The new kids on the block are mostly interpretations of popular Asian and Western desserts that are familiar to most. The Durian Gula Melaka Roll is basically your Swiss roll with durian mousse and a generous drizzle of arrestingly sweet palm sugar syrup.
A flavourful and decadent twist to the local traditional steamed cake, the Durian Malay Cake is stacked with durian kaya with a dash of desiccated coconut on the side.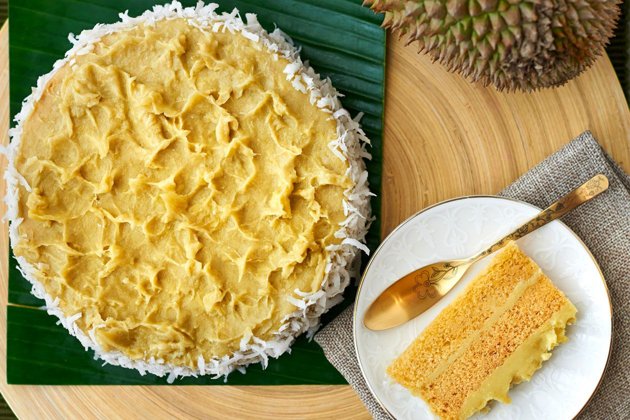 As for the éclair lookalike, it is an exotic-sounding Mini Durian Charlotte – a refreshing pop in your mouth mishmash of durian mousse sandwiched between crispy Boudoir biscuits (or lady fingers), with a hazelnut base and sprinkled with white chocolate-coated cornflakes on top.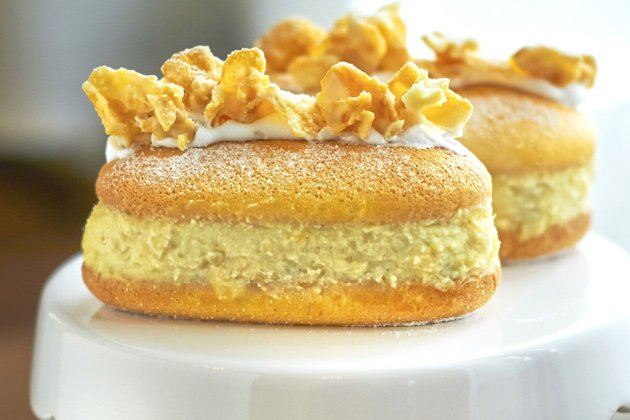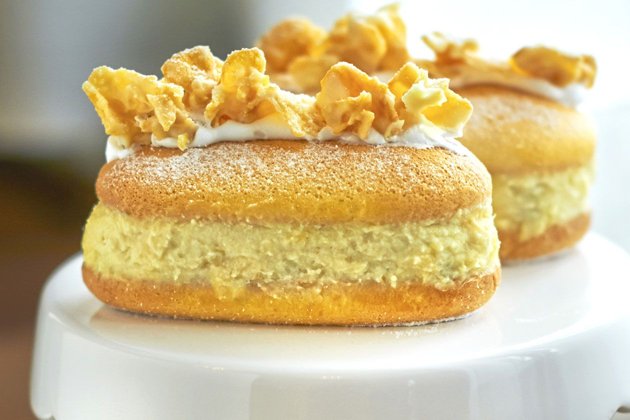 The adorable Mini Durian Donut could be one way to ease your uninitiated little one to the fine art of durian eating. Shaped like pinwheels with a bright red cherry on top, it is literally a doughnut with durian mousse inside. Should you be fiercely loyal to the all-time classics, the durian mousse cake, durian strudel and durian ice cream are at hand to please. .
When you come up with so many flavours and versions, some will hit and some will miss the spot. But there will always be the purveyor of the authentic. Jane Ng, 25, considers herself a "greedy durian lover", and does not have a particular durian dessert favourite. But durian cake takes the spot for her, because it embodies two of her favourite foods. Tan Weekiat, 26, an IT executive in the banking industry, is however devoted to the fruit in its natural form, because "it tastes most satisfying on the first bite, especially when it has a waxy skin" and in particular loves the soft and smooth filling beneath the skin. The texture is something that is definitely taken away after the fruit is processed. Cliff Chew, 29, has the same sentiments, "Durian has a nice texture, and it is not too sweet or bitter in itself" and adds that turning the durian fruit into a processed food item more often than not complicates the pure bittersweet flavour which he loves. I personally like the light and fluffy desserts such as strudel or mousse cake which dilutes the pungent aroma but retains a gentle semisweet touch.
Even though the original pure durian fruit seems like to be the reigning choice of hard core fans, the durian-flavoured desserts still play a critical supporting role in its rule over the fruit kingdom. No matter how much you like your Mao Shan Wang and D24s, the tweaks in durian-flavoured desserts definitely make a welcome respite from eating the fruit.
 For more information on Goodwood Park Hotel's Durian Fiesta and ordering enquiries, visit www.goodwoodparkhotel.com or call 6730 1786.