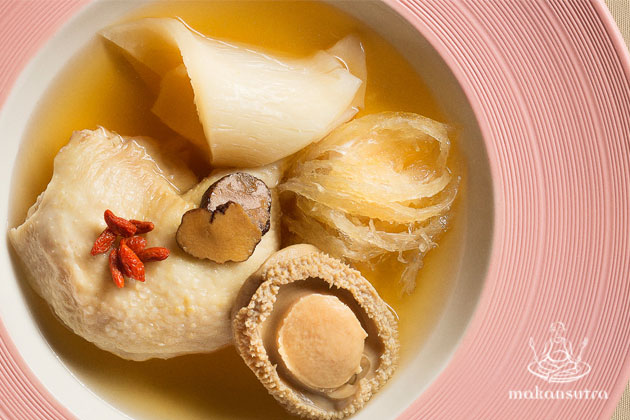 Easy CNY Recipe: Chicken Soup with Bird's Nest, Fish Maw, Abalone and Black Truffles
By Catherine Ling - Wednesday, Jan 13, 2016
Chinese New Year is when we pull out all the stops for an indulgent feast. This is the time to impress your family and relatives, but without the stress from toiling over the stove. Here's the solution to your headache, a simple but satisfying recipe courtesy of Executive Chef Kwan Yiu Kan of Man Fu Yuan (InterContinental Singapore). Not only does this soup has a touch of luxury from abalone, bird's nest and black truffles but it also contains nourishing herbs that are readily available from traditional Chinese medicine (TCM) shops. This broth is purportedly ideal for improving eyesight and blood circulation. It should go down well with young and old alike.
Sakura Chicken Soup with Bird's Nest, Fish Maw, Abalone and Black Truffles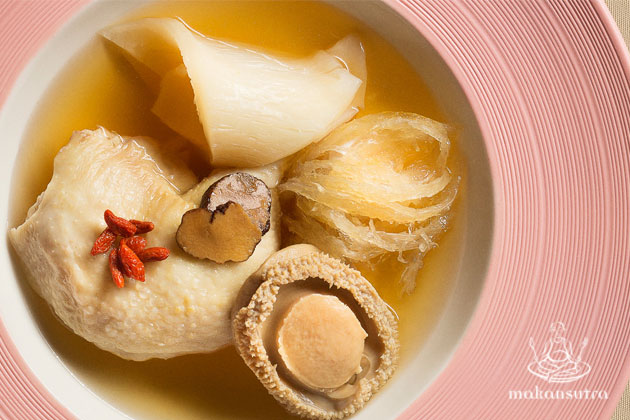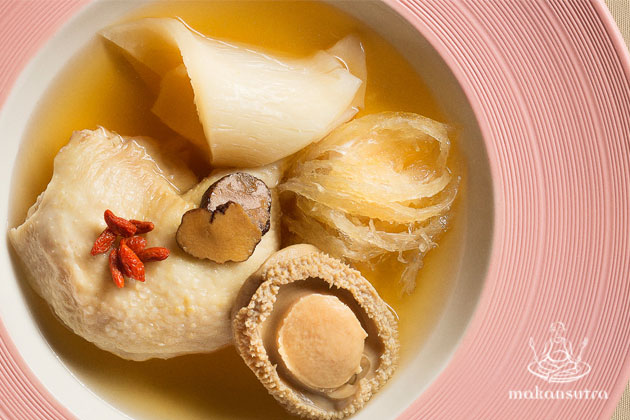 INGREDIENTS (serves four; you can scale up for more)
800g Sakura Chicken
15g Bird's Nest
20g Chinese Mushrooms
120g Fish Maw
4 pieces of Abalone
4 pieces of Dried Scallop
5g Wolfberries
5g American Ginseng
5g Astralagus Root
10g Codonopsis
5g Chinese Almonds
5g Black Truffles
METHOD
1.Soak the bird's nest in cold water for 20 minutes, followed by hot water for another 20 minutes prior to cooking. Do the same for the mushrooms by soaking them in hot water for 30 minutes.
2.Boil the sakura chicken in three litres of water (or chicken stock, for added flavour) in a soup pot for 30 minutes.
3.Add Chinese mushrooms, abalone, dried scallops and dried herbs into the stock and cook for another 90 minutes over low to medium fire.
4.Add bird's nest, fish maw and black truffles and let it simmer for another 15 minutes. Serve.