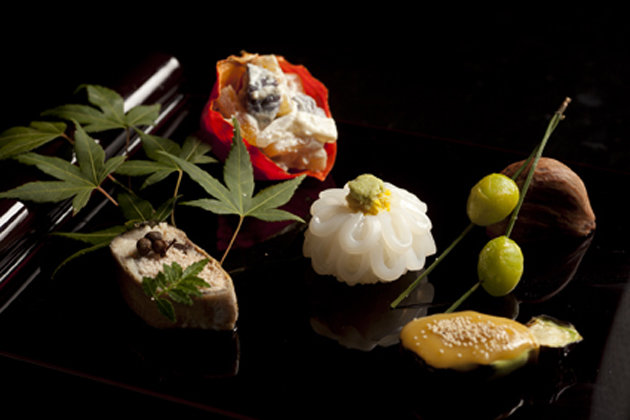 Eat and Drink at the Gourmet Japan
By Tris Marlis - Friday, May 03, 2013
Foodies in Singapore may rejoice. After Savour and World Gourmet Summit, this month Gourmet Japan is back for its second year. It's time for another feast – an all Japanese fiesta.

The one-month-long event will feature some renowned Japanese chefs, including 2-Michelin starred chef Shinji Kanesaka, Kentaro Torii, and Tadashi Takahashi. They will be holding special dinners with wine or champagne pairings at restaurants, price ranges from $228+ to $668+ per person.

The new addition of this year's Gourmet Japan celebration is Mixology Japan. Eight participating bars in Singapore will feature three Japan-inspired cocktails that are available throughout the month of May ($18- $28). To name a few, these bars include Maison Ikkoku, Bar Stories, Horse's Mouth and Martini Bar at Grand Hyatt.

Expect a lot of green tea and yuzu in your concoctions. Horse's Mouth has created a cocktail named Matcha Dinosaur (reminds us of the Milo Dinosaur) and there is Maccha-tini from Maison Ikkoku.

Co-organiser, Francis Poulose, says "the decision to include a cocktail component this year is due to the popularity and proliferation of more cocktail bars in the last year," as reported by a local newspaper.

Another component of the event – Taste Japan – features 12 Japanese restaurants in Singapore, each offering a special lunch or dinner menu. These restaurants include Akari Japanese Dining & Bar, Japanese Dining Sun, Tampopo and nine others. Set menu is priced at around $88+ per pax.

May we say… Itadakimas!

For enquiries and reservations, call: 6319 2153 (Mon – Fri, 9am – 6pm) or email: gourmetjapan@sph.com.sg

Gourmet Japan is an event by Sphere Exhibits, a subsidiary of Singapore Press Holdings, and food and beverage consultancy Poulose Associates.