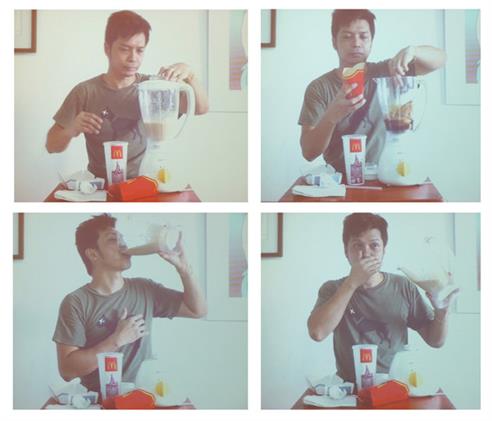 Eat Fast Food Fast
By Sheere Ng, image courtesy of Justin Lee (Singapore) Eat Fast Food Fast, 2011, Video 4", Edition 1 of 3, Singapore Art Museum collection, Donated by the artist - Tuesday, Nov 06, 2012
Are you one of those who turn to fast food for a quick meal? Did it occur to you that eating fast food could be – faster? Local artist Justin Lee, whose famous works include Life After Death, took a video of himself blending a McDonald's fish burger, fries and a cola, then gulping down the brown slush. The point of this art performance, the artist says, was to get people to question why they are eating what they are eating: is it just to fill the stomach, for pleasure or other reasons? It also seems to be poking fun at our endless pursuit for speed and convenience. How much faster do we want to eat, and at whose expense? We speak to Justin Lee to learn more about his work.
What were you trying to convey with this art installation? I wanted to create an art performance to make people aware of their eating habits. Do you eat when you're hungry, or are we just spoilt for choice when it comes to food? If not, then why can't we put everything together and blend it? Your eating habits are about your lifestyle. That's it!
Why do you think blending a fast food meal and drink it is the best way to convey this message? It challenges us to re-think our eating habits. Since the stomach is doing the blending and digestion for us, why don't we give the stomach a break, and do the blending before eating? Does it make a difference?
Why did you choose McDonald's? My works talks about consumerism and pop culture. When I think of the best junk food on earth, it has to be the popular American brand "McDonalds".
How did the blend taste? Could you describe? The first try was not too bad. It tasted creamy and rich. The second try was a bit greasy, or "Jelak". The third attempt was terrible, by then I couldn't take it anymore.
Did you expect to take longer or shorter time to drink? Why? I tried to finish it all at one go, but it took a total of three attempts. And that was my best. I once did a live performance of this and got the audience to try it. Some liked it, but some rejected it. You can try it too, if you are wondering how it tastes.
What were the two most memorable feedback you've gotten so far? "I have stopped eating McDonald for the past 2 weeks!" (I replied to them to say it's not just about fast food, it's about your eating habits) and "This is awesome, when and what is your next video concept..?"
Justin's work is currently being shown as part of Singapore Art Museum's PANORAMA: Recent Art from Contemporary Asia, which runs till 25 Dec 2012