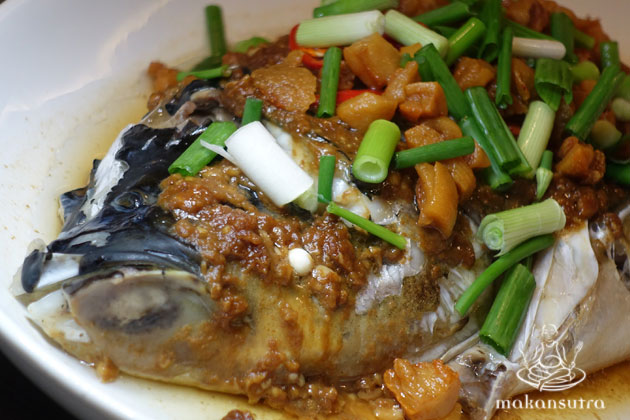 Eat First :The Father, Sons and the Survival Spirit…
By KF Seetoh - Friday, Feb 10, 2017
Someone should make a movie out of this true story. To keep both his sons at bay and in the kitchen, he diligently taught them all the 12 signature Cantonese dishes the restaurant was known for…four steamed dishes, including their legendary steam carp fish head in fermented bean sauce, and 8 stir fried dishes. One handled each department and was never taught the other. It was Dad's way of never having a "kitchen revolt". Then the father Mr Chai Kok Hoong had a stroke, and one of the boys knew it was time to strike out on his own as they lost an active leader, which meant Sik Wai Sin restaurant was down with just 4 steamed dishes in the menu for a while. Finally the last boy decided too, it was his time to go solo, much to the dismay of his father. The restaurant was waning and he had three young kids to feed. So with a now physically incapable leader with no soldiers in his kitchen, the restaurant shuttered down two years ago and in its wake, Sik Bao Sin and Eat First, was born and continued in that legacy with those same 12 dishes.
But wait, and you ask "how did the boys each learn the other dishes?. "My father was very strict back then. If he saw me in the wok stir fry section, he'll kick me out, and vice versa for my brother. " Steve Chia tells me. He is the second (and elder) son to leave basecamp and set up Eat First restaurant. His brother Desmond, opened Sik Bao Sin along Geylang about 3 years back (which I reviewed then). Desmond learnt the steamed dishes by remembering how his brother did them but Steve had to practice outside of dad's kitchen and get guidance from his uncle, the owners of Hillman restaurant in Kitchener Road.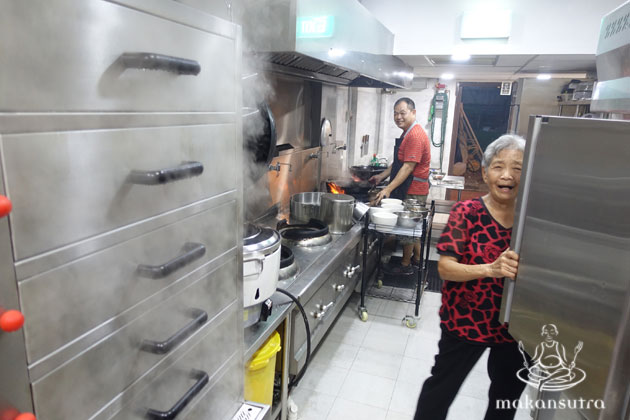 Sounds complicated but that's what movies are made of, and to thicken the plot, Steve's mother Mdm Wong Shum Lui, the chef that invented this signature fish head dish had joined him. And it now begs your next question "so how's the food now?" I check out Steve's Eat First and mentally compare it with his brother Desmond's Sik Bao Sin.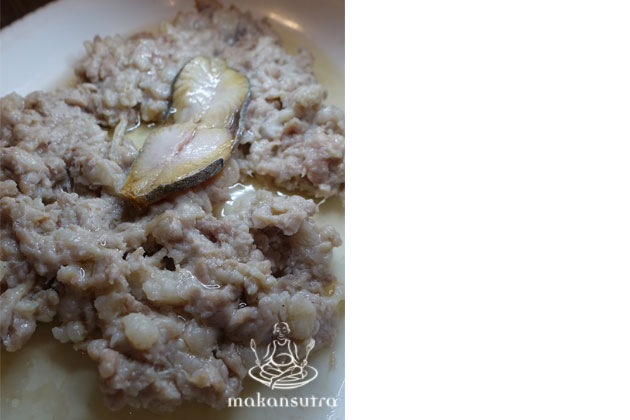 Steve's (the steamed dish specialist) steamed dishes like the Salted Fish Minced Pork patty was in its element. They hand chopped the meat, no blender is used and bits of fat and cartilage are buried inside which lend such contrasting textures and taste. The "nam heong" salted fish is the only type they use. The steamed Fish Head came and it was the same story- fresh, smooth, moist, laden with a special bean paste sauce and slathered with crispy lard, chillies and spring onions.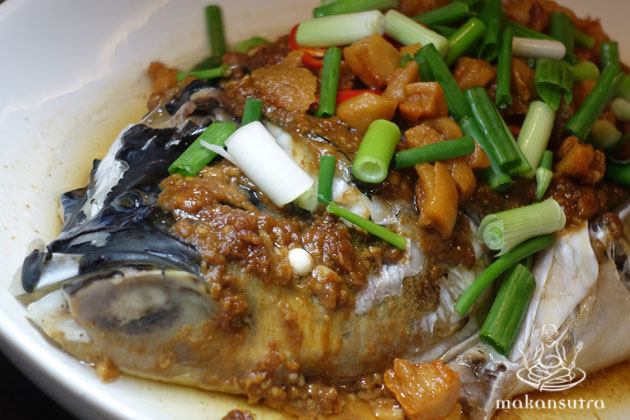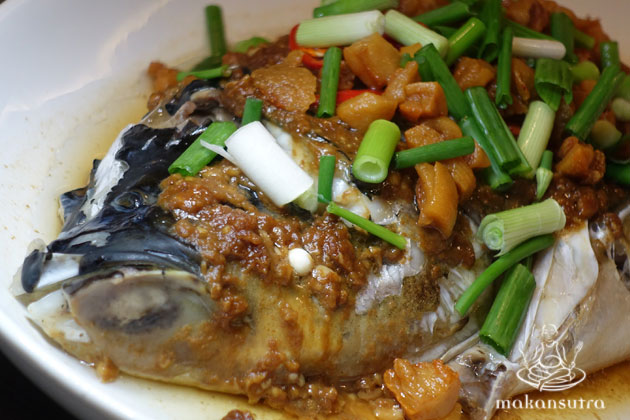 The stir fried Beef with Kai Lan green was like I remembered, the vegetable was crunchy and the beef slices was smooth and soft, all expertly done over very high heat. The Tofu Prawns is status quo, with deep fried tofu that's soft inside with chunky crunchy fresh grey prawn in a thick seafood sauce.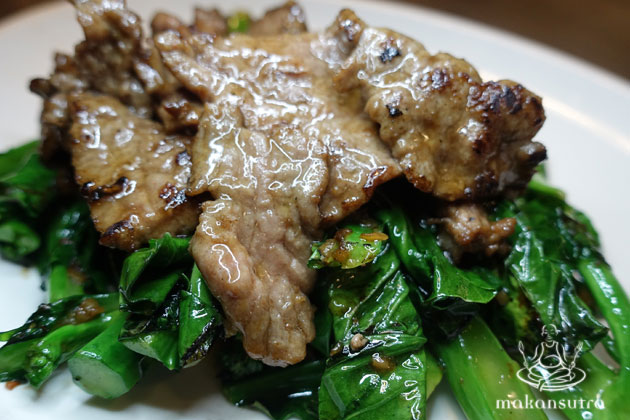 The main key difference, with his Brother Desmond's version at Sik Bao Sin, was Steve employs a lighter touch- he is easier on salts, sugars and soy sauce. Plus, he is currently the only chef in the kitchen as "my assistant left recently.", so this superman chef cooks all the dishes himself now.
So, after all that drama, the good food legacy continues, which is the ending we all want.
Eat First
891, East Coast Road
Tel: 6443 8434
11.45am-2.30pm/ 5.45pm-9.30pm
Closed Monday