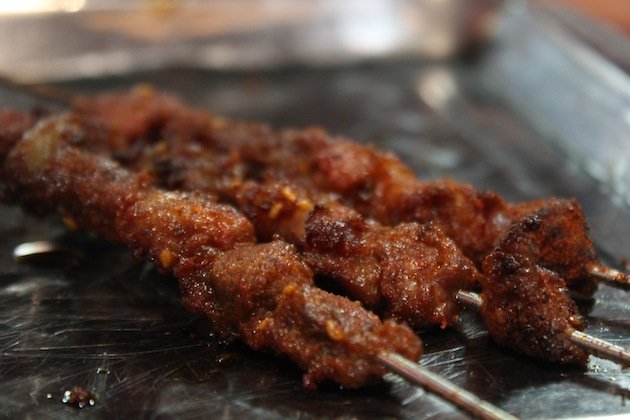 Eating China… In Geylang
By Tris Marlis - Wednesday, Jan 02, 2013
Singapore is a war zone. Many foreigners have come to this country fighting in an economic war with a hunger for better life. But before they go to the battlefield, there's another hunger that needs to be fed, food is fuel after all.

In Geylang where many of China foreign workers have called home is also where they fill up their tank with hometown food. Unlike the original Chinatown, Geylang still has that conserved five foot ways. Just a table and bench on the road side with hometown snacks, beer and fellow war mates. It is where Chinese food is not seen as an international specialty with outrageous price tags. It is where you can get fulfilling authentic Chinese food for as low as two dollars.

Get in the line, blend in the crowd and try ordering what everybody else is ordering. The authenticity and uniqueness of their food is worth trying. These people are rocking cuisines of some major traditions of China, including Szechuan, Shandong and Jiangsu.

Szechuan province is located at the southwestern part of China and is famed for bold flavours. Their dishes are numbing spicy resulting from the generous use of chilli peppers and Szechuan peppercorn. At Bao Tian Xia (11 Lorong 22) red chilli oil is present in every dish, hot or cold. Starting with a hot bowl of Suan La Fen, a spicy and sour noodles with peanuts, minced meat and garlic. The flaming red soup might look intimidating, but it is actually not as spicy as it looks. It has a numbing effect from Szechuan peppercorn which also has light sour taste that compliments sourness of black vinegar in this dish. Surprisingly, it gives you a cooling after taste.




Then, there is Liang Pi which can be translated as cold skin. Rice flour is made into soft dough and cut into noodles, almost like kway teow. This dish is served in room temperature with sliced cucumbers for a bit of crunch, a lot of garlic and vinegar based sauce. It actually tasted more appetising than it sounds.




Also available is a variety of cold companion dishes, Liang Ban Cai, Chinese style salad with dressing made of vinegar, soy sauce, sesame and red chilli oil. This type of dish plays on texture. It is served with anything you can think of – parts of pig, cow and different vegetables. Expect some crunchy pig ear, chewy beef tendon and crisp pickled cucumbers.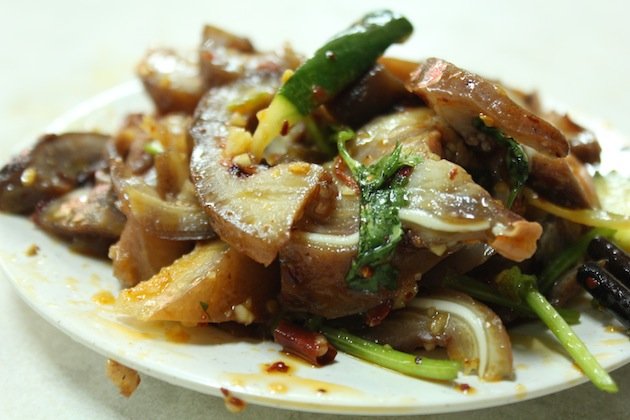 Right next door is 995 Jing Wu (9 Lorong 22), serving braised duck including its tongue, head, feet, liver, kidney and most popularly, the neck. Meat around duck neck is tightly attached, which makes eating it a chewing sensation. Jing Wu is a famous food street in Wuhan and now its signature duck snack is sold throughout China and now "duck neck" in Chinese is flashing in neon at every block of Geylang.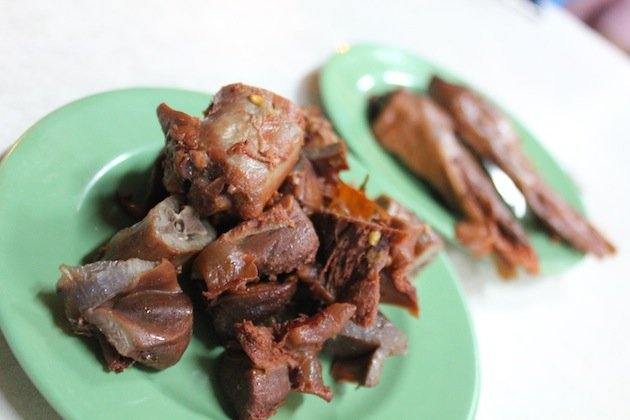 Stroll down to Lorong 13 and you will find Wu Da Lang (2 Lorong 13) Cake Series, originated from Shandong which cuisine is characterised by stirring and frying over hot fire. People from Shandong also like food made of wheat flours, such as steamed buns and big cakes. So the idea of frying cake made of wheat flour is a no brainer. At Wu Da Lang, these fried cakes come with a variety of stuffing, red bean, sweet sesame, beef or pork with chives. However, the star is still the big fried cake, stuffing is only a spread. With only $2.00, you can get one of these with pork and chives and it will sure fill your stomach. It is a good fuel and that explains the line of workers at dusk.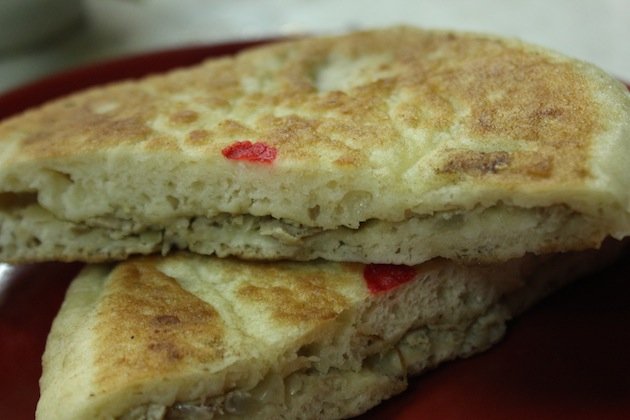 Another famous Chinese snack is Dong Bei style lamb skewers, which you can only find away from the five foot ways, inside a BBQ restaurant, Liu Da Ma (260 Geylang Rd). They have a great variety of skewers with different marinade. The one we had is lamb ($0.80 per skewer) spiced with cumin and chilli peppers. Order a few skewers, take away, and enjoy it on the streets of flashy Geylang.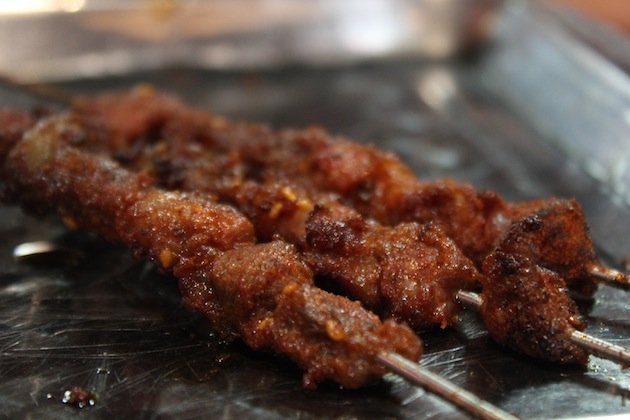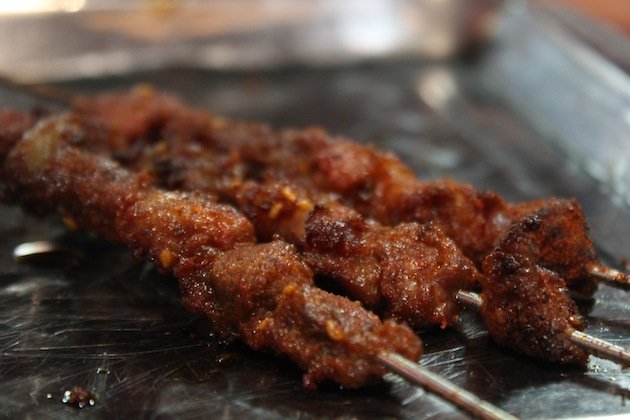 At the end of the night, the Chinese workers find themselves satisfied; stomachs full and tongues slightly numb, then they go on separate ways. For some, the next battle is just about to start and for luckier ones, it's time to go back to their camp, get refreshed until the day breaks, while their next dinner awaits.