EMPRESS ROAD FOOD CENTRE: 5 POPULAR CHOICES
By Cecilia Joven Ong - Thursday, Jul 30, 2015
Empress Place Food Centre is more commonly known as 'Farrer Road Food Centre' as it is located along Farrer Road, just before Holland Road. It is nestled in the residential estate of Queen's Road and next to the Farrer Road MRT. A wide range of hawker fare at reasonable prices could be found here. Listed here are 5 of our favourite choices:
AH WING WANTON MEE (#01-108)
Operating Hours: 7.30 am to 4.00 pm (Mon to Thu) / 7.30 am to 3.00 pm (Sat & Sun)
The owner of this popular Wanton Mee stall has moved from Hong Kong to Singapore about 10 years ago and he still speaks with a distinct Hong Kong accented mandarin. There is always a constant queue right at this stall for their signature Wanton Mee, a substantial portion at $3 or a larger portion at $4. Their noodles have a delightful springiness and cooked just right for an al dente texture, then tossed well with chilli and sauce. The thinly sliced char siew is delightfully tender. The plump and nicely seasoned wantons are amongst the better ones ever tasted. The other must-try is their Shredded Chicken Hor fun ($3).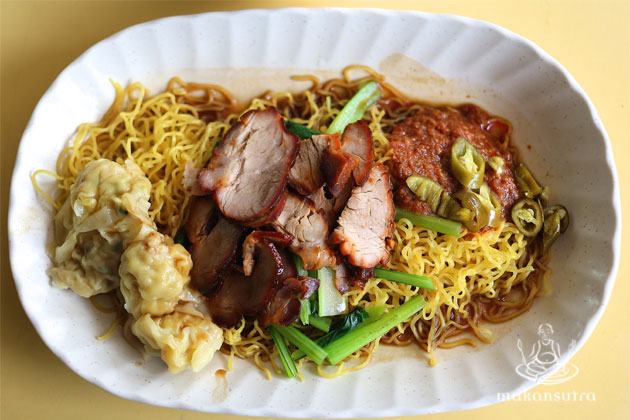 POH (#01-89)
Operating Hours: 11.30 am to 7.00 pm 
This interesting stall has been around for 2 years serving limited selection of cze cha dishes. The chef used to work in different famous hotels for more than 20 years before he decided to start his own stall. Preserved Vegetable Hor fun ($5) is one of their signature dishes. It is done in the Teochew style with preserved radish (chye poh), prawns, beansprouts, spring onion and a good amount of eggs that made it look like an omelette. Bits of fried pork lards are added to enhance its flavor. Though simple, it is a tasty dish but slightly oily. Other dishes on the menu are Stir-fried Hor fun ($4.50), Sliced Fish Hor fun ($5), Sweet & Sour Pork Rice ($5) and Prawn Paste Chicken ($7).
CHICKS n' CHOPS (#01-71)
Operating Hours: 11.00 am to 8.00 pm 
It is indicated on their signboard that they serve the 'Best Chicken Chop' and have been around since 1977. Their best seller is the Fried Chicken Chop with Rice ($4.90); it is served with sweet & sour sauce with slices of pineapple, onion and peas, which reminded me of the Hainanese style chicken chop. Their Grilled Chicken Chop ($5.90) is listed as 'must-try' on their menu; it came with a portion of fries, baked beans and coleslaw with their special chilli sauce that actually added flavor to it. Both types of Chicken Chop tasted just fine but not quite the best. Perhaps you should give it a try and decide for yourself.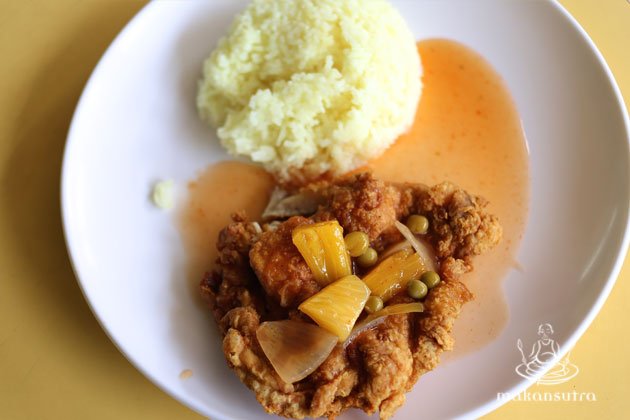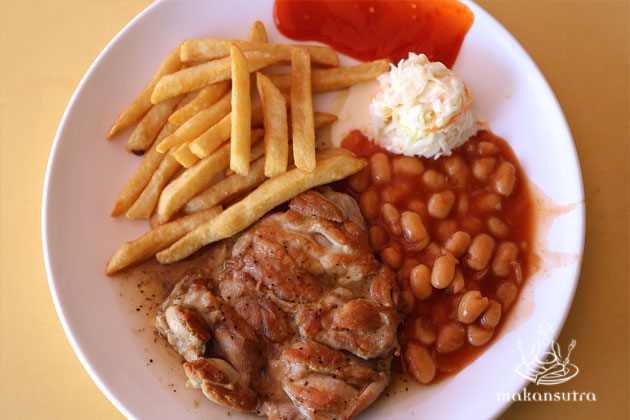 HAPPY WORLD DELICACY (#01-107)
Operating Hours: 8.00 am to 6.00 pm (Closed on Tuesdays)
An elderly couple together with their son operates this stall. One of their recommended sets is Char Siew Roasted Pork Rice Set Meal ($6). It consists of a good portion of nicely done Char Siew with tasty Roasted Pork, comforting Peanuts Soup, homely Braised Cabbage with Dried Bean Curd Skin and Rice. This set is a good value option for a filling lunch. Also available are Chicken Rice and Roasted Duck Rice as well as Wanton Noodle and Dumpling Noodle. Most of their customers are the regulars that always end up making small talk with the friendly auntie.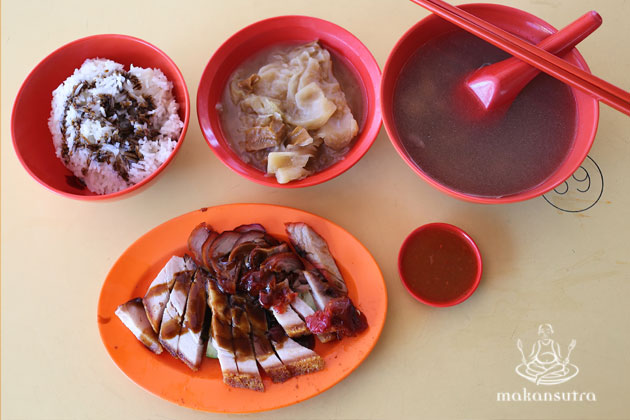 HENG HENG NASI LEMAK (#01-83)
Operating Hours: 5.30 am to 12.30 pm
This stall is one of those stalls that starts very early in the morning to serve local breakfast like economic fried bee hoon and mee together with chee cheong fun and chwee kueh. Nasi Lemak is amongst their popular choices on their menu, it consists of a piece of crispy Chicken Wing, Fried Egg, Ikan Belis and Rice at only $2.50. They do offer other dishes just like a mixed vegetable rice stall in late morning and they are usually sold out by lunchtime. There is always a constant queue for these comforting choices to have breakfast and lunch. Their fried chicken leg and fried fish fillet are also popular choices.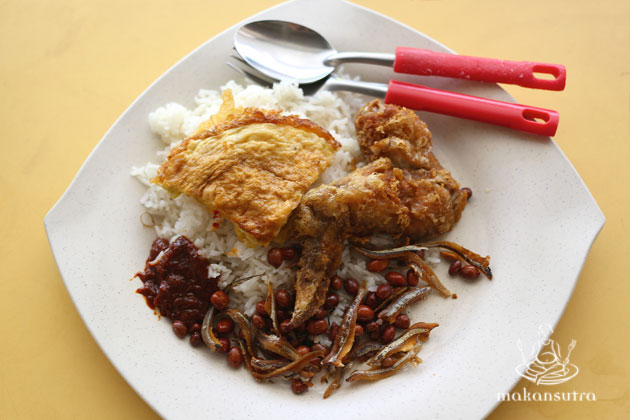 7 Empress Road Singapore 260007