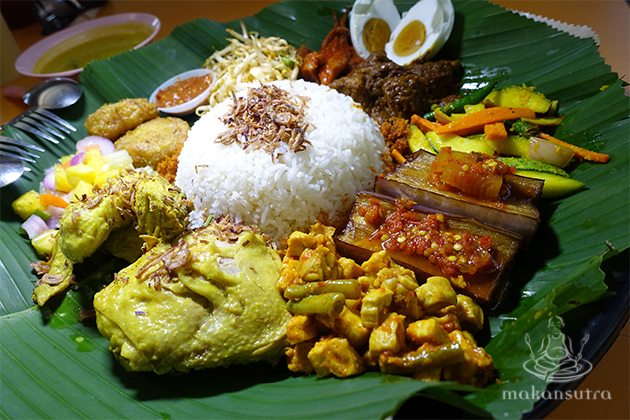 Enak: Nasi Ambeng sold only in Singapore?
By KF Seetoh - Saturday, May 26, 2018
I had always wondered about the origins of nasi ambeng. Sounds Indonesia you say, but fellow food commentator William Wongso, the "godfather" of culinary culture in Indonesia, had never heard of it. It's confounded by the fact that many nasi padang stalls offer this decadent rice platter adorned with a sea of spicy rempah based ingredients like rendang, fish, eggs, sayour lodeh, eggplant and even a salted egg. Sounds like a nasi tumpeng or nasi dulang from Java or Malaysia. Then I was offered a glimpse to what may be its roots, "Madam Aziza Ali first sold this at her old Azizah's Restaurant in Orchard Road, back in the 80s", offered Mr Desmond Theo, a hawker who learnt how to cook this dish by watching others and experimenting. Aziza's was the first Malay restaurant in Singapore and it won a tourism award in the 90s. It made sense, as this iron lady chef was known to be very innovative and entrepreneurial. "It's a meal eaten in old Javanese families, but I know of no one else that sold it commercially before I did in 1979." Aziza clarifies.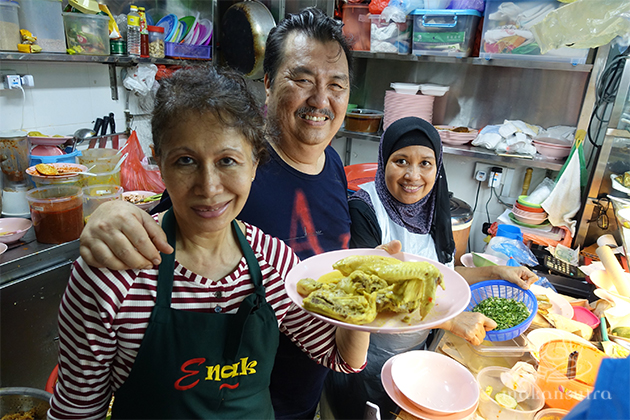 But now, Desmond is offering this decadent platter at his humble hawker set up two years ago. One look into the well-greased little kitchen and you know that it's a Muslim kitchen force to be reckoned with. Among the usual, he also offer Nasi Ambeng Dulang. Given all the dishes that he prepares in his 10x10ft kitchen, it makes sense for them to offer it. The little nondescript "Ambeng Dulang" A4 paper poster gives nothing away as to what will happen if you order it. It comes loaded with "ayam lemak, sambal goreng, terung, acar nanas, rendang, sambal sotong, urap, begedil, acar timun" , the poster says. It starts at $6.50 for a reduced single portion and the full monty sets in at $17 (for two with extra meats) and $34 for 4-5 hungry foodies. The mount of rice is topped with fried shallots (always a winning visual to me) and a bowl of korma curry to "wet" the appetite.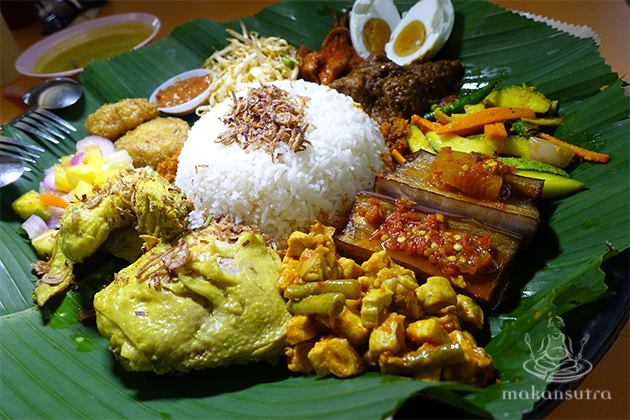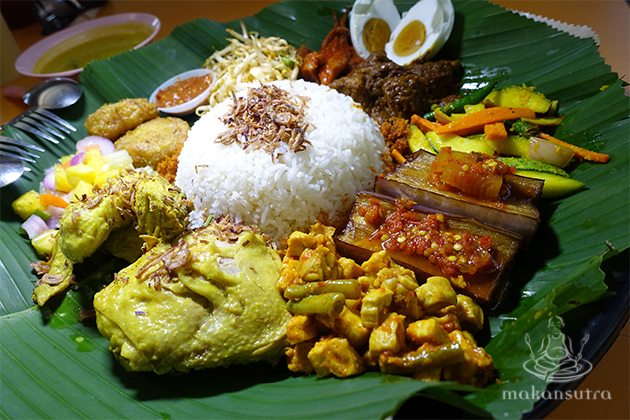 Firstly, the rendang. It's the savoury rich, coconutty, spicy with some hints of sweetness and it came just soft enough (which sounds so un-Indonesian in style). The chicken korma or "white curry" chicken had enough lemak for the coconut milk and was soft and lovable. I like the sambal sotong or the cured sambal cuttlefish- extra soft and they rinsed it enough to wash off the baking soda stench that many other hawkers don't bother to. Remember, at this stage, you gnaw them all down with soft steamed rice adorned with fried shallots doused with korma curry. Hard to beat. Then the acar nanas beckons, some spicy and sour vegetable pickles with pineapples. It helps cut the intensity thus far. It is so refreshing that a salted egg is beckoning- that bit of saltiness is so agreeable to all that heat and spiciness. The crunch came from the urap (grated spicy coconut bean sprouts salad), made almost raw as how it should be and the sweetness was a blessing. Next, the softness of the sambal terung (eggplant) was a nice reprieve from all the other textures as was the begadil (potato cutlet), which was the only other non-spicy item on the platter. The sambal goreng (sambal tofu and string beans) was the humble touch the meal needed and it did just that.
Now, let's all have a different look at just what a humble hawker stall can offer. There are no rules.
Enak
Blk 16, Bedok South Road (hawker centre)
01-04
7am-2pm, close on Tuesday & Public Holidays