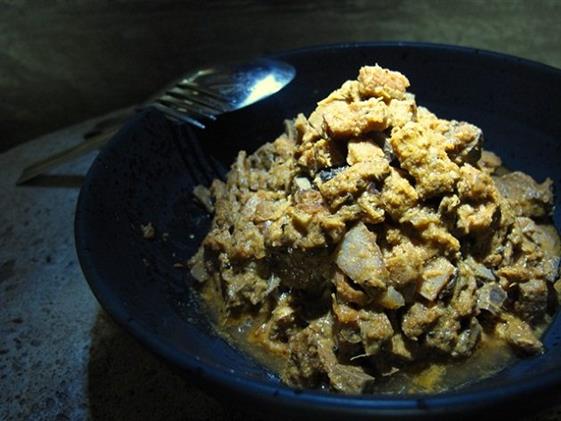 Eurasian Recipe: Curry Feng
By Sheere Ng - Thursday, Sep 13, 2012
Curry Feng is one of the featured recipes in Mary Gomes's The Eurasian Cookbook. It is a Christmas specialty best eaten a day old, when the meat and liver soaked up all the goodness of the curry gravy. The pork can be substituted with chicken and liver. The Feng curry powder can be purchased from the spice shop at most wet markets. Just ask the boss to mix coriander powder, turmeric powder, fennel powder and cumin powder for you. This dish can be eaten with French loaf or steamed rice.
Ingredient (serves 3) 200g Pork Leg Cuts 100g Pork Belly 30g Pig's Liver 3 Big Onions 3 Cloves Garlic 1 Thumb-sized piece ginger 2.5cm Cinnamon
Preparation Wash pork and liver. Drain. Parboil pork and liver till colour changes. Remove them from water and leave to cool. Dice meat and liver into smaller cubes, about 1 cm wide. Strain water and keep 420ml for later use. Peel onions and garlic. Grind together. Peel and julienne ginger. Wash cinnamon.
2-3 tbsp oil 3 tbsp feng curry powder 2 tsp salt 1 tsp sugar 420ml water from preparation 2 tbsp vinegar
Heat a pot. When hot, add oil and fry onion, garlic, ginger and cinnamon till light brown and fragrant. Add diced pork and liver and fry for 5 minutes to melt the fat from the pork. Add curry powder, salt and sugar. Stir-fry for 2 minutes. Add water and simmer till meat is soft and gravy thickens. About 40 minutes. Add vinegar and turn off the heat.