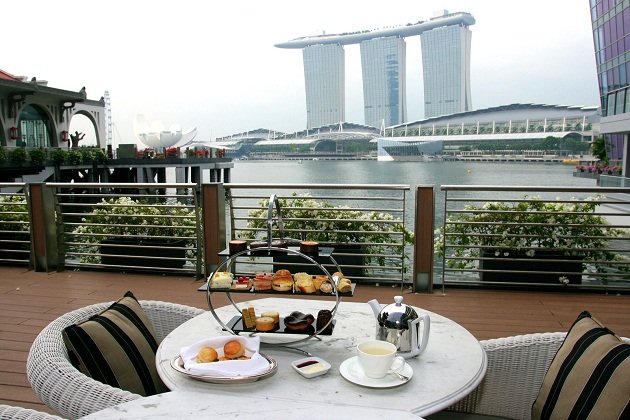 Fantastic 5 Afternoon Teas
By Catherine Ling - Thursday, Aug 30, 2012
Nothing says indulgence like a languid afternoon spent with tea and nibbles. The tradition of afternoon tea with its iconic three-tier array of sandwiches, pastries and scones is very British, and the concept of relaxing with a good cuppa and finger food is easy to love. Those afternoon teas that combine the tiered offerings with some sort of buffet are the ones that really find their way to Singaporean hearts. Here are five of the better places where you can treat yourself.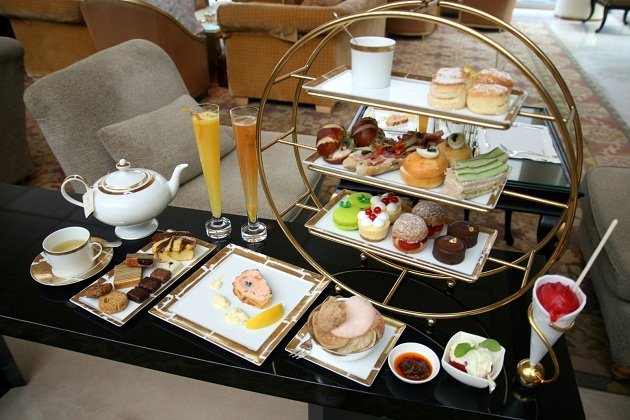 Best Service: CHIHULY LOUNGE (Ritz-Carlton Millenia Singapore) S$42++ Bernaud Tea, S$51++ Royal Bernaud Tea with a glass of champagne cocktail (weekdays 2:30pm – 5pm)
The weekday afternoon tea here has been upgraded to an eight-course feast featuring a carvery (Beef Wellington or Salmon Coulibiac), delectable fresh berries with Bora Bora Vanilla Cream, and a trolley of tea cakes, cookies, kueh lapis and pralines for you to choose from. Chihuly Lounge is popular for its cosy sunlit atmosphere and warm, attentive service. Interestingly, they allow takeaway for items on the tea set stand – these include the savoury sandwiches, scones, and pastries. Choose from over 30 blends of loose leaf Ronnefeldt tea or freshly brewed coffee. The drinks are free-flow but the food is not. On the weekends though, it's a complete buffet (S$48++), minus the three tier display.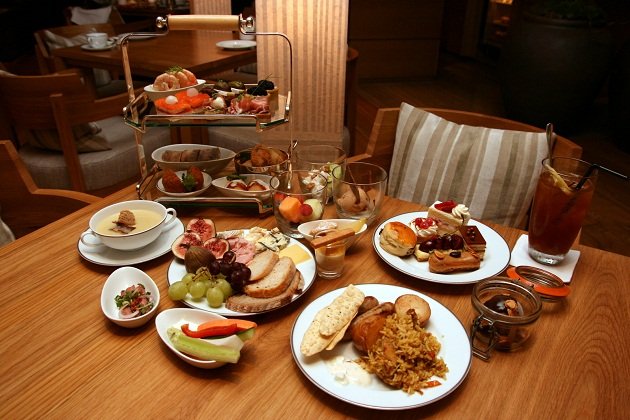 Best Value: 10 SCOTTS (Grand Hyatt Singapore) S$38++ weekdays, S$48++ weekends (12 noon to 5pm)
This place has upgraded itself with Super Potato designer looks, and is now an ultra-cosy and posh residential-style lounge with a collection of rooms or living areas. The local and international bites here are substantial enough for lunch, including a main course of briyani with all its trimmings (papadum, chutneys, raita), herb sausages with roasted potatoes, and a soup. On the side is a small but satisfying bread and cheese platter with shaved ham, fresh figs and grapes.
On the tiered stand you'll find savoury goodies like crab cakes, fresh popiah, crispy curry puffs, parma ham and mozzarella, egg quiche with caviar. The sweet stuff is all laid out separately on the buffet counter. The scones even come with kaya, along with the de rigeur Devonshire clotted cream and raspberry jam. Do not miss the adzuki bean crepes made fresh at the live station. The teas are good – Dammann Freres, no less – and you also get a choice of coffees and juices. For the price, it's really a good deal, plus you get to dine for five whole hours.
Want a touch of luxe? You can add S$30 for free-flow Perrier Jouët champagne.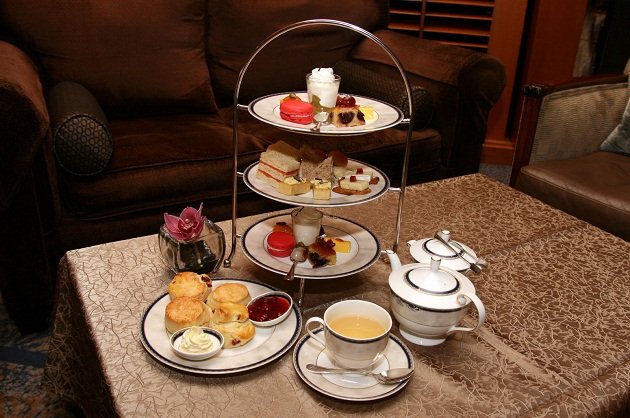 Best Scones and Jam: THE BAR AND AL FRESCO (Four Seasons Hotel) S$37++ Classic Afternoon Tea (daily 2-5pm)
What's afternoon tea without really good scones and jam? Pastry chef Audrey Yee from Wisconsin makes her buttermilk scones with extra care, and it shows in just how soft, moist and fluffy they are. The strawberry rose-petal jam really stands out with its unusual fragrance and taste.
The afternoon tea here is elegant and very dainty with well-thought out items and quality ingredients – sandwiches with Maine lobster salad, Manuka-smoked organic salmon, lobster salad with tarragon. Pastries include Yuzu and Ume Chibouste, "Prince de Bretagne" strawberry macaron, and chocolate cremeux with organic cocoa nibs. All items are refillable. Pick from a selection of TWG teas and/or Illy espresso. Options are available to add a champagne cocktail (S$58++ Cocktail Tea) or a glass of Veuve Clicquot champagne (S$68++ Champagne Tea).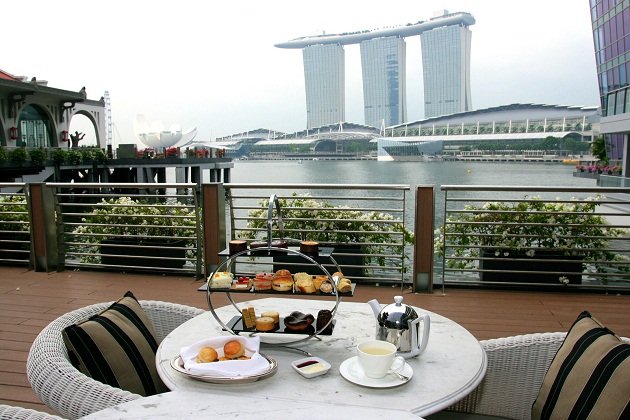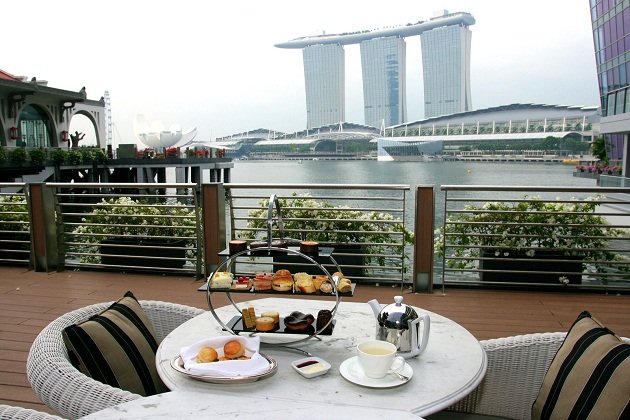 Biggest Spread: L'ESPRESSO (Goodwood Park Hotel) S$45++ daily Mon to Thurs: 2pm – 5.30pm Fri, Sat, Sun & PH: 12noon – 2.30pm (1st seating), 3pm – 5.30pm (2nd seating)
Variety speaks volumes, so it's little wonder the L'Espresso's afternoon tea is one of the most talked about for its huge spread of tea-time treats. But guess what, they've recently expanded the spread to include even more items. There are about 17 types of savoury sandwiches and croissants alone! You'll even find chicken kara-age, mini shrimp patty burgers, duck rillette, Swedish meatballs, and an incredible slow-braised beef in Guinness. The live carving station gives you baked pork meatloaf and cheese bratwurst in puff pastry.
If those don't fill you or thrill you, maybe the signature desserts will – bread and butter pudding, crème brûlée, scones, plus a new series of confectionery such as pistachio-cherry tea cake, lychee Charlotte cake, praline cheese brownies, and raspberry green tea tiramisu. And of course, there's the chocolate fountain.
They discontinued the three-tier practice in the 1970s, and gave us the afternoon tea totally buffet-style. The tea is available daily but note there are two seatings for Fridays, weekends and public holidays.
Best View: THE LANDING POINT (Fullerton Bay Hotel) S$42++ (daily 3pm – 5.30pm)
For a panorama that cannot be beat, head to The Landing Point where you'll command a grand view of Marina Bay. You can dine indoors or outdoors where it can be quite breezy. Notable items on the three-tier set include the Boston lobster coronet, white truffle egg mayo on baguette, duck confit crepe roulade, salted chocolate caramel tart, caneles and kueh lapis. The selection may seem small but the items are quite filling. Still, wait staff will come around and replenish items you have polished off. More than 20 varieties of TWG teas are available, including an exclusive blend called Fullerton Express (silver needle white tea with floral tones). Finish off with the really good coffees.