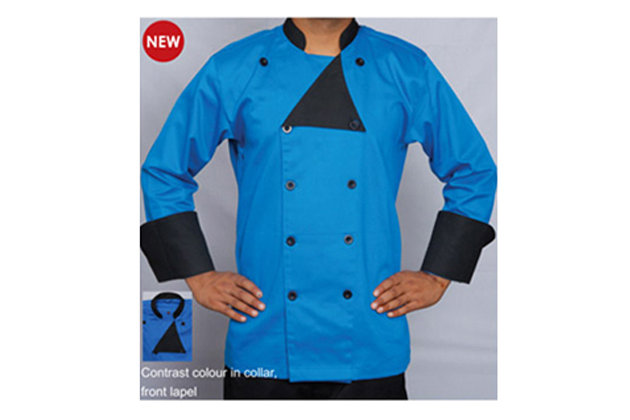 Fashion in the kitchen
By Sheere Ng - Saturday, May 12, 2012
Chefs have been wearing their coats to protect themselves from the heat of stoves and food splatters, but increasingly, they are also thinking how their uniforms can help them look good.
Fashion In The KitchenWould you wear this, Mr. Chef? (Image courtesy of KatChef)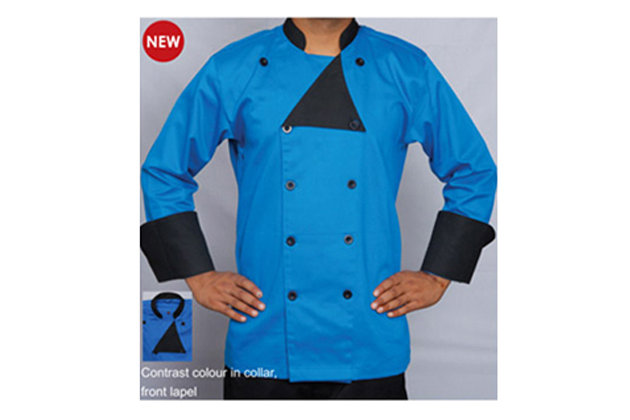 A long sleeved sky blue cotton shirt with black rounded cuffs, collar, and a front lapel that makes an equilateral triangle right smack on the chest area. This may look like a fashion disaster in some eyes, but for some in the kitchen world today, it is absolutely avant garde.
"In the past, chefs only stayed in the kitchen and cooked, but these days they hang out in the dining area to meet their customers so it is important that they look presentable," says Ms Radhika Jayaraman of KatChef, a New Delhi chef coat supplier. She was in town last month for the Food & Hotel Asia convention to promote her range of fashionable kitchen attire here.
Open-kitchens, where restaurant patrons can peer in and watch chefs at work while they dine are increasing in popularity and, draw scrutiny to a chef's appearance as a consequence. These days, cooks can be in the limelight more so than their food, and those chef coat suppliers – who are quick to pick up this trend – are offering something a little more stylish to their clients.
Fashion In The KitchenThe ultimate in foodwear. (image courtesy of KatChef)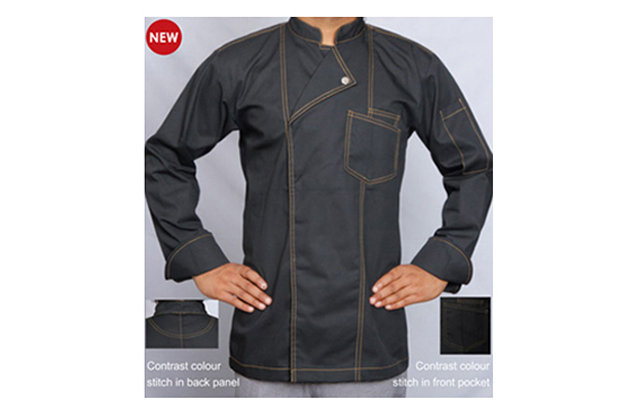 KatChef, for example, offers cotton chef coats in a denim pattern as well as one in black with mandarin collars, similar to the Mao suit as worn by Sun Yat Sen. According to KatChef, more clients have been asking for their restaurants' logos to be embroidered on the uniforms, similar to rank insignias on a soldier's uniform.
In Taiwan, there is a much bolder kitchen fashion, thanks to the increasing number of female chefs.
Fashion In The KitchenProfessional in pink (Image courtesy of Flora Design)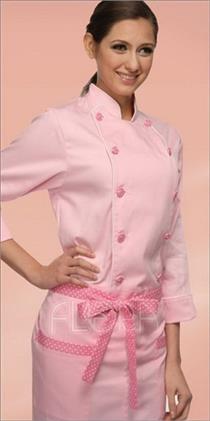 "Female chefs prefer more fitting cuts, pastel-coloured coats with cute patterns like polka dots," says Ms. Lin Ya Hui, a designer at Flora, a uniform supplier based in Taipei. Such designs, she adds, are especially popular among the female pastry chefs.
However, according to these overseas suppliers, chefs in Singapore are more conservative compared to those at where they came from.
This may be because, a local supplier suggests, fashionable chef coat aren't practical after all.
"A chef's coat can get very dirty with constant food stains and has to be bleached on a daily basis. If you bleach coloured coats, the colours will fade very quickly," says Ms Rebecca Kang of Bibi and Baba, a uniform supplier in Singapore.
Tight-fitting uniforms also pose a problem as it hinders the chef's movements in the kitchen.
That is not to say that a chef coat can't be stylish and functional at the same time and some of our local chefs are already adding a little something to their coats.
Chef Willin Low of Wild Rocket has mandarin-coloured buttons on his coat and food critic and Chef Violet Oon has her coat in an appropriate violet colour.
Chef Samson Chan, who has over 25 years of experience and is the Chef De Cuisine at Rasa Sentosa, says that, depending on the chef's position, some may not be very hands on in the kitchen so their coats may not be very dirty, so a white chef's coat might not be necessary.
"Even if it does get dirty, we can always change into a fresh coat before meeting the customers. I am open to coloured chef coats if it fits the restaurant's concept, but just don't make me wear a silly hat," he laughed.