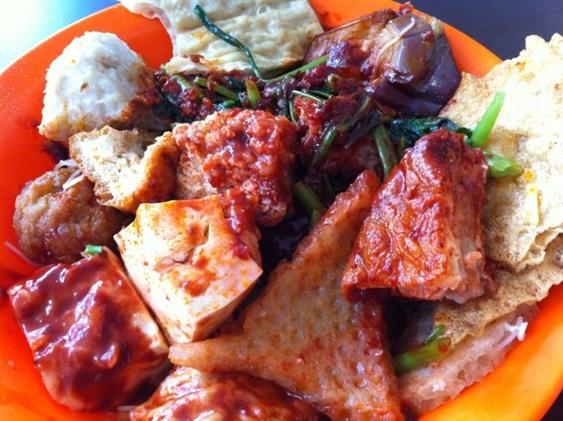 Fav Five: Clementi Central Hawker Centre
By Gregory Leow - Wednesday, Jun 20, 2012
To be a hawker in Clementi Central demands a lot of resilience.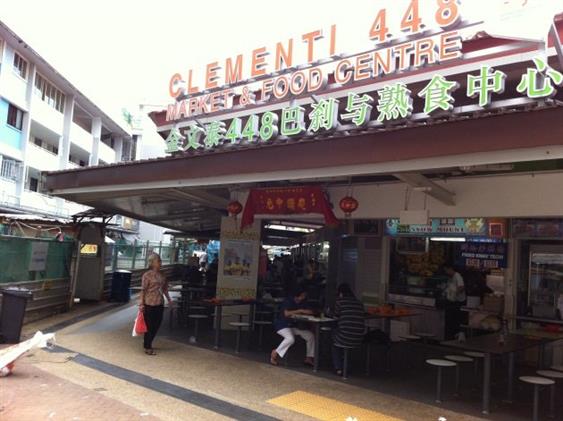 Constant crowds flowing in and out from the nearby mall and bus interchange from one side, crowds mulling around the heartland shops in the centre and the other side has people coming in from NTUC supermarket.
In addition to the massive crowds, there is constant construction noise right in front of the food centre (lift upgrading for the three-storey high HDB flats)
But it doesn't end there. Construction is going on for a brand new mall by Eng Wah Holdings that will bring in more people and the old three-storey high flats along Clementi Avenue 3 behind the food centre will soon be demolished for new buildings and bring in more noise and dust.
You might guess that the only reason Singaporeans suffer all this noise and crowd abuse is because of the glorious food at the food centre.
The hawkers deserve credit too. A disruptive hawker centre upgrading resulting in possible higher rents in addition to the noise and crowds but they chose to stay and many would say that their food quality remains the same, if not better in some instances.
We check out the highly resilient hawkers at Clementi Central and find the five of our favourite eats there.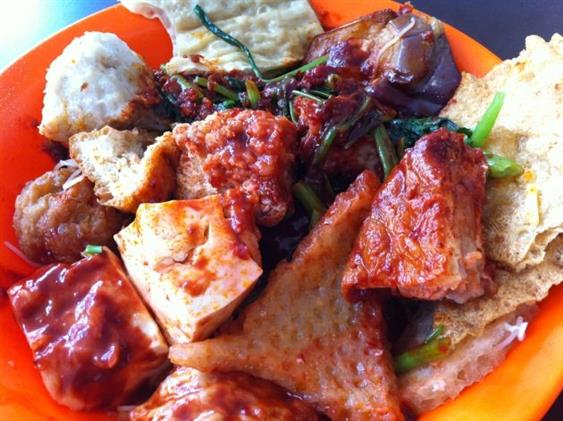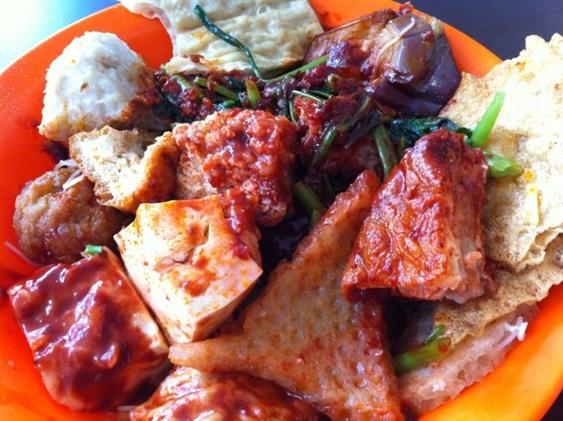 Hakka Yong Tau Fu
Run by an elderly couple, this stall has been in existence since 1940. Head down during lunchtime and you will see queues even before the stall starts opening at 12.30pm. Come late at 2pm and it might get sold out and very rarely will there be items by 4pm.
They serve about 24 items and half of it is Hakka-style, where you get meat paste fillings instead of the usual fish paste. The meat filling is rich and soft and they make meatballs out of the paste, poached or fried. Soft to the bite, they are a must try.
The other attraction here is the beancurd. Items like tau kwa are super soft and the tau pok has a distinctive soya taste to it.
A downside is that because they have to serve so many people, their noodles can get a bit soft for some people.
A selection of 12 pieces with noodles costs $6.60. A minimum selection is six pieces and each piece costs 50 cents.
Chen Ji Ke Jia Niang Dou Fu, #01-27, Clementi Ave 3, Blk 448, Clementi Hawker Centre and Market. Open 12.30 until sold out. (usually 3pm) Every day except Sundays and Thursdays.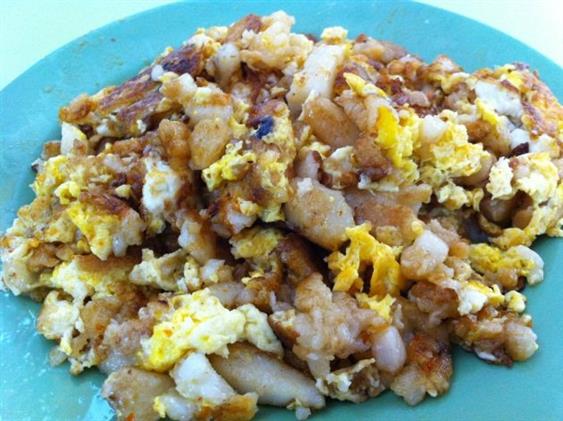 Carrot Cake
If you ever visited the hawker centre before the renovation (pre late 2010), it would be easy to spot an old bent over uncle in a straw hat cooking carrot cake. Truth be told, we wouldn't have recommended the carrot cake by the old master. A few elements were missing so we guess age must have been catching up with him.
The father retired after the renovation and the son came in and totally revived the recipe. Instead of the mushy texture which the old man dished out, his son now cooks it with crispy bits and there is a firm but soft texture in the kueh and every bit is evenly fried. The chye poh (salted radish) the old man used was usually too salty and that has been tamed down.
Instead of the fancy pancakes or squares that many carrot cakes come in, this stall serves it old-school style with chopped up bits. Many older Singaporeans will remember this version.
The flavours are all balanced and the overall flavour is light-ish – never over-salted, the salt comes from the chye poh bursting in your mouth, just enough garlic, a rough but well fried eggy mixture and it's never too oily. The chilli has spice but it never overpowers the flavour of the overall dish.
Fried Carrot Cake, #01-45, Clementi Ave 3, Blk 448, Clementi Hawker Centre and Market. Open 7am to 1130am. Open every day except Mondays.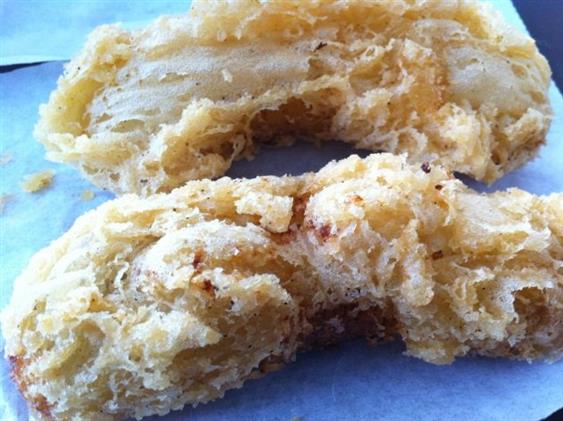 Goreng Pisang
This small stall is owned by a local banana plantation owner, Patrick Tse, who has been selling goreng pisang for more than 30 years. Yes, the owner owns a plantation in Lim Chu Kang and his stall only sells goreng pisang from local bananas.
Instead of the traditional goreng pisang batter, Patrick uses a batter recipe of which he is very protective over what exactly goes inside. Similar to tempura batter, it shatters like glass and remains crispy after many hours. His pisang rajas (Indian bananas, $1/$1.20 for a large one) are well fried and biting into one, you are greeted with soft banana and supreme crunch and crispness.
Snow Mount #01-14, Clementi Ave 3, Blk 448, Clementi Hawker Centre and Market. Open 7am to 1130am. Open every day except occasional Sundays.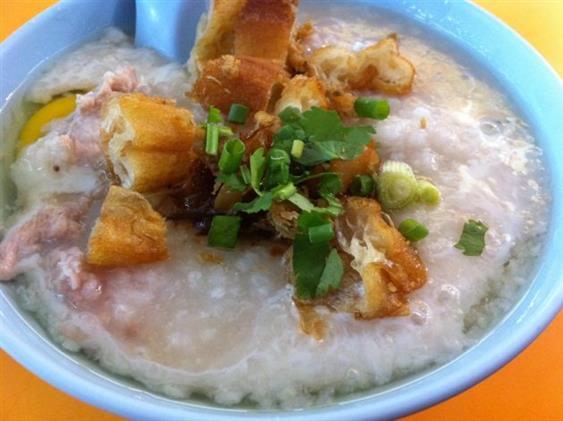 Hainanese Porridge
They are one of the original hawkers who used to sell along Upper Bukit Timah road before they were shifted to Clementi Central. Here they sell Hainanese porridge which falls in between the smooth Cantonese version and the rough Teochew version. Here the grains are cooked until it is just slightly broken up.
The traditional pork porridge is definitely the highlight here. $2.50 gets you a standard size bowl ($0.30 for an additional egg) In it, you get a decent number of nice substantial pork slices and soft hand-rolled meat balls.
The porridge itself is delicate in flavour, not as heavy as the Cantonese robust versions. There is soya sauce and pepper on the side if you'd like it more intense. But this porridge is definitely falls pleasantly into the comfort food category.
Soon Lee, #01-50, Clementi Ave 3, Blk 448, Clementi Hawker Centre and Market. Open mornings to 9pm (except on Saturdays, 5pm) Open every day except Sundays.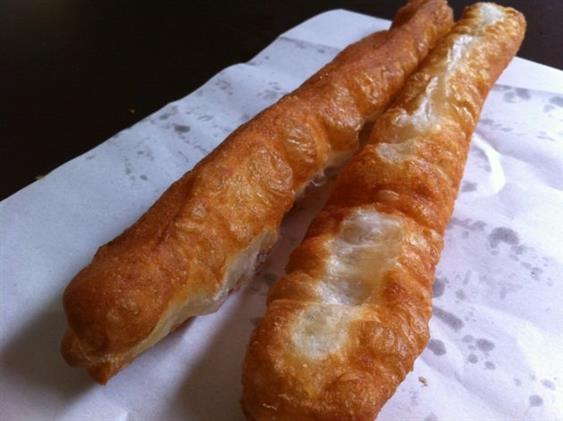 You Char Kueh
Opened in 1966, it proudly boasts on its signage. Since then, it has expanded to a whopping nine outlets, including a factory in Kaki Bukit.
Yet, despite the commercialisation, their you char kueh (fried dough fritters) is still top notch. ($0.70, $2 for three) Light, crispy and airy, with a chewy bounce and a slight saltiness. Most importantly, it's not too oily. They change the oil often (every two days) so it never tastes old.
Xi De Li, #01-39, Clementi Ave 3, Blk 448, Clementi Hawker Centre and Market. Open mornings to 5pm Open every day except Mondays.