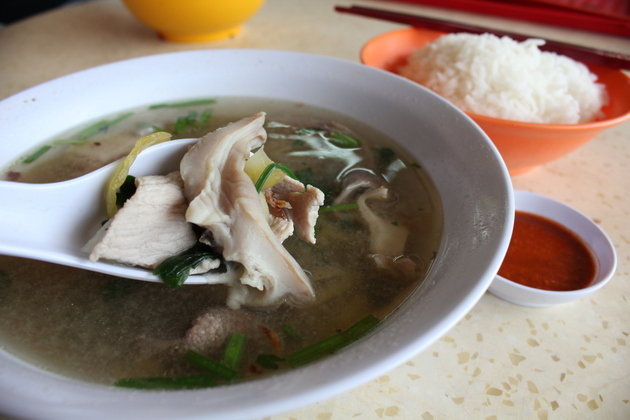 Fave 5 Aljunied Food Centre
By Tris Marlis - Wednesday, Aug 28, 2013
The myth that all taxi drivers are foodies is, for the most part, true. Ask them for recommendations and they can come up with a food guide. The hawker centre at Blk 117 Aljunied Ave 2 is one of taxi uncles' favourite spots for its proximity to the city, mainly Geylang road, Aljunied and Paya Lebar. Of course one key factor is the convenience of having a carpark right beside it. Its open space with occasional breeze also makes it a perfect spot for a cup of coffee. Don't be surprise if you see an older gentleman with neat shirt and dress pants and perhaps a Rolex, cleaning up a table. He is probably a cabbie and a regular customer just helping out.
Aljunied Market & Food Centre (Geylang East Centre Market & Food Corner), Blk 117 Aljunied Ave 2.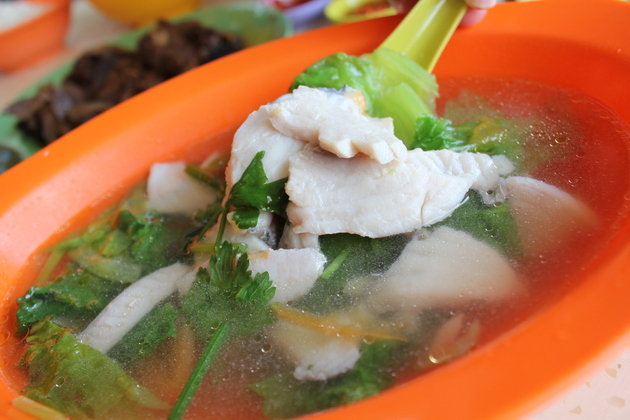 Ng Soon Kee Fish & Duck Porridge, #01-11, 12pm- 9pm (Closed on Sundays)
Ng Soon Kee fish soup is rated "die die must try" in Makansutra 2013. The old couple running the stall is a legend, they have been around since 1958 and moved to this stall in 1978. The clear soup has multi-dimensional flavours. Its edge is that tanginess and spiciness (from preserved spicy Szechuan vegetables) and calming saltiness, the oceanic goodness from fresh Spanish mackerel and sweetness of tomatoes. Their braised duck is also to die for – a plate of mix comes with duck liver, meat and stomach. It is herbal, fragrant and tender. The wait can get very long, but it's worth it.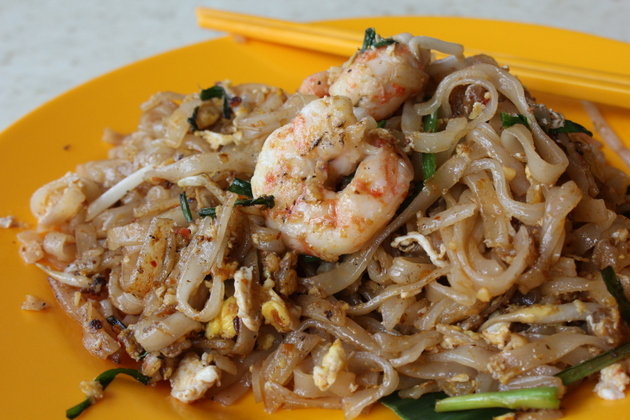 Lucy Penang Delights, #01-05, 8am- 8pm (Closed on Mondays)
It would be unfair to compare with the real McCoys in Penang, the hardcore Penangites know the secret, besides the skill, is the use of local produce, such as their top grade hae kor (fermented shrimp paste) for their rojak. Lucy serves one of the better Penang fare in Singapore. They use the thinner version of koay teow, it is well-seared, light, with balanced use of lard and soya sauce, creating smooth and soft texture. Lucy's Penang Laksa is not much to shout about but pleasant nevertheless; the mackerel fish comes in bigger chunks, instead of the usual mashed version. For those who miss Penang food, this stall helps contain that craving somewhat.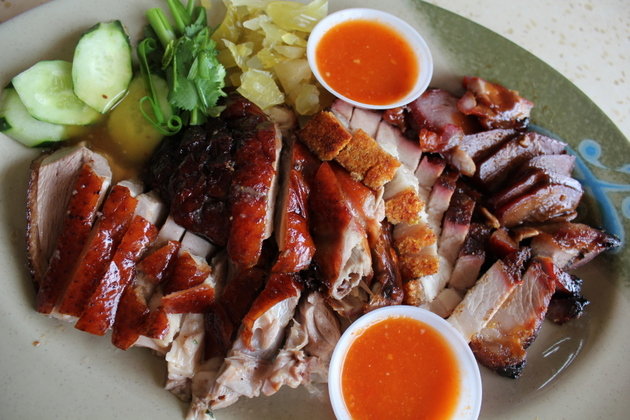 Roastmania, #01-58, 9am- 7.30pm (Closed Ad Hoc)
The name "Roastmania" and pictures of celebrities hanging out at their stall are both hard to ignore. This stall serves a selection of roast meat – duck, char siew, chicken and pork belly. The skin of the roast pork belly is crackling like biscuit, while the meat is still moist and tender. The char siew has that nice char on the edges. Other poultry, duck and chicken, are at par with smoky and crispy skin. The braised sauce that they doused over rice is subtle, which does not mar the sinfulness of roast meats.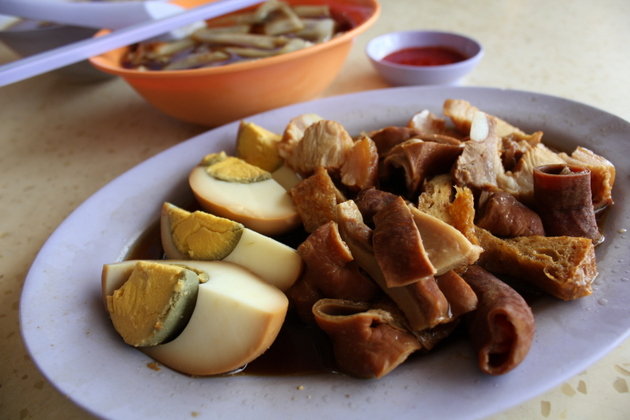 Hai Sing Kway Chap, #01-15, 6.30am- 3pm (Closed on Mondays)
The sauce here is herbaceous, but mildly so. Their kway is firm yet silky and the offals are softly resilient and fragrant. The intestines has that nice crunch, and without that "offensive" pong of offal. They wash and cleanse it well. No fancy selections here, just the usual tau pok, pork belly, small and large intestine, sold at very reasonable prices. All we need is little more fried shallots to complete the dish. The chilli on the side has enough kick and tangy accent to complement.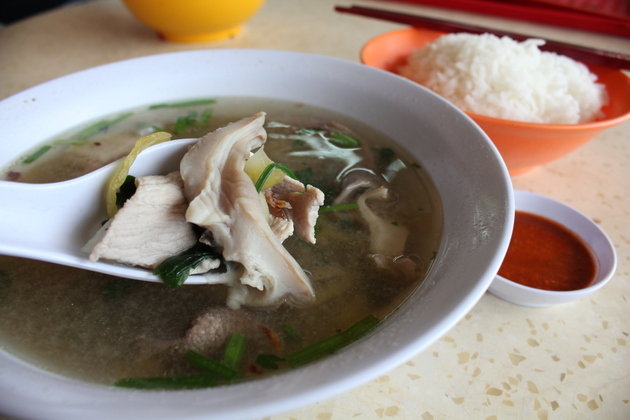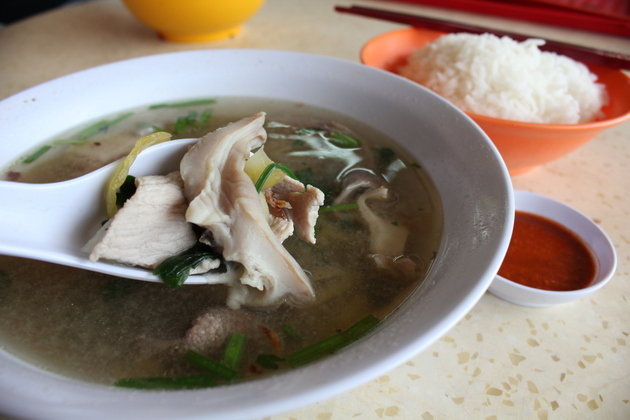 Aik Kee Haslet Soup, #01-56, 9.30am- 8.30pm (Closed Ah Hoc)
The ter huang kiam chye soup here is peppery, robust and well balanced with the tanginess of salted vegetables. The portion is generous, with thicker chunk of liver cooked just slightly pink along with other basic ingredients, such as lean pork, meatballs and large intestines. The soup is slightly cloudy sans the offensive smell. It is best enjoyed with a bowl of steamed rice for a hearty meal.