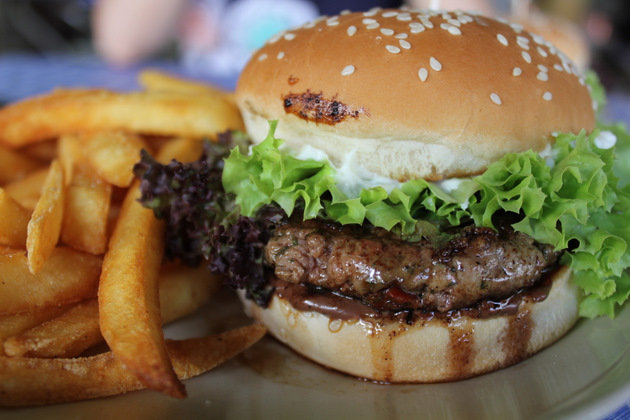 Fave 5 Artisanal Burgers under $15
By Tris Marlis - Thursday, Oct 17, 2013
Love it or hate it – burger, which is the most dominating fast food here, is steadily becoming part of our makan culture. A generation of Gen X'ers grew up mugging for exams over sets of burgers wedged in their teenage hands. It is now comfort food for many of them. There are now a plethora of gourmet variations in our midst and bistros and even hawker stalls specialise in this once European blue collar meal.
In Singapore, a number of new generation entrepreneurs and professionals are jumping in the bandwagon –a financier, guitarist and even lawyers, switched careers to flip burgers. Even famous Mediacorp DJ and actress, Denise Tan from Gold 90.5FM confessed her obsession for burger in our recent interview, calling it "a piece of art." The good news is, unlike Picasso, this piece of art is widely available in our neighbourhood at affordable prices. Here's five of our picks from the lot of non-fast-food versions.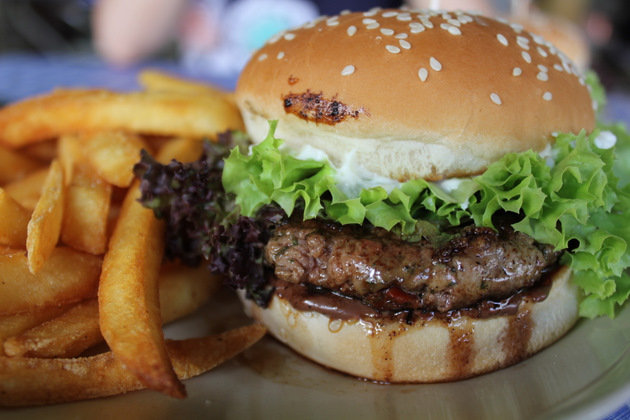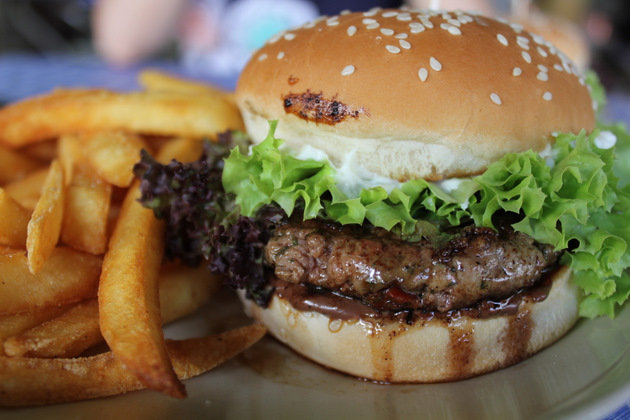 De Burg, #01-40, 119 Bukit Merah Lane, 11.30am- 3pm, 6.30pm- 9pm (Closed on Mondays)
Encik Burger (the owner, Mr Andrew Sim) lives by De Burg's motto of "Burgers are not fast food." The menu at De Burg is overwhelmingly exciting, with over 50 varieties. What we love here is their burger comes in two sizes, 100g or 200g patty. For $9.90 (100g), you can get their famous Choco Lamb – mutton patty with a spread of Nutella, it has a sweetness that somehow tames the gaminess of the mutton. It also comes with pleasant bitter sweet and umami after taste. Their cheese burger ($8.50, 100g) with BBQ sauce and cheese is simply comforting, if you'd like an upgrade, they also offer premium wagyu beef burger.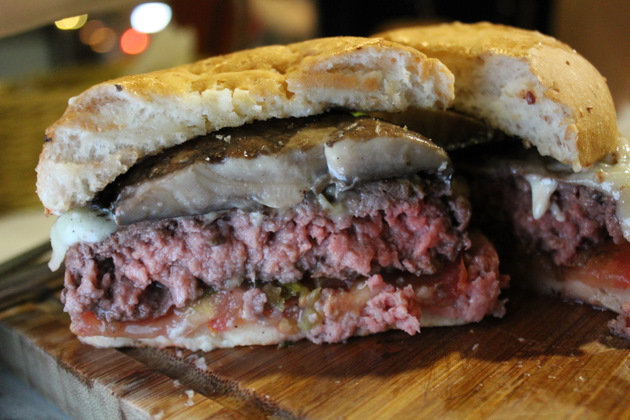 Two Blur Guys, #01-13 Orchid Hotel, 1 Tras Link, Hours: 11pm – 9.30pm (Closed on Sundays)
The ex-financier duo (Mr Max Tung and Mr Anthony Koh) behind this barely year old joint are not that blur after all – ask for medium well, and their prime beef burger ($12.50) would come juicy and flavourful. They use gruyere cheese instead of the regular cheddar, which is a harder type of cheese with a pleasant sweetish after taste. It is best eaten fresh off grill, as it hardens quickly at room temperature (don't waste too much time taking pictures) . Another gourmet touch here is their truffle mayo, which is very subtle and does not to overwhelm the natural beefy flavour. Also try their pulled pork burger ($11.50), sweet, fork tender and juicy.
Between The Buns, 125 East Coast Rd, 5-10.30pm (Sun-Wed), 5pm-12.30am (Thu-Sat)
Barely four months old, Between the Buns is another venture by young Mr Enoch Teo who also runs Le Petit Paradis at the same coffeeshop. They offer the classic Cheeseburger ($12.90), as well as gourmet ones such as Rosemary Chicken and Cajun Pork. The buns are exquisitely soft and the veggies are fresh, the patty, however, is lack in consistency. When it's done right, it comes juicy and flavourful. The coffeeshop, Alibabar, has a great selection of craft beers which gives you more reasons to chow down here.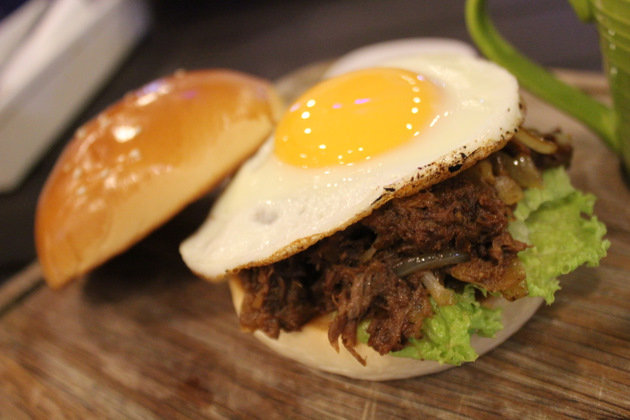 GRUB, 510 Ang Mo Kio Ave 1, 5.30pm- 10.30pm (Tue-Fri), 9am- 2.30pm, 5.30pm- 10.30pm (Sat, Sun & PH) (Closed on Mondays)
This eatery is tucked in the middle of Bishan Park, surrounded by a stunning lake. It is a good spot for post evening stroll dinner, and offers guilty pleasures for joggers. For $13, you get a cheeseburger, or if medium rare beef patty is not your thing, try their pulled beef burger. It is served with a sunny side up egg – a very comforting combination, sweet, tender and creamy. Their other signature is the crispy fish burger. The owner, chef Mervyn Phan, also runs a cooking school, Cookyn Inc.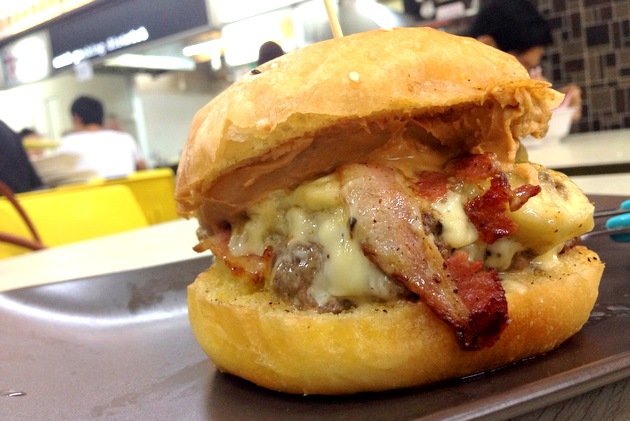 The Meat Packing District, Blk 261 Waterloo Street, 10am- 8pm
We don't know how much spirit of New York this has, but this is where an indie band guitarist makes and flips his burgers after scaling his lead. The Fat Elvis burger, of course is a signature here. The burger comes with juicy beef patty, a dollop of peanut butter, banana slices and a few strips of crispy bacon. The salty bacon complements the nutty butter and tangy sweet bananas. The combination is flavourful and does not overwhelm the natural flavour of the patty. The Meat Packing District is a one man band, where Mr Keith Tan packs the patties by hand everyday. He is looking for opportunities to distribute his beef patties across the town, and still strums hard while at it.