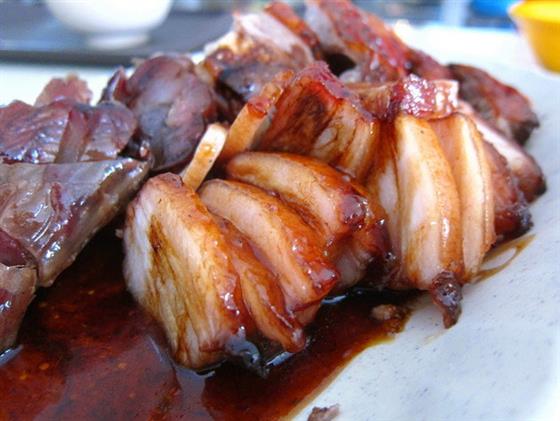 Fave 5 Char Siew
By TianTianChi - Monday, Jul 22, 2013
Char siew or caramelised roast pork, is one of the three pillars in Cantonese roaster stalls, alongside roast duck and roast pork (siew yoke). All three require masterful skills to achieve a certain level of perfection. The tenderloin is the most popular and best cut used, but there is so little of it in a pig. So, they were skewered together with the other cuts during roasting to supplement that craze. It became a dish of its own, and as it evolved, the choice of cut of preference became fatter due to a desire for a juicier, more sinful mouth feel.
The test of a good roaster still lies in how well he marinates and roasts the meat. This was one reason why a roaster had the confidence to demand S$3 million for her recipe. Whether she deserves that amount or not, is subjective, but our love for Cantonese roast, is not. There are, many fabulous char siew out there that are as good, if not better and cheaper. Here are our favorite five. What are yours?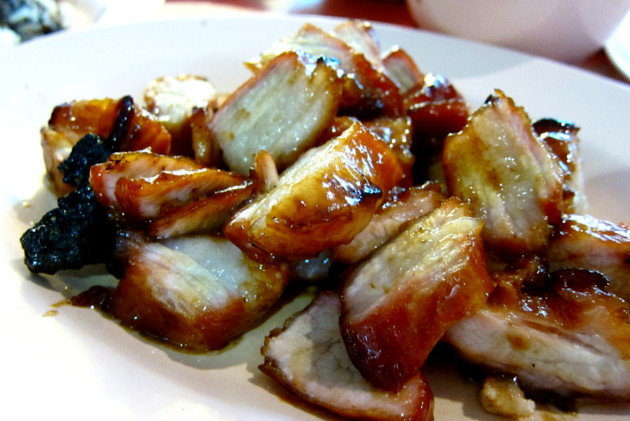 Fatty Cheong, Blk 6 Bukit Merah Rd, #01-120 ABC Brickworks Market & Food Centre, 11am-8pm (Closed Thursdays).
Fatty Cheong is credited for being one of the first roasters who introduced the Bu Jian Tian (armpit) cut of the meat which is so easy to like for its tender meat and thin layer of fat. Unlike the commonly dark coloured and thickly caramelised type, char siew from Fatty Cheong is honey-coloured, which makes it appear less sweet than it actually is. The meat is tender, tad fatty, sweet and fortunately does not overwhelm the meat's juiciness. The owner chops his char siew in thicker chunks, giving it a more satisfying and flavorful bite. It would have been even better if it is a little more charred at the edges.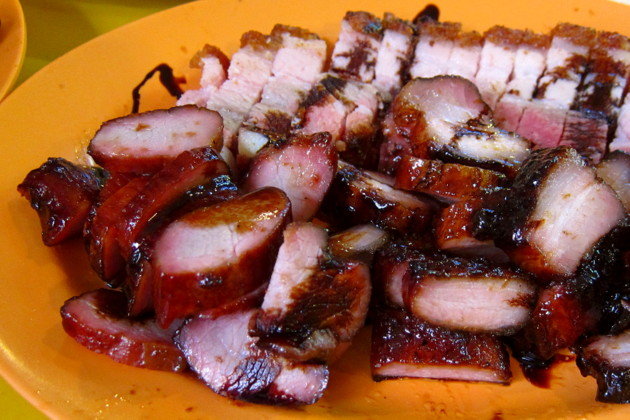 Fu Shi (Traditional) Roasted- Wanton Mee, 320 Shunfu Rd, #02-25 Shunfu Mart, 8:30am-1:30pm (Closed Mondays and Tuesdays).
Ah Huat does not have decades of experience like other master roasters here. In fact, the former taxi driver had only started this business six years ago but has already garnered a strong following. He offers three kinds of cut here, the leaner shoulder meat, the fattier pork belly and the in-between "armpit" or Bu Jian Tian meat. To achieve the sheen and the caramelised coat, he glazes the skewered meat several times with maltose during the roasting process. It is sweet and intense, the in-your-face appeal type. We feel that he could improve it with a little more savoury flavour, perhaps with nam yu (red fermented tofu) and charcoal smokiness.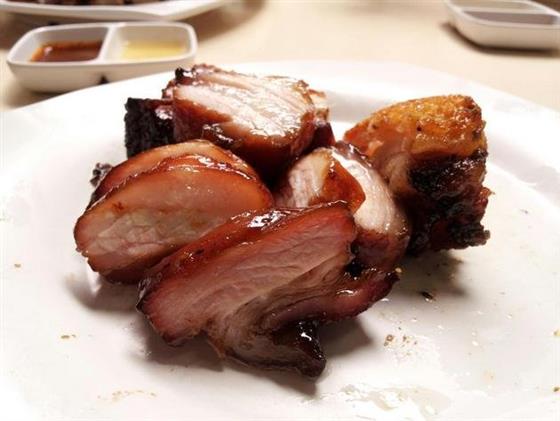 Jin Xing Hong Kong Roasted Meat, Blk 214 Serangoon Ave 4, #01-88 Ideal Coffeeshop, 8:30am-7:30 pm.
A good Cantonese roast does not need a Cantonese chef, Jin Xing has proven that. The Hokkien owner learned his skill from a Hong Kong master roaster and does it better than his peers. He uses mainly pork belly, a preferred cut by char siew connoisseurs today. They do offer leaner meat if you ask for it. The well roasted meat is tender and succulent with the layers of fat almost melting yet does not taste greasy. There is also a faint flavour and aroma of ginger juice in the meat that makes it so appealing. The char siew comes glistening with a shiny gloss, the result of another step of glazing with honey after the meat is done and smoked in the oven for a few more minutes.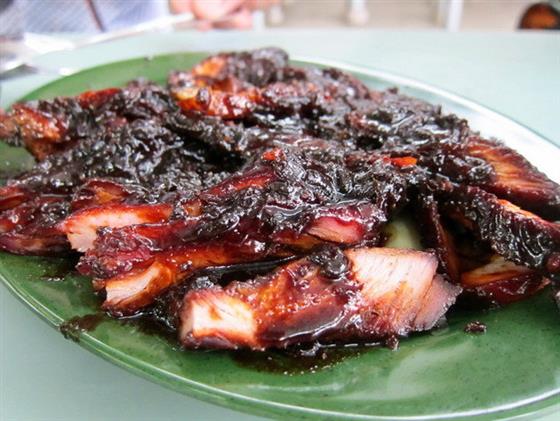 Lau Phuay Chay Authentic Roasted Delicacies, Blk 120 Bukit Merah Lane 1, #01-20 Alexandra Village Food Centre, 11am-8pm (Closed Saturdays).
The plate of meat looks like some debris found in a burned down roast meat stall, charred and covered with blackened soot. It is actually their unique black sauce slathered over the char siew. Although the fashionable armpit meat is offered, we prefer their leaner cut roast meat. The Teochew owner uses pork from Holland for a better flavour, despite the higher price. Their addictive, smoky, toasty, salty and sweet rustic sauce made from frying soya bean paste, sugar, shallots, garlic and lots of black sauce calls for a bowl of rice.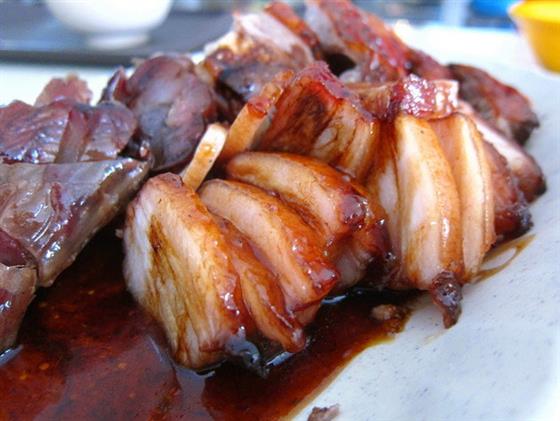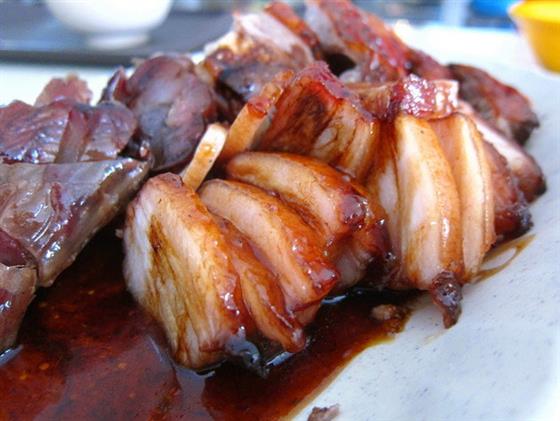 Tiong Bahru Lee Hong Kee Cantonese Roast, 30 Seng Poh Rd, #02-60, 9am-8pm (Closed Thursdays).
They have been around for half a century and still offer the whole range of Cantonese roast. Although the char siew looks coated with a layer of sticky syrup, it is actually not as sweet as it looks. In fact, it comes with a delectable savouriness. They use a leaner cut most of the time and slice the meat thinner instead of chunkier. The meat tastes tender and juicy with specks of fat in it and the edges come with a slight soft cartilage-like crunch. When served with rice, they ladle over an appealing sweet sauce that is made from the roast drippings and preserved soy bean. It absolutely complements the meat.