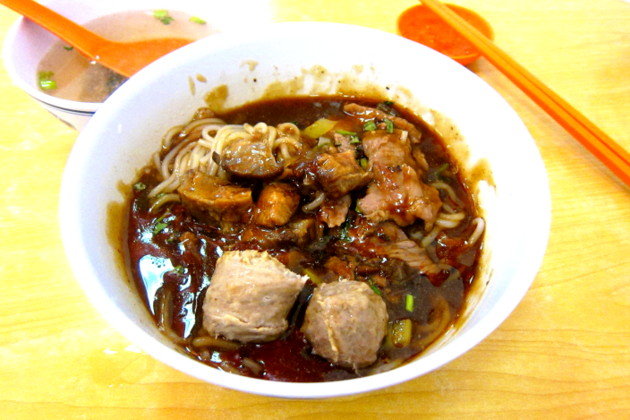 Fave 5 Dry Beef Noodles
By TianTianChi - Friday, Dec 21, 2012
Beef noodle is not the most popular street food in Singapore as beef is not as common a meat staple as chicken or pork here due to religious reasons. Such stalls are usually of high standard as fans are very discerning and demand excellence for this favourite dish of theirs. There are more than just the gooey Hainanese or soupy Teochew versions we are more familiar with. Here are some of our favourite versions.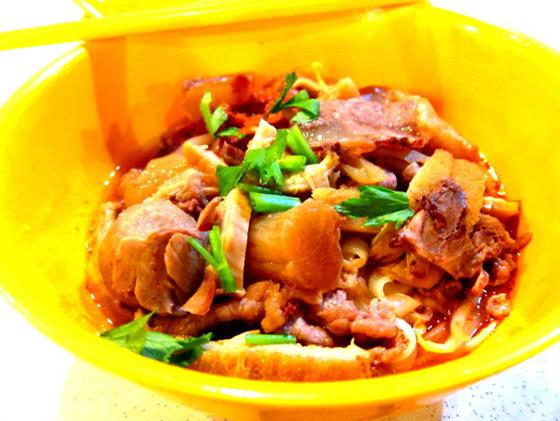 Empress Place Beef Kway Teow
936 East Coast Road
LTN Eating House
11am-10pm
David the grandson of the legendary Hock Lam beef founder master and sticks to the original Teochew style. No sticky gooey sauce, just simply soy sauce, sesame oil and the tangy chilli gravy, similar to a bak chor mee. This allows the natural flavour of the beef and parts shine rather than the sauce. The beef is well blanched and the spare parts are stewed till just off al dente for a nice texture. The stock is cooked with lots of beef bones for up to a couple of days and tasted almost like an essence and comes with an appetising and lightly sour note from pineapple cores used. A basic just-beef bowl starts at $5.50 but most go for the everything-in, $7 bowl. Be patient as he is a one man show and cooks each bowl diligently.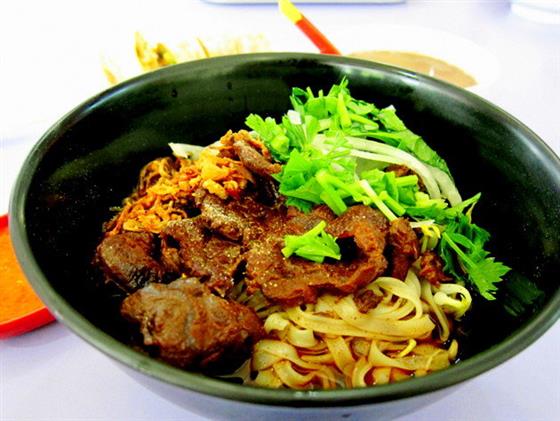 J & J Special Beef Noodle
Block 51 Old Airport Road Food #01-162
Old Airport Road Food Centre
10.30am-9pm (closed Mon except public holiday, in lieu of this, Tuesday shall be the off-day)
An eclectic style of Taiwanese, Vietnamese and even Cantonese, the beef is braised with a mixture of herbs and spices. The sauce is dark, concentrated and with a slight sweetness that is not over bearing. The meat is well coated with the braising sauce and is tender; it's thicker than usual slices of beef gives a satisfying bite too. William garnishes the bowl of beef noodle (he favours the pho type thin ribbon noodle) with deep fried shallot which resulted in a toasty fragrance and rich caramelised flavour. The fresh onion rings and cilantro add a nice sharp tang which balances the richness. Some mint leaves would improve this further we felt. "Not many people appreciate the herbaceous minty taste; I had to throw a lot of them away before" William said. A basic bowl starts at $4 and he even has a deluxe wagyu beef version at $10 and recommends to serve it soup style.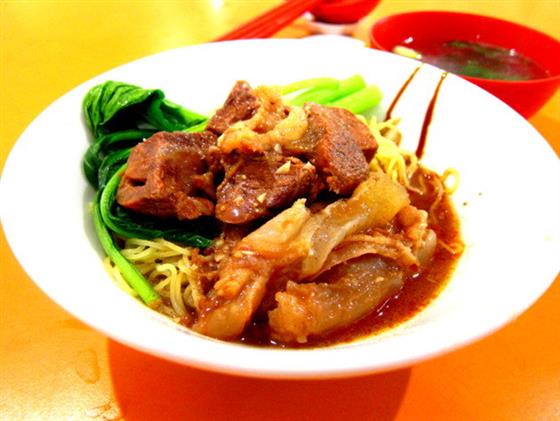 Lao Jie Fang Braised Beef Noodles, Pork Rib/Pig Leg Noodles
Blk 159 Mei Chin Road #02-15 Mei Chin Road Market
9am-3pm
They do it the Cantonese style – stewing the beef brisket for several hours in a preserved soya bean paste based stock till it is soft and tender, with just a little fat clinging on. Mr Chan will diligently flick the noodle vigorously several times while blanching the thin egg noodle to ensure that each strain is well cooked and yet does not turn soggy easily. Very similar to KL style wanton mee, he tosses the noodle in a specially concocted dark sauce before adding in the stew sauce. While the sauce itself is rich, robust and appealingly sticky, the dark sauce intensified and enhanced the flavour further. The chilli sauce he uses comes with a peppery sensation which helps to tone down the milky taste of the beef brisket. If you love melt-in-your-mouth consistency of beef tendon, ask for the mixed version at $1.50 over the $3.50 basic bowl.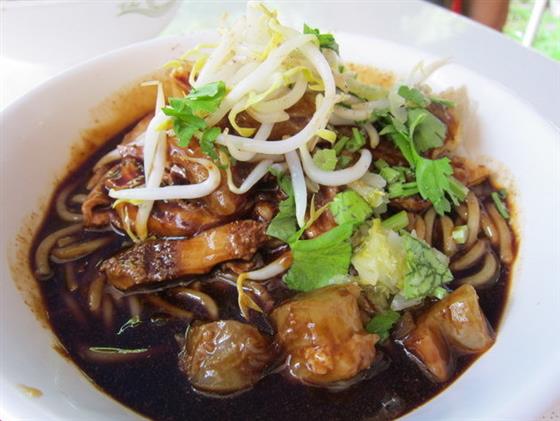 Toa Payoh Hwa Heng Beef Noodle
29 Bendemeer Road #01-01 Bendemeer Food Centre
Wed-Fri: 10.30am-5.30pm
Sat-Sun: 10.30am-2.30pm (Closed Mon & Tues)
Mr Kian can't use the original family business name anymore but he has not lost the legendary Odeon Beef Noodle touch. The gravy is dark, smooth and sticky without being starchy and tastes robust and beefy. While many people like to drizzle lots of lime juice over the noodle, I do not suggest too much of it as it can overwhelm and mask the beefiness, besides, the chilli sauce is sour enough. The smooth and savoury cincalok sauce is a perfect accompaniment to the beef gravy adding a little seafood-y flavour and enhances the meatiness of it. The soup is slightly herbal and is intense with tiny bits of beef flotsam, almost addictive. This has been and still is the benchmark of a good Hainanese beef noodle. Moving to a hawker centre allows them the ability to serve a more generous portion (starts at $3.50). Go deluxe at $5.50 for a mixed bowl that comes generous with soft beef tripe and gelatinous but firm and springy beef tendons.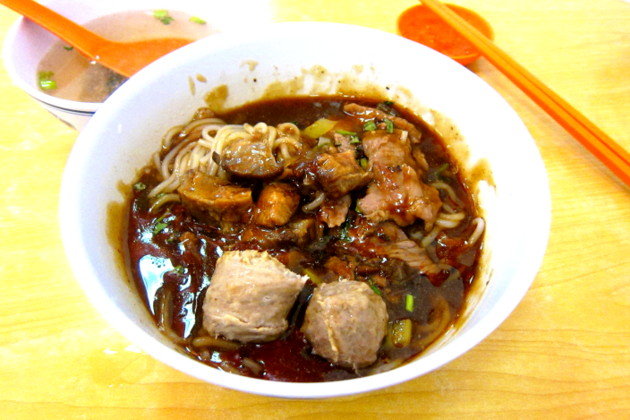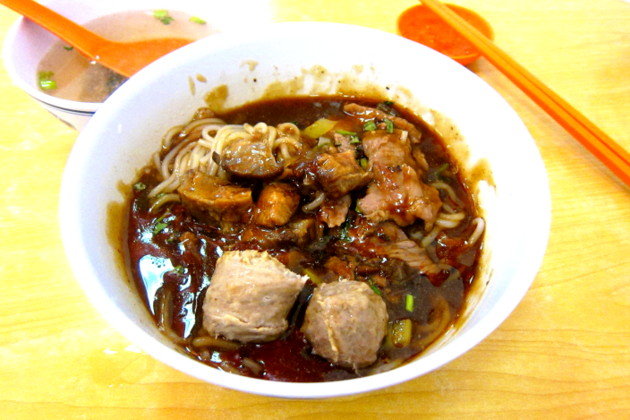 The Beef House
151 & 153 Joo Chiat Road
11am-11.30pm
For the longest time they only serve Hakka style beef balls in soup. Bowing to popular demand, they started serving dry noodle and with sliced beef several years later. The rice or ribbon noodle comes with a lightly starched five spices powder infused sauce, quite similar to lor bak (stewed belly pork) sauce. A little heavy on the star anise but goes very well with the savoury sour chilli sauce. The soft meat slice is tenderised artificially but not totally unappealing. The two kinds of meat balls are what stands out. The beef ball that come slightly darker and softer, tasted masculine with a more pronounced beef taste whereas the bouncier tendon ball is firm and crunchy. It is known that many customers buy them by the kilos for their home parties. The stock is clear and mild, hardly beefy unfortunately. Minimum order is $5.