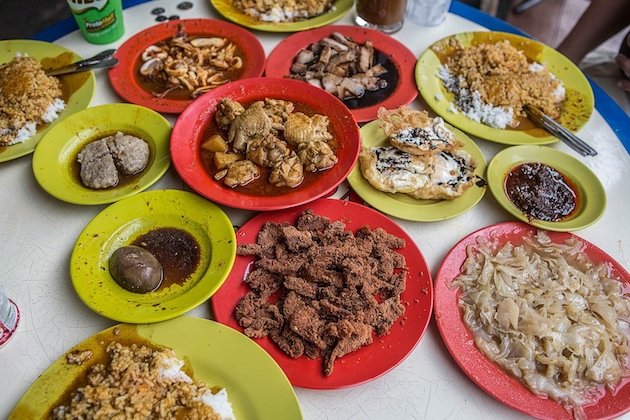 Fave 5 Hainanese Curry Rice
By TianTianChi - Wednesday, Jul 31, 2013
The origin of Hainanese curry rice – when it was invented and who – remains a mystery that no one can seem to recall. It is alien in Hainan island (China), just like our most beloved Hainanese chicken rice. All we know is that the Hainanese curry rice has been around even before World War and is uniquely Singapore. One saying that most agree is that it was started by Hainanese cooks who worked for the colonial British as well as Peranakan families, which explains the traces of western, Peranakan and Hainanese cooking in the midst of their side dishes.
In a typical Hainanese curry rice stall, there are fewer items than in a chap chye stall, usually not more than 10 to 12 items due to the complexity of preparation. The mandatory items are always the curry chicken, stewed cabbage, braised pork belly and breaded pork chop. And then there are other side dishes, like fried egg, sambal sotong, assam fish, steamed minced meat ball and other dishes that go well with a bowl of piping hot rice.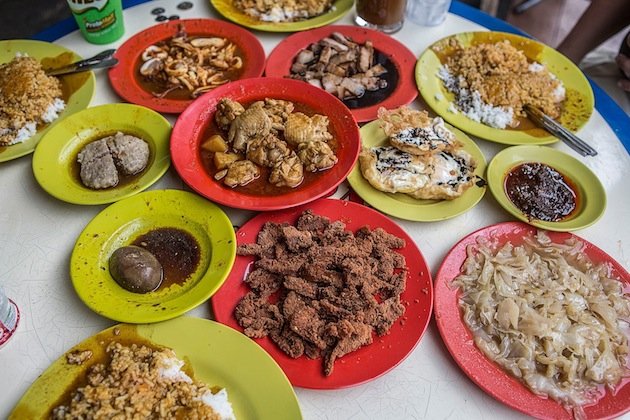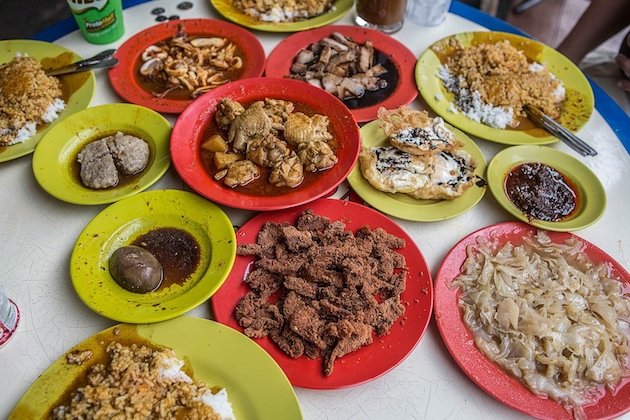 A plate of Hainanese curry rice is usually doused with various gravies of different brown hues, as little as three types of gravy and as many as seven, just like how ice kachang is top with syrup of different colours. The main gravy that permeates the whole meal, is often a closely guarded family jewel recipe.
There are not many Hainanese curry rice stalls around left today, due to its complexity in preparation of dishes and gravies, and often are sub par. Everyone has their favourite stalls and here are our favourite five.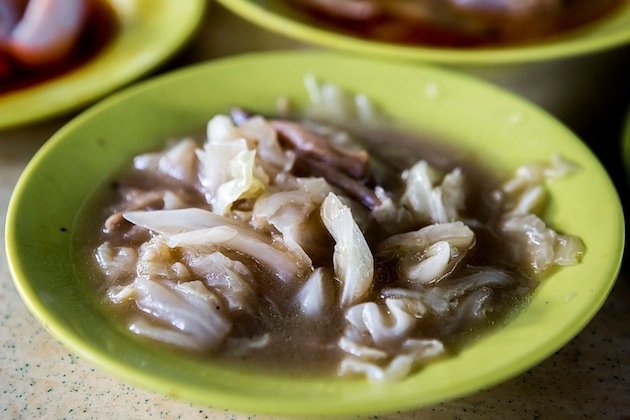 Beach Road Scissors Cut Curry Rice, 229 Jalan Besar, 11am to 3.30am
Not just a trade name but scissors cut refers to how the ingredients are cut, snipping with an old style Chinese scissors. It is faster and easier than chopping or cutting with a knife. Many owners have taken over this spot selling curry rice. Their deep fried items are popular, especially the crispy pork chop, sesame seed encrusted chicken chop and prawn fritter. However it is the black pork chop that floored us. It is deep fried then coated in a peppery black sauce. Even though it is thin but there is no lack of meat flavor and with the gritty soggy crust, it even takes on the texture and flavour of deep fried pig liver. We are not particularly keen with the gooey heavily starched more garlicky than curry, gravy.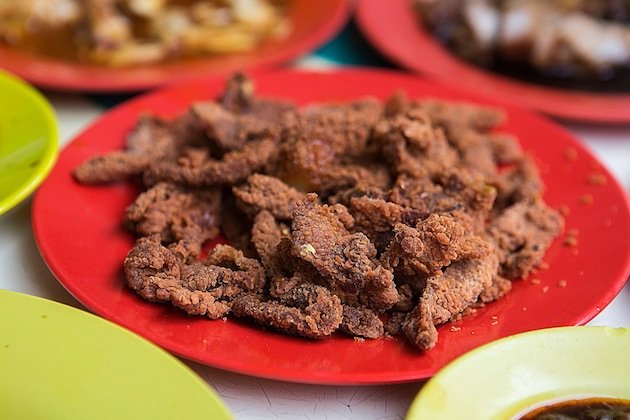 Curry Rice, Blk 91 Whampoa Drive #01-13 Whampoa Market & Hawker Centre, 7am-11am
Come just before their official closing time and you are likely too late, they sell out fast here. The queue is perpetually long even if their curry rice is not the most robust in flavour nor do they have the most items to offer. The price is bordering on cheap and they do the usual items well. We like their sotong especially; it is dabbed with some sambal before grilling to an and come appealing smokiness. The light curry gravy has a home cooked feel to it and the cabbage is more crunchy than others yet flavorful.
Feng Kee Hainanese Curry Rice, 209 Pasir Panjang Road #01-41 Pasir Panjang Food Centre, 4am-2.30pm (Closed on PH)
The food centre comes to life early in the morning where bleary eyes pub crawlers, port workers and vegetable sellers from the nearby wholesale centre congregate for a hearty curry rice breakfast. They slathered at least five types of gravy on the rice – rich curry, spicy chilli oil, sweet char siew sauce, savory braised pork belly sauce and sour assam gravy, which is appetising and moreish. This almost out shadowed the well-seasoned and crispy pork chop, soft stewed cabbage, appealingly chewy sambal sotong and tender pork belly that few can resist.
Loo's Hainanese Curry Rice, Blk 57 Eng Hoon Road #01-99 Tai Kwang Huat Coffeeshop, 8am-2.30pm (Closed on alt Thursdays)
They have been serving Hainanese curry rice for almost 60 years and they claim that their curry sauce takes three days to make. We suspect two of the three days is for it to rest and settle. It is quite unlike other places and comes with a Peranakan hint of lemongrass in the sticky and sweetish gravy. They will top it up with a few more types of gravy that lends a complex yet appealing flavour. The usual suspects of deep fried pork chop (we find the tomato based gravy a distraction), sambal sotong (nicely tangy and savoury), slightly crunchy stewed cabbages, firm meatball with a high percentage of fat in it, are perennial favorite of their fans.
No Name (nicknamed Beo Crescent Hainanese Curry Rice), Blk 40 Beo Crescent #01-10 Ho Ping Coffee Shop, 6.30am-3pm (Closed on Wednesdays)
Eating here transports you back to the 70's. It is located in a tiny and old coffee shop and it doesn't even have a name or signboard. Fans brave hot sun to queue for the food and fortunately they work fast and furious. All the classics are there, and it is difficult to decide what to order as they are all done well. The well-loved pork chop is so crispy it is like eating a thin meat biscuit. Sotong is cooked simply with garlic, onions and just a pinch of coriander powder and it lets the intensive umami flavor do the talking. Even the simple fried egg comes with an addictive flossy and crisp edge. We love the 4 types of gravy (curry, braised pork belly, Assam fish and stewed cabbage gravy); a multi-layered robustness when put together.