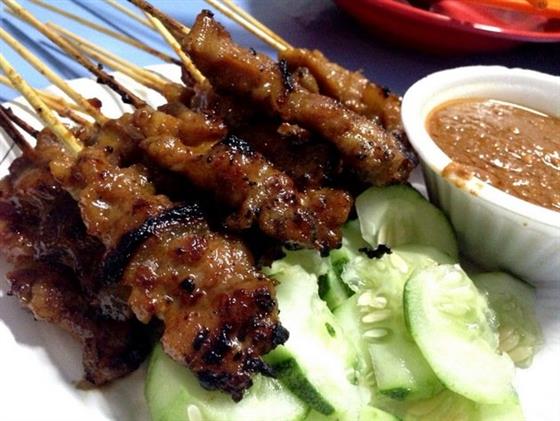 Fave 5 Hainanese Pork Satay
By Tris Marlis - Thursday, Oct 10, 2013
Our Hainanese ancestors were known to be among the latest clans to arrive in this Peninsular. Many industries and jobs were already the domain of the other "clans" like the Hokkien, Teochew, Cantonese who were dominating the retail, trading and banking industries. Many Hainanese settled and worked as cooks instead, in British colonials' or wealthy Peranakans' houses. They adapted the flavours of east and west, blend with theirs, to create new dishes. Besides creating the iconic Hainanese Chicken Rice, one other lesser known and equally unctuous snack they adapted was Hainanese pork satay.
Satay is said to originate from the archipelago, Indonesia. Some also said the word "satay" is derived from Chinese language, meaning three pieces – as "sa" is three and "tay" is pieces. It is believed that the pork satay is an inspiration from the Nonya kitchens that the Hainanese "Ah Ko" or brothers, adapted from. The Hainanese later prepared satay with pork, every skewer comes with two chunks of lean pork and a chunk of pork lard. It is lightly marinated, unlike the usual Kajang or local style satay, and grilled over charcoal fire until smoky, while the slow roasting maintains the juiciness of the meat.
On top of the usual chunky, sweet and savoury peanut sauce, this version comes with an addition of pineapple puree, which is also Nonya inspired, with English adaptations as they were fond of jams and marmalades… The tanginess of the fruits cuts through and calms the porkiness, and also balances the fattiness of the lard.
Nowadays, there are not many Hainanese satay stalls left in Singapore, but we can still find five good renditions.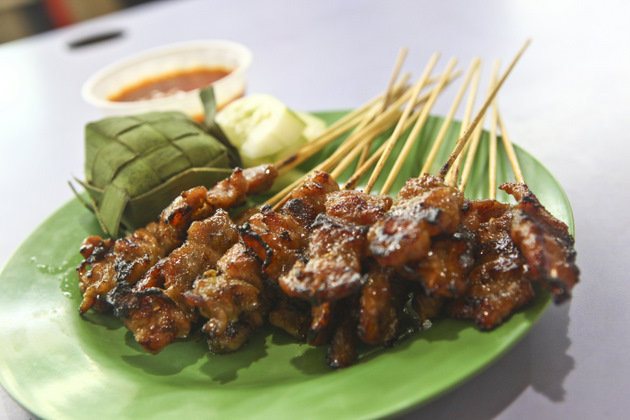 Chuan Kee Satay, Blk 51 Old Airport Rd, #01-85 Old Airport Rd Food Centre, 5.30pm- 11.30pm (Closed on Mondays and Thursdays)
Please do not place your order if you are in a hurry, the owner would tell you. The wait can get very long at times, up to 45 minutes, thanks (and no thanks) to their patience and diligence in grilling and charcoal fire control. With the impeccable skill, the satay comes out perfectly smoky, nicely charred and it goes perfectly with the chunky and tangy peanut sauce.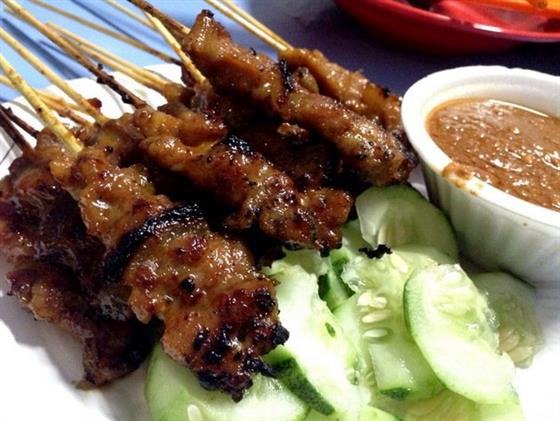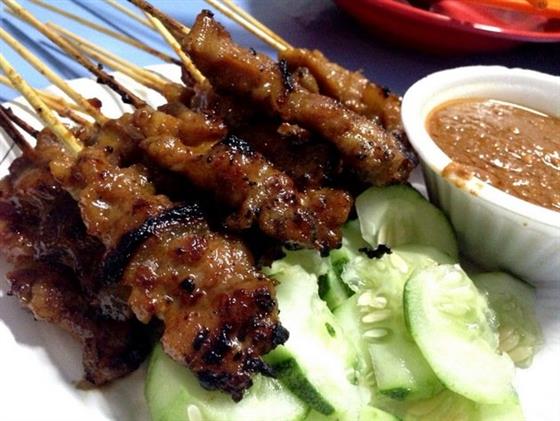 Shi Xiang Satay, Blk 335 Smith St, #03-079 Chinatown Complex, 4pm- 9pm (Closed on Thursdays)
Shi Xiang was the only Chinese satay stall from the now defunct Satay Club, run by two very friendly grannies. Their corner location has nice overview of the bustling junction in the heart of Chinatown below. The trick is to grab a beer and wait for your satay patiently, then devour slowly. Their satay is one of the juiciest compared to its peers, it is smoky and the pork lard has a nice crunchy outer layer. They use minced pineapple, which gives the sauce a coarser, but pleasant texture.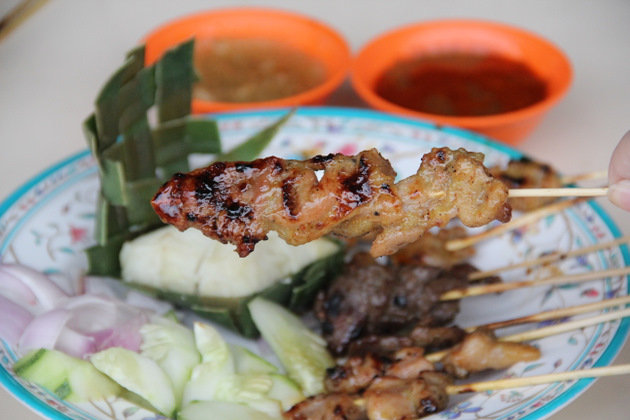 Kwong Satay, 549 Geylang Rd, Sin Lian Eating House (off Lor 29), 5pm-11pm (Closed on Wednesdays)
They used to offer the 'gourmet' version with pork belly that's marinated in more than 12 types of ingredients, including the expensive saffron. But sad news, we were told they no longer offer this cut, and the reason is insignificant… it's gone! Their regular version still rocks and the peanut dip comes with a hint of dried shrimps, which adds a whack of umami and saltiness which sits well to the tangy and sweet pineapple sauce. They use a softer pork loin which is one reason that accounts for its popularity.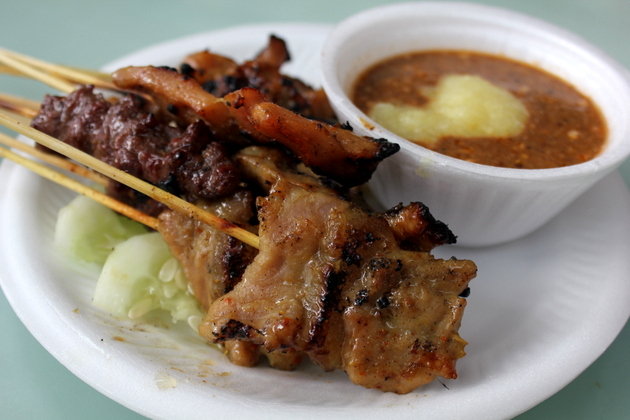 Old Punggol Satay, Blk 120 Bukit Merah Lane, 1 #01-52 Alexandra Village Food Centre, 12.30pm- 8.30pm
Their pork satay comes tender and their marinade is lighter, with the basic ingredients, such as sugar, soya sauce, five spice powder and wine. But for the true sensation, it must be completed with the peanut dip. The owner, Mr Tan, gave up his career to carry on this business which was started decades ago by his grandfather. His son now occasionally helps out at the stall. They also require a minimum order of 10 skewers.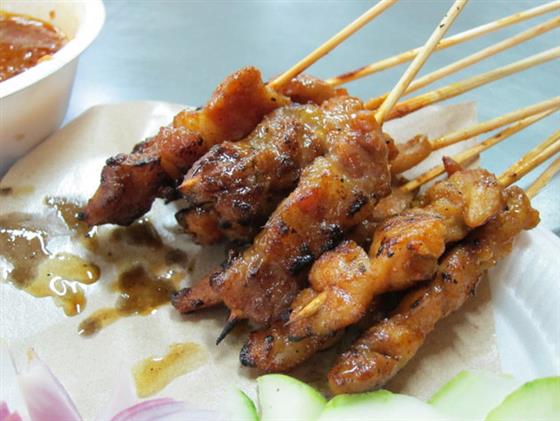 Poh Kee Satay, Blk 212 Hougang St 21, #01-1349 Hougang 212 Coffeeshop, 7pm- 1am (Mon-Fri), 5pm- 1am (Sat & Sun) (Closed on Thursdays)
These folks are the original members of the famous Upper Serangoon Road 6th Milestone Satay, they also claim to be the first to franchise satay in Singapore. The spice marinade is made and seasoned in a factory and the cooks simply skewer the meats manually in house. They are thicker than usual and well-grilled with a roasty crispiness.