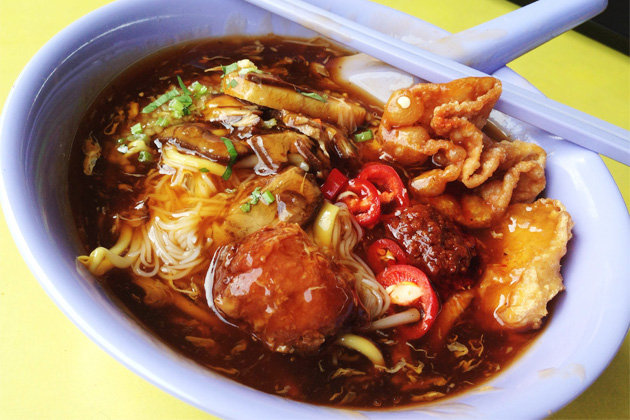 Fave 5 Lor Mee
By Tris Marlis - Thursday, Nov 28, 2013
As we were searching for our favourite five lor mee stalls, our local Makan Matas (food police) pointed us to Alvin See, whom they called – the lor mee expert, "Not expert la, just that I have a connection with sticky noodles," he humbly said. For Alvin, growing up eating lor mee at his grandma's stall until the late 70s is a memory that will forever stick to his mind. Recently, with a few of his makan buddies, they went on a mission to reconnect with and find that lost "feeling" for lor mee. "Lor mee is something we ate since young, it's really something part of our own local hawker food. Nowadays the taste varies and we don't even know what the original taste is like," commented one of Alvin's friends, Mark Ong.
They are still on the mission, trying any lor mee stall they are pointed too. When asked, they said it's too early to call but found favour with some, for now. Any true foodie will concur the it is not always about finding the best flavour, and many other factors come to play – ambiance, consistency and service, artisanal efforts, among others, hence the different favourites. The search is ongoing but here's our current favourite five lor mee.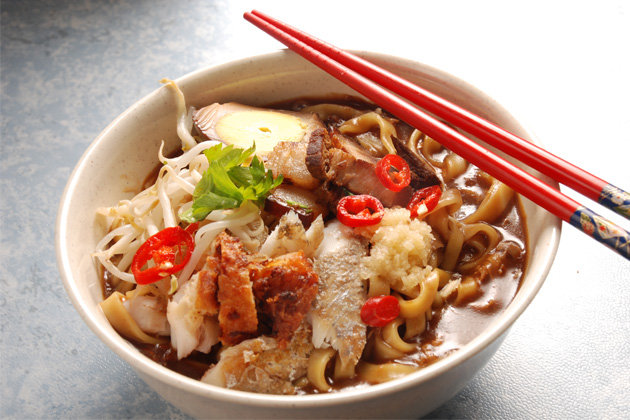 Xin Mei Xiang, Blk 51 Old Airport Rd #01-116 Old Airport Rd Food Ctr, Hours: 7am-2pm (closed on Mondays and Thursdays)
These folks who were selected as one of the Makansutra Street Food Masters in 2007, remains as a top favourite. The rich seafood (they used to also sell prawn noodle soup) stock is done egg drop soup style; thicken with lace of eggs, smooth and not too starchy. We like to have a combination of egg noodle and bee hoon for better texture, topped with stewed pork, egg, ngoh hiang and fried snapper flakes. Note: the queue here is relentless, so be patient.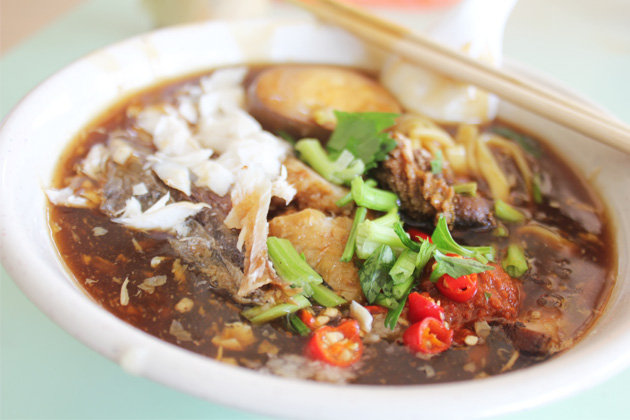 Xiang Ji, Blk 51 Old Airport Rd #01-81 Old Airport Rd Food Ctr, Hours: 8am-3pm
The lor mee here is very similar to Xin Mei Xiang, the PRC folks who run this stall is said to be the ex-staff from Xin Mei Xiang. The lor is as fragrant and the fried and flaked snapper, stewed pork and egg toppings are spot on. The ngoh hiang, however, is a tad too sweet and lacks of the texture of freshly made ngoh hiang. While Xin Mei Xiang always sells out at or by lunch, these folks are open every day. Plus, there is hardly a queue…for now.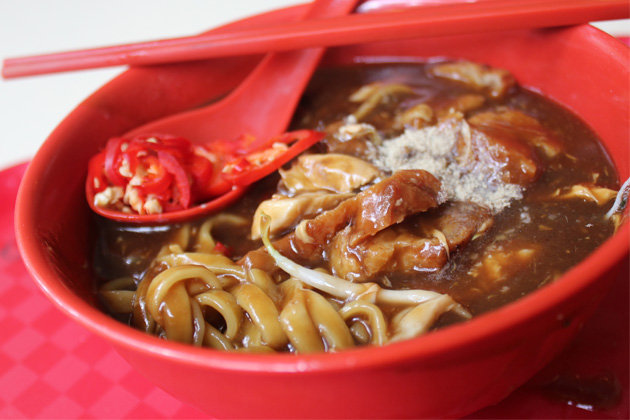 Yuan Chun Famous Lor Mee, 7 Maxwell Rd #02-79/80 Amoy St Food Centre, Hours: 9am-3pm (closed on Mondays and Tuesdays)
Their lor is unique, and possible the most authentic. The lor is thick and concentrated, not starchy and gooey. It is somewhat herbous and packed with five spice seasoning. The topping is simple – braised pork, fish and fried ngoh hiang. They don't even provide sambal as they feel it would overwhelm and alter the taste of the dish.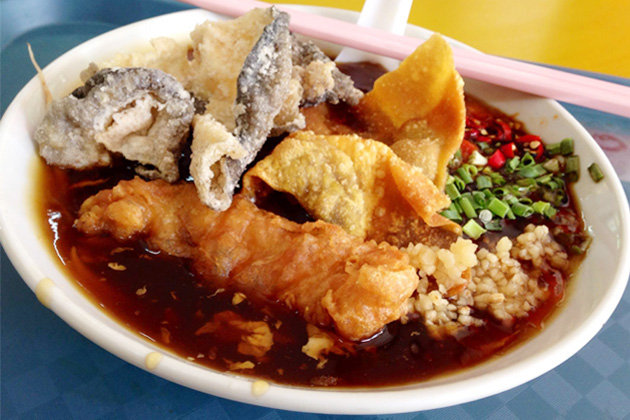 Keng Heng (Whampoa) Teochew Lor Mee, 505 Beach Road #01-67 Golden Mile Food Centre, Hours: 8am-7pm
Unlike Yuan Chun, the lor mee here comes with a dollop of sambal belacan, which you may love or hate. Love, for it gives this dish a kick. Hate, as some might find it overwhelming. The toppings here come in a party – fried wanton, fish, braised pork, fish cake, ngoh hiang and fried fish skin. Soak these in the lor with a splash of vinegar – simply delightful.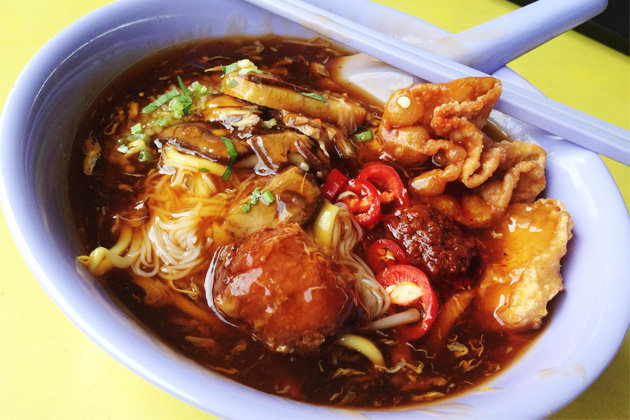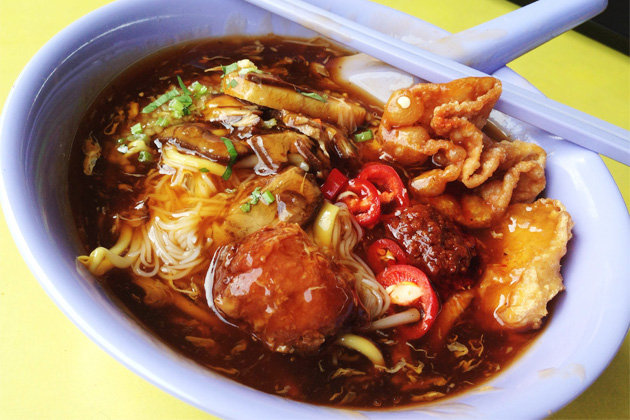 Tiong Bahru Lor Mee, Blk 155 Bukit Batok St 11 #01-324 Eng Heng Noodle Hse, Hours: 5.30am-1.30pm (closed ad hoc)
This is the original folks who have moved out north from the original base camp in the old Tiong Bahru market. The stock is porky, smooth and not overly sticky. There are nine ingredients as topping – crisp, mini pork lard-like deep fried tau pok, fish cakes, ngoh hiang, fried wanton, char siew, fatty pork slices, fried fish slices and petite ngoh hiang biscuit balls. This will please those with a big appetite and are fussy with ingredients.