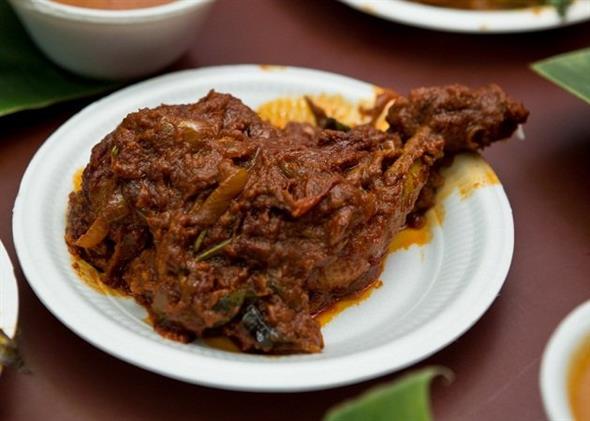 Fave 5 Non-Chinese Chicken Dishes
By TianTianChi - Wednesday, Sep 26, 2012
Chicken is featured prominently in Asian dishes. It is also believed to be more neutral in nature and healthier as compared to red meat and it can be bred easily in smaller spaces. It is also a very versatile meat that can be done in almost any cooking method – steamed, poached, grilled, roasted, deep-fried and so on. In Singapore, many are familiar with the Chinese style of cooking chickens, but here, we feature five non-Chinese versions.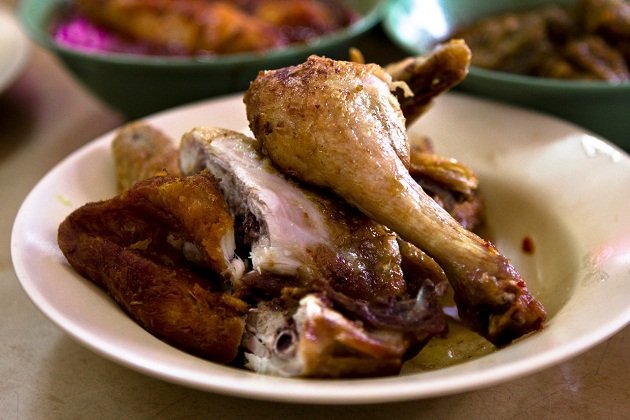 Ayam Goreng (Deep-fried Chicken)
The West has their Kentucky fried chicken and we have our Ayam Goreng. You get them at Nasi Lemak, Nasi Padang and Nasi Melayu stalls. A good one comes with crispy skin and well marinated, moist and tender flesh.
What makes the ayam goreng here stands out is the very thin skin that is amazingly crisp. The chicken meat they use is lean enough not to have much fat but the moistness and the juiciness of the meat is not compromised. It is not uncommon to see patrons ordering a few more portions to take away after lunch. It is so popular that non of the freshly fried chickens are left to sit on the shelf and turn soft. It goes well with their majestically spicy sambal belacan. Expect a long queue at lunch.
Istimewa Nasi Padang (28 Hoy Fatt Road, Stall 3 Chong Wah Restaurant, 10am-3pm, Closed Sun and Public Holiday)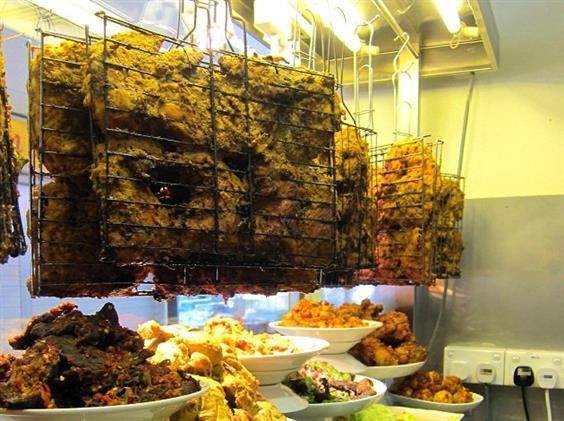 Ayam Panggang (BBQ chicken)
Not many Nasi Padang and Nasi Melayu stalls serve Ayam Panggang. The marinade is more complex and it is also time consuming to grill them, especially when most hawker stall don't have space for a charcoal grill.
The first thing that catches our attention is the rows of grill baskets hanging above the racks of dishes. All of them holding pieces of golden colour, slightly charred chicken pieces. Raw spices and herbs still clinging onto the meat, which exudes a sweet appetising aroma. There is an alluring charcoal smokiness in each bite and you can raise the sensation factor with some very homemade belado (chilli mix) with a touch of kicap manis.
Minang House (304 Orchard Road Lucky Plaza #02-04, 11am-9pm)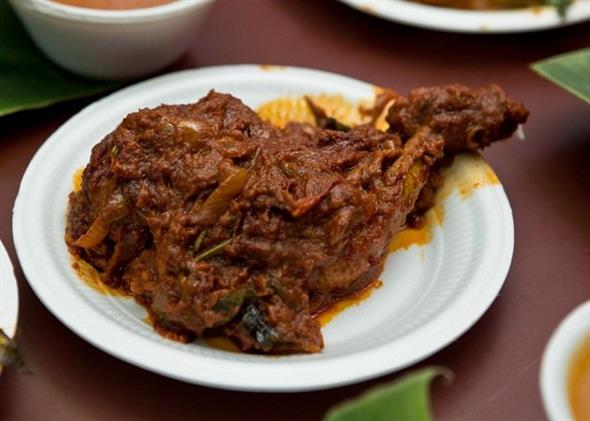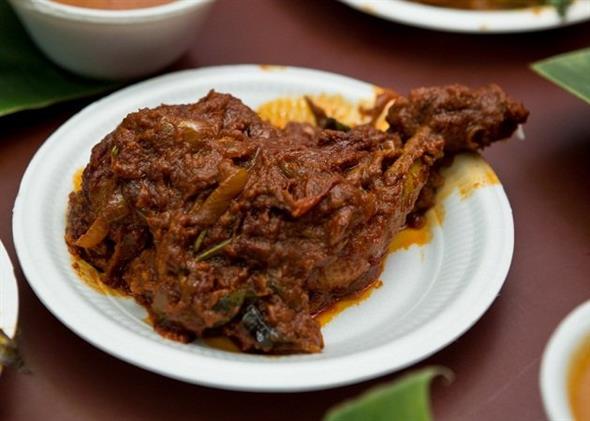 Masala Chicken
Masala basically means a mixture of spices and there are many variations and recipes to this popular south Indian dish, just like curry. Almost all come very spicy with thick creamy red color sambar (gravy) that is flavourful and aromatic.
Many flock here for their affordable south Indian meals and the star is the masala chicken. This is always the first item to sell out on the display and they only cook a batch each for lunch and dinner. A lot of effort is put in to make the simple looking chicken dish. Onion is fried gently in hot oil till it softens and caramelises, before fresh tomatoes are added to slow fry with nuts, spices and herbs till it forms an oily paste where the chicken is stewed in. Each quartered chicken comes with thick layer of sambar. What hit you first is the appetising aroma of fruits, spice and herbs. It is very much like a very thick and spicy marinara sauce, mouthwatering acidity, addictive heat sensation and flavourful meat. Goes equally well with rice or thosai.
Sri Kamala Villas (Blk 662 Buffalo Road #01-16, 7am-9.30pm)
Devil's Curry
The word devil is an adaptation of "debal" which means leftovers in Kristang word. Of course it is taken to mean that the dish is so spicy that it feels like your tongue is burning, in hell. Debal chicken is one of the most famous dish in Kristang cuisine of Portugese Malacca (most simply call it Eurasian cooking which has a broader meaning) heritage and each family has their own recipe. It is an amalgamation of Christmas dinner leftovers – chillies, potatoes, cabbage, sausages, ham – which also means that there can be different recipes.
Baba Lionel has perfected his late mum's recipe here. There may not be as many items in the debal curry, just chicken, potatoes, cabbage and sausages (this is a Halal restaurant which also explains the lack of ham). However it is the myriad of spice and herbs he uses that gel the various ingredients to achieve a tasty yet sensational flavour. At first bite you will feel as if your tongue caught fire, this is the effect of chilli padi, then comes the warming sensation in the stomach, from the fresh and dried chilli. Each bite of the chilli belado-like sauce is pungent, mildly acidic and has a comforting sensation of mustard seeds. Despite the spiciness, you can still taste the umami flavour from the use of chicken stock.
Casa Bom Vento (477 JooChiat Road 11am-3pm, 5.30-9.30pm, Closed Mon)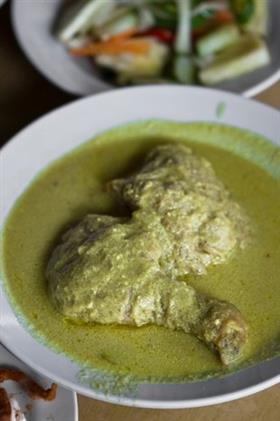 Ayam Opor
Opor is a Javanese dish cooked in coconut milk with a various spices and herbs. It is hardly spicy, not rich nor robust, and is rather light. Almost any meat and even vegetables can be used in opor dishes. Chicken, beef or mutton is braised in this coconut gravy over small gentle flame till cooked and the stock slightly thickens and turns milky. It is usually served with ketupat in Indonesia.
They still squeeze their own coconut milk (a rare find nowadays) in this popular Nasi Padang joint which counts ex-Malaysian Prime Minister Dr Mahathir as a fan. The soupy yet milky gravy has a refreshing fragrance of lemongrass and kaffir lime. You can also taste and feel the texture of the finely hand pounded rempah. The taste is light with the right degree of sweetness and yet is delicately rich. Meat slips off the bone and the coconut flavour is infused nicely into the chicken, yielding creaminess and fragrance. Though it is a little pricier than most stalls out there, it is worth it.
Nasi Padang River Valley (55 Zion Road, 11am-9pm, closed Mon)