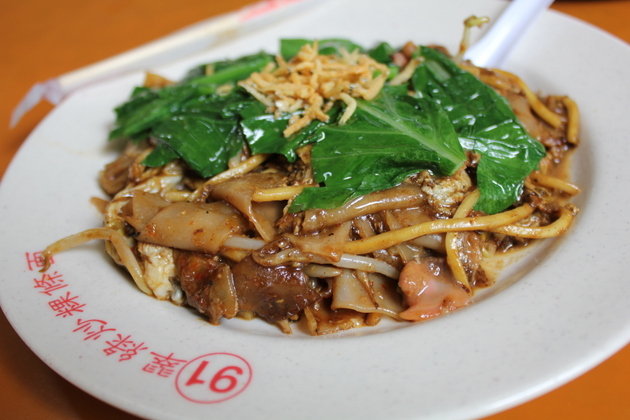 Fave 5 Noodles at Golden Mile
By Tris Marlis - Monday, Aug 26, 2013
Walk in the Golden Mile Food Centre, or also known as army surplus market, and you will find yourself in a maze-like setting with 112 food stalls around. The area, with Golden Mile Complex, or little Thailand, right across the street, is very popular with the Thai community here. It is where you can find some of the best Thai restaurants in town. The Golden Mile food centre, however, houses a great selection of local favourites.
Most of the stalls here open for long hours, even stalls selling noodle dishes, which is common breakfast or lunch fare. During the day, the food centre is flooded with office workers around the area, and by night, it turns into a pre-disco destination with beer drinkers gathering at one corner. But turn some other corner, and there are all these little hawkers selling all sorts of local noodle dishes, steaming away their woks and pots of broth – very distracting, yet attractive. There are a handful of noodle stalls, but here are our favourite five, for your noodle fix day and night.
Golden Mile Food Centre, 505 Beach Rd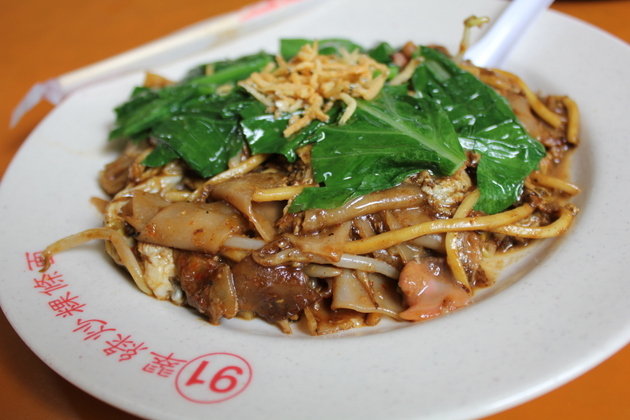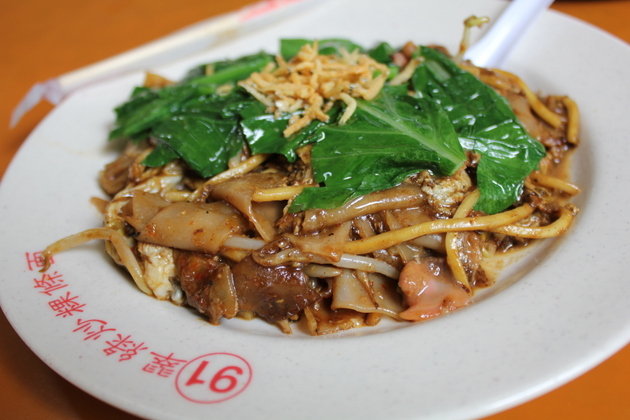 91 Fried Koay Teow Mee, #01-191, 11am- 9pm (Closed on Mondays)
The idea of healthier char koay teow is a hit among office workers. The owner proudly claims that he uses no pork no lard, only vegetable oil, and every plate of the usually sinful char koay teow is neatly topped with lots of chye sim. They also have a "one pair chopsticks and spoon per plate" policy, taking the "go green" rule seriously. Their char koay teow is less oily, but moist and sweet. The broad and silky koay teow with the addition of crispy ikan bilis create a nice texture, but it is just not quite the same without the sinful fat.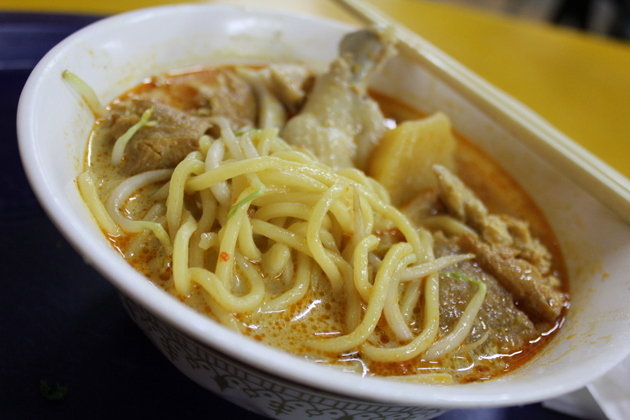 Da Po Hainanese Chicken Rice & Curry Chicken Noodle, #B1-53, 11.30am- 9.30pm (Closed on alt Mondays)
Go easy with the side of fiery chilli paste, add in moderately. Their curry broth is not overly lemak and spicy, but as it gets late at night, the broth thickens and gets spicier. The white poached chicken is tender and juicy with the layer of gelatin still intact. We also love the addition of taupok and fish maw to soak up all the gravy goodness, and let it burst in our mouths. They have been selling curry noodle for over 30 years, and now the younger son of the owner is helping at the stall. A small tablet is installed to show you clip of food shows featuring Da Po.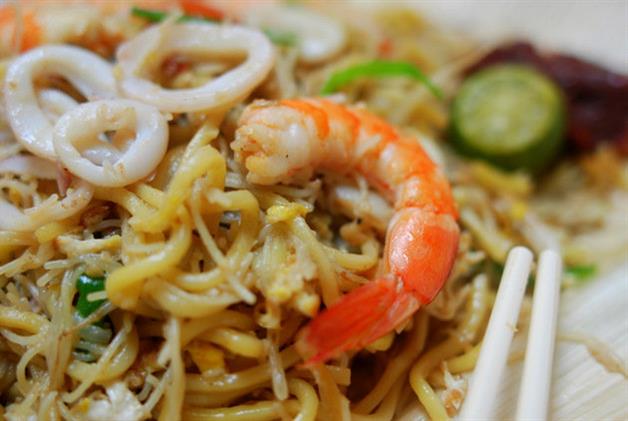 Hai Nan Fried Hokkien Prawn Mee, #B1-34, 11am- 2pm, 3pm- 10pm (Closed on Wednesdays)
Another local classic, but here they fry the Hokkien mee dry and loose before ladle in the robust seafood stock. The result is fragrant and nicely charred, not much topping is needed, simply prawn, squid and pork to complete the meal. Also watch the hawker dances on his feet while stir-frying the noodle, he does it to keep himself occupied and also because he has knee problem which requires him to be in constant movement. The wait can be very long during peak hours, but certainly worth it. This version comes very dry and intensely flavourful.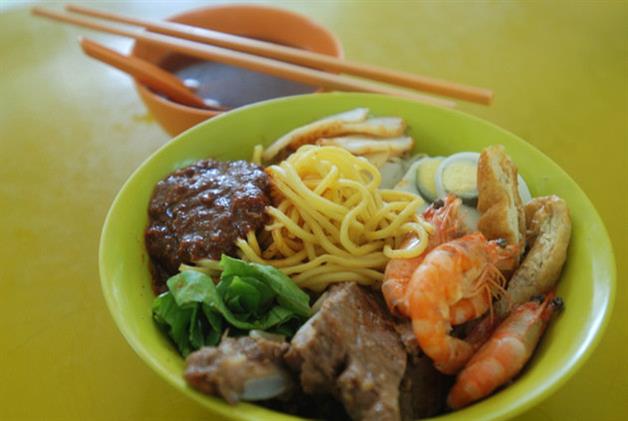 Chong Cheng Chilly Mee, Prawn Mee, Laksa, #01-59, 8.30am- 9pm (Closed on Tuesdays)
The owners of this stall moved from Indonesia to Singapore during the Japanese invasion, hence explains the sambal which has Indonesian influences. Their sambal, which they make in bulk every week, consists of over 10 types of spices. Don't shun away, as it is not chokingly spicy, but sweet, savoury and fragrant. It is also not overly oily. They are very generous with the portion, and even the side of prawn soup is robust. We also like that their braised pork rib which is fork tender and it comes with any noodle you order!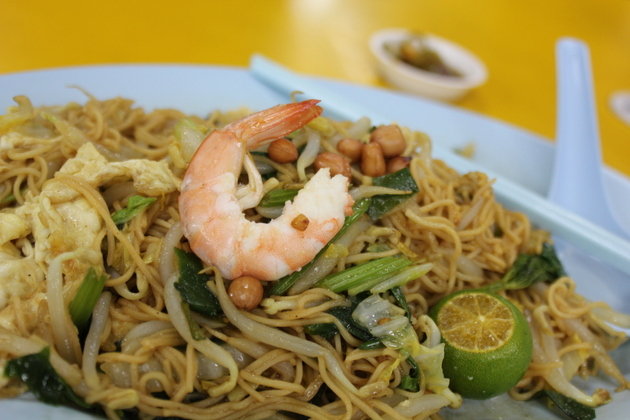 Fu Zhen Mei Shi Yuan, #B1-49, 11am- 11.30pm (Closed on alt Saturdays)
The fried mee suah here is soft and moist, yet also loose and firm. It shows how well the master controls the flame. The mee suah absorbs the umami seafood broth well without turning soggy. It is topped with some vegetables, pork, prawn and peanuts. They specialise in all kinds of fried noodle, which are simple but comforting. Squeeze some lime over your plate of noodle and eat it with the side of pickled green chilli for that tang.