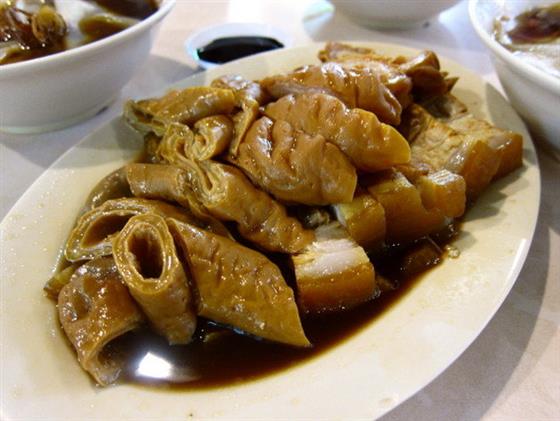 Fave 5 Redhill Food Centre
By TianTianChi - Thursday, Mar 28, 2013
The Redhill neighbourhood, part of the larger Bukit Merah District is fondly nicknamed Chit Lau (7 storeys in Hokkien) by the older folks due to the blocks of 7-storey flats built to house the villagers when the kampongs were cleared for redevelopment in the mid-50s in that area. Years after, more flats sprouted to cater to the population growth. The hawker centre was built in 1972 and housed 96 food stalls. This may not be the oldest hawker centre but many of the stalls here have been around for decades, some, since the beginning. Hence, one of the reasons why you hardly see any young hawkers here. There are so many stalls here that we like: The Hainanese curry rice with the killer sambal, robust prawn mee, traditional dessert, fried bean curd among others but these are the five that make us repeat customers.
Blk 85 Redhill Lane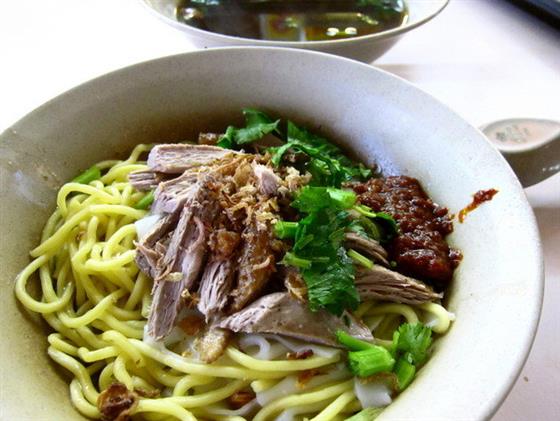 Seng Heng Braised Duck, #01-28, 7am-2pm (or still sold out) (Close Ad Hoc)
Sometimes you see the queue, sometimes you don't. It is because the queue is gone only after the first batch of braised ducks are sold out. The line forms again when the second batch is ready. However, this happens only during the weekends when they bother to cook more ducks. Usually by about 10.30am on weekdays they would have called it a day. The noodle here is more popular than rice. They do not rely too much of the fragrant and herbal stewing sauce but just a little, together with a sharp sambal chilli. Toss it well with a little of the mildly herbal but robust duck soup to give it some moisture and added flavour. The duck is a little on the tough side but is softly chewy and flavourful. A standard bowl of duck noodle is $3.50.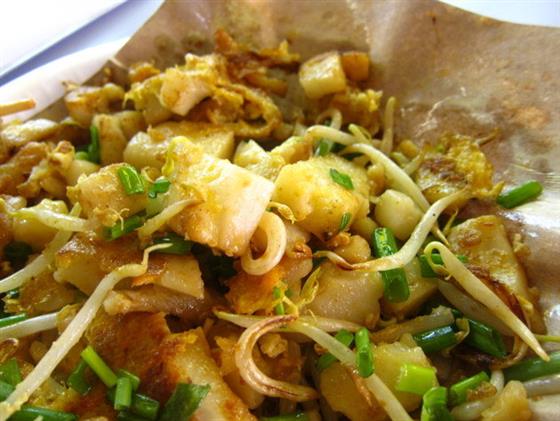 Delicious Fried Carrot Cake, #01-33, 7am-2pm (close Mondays)
They are not as famous as the other fried carrot cake stall (#01-49) but they are no less popular. This is not just because their version seems healthier with less oil and is served with beansprouts for added crunch and fiber, they are also consistent in standard. The firm yet smooth kueh is well fried with good fire control and is not too heavily flavoured. They fry the eggy parts well too; it comes fluffy, spongy with a slightly charred flossy edge. Priced from $2.50 but many will add $0.50 for an extra egg.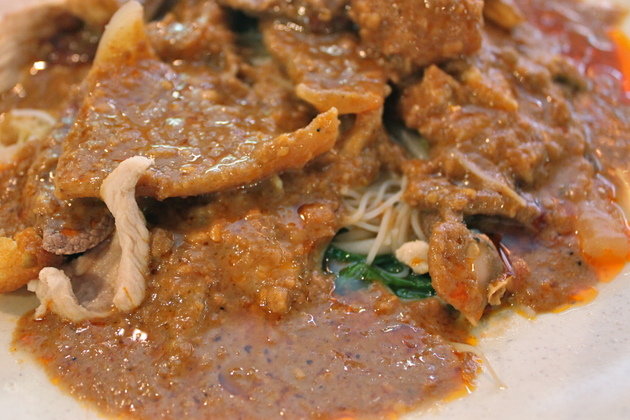 Bak Kee Teochew Satay Beehoon, #01-40, 11.30am-8pm (Close Wednesdays)
The satay gravy is intense, robust yet does not come with overly strong almost curry-like spices flavour. It is comfortably nutty yet the texture is smooth and creamy as the nuts are grinded finer, and very well balanced overall. They are quite generous with the pork slices, pork liver, cockles, cuttlefish, bean sprouts and prawns. Sometimes the pork slices can be overcooked and the liver too bloodied due to undercooking. The $4 portion is generally sufficient for a healthy appetite. They do a very good jiu her eng chye (cuttlefish with kangkong) too with a deliciously piquant sauce.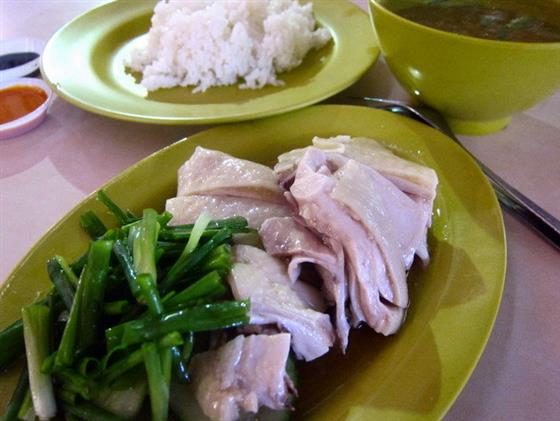 Hua Kee Chicken Rice, #01-72, 10am-2pm (Close Mon & Tues)
The first thing you notice when approaching the stall is a small pot of rice heating over a bain-marie. This keeps the rice warm and fresh. It is replenished at about 15 minute's interval, about the time each small pot is sold out. They chop the chicken in bigger chunks as the boss believes that yields a more satisfying bite and also keeps the juice in. The rice is not as oily but the flavour is not compromised- they just use and intense stock as a base. No butter or peanut oil used- a little secret chicken rice sellers employ to enrich the rice flavour. The chicken is moist, tender and juicy and the chilli is satisfying spicy and tasty. The $3.00 standard portion is generous.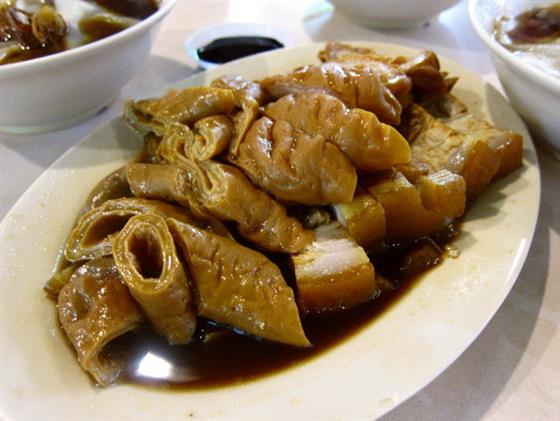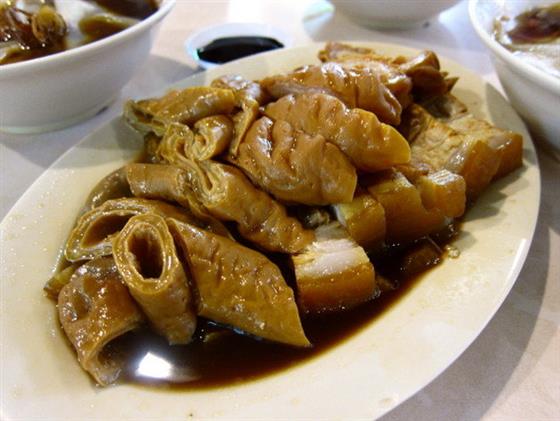 Shi Le Yuan, #01-82, 11am-2pm, 5pm-9pm (Mon-Fri), 7am-1pm (Sat, Sun & PH)
Kway chup here is done with a lighter touch, unlike others who do it in a more robust and over-the-top style that is usually too sweet and/or salty. Although innards and offals are not the only items they offer, those are the most popular. They are cleaned very thoroughly to remove any offending smell and are cooked to the right doneness. The "kway" holds up well and is neither too starchy nor overly soft. Use of fresh shallot oils score points too. Cost will depend on the items you order and starts from about $3.50 for a single person portion. They also operate a Teochew porridge stall in the food centre.