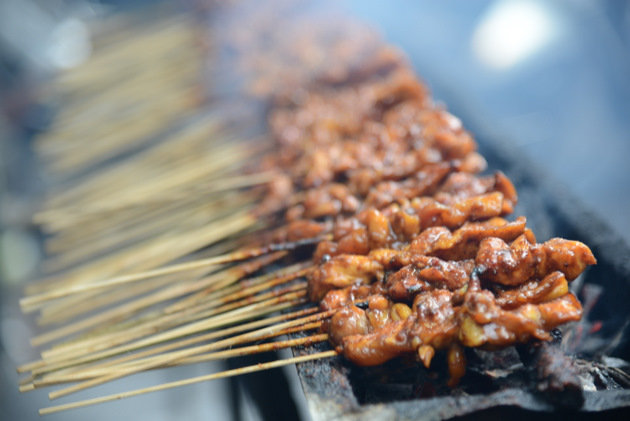 Fave 5 Satay in Jakarta
By Marchellinus Hanjaya - Tuesday, Aug 13, 2013
Although it is believed that sate (satay) was introduced by the Chinese few centuries ago, the native Indonesians have translated this 'pieces of meat on a skewer' (in Chinese, 'sa' is 'three' and 'te' is pieces) in its own language and adapted into so many variations.
Recently, Mr Bondan Winarno (a renowned TV personality and street food advocate in Indonesia) used 1001 types of satay to illustrate the diversity of street food in the country, from classic Sate Ayam (chicken satay) to Sate Penyu (turtle satay). This was his topic of talk at the World Street Food Congress Dialogue. To try all of them, one will have to travel across the archipelago and age quite a bit before you can complete the mission. But if you are in Jakarta, here are our favourite five: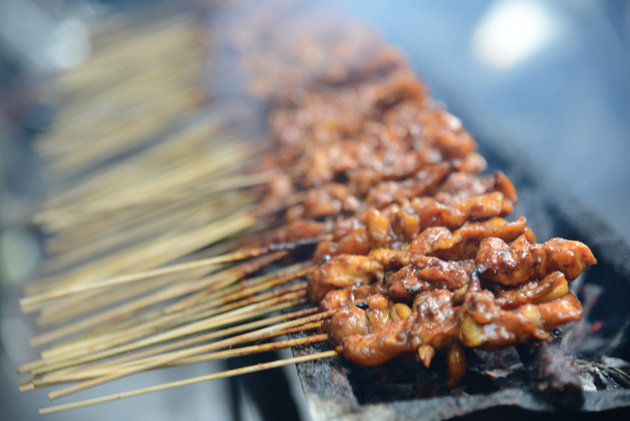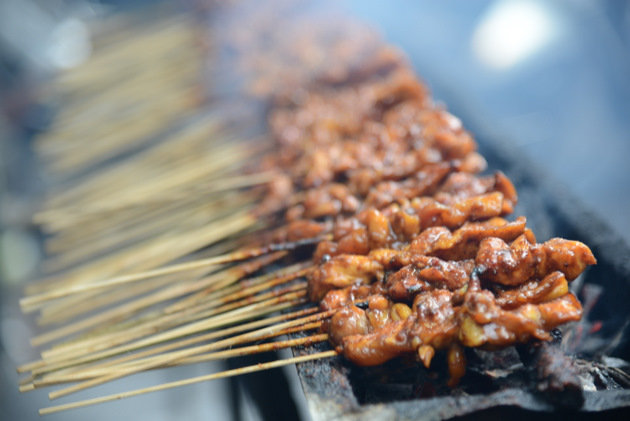 Sate Ayam Madura
Originally from Madura, east Java, but has gained reputation all over Java island and is considered the most popular version for chicken satay. It is simple and yet complex. There are usually three pieces of meat on a skewer, a combination of breast white meat, skin and thigh meat. The thick brown coloured sauce is made with roasted peanut and blended with spices and seasonings, such as garlic, chilli and kaffir lime leaves. Add a few drops of sweet soya sauce, which is also used for the marinate, as well as the dipping sauce to go with Lontong (rice cake). Sate Barokah H. Basiri – Jalan Arteri Pondok Indah No.5, South Jakarta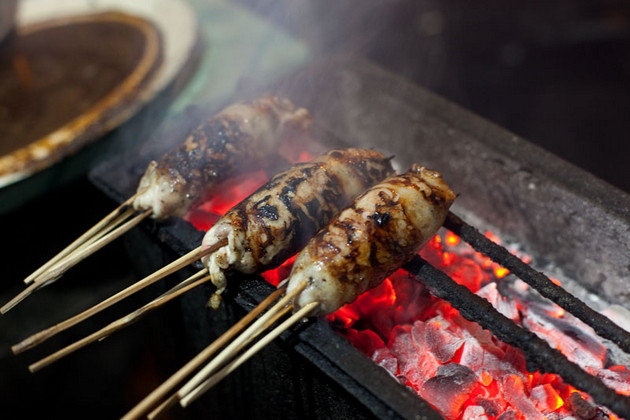 Sate Buntel
'Buntel' means thick or fat, in shape. Sate Buntel is a signature dish of Solo, central Java. It is made of minced and seasoned young goat meat and wrapped in a fatty blanket (fat layer on goat's belly) to form a wholesome cylindrical shape, sometimes two sticks are needed to hold up the satay. The meat seasonings include salt, pepper, tamarind, egg, coriander, cumin and the sweet soya sauce. It is rich in flavour and the fat literally melts in your mouth. The grilled Sate Buntel is best eaten with simply sweet soya sauce, shallot and chilli padi condiment. Sate Buntel Mas Gik – Jl. Tebet Raya No. 16A, South Jakarta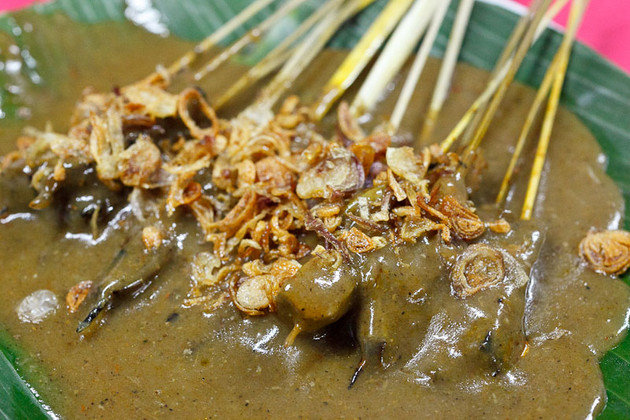 Sate Padang
This version of satay from the west Sumatra has a noticeable unique sauce – a mixture of spices thickened with rice flour. There are three popular variations of Sate Padang from three different regions in west Sumatra. Padang Panjang's brings out the turmeric based seasoning. Pariaman's comes with stronger spices, peppery and more full-bodied. Dangung-Dangung's is the most unique version that uses grated coconut to coat the meat before grilling. For every variety or version, only beef or water buffalo meat is used. Ajo Ramon – Jl. Cipaku I, Pasar Santa, South Jakarta.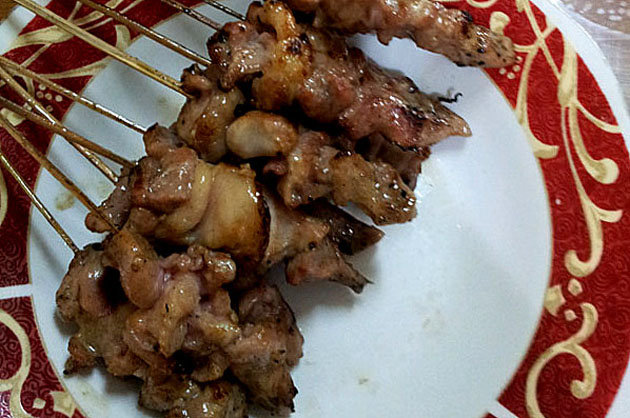 Sate Kambing Muda Tegal
This version of satay does not require any marination. Three or five month old goat meat is used, mainly the prime part – the meaty leg. You can't go wrong with the texture- it is tender, juicy and aromatic. It is best to grill these skewers of meat to medium well, and even though accompanied with a side of sweet soya sauce and sambal, don't dip the satay too quickly. Just add a few drops and savour it with a pipping hot bowl of steamed rice. >Sate Batibul Bang Awi – Jl. Boulevard Raya QJ7 No.12, Kelapa Gading, North Jakarta.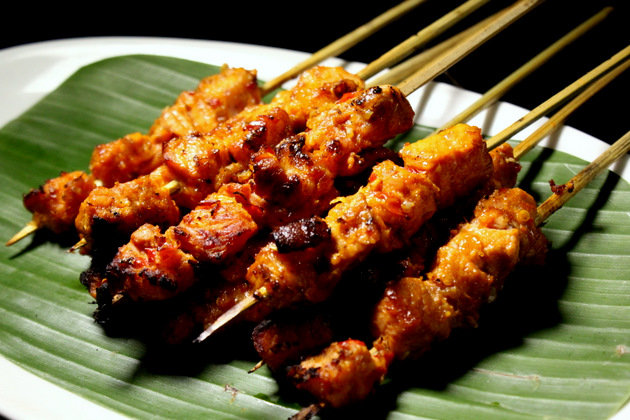 Sate Babi Rica
Sate Babi Rice comes from Manado in northern Sulawesi where a large number of Christians reside (hence the pork). It is also known as a region with the spiciest Indonesian cooking. Sate Babi Rica literally means pork skewers in chilli paste seasonings, with galangal, garlic, lemongrass and kaffir lime leaves to create an aromatic blend. The satay is so juicy and flavourful by itself, no dipping sauce is needed. Tinoor, Jl. R. P. Soeroso No. 33A, Gondangdia, Central Jakarta.