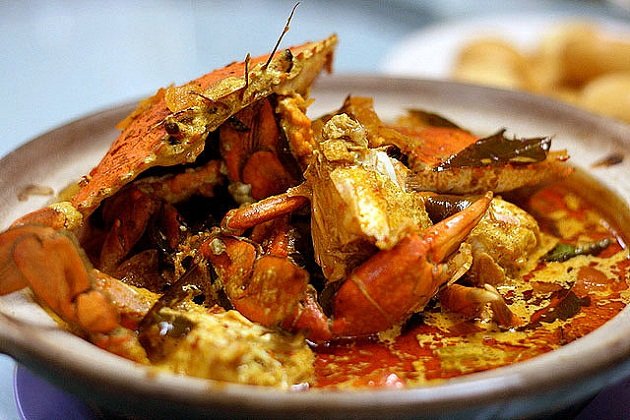 Fave 5 Unusual Crab Dishes
By TianTianChi - Tuesday, Nov 13, 2012
The hairy crab season has arrived and sends its fan into a frenzy looking for the best deal and for the most creative menu. However there are still many who cannot understand what the fuss is over these tiny little crabs with so little meat (obviously they are not fans of roes and milt). To them, the crab has to be meaty, strong flavored and satisfying, however they also want more than the national favourite and iconic chilli and black pepper style of preparing crab.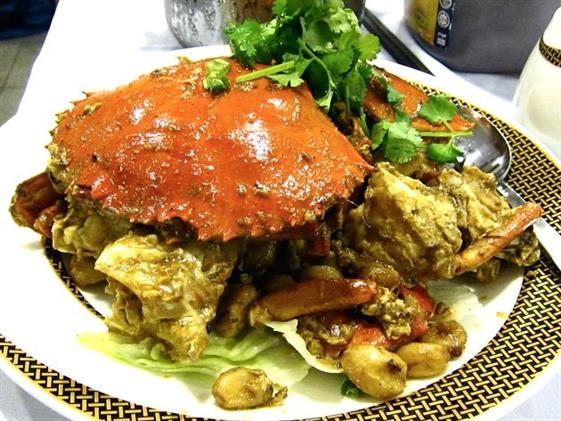 1. Garlic Crab
There is no fancy ingredient, just copious amount of whole clove garlics that are sautéed slightly toasty before the crabs are added in and stir fried over high fire. It is then covered and baked in the covered wok till cook, seasoned with just little wine and salt. The succulent and meaty crab is infused with the appetising aroma of the garlic yet the flavour of the fresh sweet meat is not distracted. The roasty and softened garlic is highly addictive with a fragrant smokiness, losing its sharp and pungent sensation which has been absorbed the sweet crab. Best use a male crab with milt for that rich creamy flavour. Although the picture shows coriander, it was promptly removed. Chef Ah Liang apologised and told us, it should not have any herb toppings as it can overwhelm the delicate taste and aroma of this dish.
Chao Shan Cuisine, 85 Beach Road Tel: 63362390 11.30pm-2.30pm, 6pm-10pm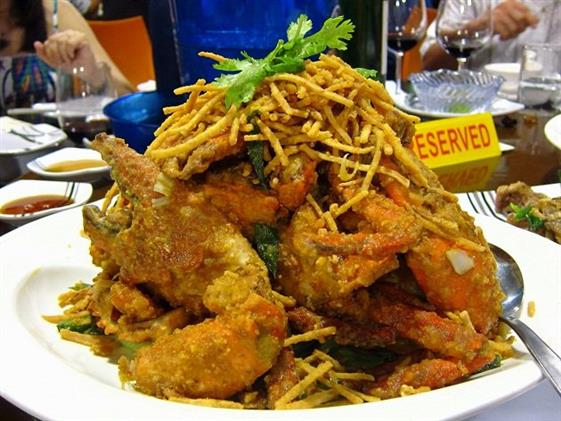 2. Salted egg crab with yam fries
Salted egg crab, in fact salted egg anything is so over-done and over-hyped. But this one is done well, like a few others around. They only use large size crab and it is deep fried till the shell is brittle enough and sensually coated with the savoury battered salted egg coating. What make this version different from others are the deep fried yam strips that come with it. While it seems to be an unlikely match, it actually enhances the texture when chomping it together with the salted egg and the crab meat. It also provides a sweetness that balances the saltiness of the salted egg.
Kimly Live Seafood, 18 Boon Lay Way #01-98 Tradehub 21 Tel: 66864665 4pm-11.30pm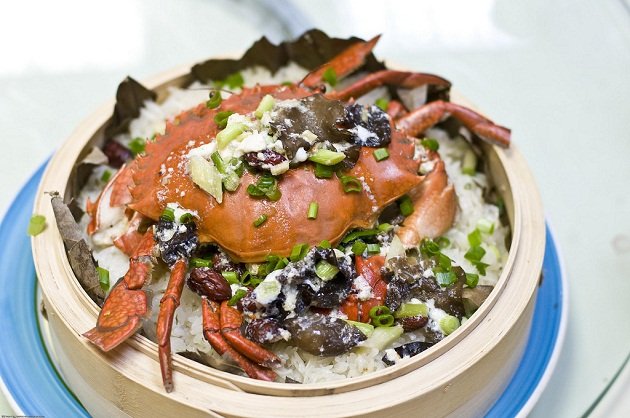 3. Steamed crab with glutinous rice
There are several versions of steamed crab with glutinous rice and even one in Ipoh that is served claypot rice style. Over here, Chef Julian Tham espouses a light-handed treatment. Steamer basket is lined with lotus leaf and the half cooked glutinous rice is added. The crab is then laid on top of the rice and steamed, allowing the juice to trickle down onto the rice, while the lotus leaf lends its aroma to the equation. He even adds some red dates to distil sweetness, and black wood ear fungus for crunch. The flavourful gummy glutinous rice takes on the seafood richness from the crab and together with the refreshing flora notes from the lotus leaf, ups the yum quotient and tames the heaviness, this "third" sensation of flavours almost make the crab's role redundant.
Wo Peng Restaurant, 476 and 478 Macpherson Road Tel: 7479892 11.30am-2.30pm, 6pm-10.30pm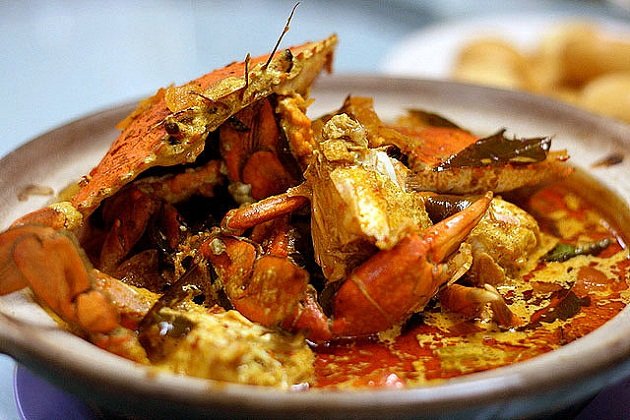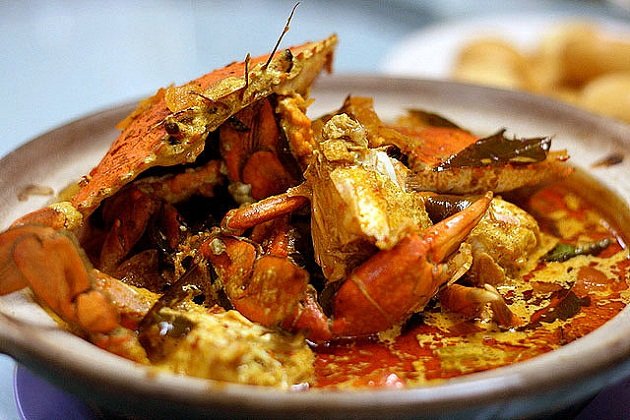 4. Curry Crab
Their main business is crab retailing, so it is natural they start a restaurant specialising in crab dishes. There are logically various styles of cooking crab here but the signature is the curry crab. They claim to blend the spices from scratch every day with a unique recipe. It tastes like a cross between fish head curry and laksa. Just as the fish or dried prawns lend flavour, this curry broth is richly flavoured with the large meaty crab. While their standard accompaniment is deep fried buns to soak up the gravy, you can order thick bee hoon and transform it into a luxurious crab laksa. Price is north of normal and they offer huge and fresh crustaceans.
No. 3 Crab Delicacy Seafood, 265 Outram Road Tel: 63272148 11.30am-2.30pm, 5.30pm-11.30pm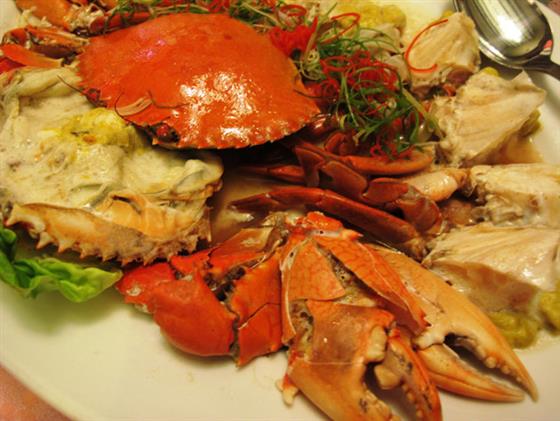 5. Steamed Crab with Hua Diao Wine
This is the most basic of basic crab dishes that is almost forgotten amidst the popular cousins like chilli, salted egg yolk and even pepper version. Maybe there is stronger preference over heavier tastes or that it is simple not easy to execute a good steamed crab. Chef Tonny Chan does this dish unusually well here. He does not use huge crab as he believe smaller ones yield sweeter, more delicate meats and can easily absorb the flavours from other ingredients. He also prefers to use male crabs for their soft creamy milt than those with rough crusty roes. He sits a layer of egg white below the crabs before drenching it with a full cup of aged Hua Diao Jiu (Chinese yellow rice wine) and steams it. Timing is crucial here, and he mastered this well. The alcohol has almost evaporated but you are still teased by the fragrant yet intoxicating wine aroma, seductively mingling with the aroma of the crab. It felts like eating drunken crab sans the headiness. I love slurping on the crab and wine flavoured silky tofu like egg white and wished they could provide soft and smooth Ipoh hor fun to go with this.
Tonny Restaurant, 325 Joo Chiat Road Tel: 63489298 11.30am-3pm, 6pm-10.30pm