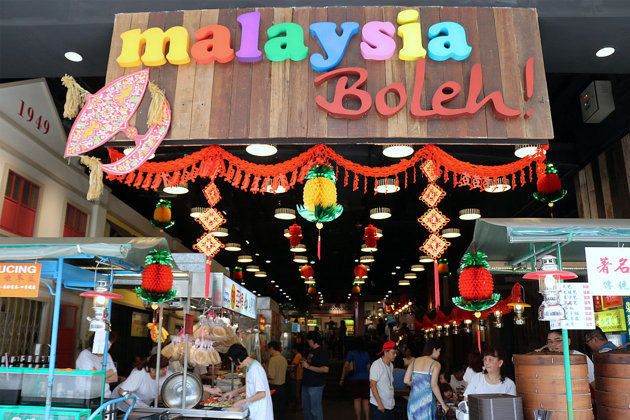 Fave Five at Malaysia Boleh!
By Catherine Ling - Friday, Mar 14, 2014
Malaysia Boleh drew incredible queues when it first opened more than a year ago. The Malaysian themed food court at Jurong Point (next to Boon Lay MRT) may be stuck at the Western end of Singapore, but that's not stopping true foodies from making the trek there (it's still nearer than KL or Penang!). This part of Singapore had long been known to be a hive for retail therapy and the buzzy foodie.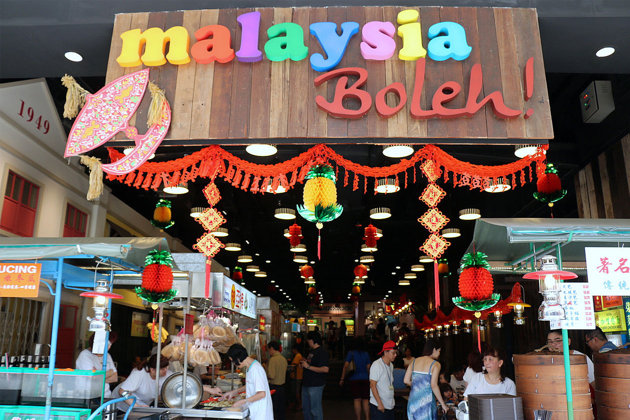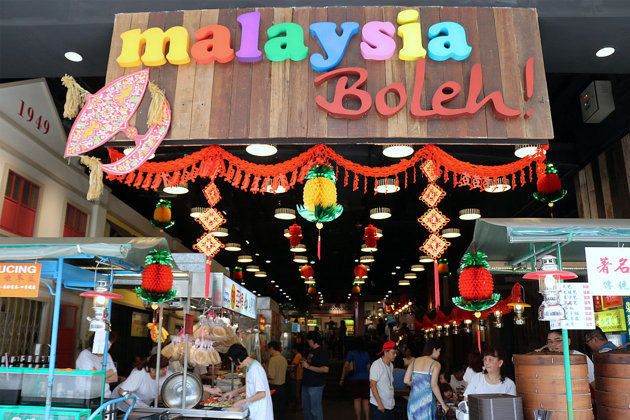 Now the next strategy is to zoom in on what to eat there. With some 17 famous stall names in one place, which ones are worth the queue? Do all the dishes live up to faithful replication?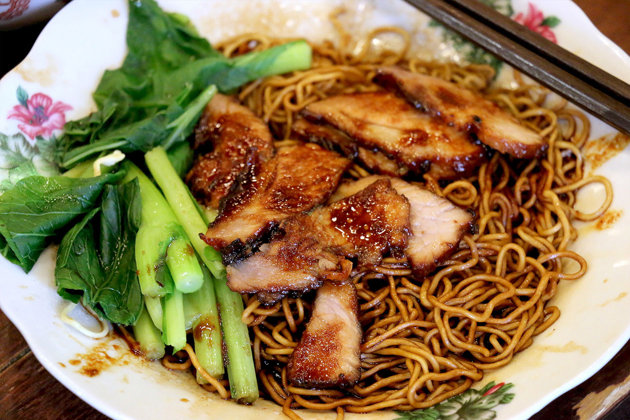 KL Wanton Mee 吉隆坡鼎記云吞面 First up, you have to try the KL-style dark wanton noodles which are so hard to find in Singapore. Perfectly done noodles tossed in dark soy sauce, char siew drippings, and caramelised. Under those beautifully charred slices of char siew are generous gems of pork crackling. You will not want to share this.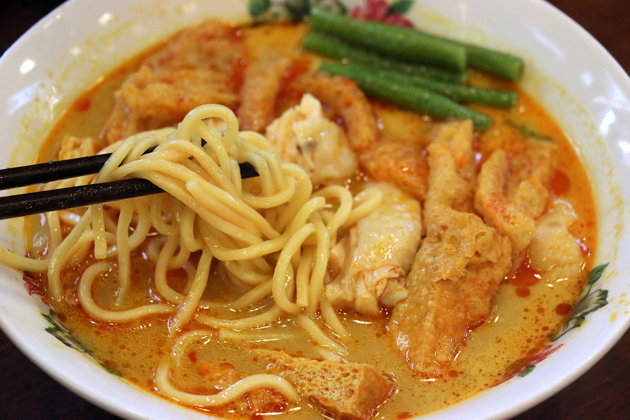 Sister Curry Chicken Mee 姐妹咖哩雞面 This curry mee is probably something that will tug at Malaysians' heart-strings. It is not to be confused with laksa. It's simply noodles in a thin, not overly rich, but flavourful curry. Topped very simply with fried taupok, poached chicken, pig's skin, and long beans, this dish is best enjoyed with thick yellow noodles.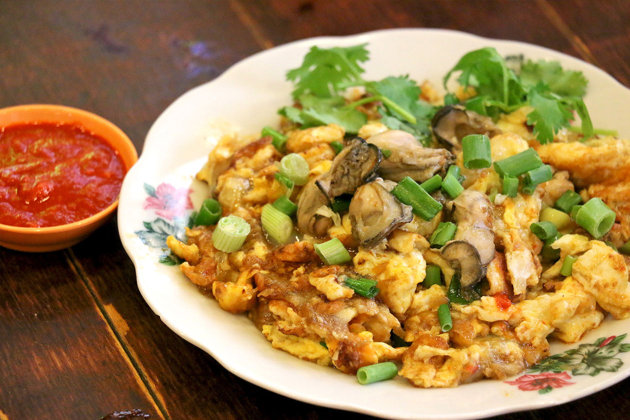 Penang Lor Selamat Fried Oyster 槟城著名嘉嘉蚝煎 This was a surprise find. Oyster omelette in Singapore leans towards the crispy side, and that's how we tend to like it, but this one is soft, fluffy and moist. Interestingly, it works. The comforting combination of runny egg, bits of gooey starch, and juicy plump oysters is all tied together with a secret sauce.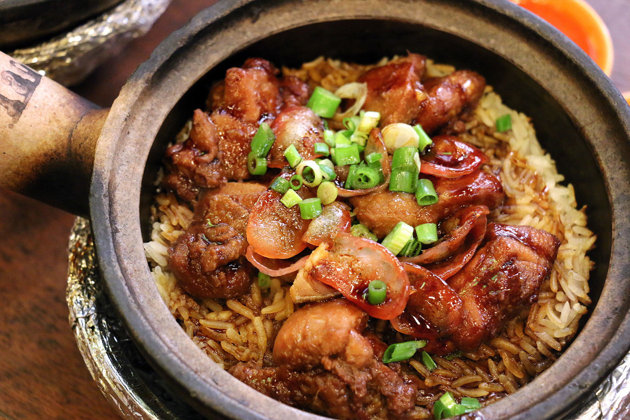 Petaling Street Famous Claypot Chicken Rice 茨廠街驰名瓦煲雞飯 You'll smell first how good this is, before you even taste it. The sizzling claypot is topped with chunks of salted fish, Chinese sausage, braised chicken and spring onions. But the rice is cooked with skill – each grain fluffy and separate, well doused with seasoning. Let it sit awhile and enjoy the crispy bits at the bottom and side.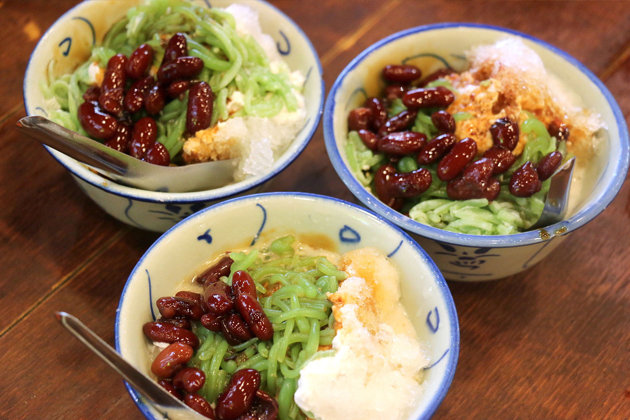 Penang Road Famous Chendol You have to end the meal with this. Coconut cream so rich and real, meets gula melaka with that pinch of salt that really lifts this dessert. The green chendol too, is soft and quite authentic, not the garish neon dyed flour strips that pervade modern chendol today.
Actually it's hard to narrow down to just five items, as there's plenty of good things there. So here are a couple more honourable mentions:
The Penang Apom from Gurney Drive – the paper-thin crispy ban chang kuih topped with chopped peanuts is right here. That one infamously has a long queue at its original stall in Penang.
The Penang Hokkien Prawn Noodles 檳城福建蝦面 is also excellent. They don't cut corners with the broth, which is simmered for hours using pork bones, prawn heads and spices.
But what about the Penang char kway teow? Well, it's Penang style, but just shy of the real deal. The famous KL dark Hokkien mee? The flavouring is spot on, but they can't get the right kind of noodles to go with it. The Klang Bak Kut Teh here is probably the least impressive; it could really do with more potent herbs and toppings.
There seems to be an insatiable hunger for Malaysian-style street food in Singapore. Malaysia Boleh! was started by Tan Kim Leng, who has seen this need for many years. He finally went to track down some of the best names in the Malaysian hawker arena, and bought their recipes with the solemn promise that he would guard them closely. He understudied the hawkers sometimes for weeks, toiling alongside them, rising in the wee hours of the morning to learn how to prepare the dishes.
Back in Singapore, there is a central kitchen that prepares the basic sauces and ingredients, and the final dish is put together in the food court. No one knows the full recipes except for Kim Leng.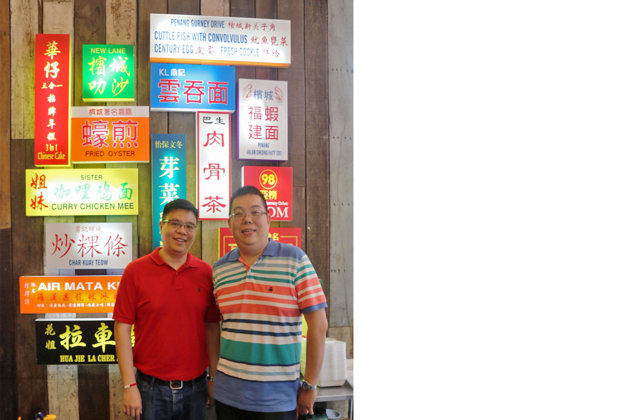 He observed that in Malaysia cooks still use real ingredients (pork bones boiled for hours) to create flavours, whereas those in Singapore tend to use more artificial additives to save time and cost (e.g. pork bone powder). In order to preserve flavour authenticity, Kim Leng imports the exact same ingredients where possible – flour, five spice powder, seasonings. Even the bean sprouts are from Ipoh.
"The hawkers and I have become friends," says Kim Leng. "They are not so much obsessed with profit but are very proud of their craft. I visit them every two months, and they introduce more dishes to me."
Let's hope we'll get to see more good dishes introduced here in future too.
MALAYSIA BOLEH! Jurong Point #03-28 63 Jurong West Central 3 Singapore 648331 Open daily 10am to 10pm