Fave Five at Simpang Bedok
By Catherine Ling - Wednesday, Feb 20, 2013
There's something decidedly laid back about Simpang Bedok. It's a place that seems shielded from the hustle and bustle of city life; a place that beckons you to relax with a cup of teh tarik or soybean milk after a nice meal. Here are five popular haunts, including the famously competitive Jalan Tua Kong Bak Chor Mee.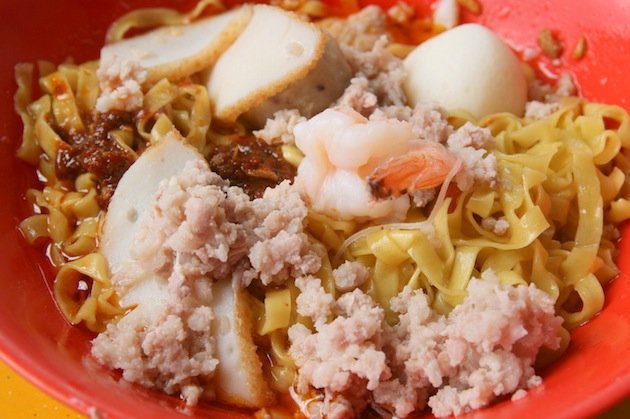 Ah Lim Jalan Tua Kong Branch (inside Kwek Seng Huat Eating House at 324 Bedok Road)
This meepok business is just a stall inside a coffee shop diagonally opposite its hugely successful rival (Jalan Tua Kong Lau Lim at 306-308 Bedok Road). Still, the noodles seem a bit firmer and drier. For the most basic bowl, you get sliced fishcake, one fishball, one meatball, one prawn, fatty mince, and loads of fried garlic. No beansprouts or greens here but the chili is plentiful enough and rocks.
Long Jiang Roasted Meat (inside Kwek Seng Huat Eating House at 324 Bedok Road)
While it's not a brand name that's gotten much publicity, this stall has customers who have followed it loyally through several moves. The crispy skin roast pork and sweetly tender char siew are both good, although the chili paste seems a little too dense for any dipping. The springy wanton noodles come soaking in a dark sauce. But most of all, the roast duck here is excellent and you'll usually see plates of it on nearby tables.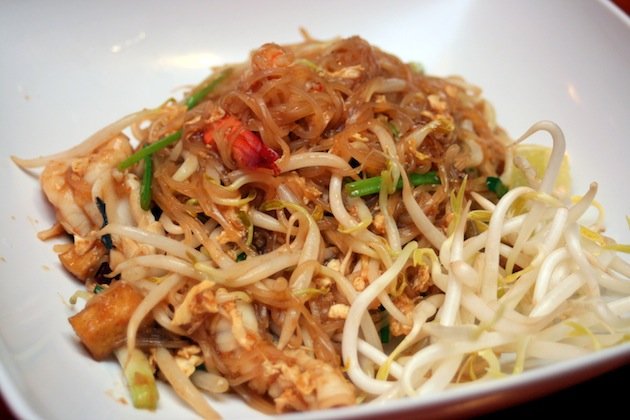 Jane Thai (314 Bedok Road)
This is the suburban outlet of the vastly popular Jane Thai at Orchard Towers. You won't have to jostle with a seedy crowd, or wait for dinner (they open here for lunch). But it's also missing the extreme fiery heat that's the mark of authentic Thai food, as they've had to dial down the chili factor to suit the tastebuds of the nearby residents. Still it's a good choice for Thai dishes like Pad Thai (above), Yum Woon Sen (vermicelli salad), Tom Yum soup, Som Tum (green papaya salad), Thoo Mun Kung (deep-fried prawn cakes), and Peek Gai Thod (fried chicken wings).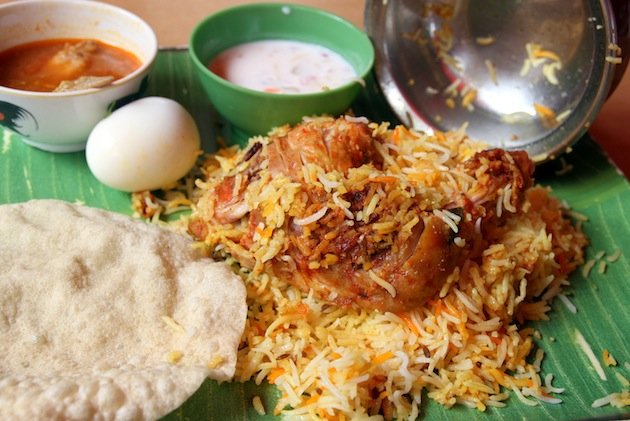 New Mahamoodiya (335 Bedok Road)
Simpang Bedok is also an enclave of Malay and Indian-Muslim eateries. Not many of them really stand out though, but New Mahamoodiya has some interesting items like the Hyderabad briyanis with chicken (above) and mutton cooked dum style. The rice is brought out (with meat embedded) in a little brass or copper pot and you pour it out onto your faux banana leaf platter. Check out also the lovely Masala tea and ultra crispy, almost deep-fried roti prata.