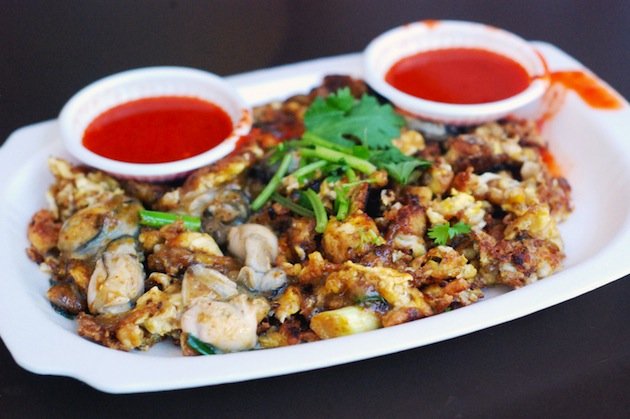 Fave Five East Coast Lagoon
By Elaine Ng - Friday, Mar 29, 2013
Great affordable chow with a breezy seaview, East Coast Lagoon Food Village is easily one of the best representations of local al fresco seaside dining – had our beach not been so peppered with ships that is.
The resort-like hawker centre, renovated with a $4 million makeover and done with Mediterranean-Club-Med-esqued touches is more popularly known for barbecued seafood and satay washed down with sugarcane juice, is a hit with almost all – families thanks to its many communal tables, lovers after a romantic late-night stroll, as well as cyclists, joggers and roller bladders famished from their workout along East Coast Park. We take a look at five main draws here.
East Coast Lagoon Food Village, 1220 East Coast Park Service Road.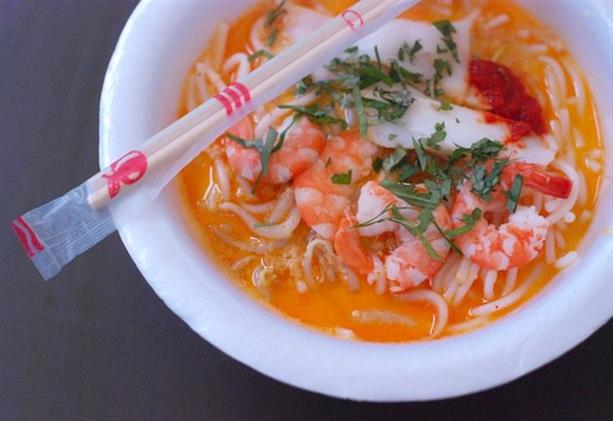 Roxy Laksa, Stall #48, 10.30am to 9pm (Tue – Fri), 8.30am to 9pm (Sat, Sun & PH), (closed on Mondays)
Updated on 27 August 2018:
Relocated to Timber+
73A Ayer Rajah Crescent
One of the very first contenders for Katong laksa, Roxy Laksa has a strong following for its silky precut beehoon in smooth gravy. This Peranakan-style laksa with an unusually bright orange gravy may not be the most lemak version we have ever tried but it sure tasted of fresh quality ingredients especially that of coconut milk. Peranakans frown on overly lemak laksa. The gravy holds none of the coarseness other laksas may have, and does not contain cockles though you may request for some. The freshly chopped, instead of dried, laksa leaves on the top was a nice touch.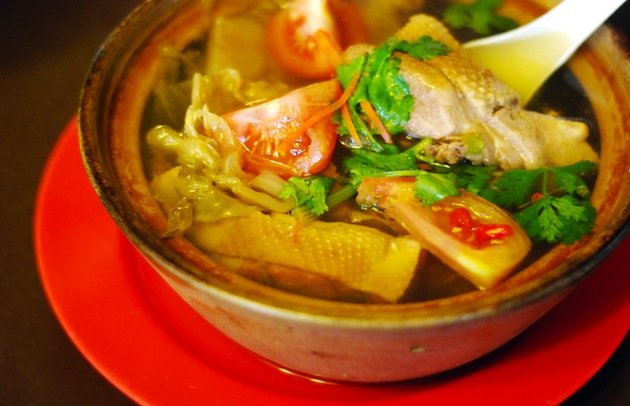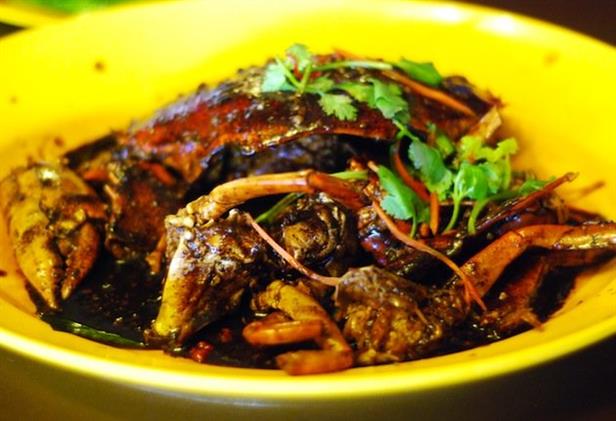 CLOSED- Leng Heng BBQ Seafood & Claypot Deluxe, Stall #5 & 6, 2pm to 1am (closed Thursdays).
We came for the famous claypot kiam chye ark (salted vegetable and duck) soup that owns that spot in the stall's namesake. The salted vegetable duck soup is served piping hot in a claypot here. The balance of sweet and saltiness is just right and we loved the smokey aroma from the well-stewed duck meat, which falls right off the bone.
Doused in generous amounts of thick piquant sauce, the black pepper crabs were fresh and super shiok to eat too. It was so easy to mop up the peppery sauce with the rest of our rice and swept the plate clean. Their version of fried prawn pancake with water chestnut, diced carrots and onions was , on this occasion, flat and not worth the icky oiliness, even with the plum sauce. Still, what is especially heartening for both soul and tummy here is that these great hawker legends are without the legendary attitude. On a quiet Wednesday evening, regulars aplenty joke around with the chatty lady boss who provides an attentive motherly service absent in "five star" restaurants elsewhere.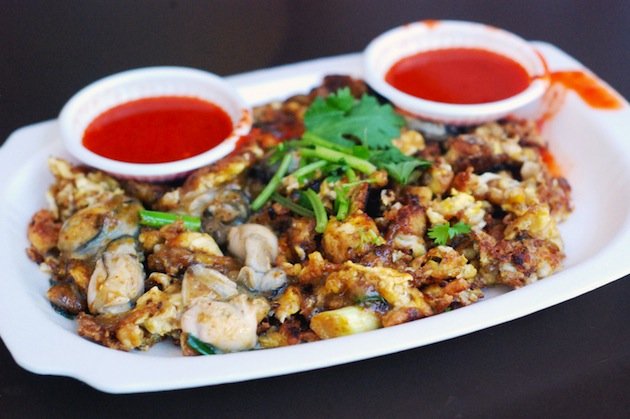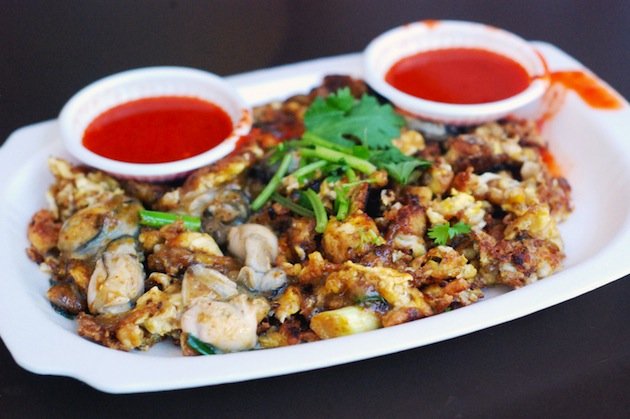 Song Kee Fried Oyster, Stall #15, 5pm to 11.30pm (Mon-Sat), 3pm to 11.30pm (Sun and PH).
The queue at this stall was what drew us in, and expectations soared further as we watched them crisp starch over a griddle prior to adding the eggs and dropping in several small but plump oysters. This dish was great for sharing in big groups and was sufficiently browned though not as crispy as we would have liked, and well balanced with a sweet oyster jus. The all-important chilli accompaniment for oyster omelette here is tangy and does its job but we would have preferred it spicier and less diluted.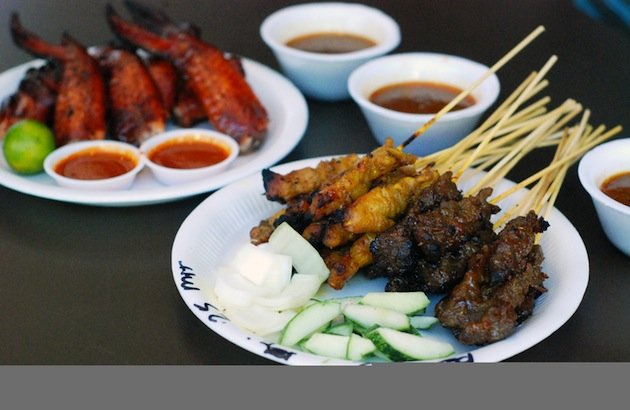 Haron 30 Satay, Stall #55, 3pm to 11pm (Mon-Fri), 12pm to 11pm (Sat & Sun).
There are many stalls selling and touting satay but Haron has the crowd won over, whether amongst the Malay vendors or the less popular Chinese contenders. They serve three kinds here (beef, chicken and mutton), all of which are lean rather than juicy but a little too compact for our liking. We couldn't resist the persistent calls of the other stalls nearby and tried some. We felt that Haron's version wasn't outstanding (though they may be popular) save for a chunkier peanut sauce and we preferred the more fatty Chinese satay, especially if it comes with pineapple peanut sauce…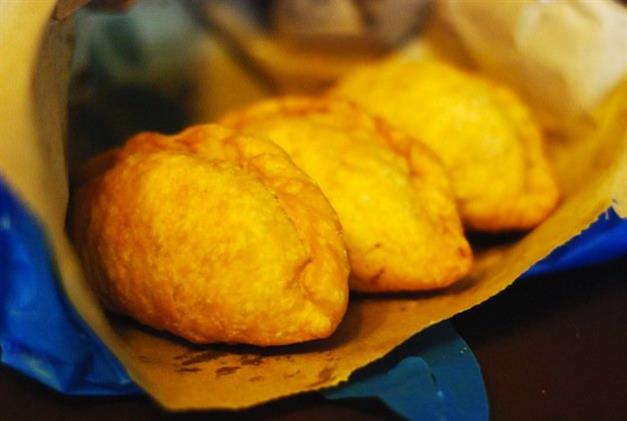 CLOSED- Lagoon Chicken Curry Puff, Stall #28, 3pm to 9pm or till sold out.
The first time we visited East Coast Lagoon for this story, the stall had its curry puffs sold out yet the uncle presses on in an unhurried pace. What looks ordinary and even dry had us caught in surprise. The exterior was more crumbly than crispy and less buttery than preferred, but we adored the wet curried semi-solid potato cubes within. Freshly deep fried, they ooze steam of spicy curry that cut through the thick crust perfectly.