Fave Five Hong Lim Food Centre
By Sheere Ng - Tuesday, Jan 08, 2013
Their old customers used to sit on wooden stools and eat over rickety tables. Today, their loyal followers gobble in comfort at Hong Lim Food Centre, which was built many years ago to provide shelters for many itinerant hawkers that once lined the roads along Nankin Street, Hokkien Street and Sua Kia Teng (around North Canal Road). Amongst these hawkers were creators of some iconic local dishes.
Hup Fatt was believed to be the first fish head been hoon stall in Singapore, set up in the early 1900s by Mr Tang Yeow Soon. (A stall with the same name is still around, likely to be owned by the founder's daughter, according to a news article in 1986.) Mr Tay Yong Heng of Heng Kee Curry Chicken Bee Hoon Mee, claims to be the first to sell curry noodles, first at Synagogue Street in the 60s, and then at this food centre from 1979 onwards. Besides these two, there are a few other decades-old names that we like. Here are the chosen five.
Hong Lim Food Centre Blk 531A Upper Cross St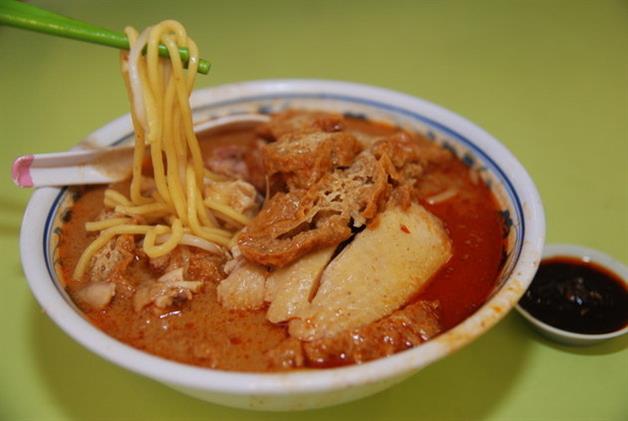 Heng Kee Curry Chicken Bee Hoon Mee 01-58, 10.30am-2.30pm, Close Sun & PH
Mr Tay Khang Huat's grandfather used to sell carrot cake, but his father, Mr Tay Yong Heng, decided it was too common a dish to compete with other hawkers so he took two years to create and perfect a new dish – curry mee. They first sold it at Synagogue Street, but it only got famous after they moved to this food centre in 1979. Today, at 10.30am on a weekday, just when the stall opens, the queue starts to form. The curry noodle is worth the wait. It isn't a simple curry. It has an earthy, peanutty undertone with sweet aftertaste. Thick enough to pack a punch but watery enough to drink without scratching its way down your throat. Their poached chickens, stacked high in the glass cabinet, is tender, just off pink. The potato is so soft you don't have to chew, and it's infused thoroughly with the curry.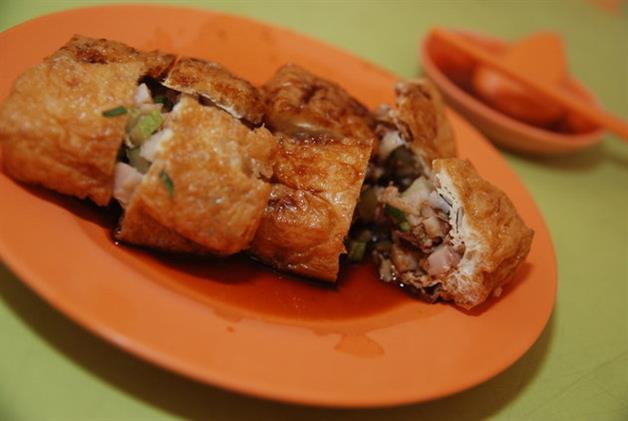 Teo Heng Porridge Stall 01-56, 8am-2pm, Close Sat, Sun & PH
If you haven't eaten or know about Teo Heng's Teochew porridge (previously featured here http://sg.entertainment.yahoo.com/news/fav-five-teochew-porridge-080801080.html), you can't claim to know Hong Lim Food Centre. Lesser known is their tau kwa pau, a diminishing Teochew/ Peranakan dish. Their version comprises mainly of fish cake and cucumber bits, wrapped in tau pok (instead of tau kwa). When asked the owner about the anomaly, he said he simply copied his dad, who set up the stall 80 years ago. The paus are drenched in lightly herbal soy-based braise sauce, the same they use to braise meats and eggs. It comes with a refreshing garlic chilli mixed with plum sauce. Our only gripe is that they skimp on the duck meat and pork belly, which are shredded and cut so fine we would hardly feel it in our mouth.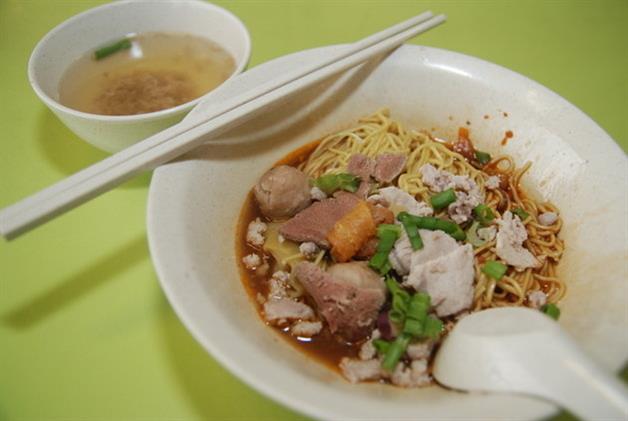 High Street Tai Wah Pork Noodles 02-42, 8.30am-4.20pm, Close Mon, Tue & Wed
The story of the Tai Wah/Hwa Pork Noodles family feud has been exposed to the public, reported in the news so often that it's old news to repeat it anymore. If you must, then all you need to know, is that both stalls (another at Crawford Lane) sell very good bak chor mee and the difference between them is minute. The boss here cooks the meats and offal in an interesting way. Placed in a bowl, he first pours hot soup in and then stirs with his ladle. Only when the noodles are cooked will he then blanch them in the boiling stock for a couple of seconds. This is to prevent the minced pork from lumping together and so that the pork liver is served in medium doneness. The trademark vinegarish sting is the same, so is the thick and dull yellow-coloured mee kia, except here, they cook them slightly longer, hence it's softer. The $4 portion comes with fried teepo, but we think it's a little too thick and overcooked compared to their worthy namesake peer and has a shorter queue.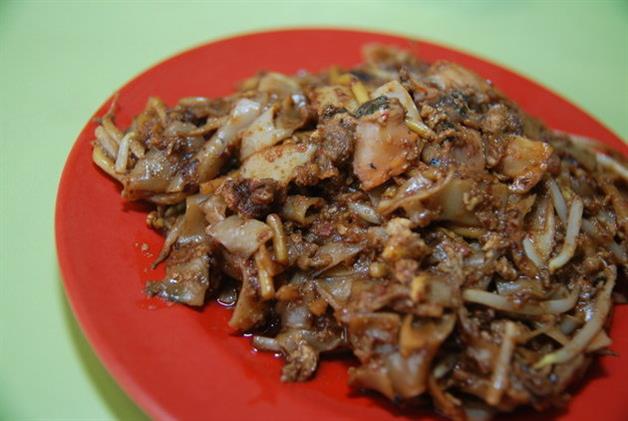 Outram Park Fried Kway Teow Mee 02-17, 7am-3.30pm, Close Sun & PH
It is a joy to watch the boss cook, because he bounces up and down like jack-in-the-box as he stirs and flips the noodles. Many hawkers employ this trick while trapped in that little space to release physical stress. It's a greater joy to eat the product of his labour. Every strand of the char kway teow is covered with eggs, like scramble egg extra moist and executed with wok hei. He also gives a gout-unfriendly-extra-heap of fresh cockles. Beans sprout are very juicy and crispy. Every ingredient is so well executed, which is why we rated them the ultimate die die must try in our guide book.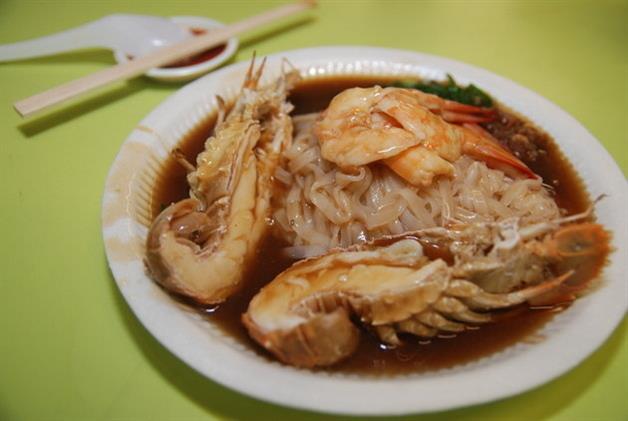 Tuck Kee (Ipoh) Sah Ho Fun 11am-3pm, Close Sun
Nine out of 10 who buy from this stall order crayfish hor fun. The sauce is like a thickened and smooth prawn mee soup. It has a very strong prawn head flavour with a generous dose of pepper. The prawns and crayfish are sweet and crunchy. Noodle is soft, slightly springy. The only gripe is that they lump together quickly since the sauce is starchy and does not help moisten the noodles. So eat it pronto. Optional chilli sauce adds spicy sensation but lacks fragrance and flavour, perhaps made so to let the gravy take centrestage. This stall has been here since day one.