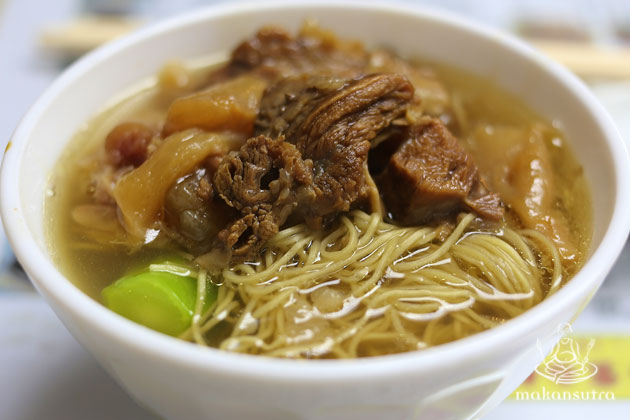 Favorite 10 in Hong Kong: FOOD HUNTING ON 'DING DING' TRAMS
By Cecilia Joven Ong - Wednesday, Jun 03, 2015
Hong Kong Island is where the heartbeat of Hong Kong pounds, where you can find shiny skyscrapers as well as homes to the many culinary delights nestled in restaurants and hole in the wall shops. The historic 'Ding Ding' Trams make it easy and affordable for off the beaten track food hunting in this part of Hong Kong. Listed here are some of the recommendations along the tramway.
ABC KITCHEN
1/F Queen Street Cooked Food Market No.38 Des Voeux Road West, Sheung Wan
Operating Hours: 12.00 pm to 2.30 pm (Mon to Sat) / 7.00 pm to 10.30 pm (Mon to Sun)
[TRAM STATION: Sutherland Street]
Their Roasted Suckling Pig (HKD$178) is the signature dish that beats most of the Spanish restaurants hands down. The smoky skin was crunchy with just the right amount of fat and its succulent meat fall-off-the-bone effortlessly. The dish served along with mashed sweet potato and garden salad. This itself is a unique dining experience as this humble stall is at a cooked food centre.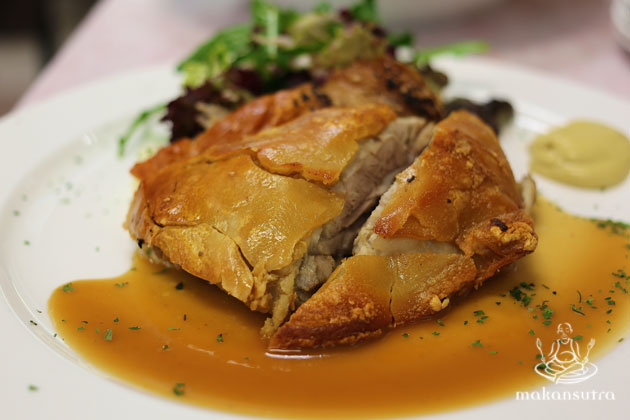 CAPITAL CAFÉ 華星冰室
Shop B1, G/F, Kwong Sang Hong Building, 6 Hears Street, Wan Chai
Operating Hours: 7.00 am to 11.00 pm (Daily)
Their scrambled Egg on toast (HKD$20) is one of the best ever eaten, the texture of the egg was both delicate and moist. The toast was thick cut, nicely buttered with salted butter and lightly toasted. Their Pork Chop Bun (HKD$20) with the flavorsome and tender pork chop sandwiched in between the toasted buns is another must-try. Best to wash it all down with their chilled milk tea that is served in tall metal cups.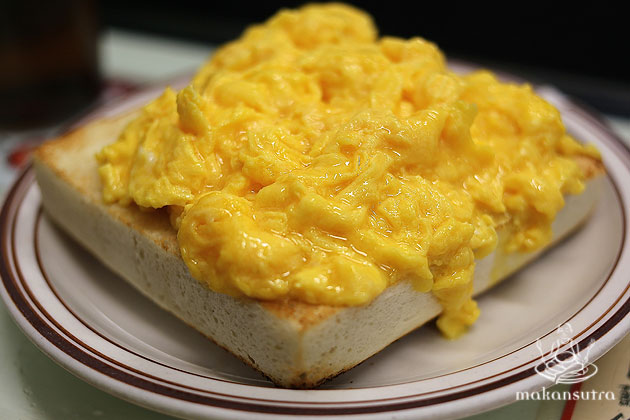 MA SA RESTAURANT 孖沙茶餐廳
G/F, 23 Hillier Street, Sheung Wan
Operating Hours: 8.00 am to 6.00 pm
[TRAM STATION: Hillier Street]
This café serves possibly the best sunny-side up eggs with rice in town. Their signature is the Triple Sunny Side Up Eggs with Char Siew and Rice for only HKD$26. The runny egg yolks and the dark soy sauce complemented each other perfectly and go well with the rice. This is a hearty choice for the office workers in that area.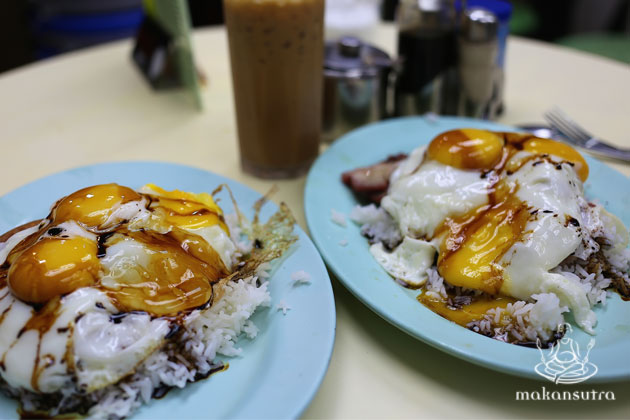 HOI ON CAFÉ 海安咖啡室
G/F, 17, Connaught Road, Sheung Wan
Operating Hours: 7.30 am to 4.30 pm (Mon to Thu & Sat) / 7.30 am to 3.00 pm (Fri)
[TRAM STATION: Macau Ferry Terminal]
The Scrambled Egg with Corned Beef on Toast (HKD$20) in this old school café is not to be missed. The toast is served with perfect amount of spring onions, corned beef and scrambled egg. Their other signature is the special Noodles in Ceramic Pot (HKD$38) served with ingredients like five spice pork, fried egg, luncheon meat and smoked duck breast.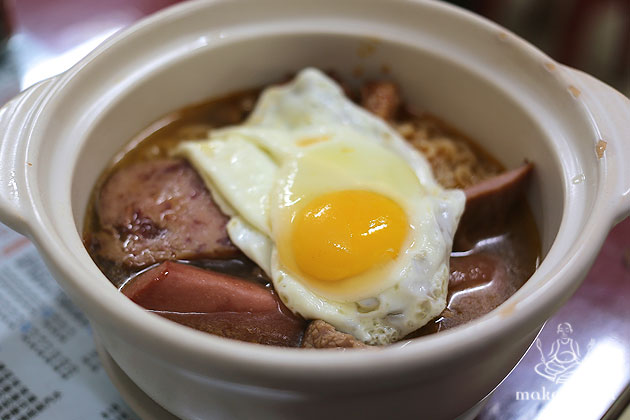 KWAN KEE坤记煲仔小菜
Shop 1 Wo Yick Mansion, 263 Queen's Road West, Western District
Operating Hours: 11.00 am to 12.30 am (Mon to Sat) / 6.00 pm to 12.30 am (Sun)
[TRAM STATION: Eastern Street]
What makes this shop so special is that they are still cooking their claypot rice over the charcoal stoves that give the rice a hint of smoky flavor and a perfect crispy layer at the bottom of the claypot. Their Claypot Rice with Spare Ribs (HKD$60) is a must-try with side dishes like Deep Fried Squid with Spicy Salt (HKD$60) and Pork Bone Soup (HKD$128 for 4 pax).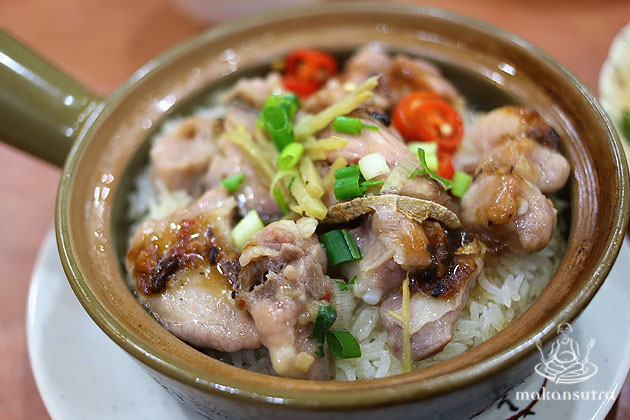 WING WAH NOODLE HOUSE永華面家
89 Hennessy Road Wan Chai
Operating Hours: 11.00 am to 1.00 am (Daily)
[TRAM STATION: Luard Street]
Their Braised Beef Brisket Noodle (HKD$42) is exceptionally good. The soft and tender brisket was done just right. The thin and chewy bamboo noodles are used in this old school noodle house. They offer Pickled Turnips on the table to go along with noodles at no extra charge.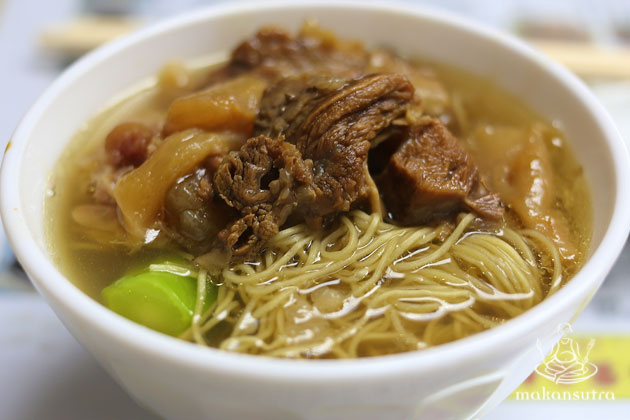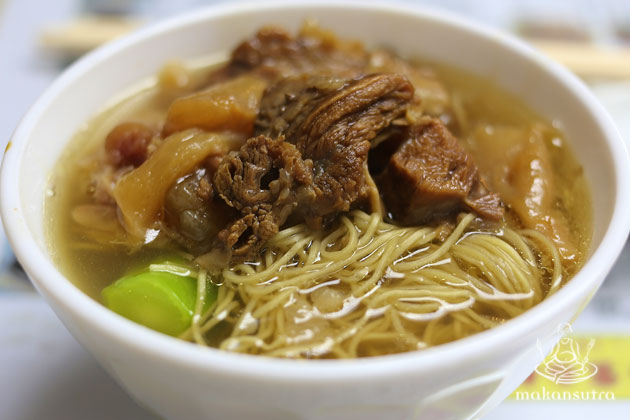 DIMDIMSUM DIM SUM SPECIALTY STORE 點點心點心专卖店
G/F, 7 Tin Lok Lane, Wai Chai
Operating Hours: 10.00 am to 12.00 am (Daily)
[TRAM STATION: Tin Lok Lane]
Their extensive menu consists of classic items and their house specialties. The Crispy Shrimp Rice Flour Rolls (HKD$27) is highly recommended. It had a unique contrasting texture with a soft outer layer and crispy inner layer coupled with succulent prawns filling.
LOW-PROFILE, HIGHLY-SKILLED HIGH STREET SNACKS低调高手大街小食
Shop B3, G/F, 76A Shau Kei Wan Main Street East, Shau Kei Wan
Operating Hours: 12.00 pm to 10.00 pm (Mon to Fri) / 11.00 am to 10.00 pm (Sat & Sun)
[TRAM STATION: Shau Kei Wan Terminus]
The Hong Kong style waffles sold here is commonly known as 'grid biscuits', made from eggs, sugar and evaporated milk and served warm with butter and peanut butter spread on one side and folded over. The texture striked a perfect balance of crispiness and chewiness. Their "egglets" are equally popular for the same price of HKD$15 per piece.