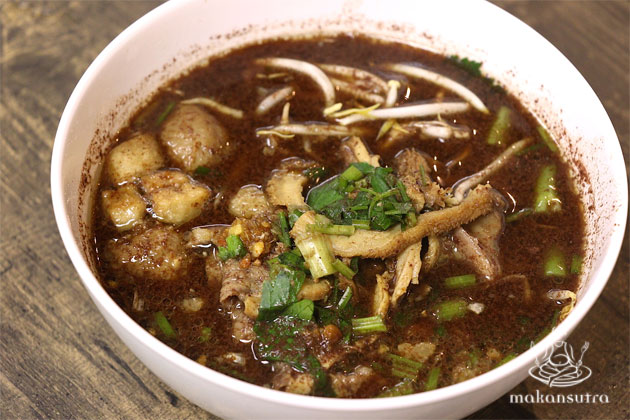 Favourite 3 Thai Boat Noodles
By Catherine Ling - Wednesday, Nov 18, 2015
Kway teow ruea or Thai boat noodles are popping up all over Singapore. These small bowls of dark, rich broth with bitesize noodles are a real burst of flavour. While we aren't allowed to use pig's blood like they do in Thailand, the eateries here have their own secret ways of making it taste as close as possible.
There are about ten places now but which ones should you check out? Pro tip: Ignore the S$1 gimmicks and head for these for a more satisfying experience.
Loylum
45 Sam Leong Road, Singapore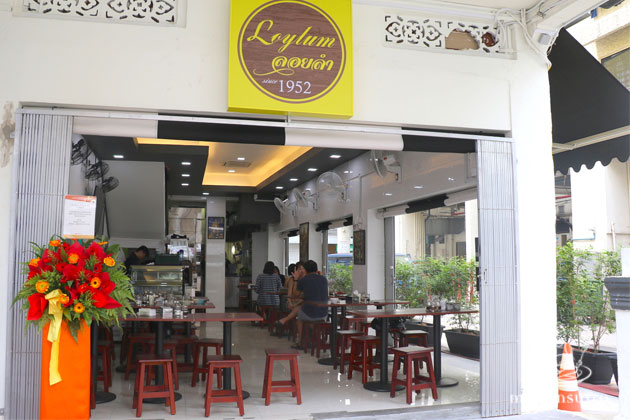 Loylum is the latest to join the fray (it opened just mid-September 2015) but it's the first brand from Thailand itself to have landed here. The Singapore owners tried out over 20 different vendors in Bangkok and found Loylum to be the best, so they brought it in. Loylum's heritage stretches back to 1952 with a recipe three generations old. The broths' signature is the rich herbal base (the extra herbs also make it a more expensive broth to prepare).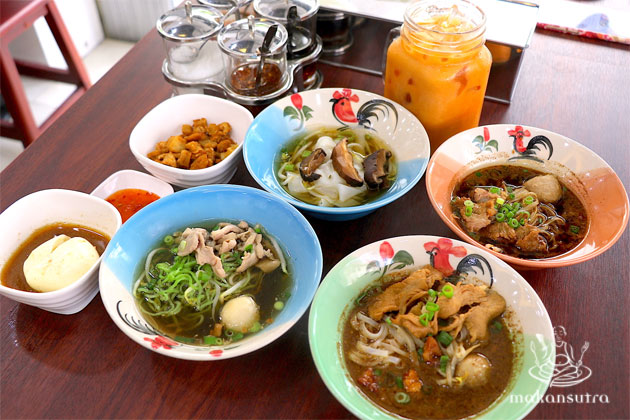 There are two portion sizes – a very decent small (S$2) which lets you sample more than one flavour, and the regular (S$5) bowl allows you to have your fill.
Choose from beef, pork, chicken and mushroom bowls in dry or soup versions. The beef bowl is beautifully balanced with beef bone stock added for greater body. If you prefer something more robust, go for the pork bowl laced generously with a layer of gleaming lard. Chicken and mushroom are for those who prefer something light and "cheng".
The four types of Thai noodles (bee hoon, egg noodle, thick and thin kway teow) are all imported from Thailand, as are condiments like spicy chili flakes.
It's a full-fledged cafe style eatery, with drinks and desserts. Try the mango or coconut ice cream that's really dense and creamy!
Thai Boat Noodle
Golden Mile Complex 5001 Beach Road #02-01 Singapore 199588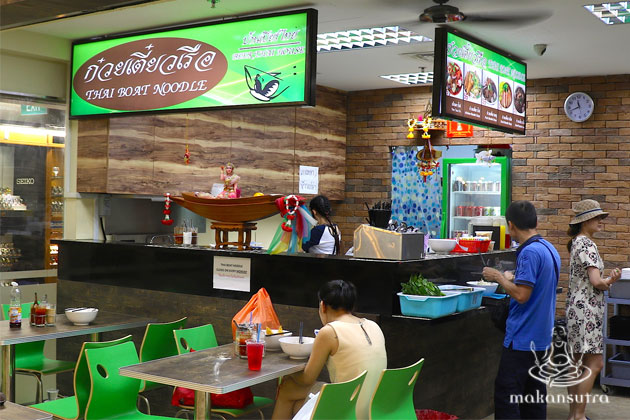 It's not surprising that you will find better boat noodles at Little Thailand itself. This one has just been open for two months, and is on the second floor near the main entrance of the supermarket. They offer five variants of boat noodles – yen tau fo, chicken, pork, duck and beef (all S$5 except for yen tau fo S$7).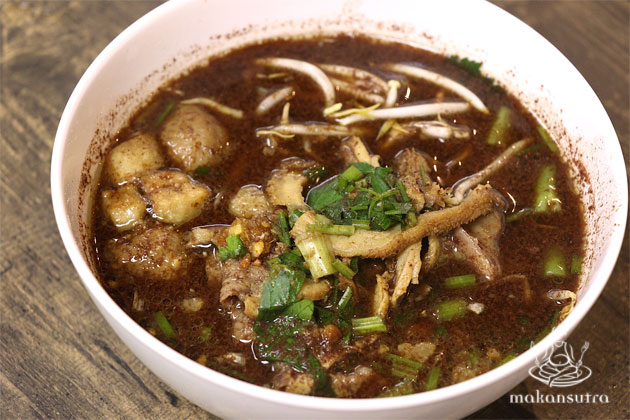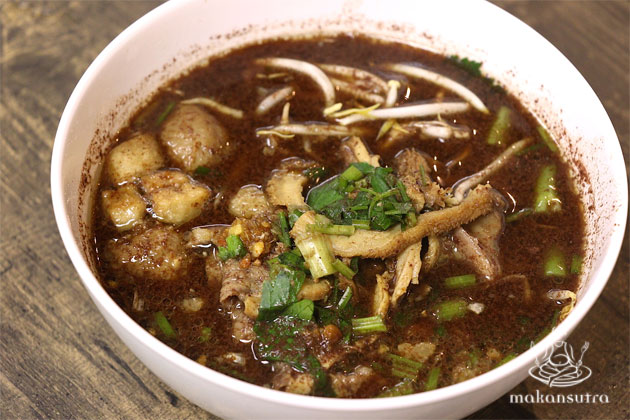 All the condiments are laid out in big tubs for you to help yourself, along with raw bean sprouts and herbs like mint and saw coriander.
The beef bowl is pretty impressive with tripe, beef strips, meatballs and fried pork lard in an almost opaque broth. It isn't as herbal as Loylum's but is robust on its own. The owners who speak limited English and Mandarin say they add coconut milk to thicken the broth in place of pig's blood, but I could not sense there was coconut milk here.
Noodle Cafe 
-Golden Mile Complex 5001 Beach Road #B1-08 Singapore 199588
-1 Rochor Canal Road #01-06, Singapore 188504
The place is dark, dingy and required a descent down the stairs towards a dubious Diva disco, but the journey will be worth it.
Most boat noodles fans count Noodle Cafe as their favourite and it's easy to see why. The noodles here are an intense shot of flavour – sweet, spicy, savoury, and smoky – that hits you immediately. You'll barely need to touch the condiments. It's also much sweeter than the rest.
The S$1.90 bowls are barely two mouthfuls with a piece of liver, a slice of meat and half a meatball. But it's a good way to find out what you like – beef or pork, type of noodle and soup. You can order full size versions for S$5. It looks like they have other a la carte choices such as duck noodles (S$5), beef tendon noodles (S$5) and tom yum egg noodles (S$6).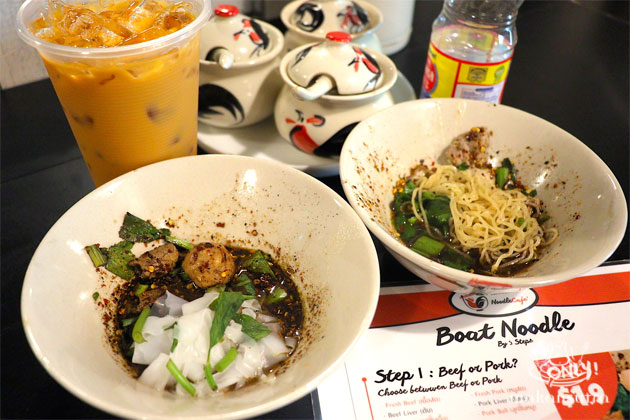 Note that the "normal" level of spiciness here can be chokingly strong for some. The waitress recommends "less spicy" for a start.
The Thai iced tea here is also suitably thick, milky and sweet. You'll need it to douse the chili heat flames.
Noodle Cafe has opened a branch at Sim Lim Square, so you can get your fix at a more central (and brighter) location.