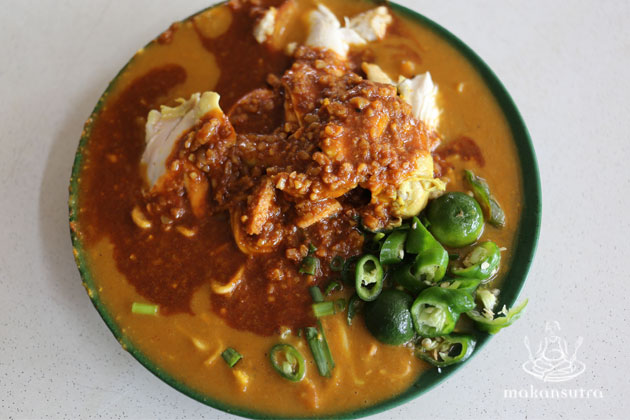 FAVOURITE EATS IN ANG MO KIO
By Cecilia Joven Ong - Friday, Dec 04, 2015
Ang Mo Kio is one of the oldest residential estates in Singapore and has a special place in my heart, as this is where I grew up. Now that this estate is building a better cycling and walking paths in the near future, get on your feet and wheels for your own food tour. Here is a list of the stalls that are popular amongst the residents of Ang Mo Kio: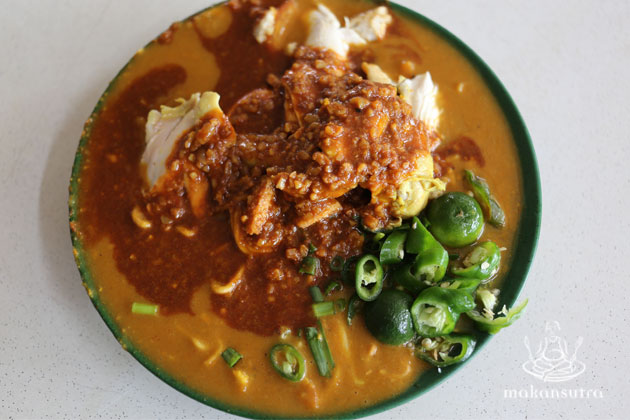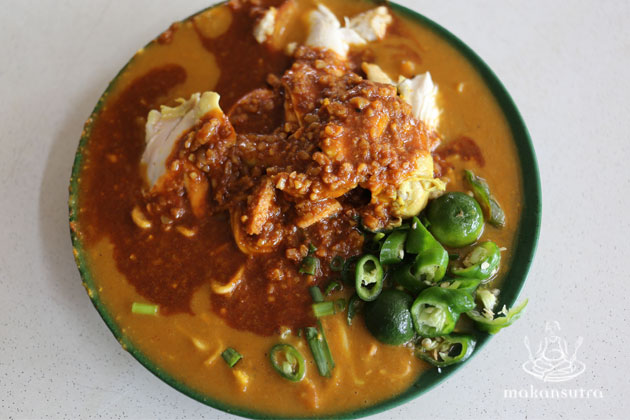 RAHIM MUSLIM FOOD
Block 721 Ang Mo kio Avenue 8 #01-04 Fu Chan Coffee Shop Singapore 560721
Operating Hours: 12.00 pm to 8.00 pm (Closed on alternate Sundays)
They setup their first stall in 1957 at Serangoon area before moving to the current location about three years ago. The must-try dish is their Mee Rebus ($3.00) with an option of adding chicken for an extra 0.80 cents. The generous portion is accompanied with hard-boiled egg, beansprouts and bits of tau pok in the usual mee rebus gravy, BUT, is topped with satay sauce to give it a unique flavor that you do not get it anywhere else. Their Mee Soto ($3.00) is also a popular choice and you could also try their beef and mutton satay sticks.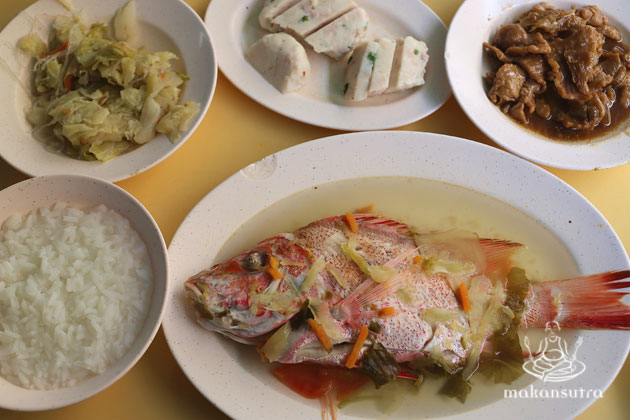 ANN HOO TEOCHEW PORRIDGE
Block 527 Ang Mo Kio Avenue 10 #01-126/127 Cheng San Food Centre Singapore 560527
Operating Hours: 9.00 am to 10.00 pm (Saturday to Thursday) (Closed on Fridays)
This teochew porridge stall is highly recommended and is known for their affordable and fresh tasting steamed fish dishes. The constant queue is a good indication of their popularity. They serve an extensive selection of homely dishes from steamed fish, steamed squid, homemade fishcake, sliced pork in soy sauce with preserved pickles and more. All these dishes go well with their special chilli and the fermented bean sauce.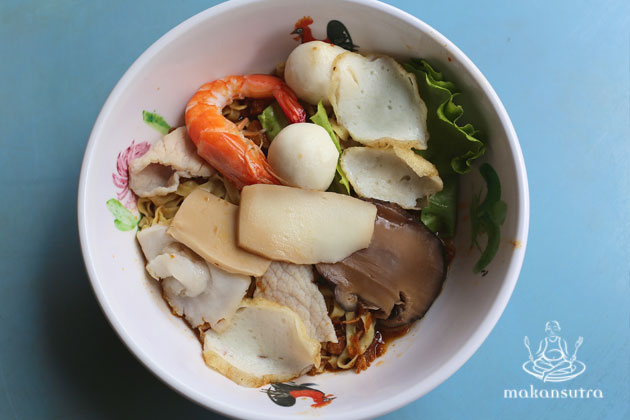 CHIA KENG KWAY TEOW MEE
Block 453A Ang Mo Kio Avenue 10 #01-11 Chong Boon Food Centre Singapore 560453
Operating Hours: 5.30 am to 2.00 pm (Closed on Mondays & Fridays)
The 77 years old Uncle Lee has handed over the stall together with his decades old recipe to his wife after cooking for 6 decades. He can still be seen at the stall overseeing the preparation and cooking process. Their mee pok is still cooked to an al-dente texture and is served along with prawn, braised mushroom, fishball, fishcake, lean pork and sliced abalone for the $5.50 bowl, the $3.50 and $4.50 options are available too but not with all the ingredients. Their chilli is the key to its deliciousness and its spiciness added just enough flavor to enhance its taste.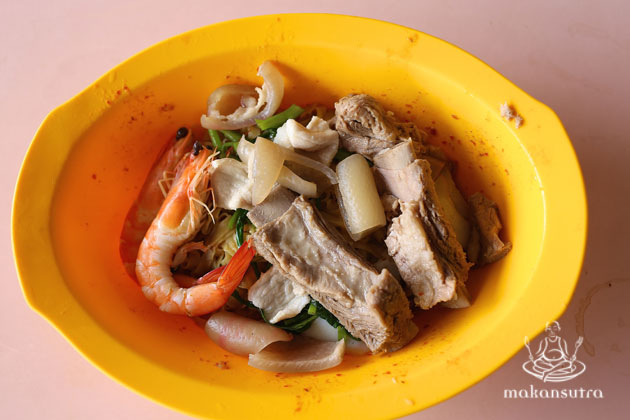 ZHEN MING PORK RIBS PRAWN NOODLE
Block 162 Ang Mo Kio Avenue 4 #01-04 Singapore 560162
Operating Hours: 8.00 am to 1.00 pm (Closed on Wednesdays)
The stall owners have been around for about 20 years though at different locations serving traditional style prawn noodles. Black sugarcane is imported from Malaysia to replace the traditional rock sugar as part of the ingredients to be used for the preparation of their broth. A basic bowl of prawn noodle costs $2.50 and the addition of ingredients like pork ribs, pig's skin and pig's tail cost up to $5 per bowl. The soup version is clearly the most preferred choice for its robust flavor.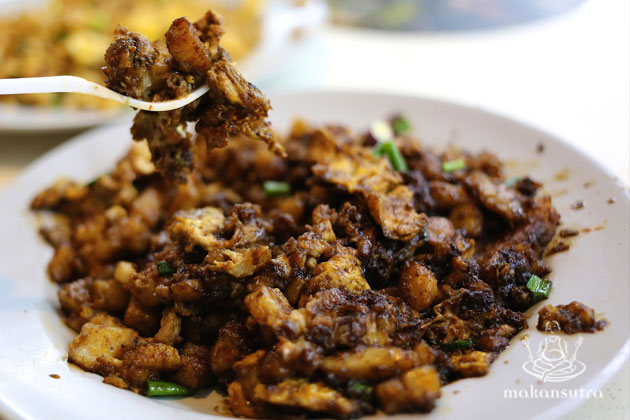 ANG MO KIO 107 FRIED CARROT CAKE
Block 107 Ang Mo Kio Avenue 4 #01-64 Lim Kopi Food Court Singapore 560107
Operating Hours: 6.00 pm to 11.00 pm (Closed on Wednesdays, Saturdays & Sundays)
This is the most talked about fried carrot cake in Ang Mo Kio, both white and black versions are available at $2.00 and $3.00 but the black one is the most popular amongst their regular customers. Though the making of the carrot cake has been outsourced but the texture still has its desired softness. It is perfectly fried to give it the evenly flavored, with generous bit of beaten egg added to enhance the taste; it tasted even nicer with chilli and extra preserved radish added.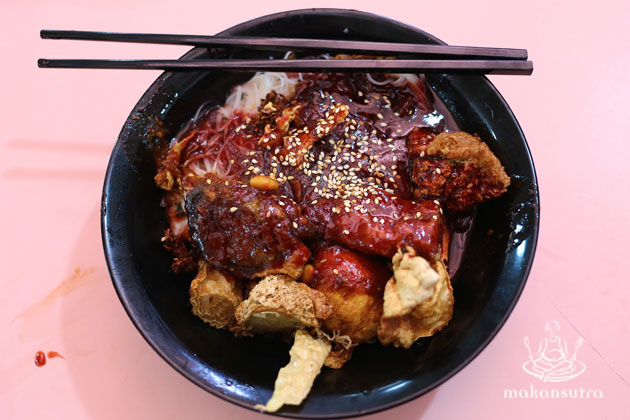 XI XIANG FENG YONG TAU FOO
Block 724 Ang Mo Kio Avenue 6 #01-23 Ang Mo Kio Food Centre Singapore 560724
Operating Hours: 7.00 am to 7.00 pm (Closed on Sundays)
Their freshly prepared handmade Yong Tau Foo items are priced in between 0.40 cents to $1.00. Their signature items are fried meatball, fried bean curd with stuffing and their special fishcake. Their thick and creamy gravy Laksa ($3) is a popular choice and it is also available as a base to go with Yong Tau Foo for only 0.70 cents. Other than the usual bee hoon and yellow noodle, you could also have it with chee cheong fun. Their dry version is served with addictive sweet sauce and chilli sauce; the soup version is naturally flavored by ikan bilis and soybeans with no MSG added.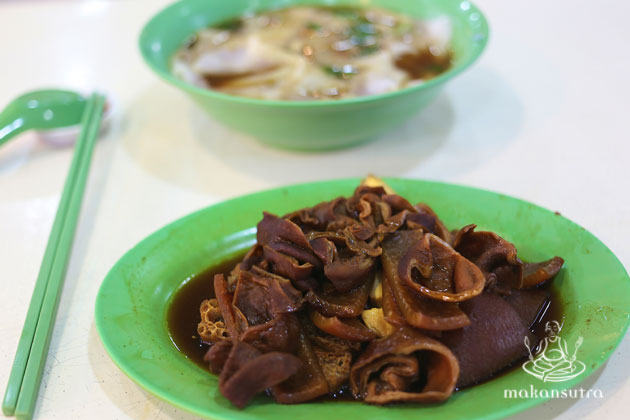 LAO SAN KWAY CHAP
Block 232 Ang Mo Kio Avenue 3 #01-1222 Singapore 560232
Operating Hours: 6.00 am to 3.00 pm (Tuesday to Sunday)
A basic set of Kway Chap at $4 includes a bowl of kway and ingredients like braised pig intestines, pigskin, fish cakes and tau pok in appetizing braising sauce. The kway is exceptionally smooth and thin and is topped with fried shallots to enhance its flavor. Their braising sauce is amongst the better ones ever tasted as it strikes a perfect balance of sweet and savory. The innards are nicely braised and cleaned without any off-putting stench.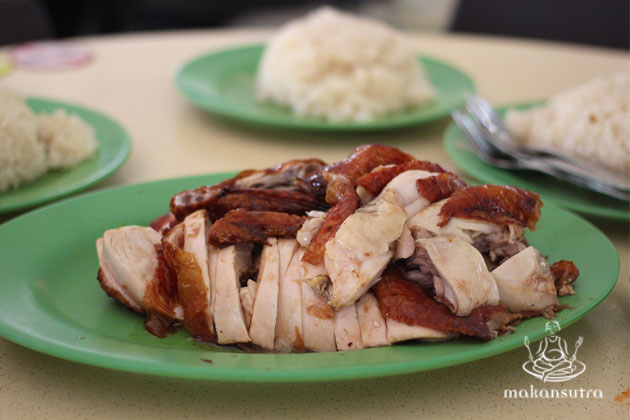 ROASTED DELIGHTS
Block 347 Ang Mo Kio Avenue 3 #01-2142 i-Coffee Shop Singapore 560347
Operating Hours: 11.00 am to 8.00 pm (Closed on Tuesdays)
This decade old stall serves good standard and affordable Hong Kong style roasted chicken, char siew and roasted meat. It is so popular that there is usually a queue if you come during lunch and weekends. Even though they might not be as famous as some big names for chicken rice but their roasted chicken is consistently good. Their roasted meat is equally popular for its tender meat and crispy skin.