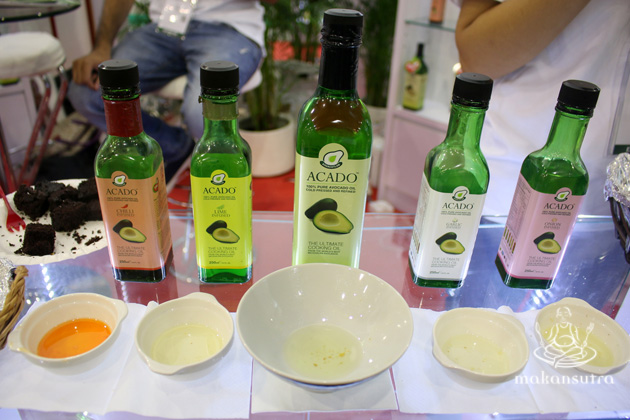 FHA 2016: Highlights and Hidden Gems
By Catherine Ling - Thursday, Apr 14, 2016
Food & Hotel Asia (FHA) is a fantastic place to gawk at many things – exotic or new foods from lands near and far; powerhouse equipment for those in the business of feeding the masses; and business deals that lead to big breaks for some. It's such a huge event covering all 10 halls of the Singapore EXPO (plus annexes) that it can be easy to miss interesting stuff.
Here are a few things we caught this year:
Halal Gourmet Beef Products from Indoguna
Indoguna brought in exquisite treats from its Dubai arm which produces halal meat products. Wagyu beef bresaola, wagyu beef pastrami, corned beef brisket, venison hunter ham, farmers biltong, veal chorizo and pepperoni – it's not often we encounter halal versions of these. But we'll start seeing more of these in Singapore as soon as they receive AVA clearance.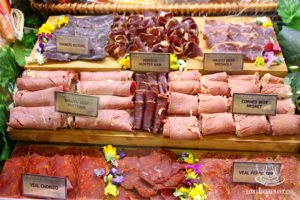 Moonfish from Lee Fish
This rare deep-sea pelagic fish might not look it, but is a speed demon in the sea. Weighing anything from 10-60kg, it's about the size of a manhole cover. The moonfish or opah is often a by-catch of tuna. The flesh is light orange tasting like a cross between tuna and salmon, while the area near the pectoral muscles resemble beef. Recent research has shown this mysterious fish might be a complex of five different species, and that it's the first warm-blooded fish we know.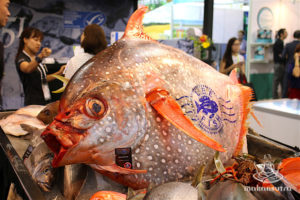 Hot Sauces from Culley's
Now Kiwis might not be the first folks you think of when you say hot sauce, but New Zealand's largest hot sauce manufacturer Culley's has won no less than 30 major awards internationally for their range of sauces. The "Chipotle" is luxuriously smoky while their "No.1" combines Habanero, Yellow Scotch Bonnet and Bhut Jolokia chillis in an addictively stinging blend. They aren't available in Singapore just yet, but you can hop on to their website (http://culleys.co.nz) to grab some.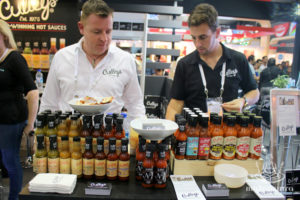 Coconut & Chia Snack Pots from The New Zealand Dessert Company
These humble looking pots will surprise you with how insanely delicious they are. You get the health boost of chia seeds fully soaked in lightly sweetened coconut cream that has prebiotics and omega 3 benefits. It's a dairy-free alternative to yoghurt but even those who aren't lactose intolerant will love this. Flavours include Mango and Passionfruit; Rhubarb; Cacao with Berries. These will be available in Singapore in May.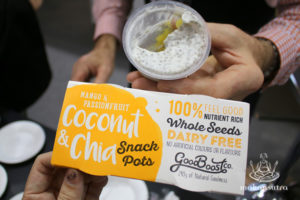 Chicken Salami Snacks from ChickUps
These bite-size salami snacks from Germany are ready to eat straight from the pack. They are all about snacking with good conscience. ChickUps uses corn-fed chickens that are given space and time to grow with no antibiotics. They co-operate with 20 local farmers to ensure short transit time for the animals. The products are gluten-free and lactose-free (except the one with the Parmesan flavour).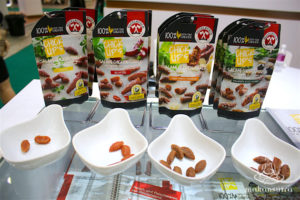 Chef's Finest Mee Soto paste by Foodfare
We've seen a million pastes for curry, laksa, mee rebus and mee siam. A paste for mee soto is something few have attempted. This version is fairly decent, only needing the spicy kick which their spicy kicap manis (sold separately) provides. Foodfare claims to have sought the recipe from Indonesia by tasting various mee soto there. Authenticity was important; they are replicating the flavour and even the slightly sandy texture of the broth to the closest possible. It should be out on the market soon at S$3 or less per pack (serves 2-3).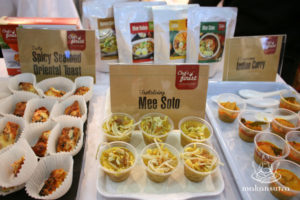 Coconut Wraps from NüCo
The Philippines pavilion brought in a wealth of organic products, fruits and vegetables. Among these, the Coconut Wraps stood out. Oh my, the things you could do with these! Sweet or savoury wraps, crepes, sandwiches, sushi rolls, tortillas – I want a laksa spring roll using this coconut wrap or how about a deep fried kaya lumpia with these coconutty skins. Made purely from organic coconut, this is naturally raw, gluten-free, corn-free, soy-free, dairy-free, and egg-free.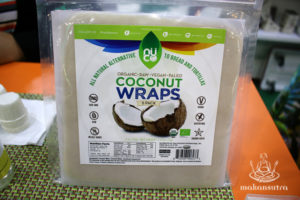 Organic coconut products from Monde Nu Agri
These may not look revolutionary but they do have a story. Monde Nu Agri was specifically set up in 2014 by Monde Nissin to help rehabilitate the Samar and Leyte regions devastated by Typhoon Haiyan. In a country where aid is slow or sometimes gets lost, this means a lot to the 20,000 farmers and 40,000 hectares of devastated coconut land in the area. The technology and equipment used to manufacture the coconut products are also proudly Filipino, not imported.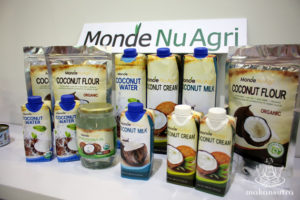 Avocado Oils from Acado
From Mexico, we have pure avocado oil, touted as one of the healthiest oils to cook and eat with. Avocado oil has over 74% monounsaturated fats with the lowest saturated fat content of any oil. With a high smoke point of 274 degrees C, it's even suitable for deep-frying (something olive oil can never do). The taste is also very neutral, light and buttery, so it can be used for many aspects of cooking, baking or garnishing. Since it is rich in vitamin E, some use it to rejuvenate dry skin. Acado is already available in supermarkets here (ranging from S$16.95 for 250ml to S$30 for 1L).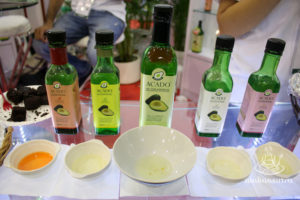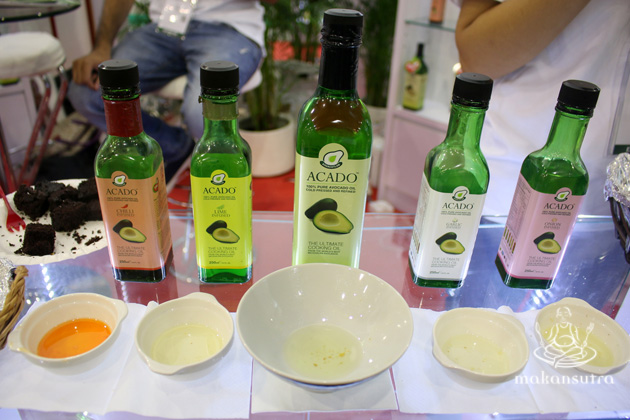 Matcha Nama Chocolate from Grand Place
Blink and you might miss the little tray of "nama choco" in the Grand Place chilled display case. The Japanese owner just quipped, "Better than Royce!" and he was right. It was so smooth, silky and creamy with the perfect complementary balance of matcha and chocolate. Grand Place, named after the famous square in Brussels, uses Belgian milk chocolate and Hokkaido cream. They aren't in Singapore yet, but do have a shop in KL International Airport, Malaysia and Shiodome, Japan.