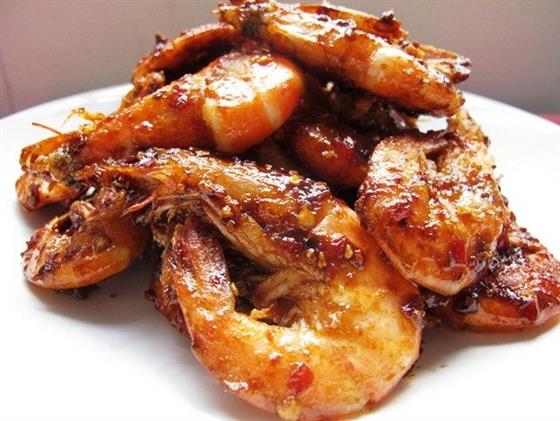 Fiery Sweet Kicap Manis Prawns
By KF Seetoh - Friday, Jan 04, 2013
I have had many versions of this in Indonesia, where the kicap manis sauce reigns supreme in many dishes there. They render it in with grilled fish (ikan bakar), fried chicken and of course seafood like sotong (squid) and crabs. Researchers say this kicap manis sauce has its origins in China where it began as a soy sauce. But the Indonesian kicap manis is, yet not quite totally, similar to the sweet soy sauce our hawkers use for popiah and char kway teow or black fried carrot cake. Theirs is sweet, savoury yet salty and umami laden, all at once.
And since the Chinese New Year is just up ahead, this ha-ha (ha is Cantonese for prawns and is the sound of laughter which connotes joy) prawns can be something different (not quite like the usual wine steamed or stir fried version) on your reunion dinner table.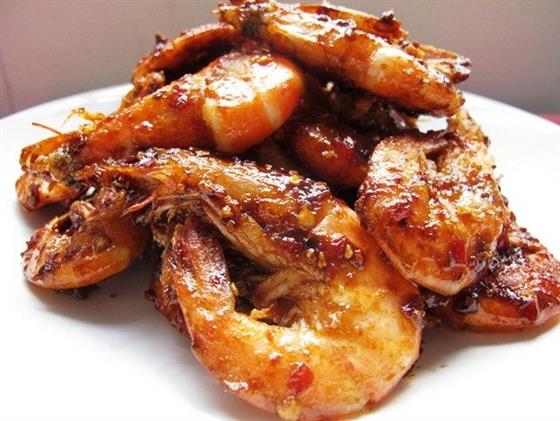 Once, I brought a bottle of the sauce to a seafood hawker at the East Coast Lagoon Food Centre(Leng Heng Seafood) and asked if they can do the recipe below as I was too lazy to cook. They not only did so, it is now a regular item on their menu (but you have to ask for it as it is not in the picture menu listed). They also do it with crayfish…shiok!
I like this recipe, which I cook ever so often for a couple of reasons…that is easy to do and the alluringly addictive nature the sweet, salty and savoury kicap manis sauce brings to it. But I've added one additional step just so as to maximise the effect of the sauce on the prawns. I've coated them with corn starch before frying, so that the sauce clings on well to the gritty crust.
Ingredients
(serves 3-4) 500 g medium sized prawns (use softer shell versions like grey or white prawns – peh chi) 4 tbsp corn flour 1.5tbsp sambal belacan (buy those which are not too salty nor sweet) 4 tbsp kicap manis (Indonesian brand and type) 1.5tbsp chopped garlic Cooking oil.
Method
• Wash and pat dry the prawns after snipping of legs and sharp tip of head
• Spread the corn flour on a plate and dab the prawns. Do not dust off extra flour as we want a gritty crust.
• Pour oil (enough to submerge the prawns) in a wok or pan.
• Deep fry them till crispy outside. Set aside
• On another pan, over medium fire, brown the garlic with 2 tbsp of oil
• Add the kicap manis sauce and the sambal belacan (use less if you can't handle the heat)
• The sauce will carameilise very quickly, so throw in the fried prawns immediately and toss till each prawn is coated with the sauce. Turn off heat.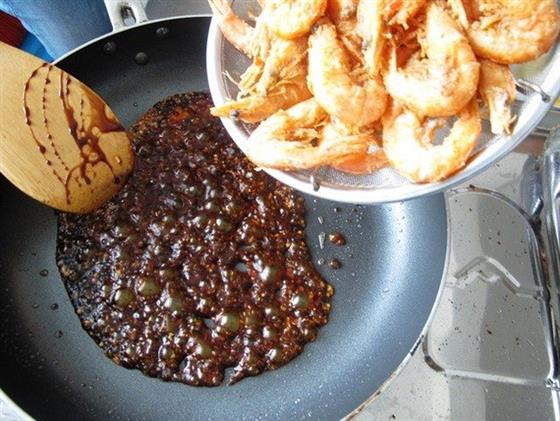 • You may garnish with greens like coriander. Otherwise, it's ready to be served.
• Eat like there is no tomorrow, over rice.