Fine Fare and Tacos in Mexico City
By KF Seetoh - Friday, Dec 02, 2016
"A taco is a spoon, plate and napkin, all in one.." and that is one simple story behind Mexican food that Prof Alberto Peralta weaved at the recently concluded Foro Mundial Gastronomia Mexicana. This fourth edition of their gastronomic festival in Mexico City was a celebration of this rich and often misunderstood food culture of their country. The five day festival had a series of talks and conferences with food booths manned by little old and less old ladies representing the deeper corners of Mexico- from Oaxaca, Chiapas, Baja, Puebla and even Chihuahua (not the doggie). I now have a clearer idea of real Mexican beyond-Texmex-burritos fare. Puebla is famed for mole (a sort of Mexican sambal, simple put) and Baja is a seaside dessert known for superb seafood fare. I found all that out and more in just one festival (and it was conducted in Spanish!) . Here's hoping that our own Singapore Food Festival can evolve from the eating, to a thinking and heritage food for thought festival which is what resonates with a new breed of travelling foodies.
If you tire of the usual, predictable and "exotic' year end travel haunts, then Mexico should be on your bucket list. Food buffs will have a field day and for culture vultures- there's over 300 public museums in Mexico City alone (minus the private set ups). I had the pleasure of being chaperoned and dined at some of the best restaurants and street food taco stalls in Mexico City.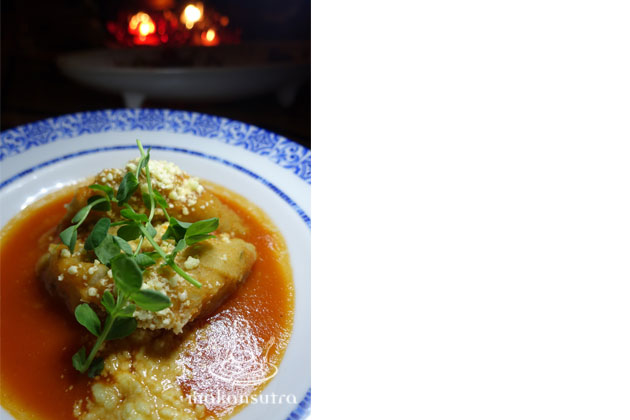 Azul Historico, Isabel la Católica 30, Centro Histórico (ground floor).Tel: +52 55 5510 1316
Web: www.azulhistorico.com. Hours: Mon.-Sat. 9am-1:30am; Sun. 9am-6pm
This preserved 17th century grand old house now house chic shops and this iconic restaurant run by the famed Chef Ricardo Munoz Zurita. He has a signature list of Mexican favourites like the Taco Soup served in a funny La Calavera Catrina skeleton socialite bowl. But the menu changes weekly, with chefs from different regions helming a special menu. This time, it was chow from Tabasco City, and the Crab Tamales with a herbed tomato sauce was totally agreeable for me, much like a soft crab bak chang.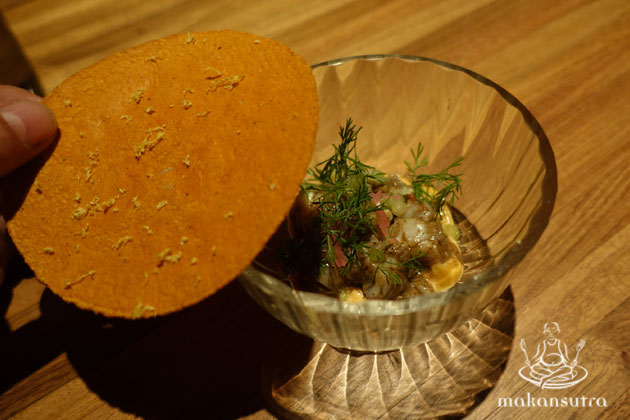 Pujol Restaurant. Add: Calle Francisco Petrarca 254, Miguel Hidalgo, Polanco, 11570 Ciudad de Mexico, CDMX, Mexico. Tel: +525555 453507. Reservations at pujol.com.mx
They are regular top 20 residents in the World's Best Restaurant list. Many other celebrity chefs in the city have paid their dues here. The prix-fixe menu comes with about 8 items costing 1972pesos. Unlike many other "creative" menus, I can connect to this one as it is based on street and heritage food and the starters are a collection of "Street Snacks" which include crispy chicken skin tostados with macademia nuts. The refreshing munch was number 4, the raw herbed Lobster Tostado which was very difficult not to like.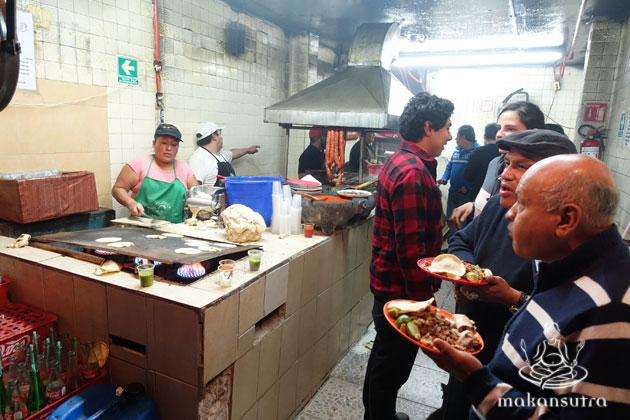 Tacos De Don Pepe. Add: 18 Calle Miguel Lerdo De Tejada. Azcapotzalco, DIF 02000. 5pm-1am(Sunday to Thursday), 3pm-3am (Friday and Saturday).
The seemingly empty restaurant next to this taco stall is a contrast and a vote for comfort fare. The queue and crowds there for the steak and sausage (longanisa) tacos (made fresh on the spot) is unrelenting. It's my kind of place- standing space only, buskers, no frills but all flavours and no one cares who you are. Add some mozzarella cheese to the beef steak platter topped with their frank and spicy salsas with grilled onions, and it says "welcome to Mexico City".