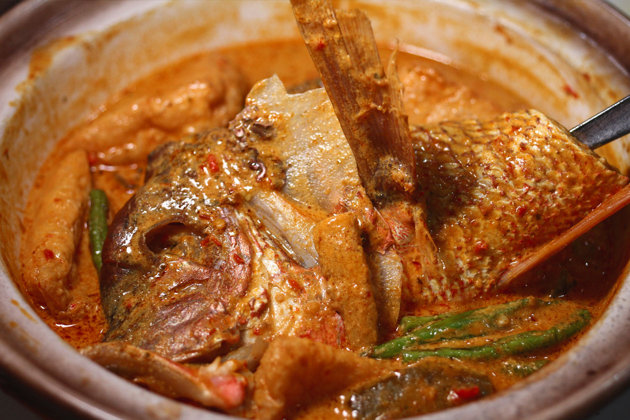 Fish Head Curry Is Like "Volcano Eruption"
By Jade Hu - Friday, Mar 21, 2014
It's quite easy for locals to rate fish head curry – sour, Chinese style, Indian style, lemak or not, fresh fish head and spice level. But what about the foreign friends in our midst today? They tear into our hawker food because it's famous, and easy on the wallets, plus it's the easiest way to dig deep into the core of the Singaporean culture. What comes to their minds (and mouths) when they eat it initially, as "freshies" to our makan? They may like or hate it for different reasons. We speak to three expats and see what they have to say about three of our most iconic dishes – the Hainanese Chicken Rice, Fish Head Curry and Indian Rojak.
All of them have tried chicken rice before, but not fish head curry or Indian rojak. Umar Saleem, a Muslim from Pakistan who has lived many years in Europe, said of chicken rice, "It's something you can eat fast, like a sandwich." Etienne Rodriguez, who is half-Spanish and half-French from Réunion (a French island in the Indian Ocean), found the rice bit of the dish, "Very fatty but good" and the chicken "not flavourful enough." Mathieu Cometto from France found chicken rice "full of fat but overall really good" dish.
Chicken Rice
First stop, we chowed down at Evertop Hainanese Boneless Chicken Rice (Blk 354 Clementi Ave 2 #01-257/259, Hours: 11am – 9pm, Closed on Wed). Here, they serve a Halal version of the Hainanese chicken rice.
Umar found the dish too bland, because his palate is tuned to more savoury dishes like chicken briyani or roast chicken. Etienne likes the chicken rice because it's a simple, cheap and good dish but found nothing special about the version here. Coming from Réunion, where food has French influences, plus explosive Indian spicy flavours and a touch of Chinese flair, Etienne is used to farm-to-table type of food with a dash of piquant, and found no distinct personality with the chicken rice. A Creole dish he often eats back home is the Cari Poulet, a classic dish from Réunion which is a curry chicken and onion stew with a lightly-spiced tomato-based sauce. Mathieu found the chicken rice "a bit fatty but awesome", and detected small nuances like "sesame and lemon flavours invading my mouth".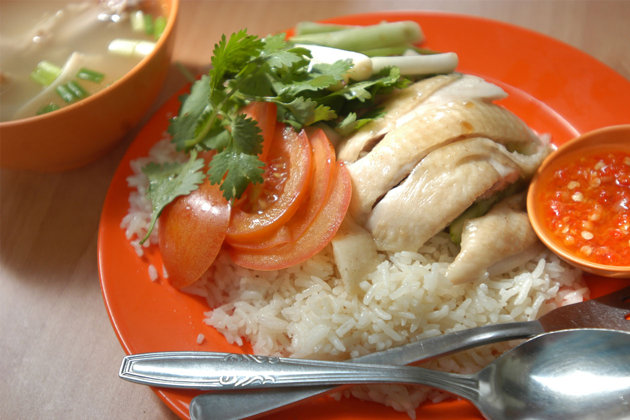 Fish Head Curry
Next, we found ourselves at West Co'z Cafe (154 West Coast Road #02-23 West Coast Plaza, Hours: 11.30am – 9.30pm) for fish head curry.
Umar found the fish head curry "very tasty" but so spicy that he couldn't taste the fish. Etienne's face turned a dark shade of crimson upon tasting the curry, having doused his entire plate of rice with the rich, thick Peranakan-style curry gravy. He coughed, "It's too spicy for me, and I'm not going to try this again." He would add more coconut milk to make it easier to swallow, literally. Mathieu found the fish head curry extremely spicy but tasty, and likened it to a volcanic explosion in his mouth, "It reminds me of Pompeii getting destroyed by the Etna."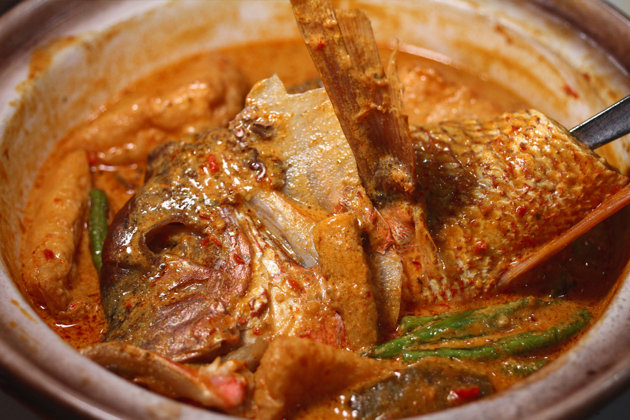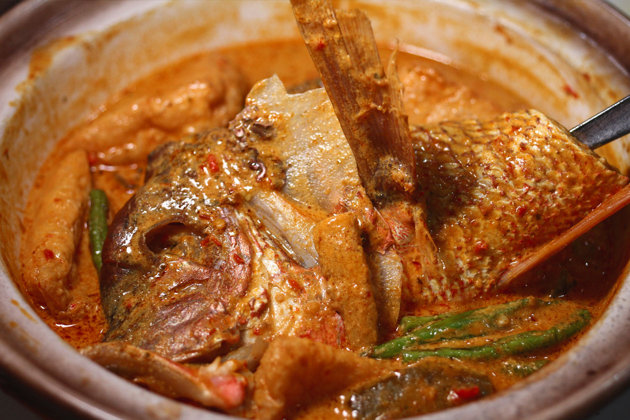 Indian Rojak
Finally, we headed to the temple of Indian rojak, Ayer Rajah Food Centre, to Habib's Rojak (Blk 503 West Coast Drive #01-68, Hours: 11.30am – 11.30pm).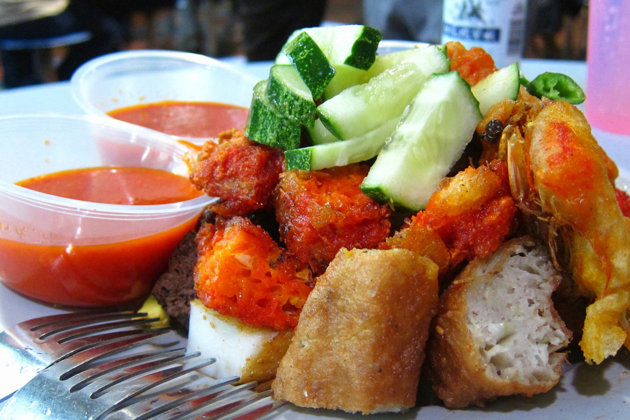 Umar couldn't decide if he liked the dish, "It tastes more like an appetizer for me." He would like more vegetables like cucumber and onion to balance out the deep-fried items such as battered fried egg, coconut flour ball and prawn cracker. The rojak dip reminded him of mango chutney, which is often used in Pakistani cuisine. "Not tasty enough", Etienne said. Perhaps the spice hasn't worn off from the fish head curry yet. The fried elements in the Indian rojak reminded him of samosas or bonbon piment, which is a Creole appetizer – a savoury and spice-laden fried dough ball with chilli, cumin, turmeric chives, green onions and ginger etc inside. The sweet and tangy rojak dip was the saving grace for Etienne. Mathieu tackled the Indian rojak with ease, finding it "crispy and onion-y". Instantly he thought it tasted like Mauritian food, since his grandma used to live in Mauritius where he visited often and Indian food is aplenty. "It is not bad but not memorable either," Mathieu said.
Umar's favourite dish of the evening was the fish head curry, paying homage to his Pakistani heritage and his mother's home-cooked food. Etienne and Mathieu both went for the chicken rice, an easy-to-eat-and-stomach dish on a foreign palate. While this is the first time for all three eating Indian rojak, it seemed like it would also be the last time. And to top off the dishes with Singapore-style gusto, Umar, Etienne and Mathieu washed it all down with Milo Rainbows (an iced Milo topped with ice cream and drizzled with syrup on top) and Milo Dinosaurs.
Many expats and foreigners rave endlessly about Singapore's colourful food culture, but how many of them have jumped off the deep end of the pool? The more obscure and pungent combinations of flavours such as Indian rojak may take a bit of time and training to get used to, unless it resonates with their native cuisine. Even if some of your foreign friends beg for mercy after a sweat-till-they-drop bowl of laksa or offally-awful kway chap, let's keep exposing them to our dizzying array of char kway teow, nasi padang, orh chien, black pepper crab. The weirder the merrier. Before you know it, they'll be back, and begging for more… No pain, no gain.