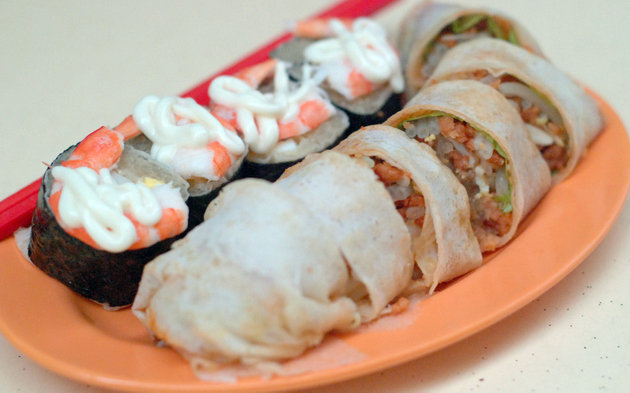 Five Great Popiah
By Elaine Ng - Tuesday, Jan 29, 2013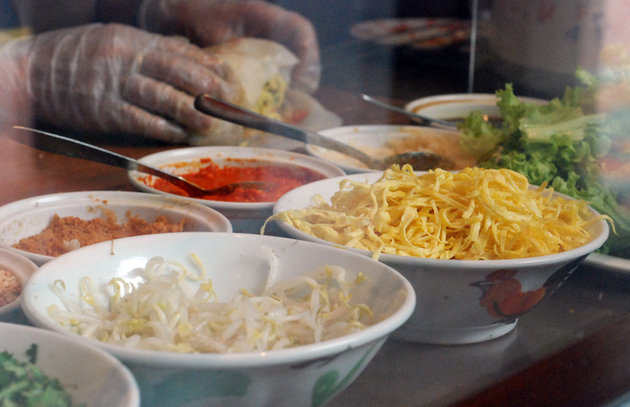 A perfect gastronomic example of how the whole is greater than the sum of its parts would be the popiah. A mishmash of ingredients — usually including stewed turnips, ground peanuts, sweet sauce, mashed garlic, hardboiled eggs, bean sprouts, prawns, fried tofu, and crispy fish or dough bits — miraculously held together firmly with a wispy crepe-like skin, the popiah is a relatively healthy snack without fried ingredients.
The magic lies in the skills of the artist for only the right ratio of ingredients wrapped under the deft hands of a master would a perfectly tight and snug roll of popiah appear. Usually conveniently sliced into pieces, it is a great side dish for sharing too. Here, we revisit some of our old favourites — save for Glory's Peranakan-style popiah, which will only be available after the Chinese New Year.
1. Old Long House Popiah Kim Keat Palm Market & Food Centre, Blk 22 Lor 7 Toa Payoh #01-03 Opens 6am to 3pm daily, closed Mondays & Tuesdays
Peddling popiah since pre-war days, the experienced family serves up a hearty rendition of the Teochew-style spring roll. The stewed turnip is very juicy, the popiah skin is rather thick but chewy, and we especially loved the generous loading of their uneven crispy fish batter. However, we didn't quite like the lurid taste of the chilli which overpowered the sweet flavours of one of our two popiahs though. Old Long House Popiah also proudly touts its popiah to include no MSG, artificial colourings, preservatives, as well as pork or lard.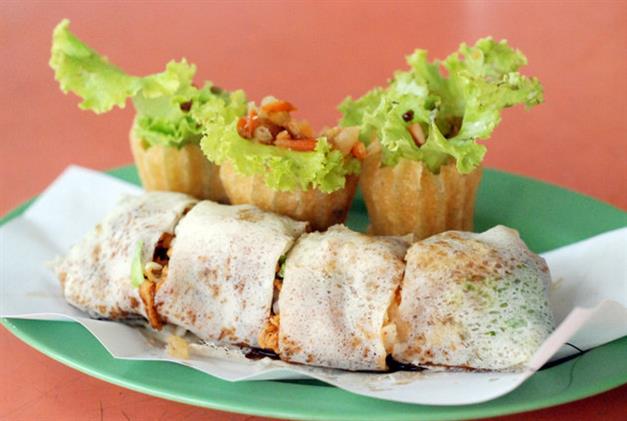 2. Kway Guan Huat Joo Chiat Popiah & Kueh Pie Tee 95 Joo Chiat Road Opens 9am to 9pm daily
Watch the lady boss of Kway Guan Huat Joo Chiat Popiah & Kueh Pie Tee making paper-thin popiah skin in front of her two-unit shophouse, and you will scoff at the crepe masters. More affectionately known as Joo Chiat popiah, this popular outfit offers both wholesale and retail, including takeaway ingredients for your own DIY popiah party. What stands out most about the popiah here is the moist yet crunchy texture and fragrant sweetness of the stewed turnips. On top of the standard vegetarian popiah, you may opt for the prawn or crabmeat version too.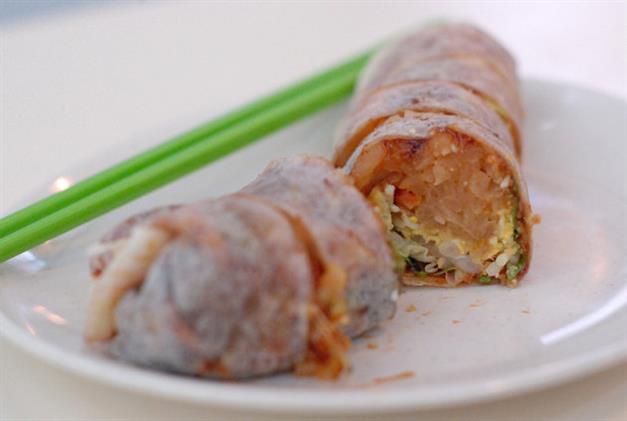 3. Qiji Shaw Towers, 100 Beach Road #01-01 Opens Monday to Saturday 8.30am to 8.30pm, Sundays 9.30am to 8.30pm, closed eve & first three days of Chinese New Year
Mention food chain and most would conjure up images of dry, bland food mass-produced in central kitchens. The pale gummy skin of a tightly wrapped popiah at Qiji's flagship outlet appears to verify those images. Here is where we learn the moral of the story: never judge a book by its cover, or by its title for that matter. The tenacious skin holds flavourful stewed turnip alongside plenty of beansprouts and shredded boiled egg as well as a nice touch of mashed garlic.
Qiji may now be a halal-certified food chain selling local delights like laksa, mee siam and nasi lemak, but that does not undermine the quality of its popular popiah; this snack is hot with housewives as it surprisingly withstands the test of time from store to home. It remains firm and moist without seepage though the skin. And the fact that they have twelve outlets across the island just makes it a convenient and consistent choice.
4. Spring Court 52-56 Upper Cross Street Opens Monday to Saturday 11am to 2.30pm, 6pm to 10.30pm, Sundays 11am to 3pm, 6pm to 10.30pm
At $7.30 a roll (after GST), surely this is the priciest and justifiably the best popiah of the lot. With fillings, which include prawn, fish, crab and duck meat, this is definitely the most luxurious too. Do not try stuffing a single slice into your mouth as we did, Spring Court's Xiamen-style popiah is bursting-at-its-seams, is huge and only divided four ways. Boosting a translucent skin, the roll was moist despite downplaying the role of stewed turnips. Its hand-sliced ingredients were also fresh. However, some of us much preferred the local version with much more turnips, and less beancurd as well as sliced carrots. Still, Spring Court popiah has garnered enough fans to set up a busy separate take-out counter.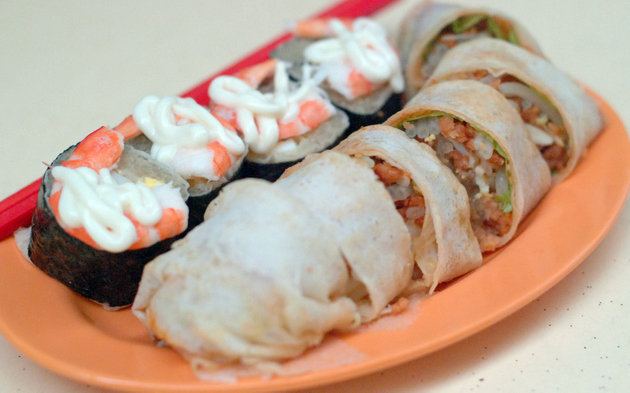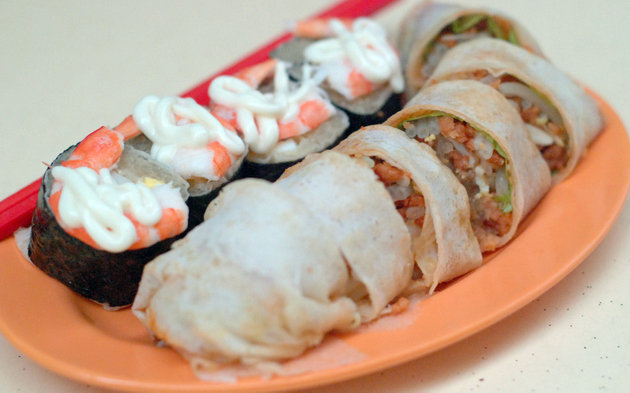 5. 968 Popiah Hong Fu Ling 81 Eating House, Blk 81 Whampoa Drive #01-893 Opens daily 12pm to 8pm, closed last Thursday of the month
The popiah here is an exemplar of how less is more. The usual suspects are done well; double-wrapped within a thin, sticky skin is a good mix of well-balanced sweet yet savoury stewed turnips, crisp lettuce, crunchy beansprouts, fresh prawn and delightfully crumbly batter bits. Feeling adventurous, we also went for the stall's sushi popiah. Using the same ingredients used for popiah and kueh pie tee except they use seaweed for wraps and introduce crab sticks. This creative endeavour passes in looks but not in taste. The seaweed wrap overpowers the sweetness of the stewed turnips that were made to look like sushi rice. We would suggest adding some of those crispy tempura batters that accompanies some Japanese sushi though. Fortunately, boss didn't add vinegar to the "rice" or curiosity would have really killed the cat!