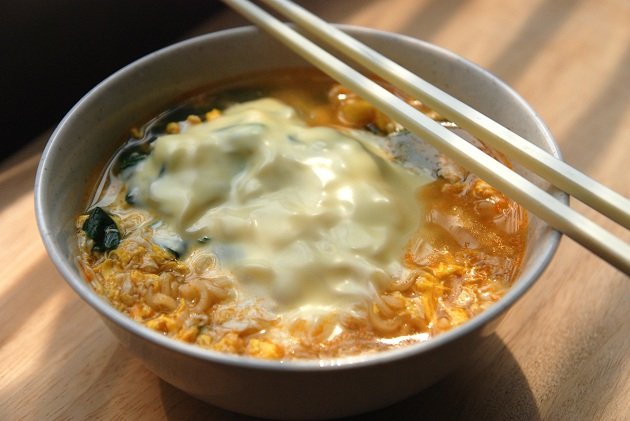 Five Quick Fixes to Spice Up Your Instant Noodles
By Joanna Yeo - Tuesday, Sep 18, 2012
"Boil noodles for three minutes. Remove from heat; add seasoning powder and oil to noodles. Stir and serve," reads most cooking instructions found on the instant noodle packet. Yawn and zzzzzz. "I don't eat instant noodles often! But when I do, I just don't like it to taste 'instant'. " says local undergraduate, Low Jian Liang.
If you are like Jian Liang who dreads the taste of instant noodles or are bored of relying on the (rather dubious looking) seasoning sachet for flavour, we have five simple recipes from our friends who are ahead of the curve to help 'instantly' jazz the flavours of your mundane noodles with just a few simple slap dash tricks.
1. A slice of cheese to top it off (Soup version)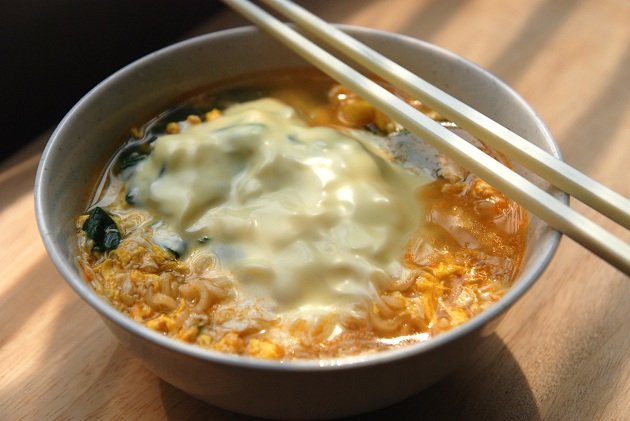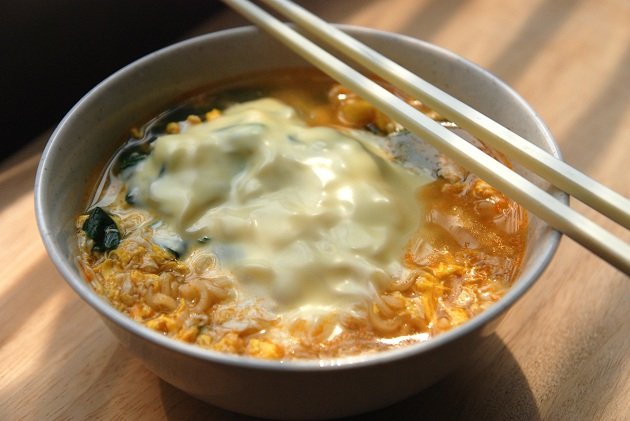 If you are a cheese lover, you would most probably agree that the umami cheesiness magically adds the extra oomph to the flavours of many dishes. Instant noodles are no exception. Recent graduate and hardcore Korean pop culture fan, Florence Ng, shares this easy and possibly the quickest 2-step recipe: (1) Cook noodles as instructed on packet (2) Place a slice of cheese over the bowl of hot noodles and allow it to melt.
The idea was inspired by Korean cheese ramen and tastes what else but 'cheesy'? Once it melts, the soft and near 'liquidish' cheese will coat the noodle strands as you pick them out. The result has a wonderful carbonara soup noodle feel to it.
2. Tangy, egg-coated noodles (Dry version)
For those that have a thing for vinegary or tangy food, this will sharpen things up for you. An age-old recipe Hainanese recipe has been passed down through two generations to writer, Justin Zhuang's lineage. Although the time needed to prepare is pretty short, a bit of skill is required in this recipe:
After cooking noodles as instructed, crack an egg over the noodles in the boiling soup. Then, evenly and gently stir the eggs just over the noodles and be careful not to spread it all over the soup. Do not over cook the eggs – just till it is firm and yet runny (some skill is required here). Then gently remove just the noodles with the eggs with a strainer and plate it. Strain the water but leave it moist. Finally, add two spoons of ketchup and two spoons Worchestershire sauce (or as desired). Mix, toss and eat. It has that Hainanese western food sensation.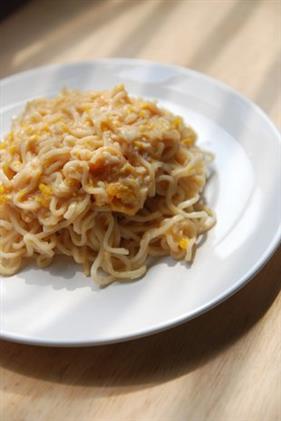 3. Egg goodness (Soup version)
Depending on how you like your eggs done, there can be more than one way of cooking your noodles. Local undergraduates, Almeric Chew and Low Jian Liang share two different ways of cooking your egg in instant mee.
For runny eggs– Just after you are done cooking your noodle soup, crack and egg on top of the noodles. Leave it on top for a half-cooked sunny side up or stir it in throughout the noodle soup. If you like the half cooked runny yolk in your noodles, this is one recipe to try out.
For egg drop style– Inspired by the streaky egg drop texture in sweet and sour soup and shark's fin soup, Jianliang tries to recreate it in this recipe: Boil the noodles as per usual with the seasoning or your own soup or stock. Meanwhile, put a beaten egg in a bowl and slowly drizzle it into the noodles two minutes later. Be very slow and deliberate in dripping the beaten eggs in and gently stir the soup and egg, ensuring they separate, as you do. This breaks the egg and creates the "egg drop" look and texture.
4. A little bit of everything (Dry version)
If you are familiar with how instant 'Mee Goreng' taste like, then this recipe shared by Bank Analyst, Tan Chen Pei is an interesting variation of it.
Recipe: Cook noodles as instructed. Then, add the strained noodles to a plate of sauce mixture consisting of one tbsp of dark soya sauce, one tbsp of light soya sauce, half a tsp of salt, sugar and chilli sauce to taste. Stir and mix noodles well. Serve.
The recipe possibly has some influence from Indonesia as it is shared with her by her cousin's Indonesian domestic helper.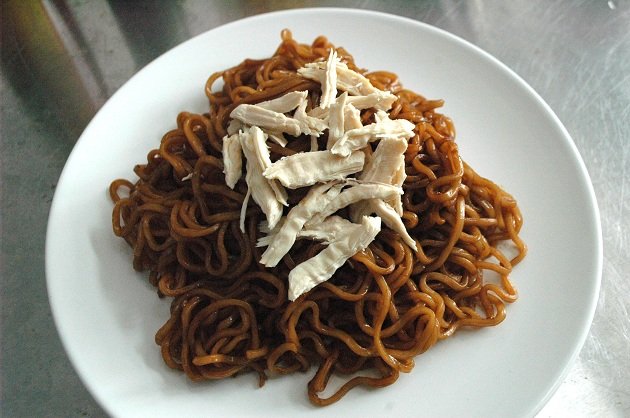 5. Fried instant noodles (Dry version)
Like pad thai? You would probably like the result of this recipe. With several years of cooking experience, SHATEC Culinary Arts graduate, Jeremy Norfor creates his own version of instant noodle recipe.
Recipe: Add noodles to a bowl of hot water and allow it to soak for a few minutes to soften. When it softens a bit, remove, strain and set aside. Next heat up a pan over low to medium fire with two tbsp of oil and quickly scramble up an egg. Add a tbsp of chopped garlic and fresh cut chilli. Then get creative- stir in some sliced meat, shrimps, bean sprouts, julienne carrots etc… When nicely cooked, toss the noodles in, add a splash of fish or soy sauce, a pinch of sugar, a bit of water to moisten, and squeeze some lime juice in for a desired tang. Lastly, sprinkle some white pepper over and garnish with some coriander (optional).
Do you have your own instant noodles recipe? Do share with us in the comment box below!