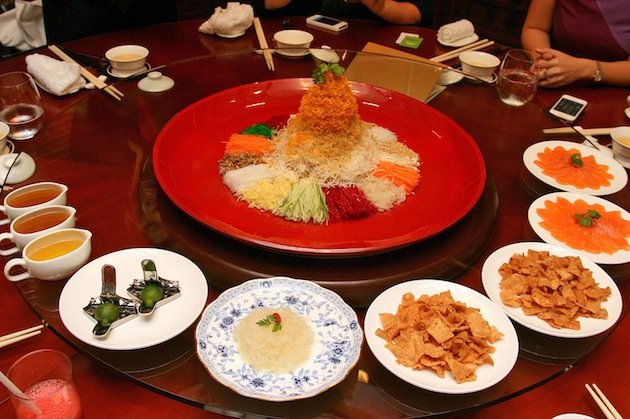 Five Unusual Yusheng for Chinese New Year
By Catherine Ling - Monday, Feb 04, 2013
There's a saying during every Lunar New Year- if the old don't go, the new won't come. And in many ways, it includes the dowdy old Prosperity Raw Fish Salad or Yusheng. Many of us can expect to toss for good fortune more than once, and it's easy too for the raw fish yusheng salad to get a little boring after a few times. So dive into something a little more adventurous for a change, and hopefully you'll energize your luck and prosperity too. Here are five notably different yusheng offerings this year.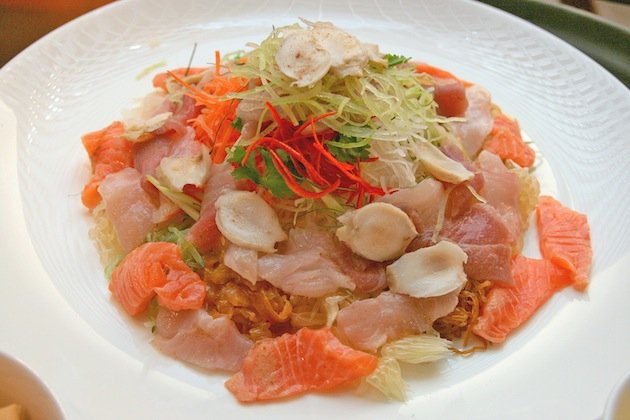 Lo-Hei the Sustainable Way at Mezza9 (Grand Hyatt Singapore)
Sustainable ingredients aren't just a snazzy fad at the Grand Hyatt. New executive chef Lucas Glanville is passionate about responsible sourcing of food and wants it throughout the hotel for good. You can customise your yusheng with certified sustainable ingredients like green lip abalone, organic salmon, kingfish, yellowtail, red snapper and tuna. It isn't just the seafood that's lusciously fresh and tasty; the salad itself is extra fragrant with finely shredded kaffir lime leaves and julienned green mango. The basic yusheng with two seafood ingredients is available in three different serving portions – two people (S$48++ ), four people (S$78++ ) and six people (S$98++ ). It's worthwhile adding on more fish ingredients to make it more memorable. After all, the ingredients are sustainably sourced, so you can indulge this festive season without guilt.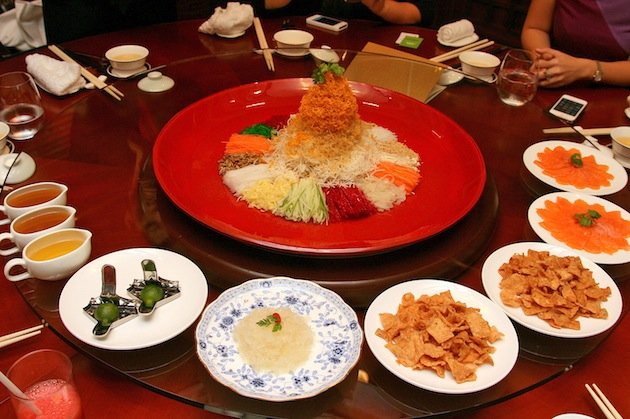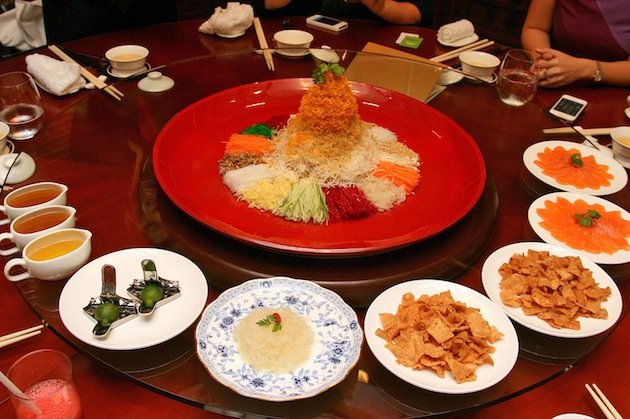 Bird's Nest Yusheng at Jiang-Nan Chun (Four Seasons Singapore)
Have tough and fussy in-laws who are hard to please? Melt their hearts with the Salmon Yu Sheng at Jiang-Nan Chun at Four Seasons Hotel Singapore which comes with an opulent option of bird's nest topping (S$60 per 100g). The salad itself is a medley of thinly-shredded vegetables, rice vermicelli, fried sweet potato, and festive pineapple paste. Olive oil and plum sauce are used for the dressing, so it's just lightly sweet and not too cloying. The Salmon Yu Sheng is available at S$68 (small) and S$98 (large).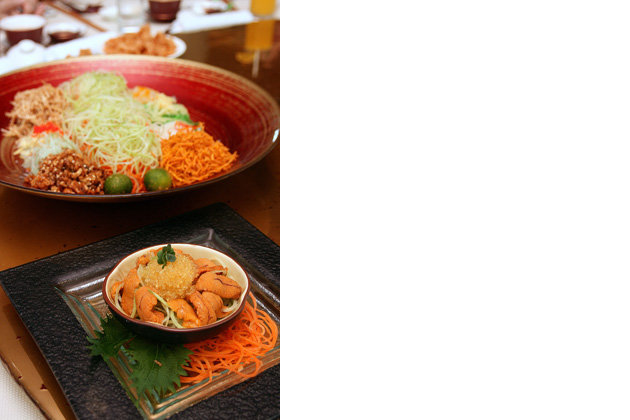 Golden Crab Roe & Sea Urchin Yu Sheng at Summer Pavilion (Ritz-Carlton Millenia Singapore)
Where's the fish? Who cares! Not when you are going to top your salad with creamy sea urchin and golden crab roe that bring bursts of umami in your mouth. Fortunately, these are added on top of individual portions after you make a mess of tossing the salad. This way the uni doesn't get smashed and the roe is still discernible. Sea urchin can be a hit or miss depending on freshness and quality, but here it has none of the offensive metallic aftertaste. Prices start from S$60.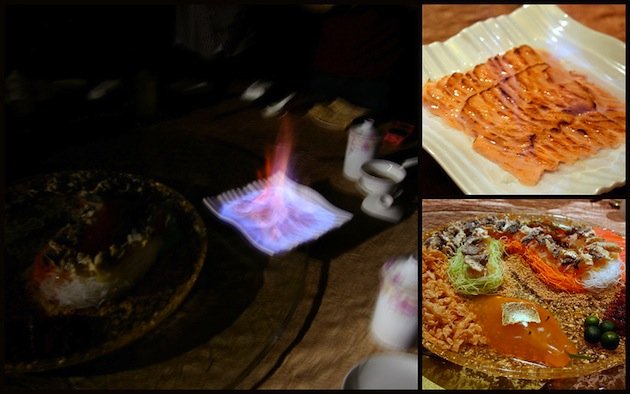 Flambé Salmon Lo Hei at Feng Shui Inn (Resorts World Sentosa)
If it's drama you're looking for, few lo-hei experiences can beat the fiery flambé in the dark that Feng Shui Inn offers with its salmon yusheng (S$88 for 3-5 pax; S$128++ for 7-10 pax). They use a special Chinese wine that's 52% proof, and the flames do last a while, effectively half-cooking the salmon. Catfish skin from Hong Kong and kurobuta bak kwa in the salad add interesting texture and flavour, but on the whole, the yusheng doesn't yield anything too outlandish or quirky in terms of taste.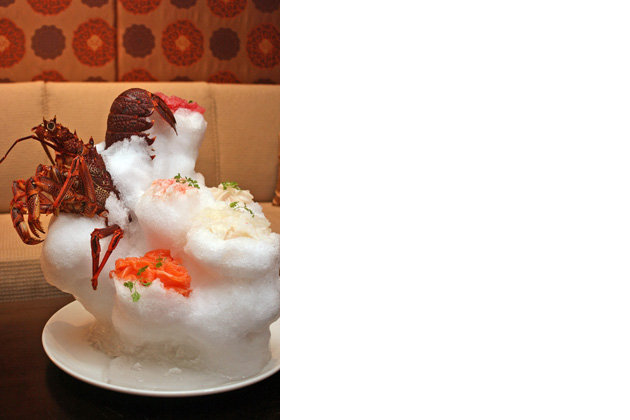 Xin's Superior Fruit and Seafood Yu Sheng at Xin Cuisine (Holiday Inn Singapore Atrium)
Xin Cuisine uses a whole lobster, seven kinds of sashimi and a snow ice tower to good visual effect with its fruity seafood yusheng ($488 for 10 to 12 persons). The sashimi comprises abalone, Australian lobster, salmon, tuna, amaebi (sweet prawn), geoduck and cobia fish (aka black salmon). The salad (not shown) features a pyramid of jackfruit, mango, papaya, pomegranate and rock melon with shredded vegetables. Edible gold leaf tops the creation as the essential symbol of prosperity. With so much fruit and plum sauce, the yusheng is a little sweet when all mixed together, but perhaps that's how a new year should start.
Happy tossing for the lunar new year!