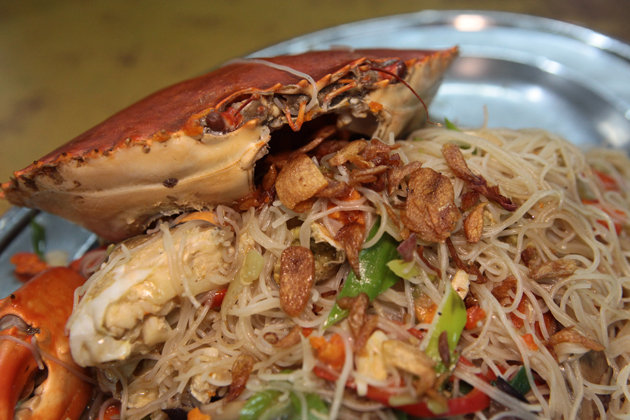 Flagging our National Flavours
By KF Seetoh - Wednesday, Aug 08, 2012
It's National Day week and it's a good time to hark on what colours our original food culture as more exciting new flavours of international heritage begin to appear on our national palate. So this week we will take a look at our national flag from a more delectable angle. We have much respect for what it stands for- red and white for brotherhood and purity, youthfulness is represented by the crescent moon and the five stars signify peace, democracy, justice, progress and equality.
While staring at some flags hung up by a HDB block of flats, I vision something else – especially in the five stars. It represented the people that build and coloured this island nation since pre and post independence – the Malays, Indians, Eurasians, Peranakans and the Chinese. Naturally l see an element in each of their unique cultures that bonds us all together- food.
We mean no disrespect; after all, makan is our national sport, placed right beside shopping. Our popular Singapore Day gigs around the world centres around local food, and National Day parties by local communities worldwide would be meaningless if food is not part of the celebrations.
So this National Day, I see each star representing an iconic and unique dish from each of those five races. I think the crescent moon, shall mean we will always stay hungry for all things meaningful – success, health, love and respect (including for good food).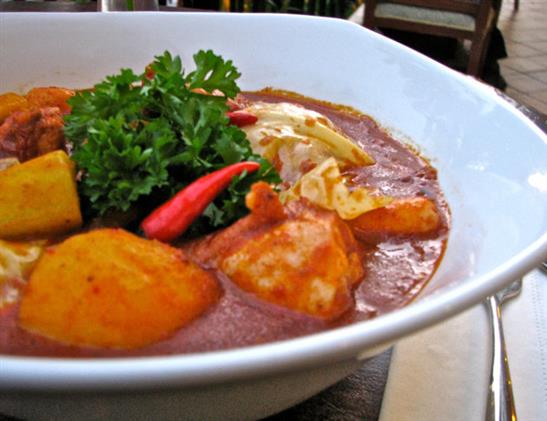 1. Eurasian – Devils' Curry: This is a piquant and spicy Boxing Day stew originally created by the Eurasian community with leftover Christmas fare like ham hocks, chicken, sausages, cabbage and even luncheon meat. It has distinct accents of mustard seeds and vinegar. It usually tastes milder than in sounds. (Quentins', 139 Ceylon Road, inside Eurasian Community House, 11.30am-4.30pm/ 6.30pm-10.30pm)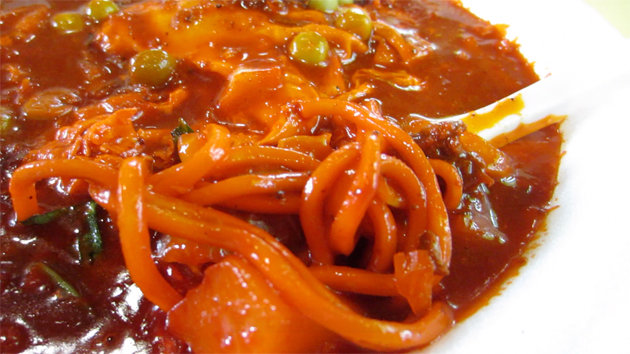 2. Malay – Mee Kuah: Noodles are braised in a thickened and spiced up mutton stock with chilli and tomatoes. The red sauce with yellow noodles often comes topped with a runny egg, meat and vegetables. (Faseebabs, 01-161 Geylang Serai Food Centre, Blk 1 Geylang Serai. 7am-8pm daily)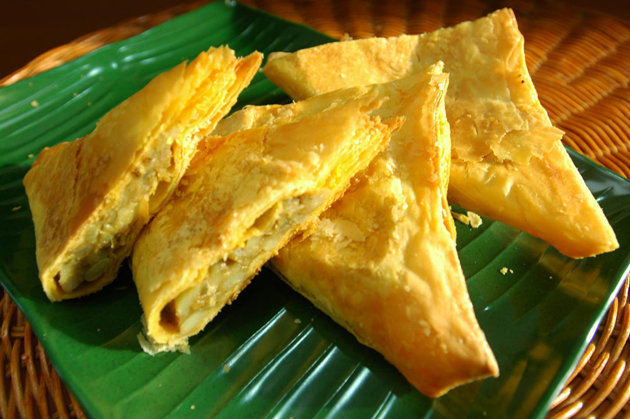 3. Indian – Wedge Curry Puff: They are believed to be the first to offer the triangular curry puff with a baked flaky filo pastry. It was well loved by the snackers who use to frequent the defunct Waterloo Street sarabats stalls over 50 years ago. They fill the puff with curried potatoes and mutton or chicken. Great with teh tarek. (Indian Muslim Bakery and Confectionary, 124 Onan Road, 7am-730pm, close on Sundays)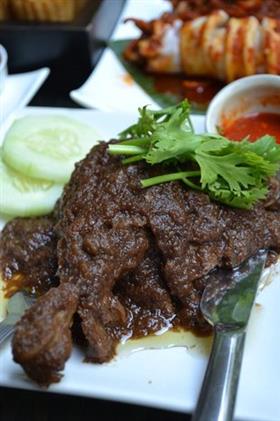 4. Peranakan – Itek Sio: The Nonyas lovingly braise this duck dish with a distinct blend of spices that accentuates the coriander powder and is lifted with tangy tamarind. Great over steamed rice. (Spice Peranakan Restaurant, 20 Biopolis Way, 01-01 Centros Building. 11.30am-3pm/5.30-10pm. Close on Sundays and Public Holidays)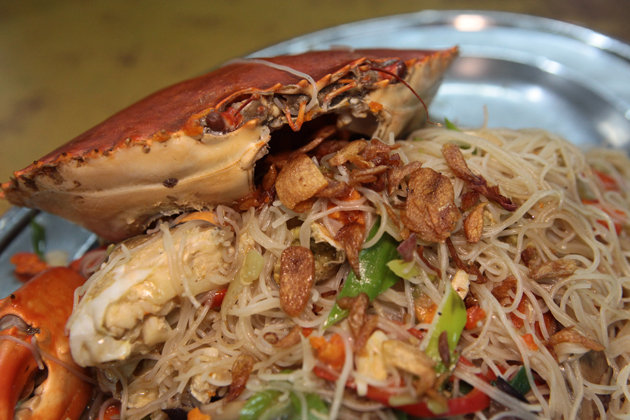 5. Chinese – Crab Bee Hoon: Danny was credited as the creator of this Singapore style fried crab bee hoon. What makes the New York Times and even foodie Anthony Bourdain swoon over it, is the intensely brewed stock he uses to braise his bee hoon. It comes softly al-dente, perfumed with wine and crab juices and a huge Sri Lanka crab sits atop. A basic order can set you back by $70 at least. (Sin Huat Seafood, 659 Geylang Road at Lor 35. 6.30pm-12.30am)
Happy 47th birthday, my beloved Singapura, and stay hungry in all ways, always.